https://www.paulaschoice.nl/en/resist-anti-aging-skin-restoring-moisturizer-full-size/7970.html
Resist Anti-Aging Skin Restoring Moisturiser SPF 50
Protects skin from the sun and improves skin tone.

Skin Type:

Normal skin, Dry skin

Concern:

Anti-Aging , Brown spots , Very dry skin

Ingredients:

Avobenzone , Niacinamide/Vitamin B3 , Shea Butter

View all

Routine:

Moisturizer AM
Remove from wishlist
Add to Wishlist
Product out of stock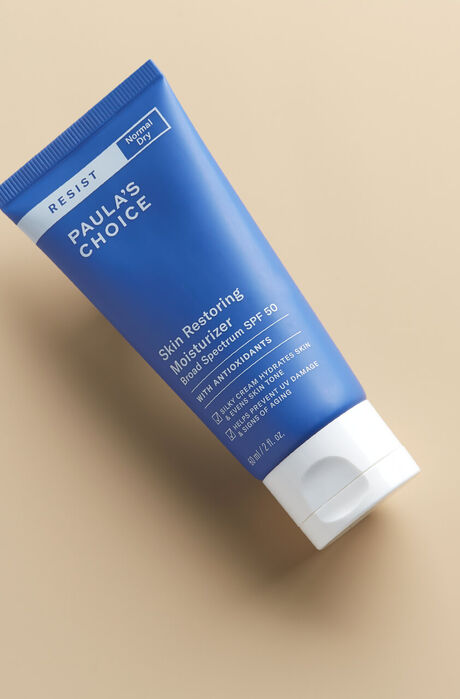 Resist Anti-Aging Skin Restoring Moisturiser SPF 50
Full size
This product is sold out at the moment. Fill in your email address below and we'll gladly send you an email as soon as it is back in stock!
60 day money-back guarantee
Safe payments
What does it do?

The perfect SPF for dry skin

This multi-tasking moisturiser contains SPF 50 to protect skin from premature signs of ageing and sun damage, while shea butter leaves skin soft and hydrated. The anti-ageing formula contains tone-improving ingredients like niacinamide and liquorice for more even-toned and younger-looking skin.

Key Features

Promotes radiant-looking skin

How to use

Apply as the last step in your morning skincare routine. Allow a moment to dry before applying makeup.

Reviews

Thank you for submitting your review! It will be reviewed by our staff before it is posted.

Deze crème doet voor mijn huid helaas niet wat ie moet doen en mijn huid voelt nog steeds droog aan na gebruik. Ik zou liever een wat vollere/vettige crème willen. Dit helaas itt de nachtcrème uit deze zelfde serie, want die bevalt mij wel prima.

Customer care: Hi Loes, dankjewel voor het delen van je ervaring. Het spijt me te horen dat dit product helaas niet de volle crème is waar je naar op zoek bent. Onze meest voedende dagcrème is de Skin Recovery Dagcrème SPF 30. Deze gaat qua hydratatie nog net een stapje verder. Ik neem contact met je op om je hierbij verder te helpen. Vriendelijke groet, Manon - Paula's Choice Customer Care Team

Ik heb geen verstand van de werking van alle stoffen maar mijn zusje wel. Normaal ben ik allergisch voor zonnebrandcreme in mijn gezicht en ik wilde zoveel mogelijk vegan producten. Dus zij bestelde deze dagcreme voor me plus de nachtcreme. In het begin was het vooral gewoon fijn om meteen ook spf op mijn huid te hebben, niet meer over nadenken. Maar nu, 2 maanden later zie ik echt een verschil optreden. Mijn porien lijken zachter te worden, mijn huid oogt veel gladder, voller en met meer vocht. Geen droge plekken meer. Truc is aanbrengen op een nog iets vochtige huid. Ik ben helemaal blij!

Beste Michelle, bedankt dat je de tijd hebt genomen om deze review te schrijven! Wat fijn om te lezen dat je de juiste producten hebt gevonden. Het kan inderdaad soms even duren voordat je de gewenste resultaten ziet, maar gelukkig heb je volgehouden. Mocht je in het vervolg wat extra hulp wilt met het zoeken naar de juiste producten, neem dan gerust contact met ons op!

Met vriendelijke groet,
Sytze - Paula's Choice Customer Care Team

Ik heb echt een slechte band met zonnebrandcrème. Ik ben allergisch voor de zon en als kind mocht ik dan ook niet de deur uit zonder een dikke laag factor 50. Mijn haar bleef dan overal plakken, mijn kleding klampte zich aan mijn vettige huid vast en zweten werd nog ranziger. Echt haatgevoelens. Deze creme maakt me eigenlijk alleen bozer, want blijkbaar was die lijdensweg helemaal niet nodig?! Deze creme is zo snel geabsorbeerd dat ik extra hydratering nodig heb! Echt perfect voor onder je make-up. Heel erg blij mee!

Beste Lot, het vinden van een fijne zonnebrandcrème is voor velen inderdaad een uitdaging. Wat fijn om te horen dat je in deze dagcrème dan eindelijk een zonnebescherming hebt gevonden die wel prettig aanvoelt! Mocht je echter nog opzoek zijn naar iets wat meer hydratatie biedt, neem dan gerust even contact op met onze Skincare Experts voor een passend advies! Met vriendelijke groet, Chantal - Paula's Choice Customer Care Team

Helemaal blij met deze dagverzorging! Vaak zoekende geweest naar een verzorging die voldoende voedde maar net vet maakte. Voor mij is zeker in de zomermaanden deze crème onderdeel van mijn dagelijkse ritueel. Doordat ik wat meer pigment ontwikkeld heb in mijn gezicht door mijn zwangerschap wil ik zeker in de zomer factor 50 op m'n gezicht hebben zitten. Vaak deed ik het te laat of moest het alsnog over mijn make up heen want ja vaak is make up aanbrengen over een zonnebrand in je gezicht niet helemaal lekker te doen.
Dit werkt dus wel gewoon. Ik breng hem aan 's ochtends, doe m'n make up eroverheen en hoef niet meteen spastisch te doen als ik spontaan t zonnetje op m'n gezicht voel gloeien. 👌🏼

Beste Hesli, hartelijk dank voor je review! Wat fijn om te horen dat je met de Resist Anti-Aging Skin Restoring Dagcrème SPF 50 eindelijk een zonnebescherming hebt gevonden die je ook prettig vindt onder je make-up. Het is overigens ook in de wintermaanden belangrijk om je dagelijks te beschermen tegen schadelijke UV-straling. Indien je deze dagcrème voor in de winter niet voedend genoeg vindt, neem dan even contact met ons op voor passend advies! Met vriendelijke groet, Chantal - Paula's Choice Customer Care Team

Heel fijne dagcrème. Hij trekt snel in en laat geen glans/waas achter op het gezicht. Voedend maar niet vet.

Jaaaren geleden ook deze crème gebruikt, vond m toen ook wel fijn maar toch ook een beetje een witte waas achterlaten en niet voedend genoeg voor mijn gecombineerde huid. De calm lijn voor droge huid geprobeerd (niet voedend genoeg voor mij) en de defense spf 30 (fijne crème maar toch weer iets te vet voor mijn huid). Weet niet of de samenstelling van deze crème is veranderd, maar wat een fijne textuur is het nu! Glijdt heel makkelijk over je gezicht (voelt een beetje gelachtig aan, precies wat ik zocht!), totaal geen waas, voedend genoeg voor de droge delen, niet te vet voor de t-zone, sterker nog m'n poriën lijken kleiner aangezien er ook nog niacinamide in zit, maar toch zie je ook een glow! Echt fantastisch. Zo ontzettend blij dat ik weer ben terug gegaan naar deze dagcrème, had ik veel eerder moeten doen!

Fijne dagcreme, doet wat het hoort te doen. Ik heb zelf een gemengde huid met een vette t-zone. Maar deze creme is niet te vet voor mijn huid. Ik krijg geen extra glans op mijn gezicht en de spf is perfect voor de hele dag bescherming. Hij sluit niet af en mijn huid krijgt geen last van verstopte poriën ( dit heb ik met andere spf producten wel al heel snel! )

Fijne creme, maar ik twijfel of ik hem opnieuw wil gebruiken omdat ik de geur niet prettig vind. In principe is de creme natuurlijk zonder parfum, dat is fijn, maar in tegenstelling tot bijvoorbeeld 'defense' heeft deze een wat 'tandartspraktijk- achtige, terige geur'. Is dit nog op te lossen met een natuurlijke toevoeging?

Customer Care: Hartelijk dank voor het delen van je feedback, en het spijt ons te horen dat dit product niet voldeed aan je verwachtingen. We raden je aan contact op te nemen met de klantenservice voor verder advies!

More reviews Less reviews

Ingredients

What are the key ingredients?

Avobenzone
Synthetic sunscreen ingredient, provides broad-spectrum sun protection and is one of the most widely used UVA filters in the world.

Niacinamide/Vitamin B3
Very effective skin-restoring ingredient that can visibly improve the appearance of enlarged pores, uneven skin tone, fine lines and dullness.

Shea Butter
This plant lipid, extracted from the karite tree, is used as an emollient and has smoothing properties for dry skin. it's also a rich source of antioxidants.

Contains: Benzophenone-3 (Oxybenzone)

Ingredients:
Aqua, Ethylhexyl Methoxycinnamate (Octinoxate 7.5%, sunscreen), Homosalate (5%, sunscreen), Ethylhexyl Salicylate (Octisalate 5%, sunscreen), Benzophenone-3 (Oxybenzone 5%, sunscreen), Silica (opacifier and texture enhancer), Glycerin (hydration), Butyl Methoxydibenzoylmethane (Avobenzone 3.0 %, sunscreen), Cetearyl Alcohol (texture enhancer), Dimethicone (hydration), Butylene Glycol (hydration), Pentylene Glycol (hydration), Potassium Cetyl Phosphate (emulsifier), Cyclopentasiloxane (hydration), Pyrus Malus (Apple) Fruit Extract (skin-restoring), VP/Eicosene Copolymer (texture enhancer), Butyrospermum Parkii (Shea) Butter (emollient), Allantoin (skin soothing), Niacinamide (skin-restoring), Tocopherol (vitamin E/antioxidant), Glycyrrhiza Glabra (Licorice) Root Extract (skin soothing), Aloe Barbadensis Leaf Extract (hydration, soothing), Atractylodes Macrocephala Root Powder (antioxidant), Avena Sativa (Oat) Kernel Extract (skin soothing), Coffea Arabica (Coffee) Seed Extract (antioxidant), Portulaca Oleracea Extract (antioxidant), Mahonia Aquifolium Root Extract (antioxidant), Diethylhexyl Syringylidenemalonate (antioxidant), Sarcosine (skin softener), Capryloyl Glycine (skin softener), Maltooligosyl Glucoside (skin softener), Cetearyl Glucoside (skin softener), Dimethiconol (texture enhancer), Acrylates/C10-30 Alkyl Acrylate Crosspolymer (stabilizer), Hydrogenated Starch Hydrolysate (hydration), Hexylene Glycol (texture enhancer), 4-T-Butylcyclohexanol (emollient), Glyceryl Stearate (texture enhancer), PEG-100 Stearate (texture enhancer), Sodium Hydroxide (pH adjuster), Xanthan Gum (stabilizer), Disodium EDTA (chelating agent), Phenoxyethanol (preservative), Caprylyl Glycol (preservative), Ethylhexylglycerin (skin softening).


FAQ

What is the difference between the Resist Anti-Aging Skin Restoring Moisturizer with SPF 50 and the discontinued Resist Anti-Aging Cellular Defense Moisturizer SPF 25?

SPF: The day moisturisers differ in their SPF. The new Resist Anti-Aging Skin Restoring SPF 50 contains a higher SPF and is a synthetic sunscreen, the Resist Anti-Aging SPF 25 was a mineral sunscreen.
Texture: The Resist Anti-Aging Skin Restoring SPF 50 has a more lightweight, fluid texture that is easy to apply but rich enough for dry skin.
Formula: The Resist Anti-Aging Skin Restoring SPF 50 not only helps to prevent new signs of ageing, but also contains added ingredients (like niacinamide) to help to reduce existing signs of ageing. Brown spots will become less visible and skin tone more even. The Resist Anti-Aging SPF 25 only prevented new signs of ageing.

Can I apply the moisturiser around the eyes?

The Resist Anti-Aging Skin Restoring Moisturizer SPF 50 can be used around the eye and orbital bone. In general we don't recommend applying the moisturiser directly onto your eye lid.

Is the Resist Anti-Aging Skin Restoring Moisturizer with SPF 50 suitable for Rosacea prone skin?

It's not clear what causes rosacea-prone skin to react and while you most likely won't experience any problems using the Resist Anti-Aging Skin Restoring Moisturizer SPF 50 we recommend using a day moisturiser with a mineral sunscreen. Try our Skin Recovery Daily Moisturizing Lotion SPF 30 or the Calm Moisturiser SPF 30 for normal to dry skin.

How often should I reapply this product?

To get the right amount of protection apply the product liberally. When skin is exposed to direct sunlight you'll need to reapply every two hours. If you plan to swim or if you sweat you must reapply.
Research
Journal of the American Academy of Dermatology, March 2017, pages S100–S109; Indian Dermatology Online Journal, July-August 2015, pages 311-315; Oxidative Medicine and Cellular Longevity, September 2015, ePublication; Pharmaceutical Biology, July 2015, pages 5-18; Pharmacognosy Review, January-June 2014, pages 52-60; Antioxidants, September 2013, pages 181-193; The Journal of Clinical and Aesthetic Dermatology, January 2013, pages 16-26; DermatoEndocrinology, July 2012, pages 308-319; Journal of Complementary and Integrative Medicine, January 2012, ePublication; and Journal of Agricultural Food and Chemistry, 2006, issue 7, pages 2,558-2,562.