Red spots and acne scars: how to get rid of them
Nothing is more annoying than the red spots that you are left with after pimples. How do you prevent these spots and get rid of them as soon as possible? And what can you do about real scars?
How to tackle red spots left by pimples
The red spots are hyperpigmentation that occurs as the skin heals. These spots are often called scars but they often also fade by themselves. You can speed up the healing process with the following tips:
1. Use good, gentle skincare products.
Don't use abrasive scrubs or irritating ingredients. Scrubs can damage the skin delaying natural healing, just like products with irritating ingredients.
2. Use a BHA exfoliant daily.
Salicylic acid (BHA) exfoliates the outer layer of the skin but also penetrates down into the pores. This can dissolve the blockages that cause pimples. BHA is an anti-inflammatory, reducing redness. So you can use the same product to reduce the likelihood of developing pimples and speed up the healing process afterwards. Your skin will also look younger and healthier.
3. Use a broad-spectrum sunscreen with an SPF of 30 or more every day.
Protect your skin every day from UV exposure. UV rays (to which your skin is always exposed, on sunny and cloudy days) slows down the skin's ability to heal, causing red spots and blemishes to remain visible for longer.
4. Use products loaded with antioxidants and cell-communicating ingredients.
These substances help protect your skin against further damage while repairing it. This reduces the risk of inflammation and your skin will also need less time to recover. Vitamin C is a true gift for red spots after breakouts. Our C25 Super Booster is an innovative spot treatment containing a high concentration of 25% ascorbic acid (Vitamin C) to visibly improve uneven skin tone, red marks and skin texture.
5. Opt for professional treatments.
Besides a good skin care routine, you can also take care of discolouration after inflammation quickly with Intense Pulsed Light (IPL) treatments. If your skin tone is darker, then discuss an alternative laser treatment with your dermatologist. Another option is a monthly AHA or BHA peel applied by a cosmetic dermatologist. You can also ask your GP to prescribe an acne remedy.
What can you do if a pimple leaves a real scar?
Pitted, indented scars cannot be treated with a skincare product. Dermal fillers can plump them up, however. For best results, combine with AHA or BHA peels or a series of fractional laser treatments. Ask a dermatologist for advice. The important thing is to never pick your spots to reduce the risk of permanent scars.
Essential Routine for red spots and / or acne scars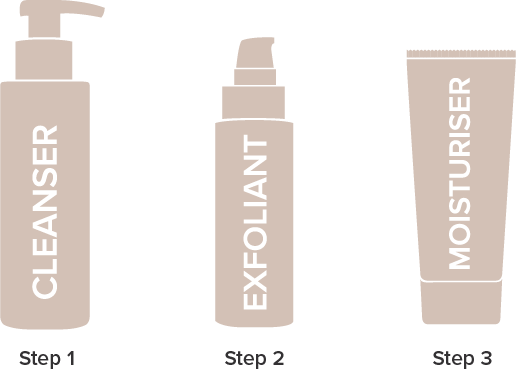 Read more
Customer Service
Do you need help? Get in touch with our skincare experts for free and personal skincare advice. It's our mission to help you achieve your skincare goals!