https://www.paulaschoice.nl/en/clear-pore-normalizing-cleanser-full-size/6001.html
Clear Cleanser
Refreshing cleansing gel gently removes excess oil, debris and pore-clogging impurities.

Skin Type:

All skin types

Concern:

Breakouts , Blackheads , Enlarged pores

Ingredients:

Glycerin , Panthenol (Vitamin B5) , Sodium Laureth Sulfate

View all

Routine:

Cleanser
Remove from wishlist
Add to Wishlist
Product out of stock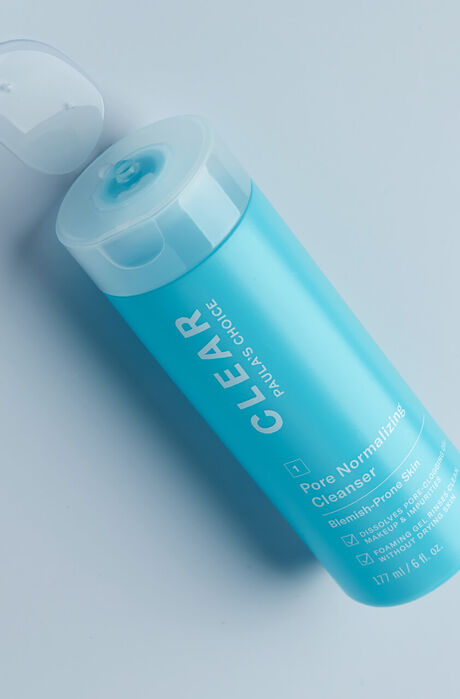 This product is sold out at the moment. Fill in your email address below and we'll gladly send you an email as soon as it is back in stock!
60 day money-back guarantee
Safe payments
What does it do?

Tough on breakouts, soft on your skin.

Breakouts can occur at any age, whether you're 15 or 50. Cleansing is the first step to improving your skin. Clear Pore Normalizing Cleanser is tough on blemishes yet kind to your skin, gently removing excess oil, debris and pore-clogging impurities to leave skin clean, clear and refreshed.

Key Features

Leaves skin feeling clean and refreshed

Soft on skin, hard on breakouts

How to use

Use morning and evening. Splash the face and eyes generously with water. Apply a small amount of cleanser to your face using vigorous yet gentle circular motions. Rinse well. Repeat or use with a clean washcloth to remove heavy makeup.

Reviews

Thank you for submitting your review! It will be reviewed by our staff before it is posted.

Na het lezen van de reviews en na heel wat twijfels als het echt zo goed zou werken als ze beschrijven en ze zijn best prijzig heb ik het product toch besteld.
Na z'n ruim 2,5 maand gebruiken van het product zie ik echt resultaat. Veel last van hormonale dikke rode puisten op mijn kaaklijn kin en hals heb ik er bijna geen meer. Je moet wel geduld hebben voor het resultaat. Ik raad het iedereen aan.

Hi Joy, bedankt voor je positieve review. De tijd die het duurt voor je resultaat ziet, verschilt per persoon en hangt van diverse factoren af. Goed om te horen dat je inmiddels resultaat ziet en je onzuiverheden zo zijn verminderd! Met vriendelijke groet, Chantal - Paula's Choice Customer Care Team

Wegens alle goede verhalen over Paula's Choice, dit product aangeschaft. Ik heb het product nu langer dan een maand in gebruik en mijn huid is er nog niet eerder zo slecht aan toe geweest. Erg jammer, want ik had hoge verwachtingen. Helaas is dit geen match met mijn huid.

Hi Fleur, Wat vervelend om te horen dat het product niet voldoet aan je verwachtingen. Ik neem even persoonlijk contact met je op om een passende oplossing te kunnen bieden. Met vriendelijke groet, Christina - Paula's Choice Customer Care Team

Heeel erg lang problemen gehad met mijn huid, ik had altijd heel snel puistjes en oneffenheden. Toen ik deze cleanser ben gaan gebruiken is mijn huid heel snel heel erg vooruit gegaan! Zodra ik weer eventjes stop is mijn huid gelijk een stuk slechter. Een echte aanrader dus!!!

Beste Nicky, dank voor je review! Wat fijn om te lezen dat je met de Clear Gezichstreiniger een product hebt gevonden waar je huid zo van opknapt. Mocht je nog opzoek zijn andere producten, neem dan vooral contact met ons op!

Met vriendelijke goret, Sytze - Paula's Choice Customer Care Team

Sinds kort deze cleanser geprobeerd. Het aanbrengen was heel aangenaam op het moment zelf, maar na afspoelen een trekkend gevoel. Na meerdere keren gebruiken erg geïrriteerde huid vooral rond de neus en op de wangen. Ook wat roodheid en branderigheid op deze plekken. Na contact met de klantendienst een uitgebreide informatie gekregen over het product en welke beter voor mijn huidtype zou passen. Ik krijg een volledige refund en heb nu de calm cleanser aangekocht om te proberen! Fijne klantenservice, heel vriendelijk!

Hi Carolien, bedankt voor het delen van jouw ervaring met de Clear Gezichtsreiniger. Wat jammer om te horen dat je huid niet prettig aanvoelt na het gebruiken ervan. Fijn dat je na contact met onze Skincare Experts een geschikt alternatief hebt gevonden! Met vriendelijke groet, Chantal - Paula's Choice Customer Care Team

De cleanser voelt fijn aan. Als je een gevoelige huid hebt zoals ik zal de cleanser helaas niet veel voor je doen. Sinds ik deze cleanser gebruik (nu 1,5 maand) is mijn huid helaas weer achteruitgaan en heb ik meer last van acne…

Hi Nathalie, bedankt voor je review op de Clear Gezichtsreiniger. Vervelend om te horen dat je nog niet het gewenste resultaat hebt bereikt na het gebruik van deze reiniger. Ik neem even persoonlijk contact met je op om een passende oplossing te kunnen bieden. Met vriendelijke groet, Alex - Paula's Choice Customer Care Team

Hele fijne reiniger, huid voelt schoon maar niet droog aan. Je hebt ook niet veel product nodig!

Customer care: Hi Zinni, dankjewel voor je positieve review. Wat fijn om te horen dat deze reiniger je huid fris laat aanvoelen zonder dat deze droog wordt. Vriendelijke groetjes, Manon - Paula's Choice Customer Care Team

Voor iemand met een vette huid, onzuiverheden en grove porien is dit een fijne cleanser. Ik gebruik de mini variant sinds een week icm de Clear dag- en nachtcreme en de 2% BHA liquid exfoliant en mijn huid voelt schoner aan. Ik heb het idee dat de porien ook kleiner zijn en dat de mee-eters iets minder zijn.
Je hebt ivm de combinatie met water maar een druppel van de cleanser nodig, wat gezien de prijs erg fijn is. Na het gebruik voelt mijn huid wat trekkerig, dus je moet er na wel echt een creme op smeren. De reden dat ik dit product 4 sterren geef, is omdat ik na een aantal uren op werk/'s morgens als ik wakker word nog altijd een glimmend laagje olie op mijn T-zone voel zitten. Ik ben dus waarschijnlijk meer gebaat bij de producten uit de Skin Balancing lijn.

Mijn vriend echter heeft een zeer acné gevoelige normale huid. Hij heeft bij het minste last van dikke ontstoken puisten op zijn voorhoofd, en sinds hij oa de cleanser gebruikt is dit al een stuk minder. Omdat het bij hem in fases komt, moeten we op de lange termijn zien of dit door de producten komt. Vanuit onze ervaring zou ik zeggen dat de Clear lijn geschikt is voor een gemengde/normale onzuivere huid en minder geschikt voor een echt vette huid.

Hi Barbara, bedankt voor het delen van jouw ervaring. Fijn om te horen dat je huid schoner aanvoelt en dat mee-eters zijn verminderd, en dat ook je vriend minder last heeft van onzuiverheden sinds het gebruik van onder andere de Clear Cleanser. Voor een vette huid is de Skin Balancing Cleanser inderdaad een goed alternatief. Ik neem persoonlijk even contact met je op om je verder te adviseren. Met vriendelijke groet, Chantal - Paula's Choice Customer Care Team

Dit product heeft mij volledig van mijn acne/onderhuidse puisten afgeholpen! Ik heb lang met een onrustige huid rond mijn kaaklijn gezeten. Ik heb bij een huidkliniek peelings gedaan en heb door hen aangeraden producten gebruikt. Dit heeft nauwelijks geholpen. Op aanraden van een vriendin ben ik de producten van Paula's Choice gaan ontdekken, en dit product heeft voor mij echt ontzettend geholpen! Normaal was ik iedere ochtend lang bezig om mijn acne te bedekken met concealer en foundation. Inmiddels gebruik ik gewoon geen foundation meer, alleen nog een getinte dagcreme. Buiten de acne merkte ik dat ook andere vlekjes en onzuiverheden zich oplosten.
Ik weet natuurlijk niet of dit product voor ieder huidtype zo goed zal werken als bij mij, maar wat mij betreft absoluut het proberen waard!

Beste Lieke, bedankt voor je mooie review! Wat leuk om te lezen dat je zo tevreden bent met de Clear gezichtsreiniger. Wat voor jou zo goed gewerkt heeft is inderdaad voor iemand anders misschien een ander product, maar erg fijn dat je de juiste match hebt gevonden!

Met vriendelijke groet,
Sytze - Paula's Choice Customer Care Team

Mijn huid is al een stuk egaler na het gebruik van deze cleanser. Je bent niet veel nodig, en maakt je huid goed schoon!🤩

Beste Ylanieck, bedankt dat je de tijd hebt genomen om een review achter te laten! Wat fijn om te horen dat je huid met het gebruik van deze cleanser is verbeterd. Je hebt er inderdaad niet veel van nodig, dus hij gaat ook nog eens lang mee! Met vriendelijke groet, Chantal - Paula's Choice Customer Care Team

Mijn huid begon eerst te purgen, maar werd daarna een stuk beter. Als je niet weet wat dat is dan moet je dat even Googlen. Heel erg tevreden, ik heb 'm nogmaals besteld!

Beste Aileen, hartelijk dank voor je review. Fijn om te horen dat je huid zo is opgeknapt dankzij de Clear Gezichtsreiniger! Met vriendelijke groet, Chantal - Paula's Choice Customer Care Team

In eerste instantie voelde het fijn aan. Het reinigt goed, alleen het product droogt mijn huid uit. Het voelt trekkerig en op sommige plekjes zijn er schilfertjes te zien. Niet mijn product.

Customer Care: Hartelijk dank dat je jouw ervaringen met ons hebt gedeeld. Wat jammer dat het product niet bevallen is, we raden je aan contact op te nemen met onze klantenservice voor verder advies!

Fijne reiniger, huid voelt zacht aan en verminderd mijn puisten na de eerste keer.

Na het reinigen werd mijn huid heel zacht dus ik had er een goed gevoel bij maar net zoals bij de meeste cleansers stond ik de dag erna op met puisten.

Customer care:
Hi, wat jammer te horen dat de cleanser niet je verwachtingen waar maakt. We sturen je rechtstreeks even een berichtje om je verder te helpen.

More reviews Less reviews

Ingredients

What are the key ingredients?

Glycerin
Skin-replenishing and restoring ingredient, found naturally in skin. It helps skin to maintain a healthy look and feel, defending against dryness.

Panthenol (Vitamin B5)
Panthenol is a humectant because of its ability to attract and hold moisture. It improves the look and feel of skin.

Sodium Laureth Sulfate
Gentle cleansing ingredient for all skin types.

Ingredients:
Aqua, Sodium Lauroyl Sarcosinate (cleansing agent), Acrylates/Steareth-20 Methacrylate Copolymer (texture-enhancing), Glycerin (skin replenishing), PEG-200 Hydrogenated Glyceryl Palmate (hydrating cleansing agent), Sodium Laureth Sulfate (cleansing agent), Salicylic Acid (skin-soothing), Arginine (amino acid/hydration), Butylene Glycol (texture enhancer), PEG-7 Glyceryl Cocoate (cleansing/skin-softening/emulsifier), Panthenol (hydration), Disodium EDTA (chelating agent), Citric Acid (pH adjuster), PEG-60 Hydrogenated Castor Oil (skin-softening), Sodium Citrate (chelating agent), Phenoxyethanol (preservative), Caprylyl Glycol (preservative), Chlorphenesin (preservative).

FAQ

Which cleanser should I choose if I suffer from breakouts?

The Clear Normalizing Cleanser is a very light gel cleanser, and is ideal for skin with breakouts. Would you rather use a light foamy, creamy cleanser that washes off easily? Then Skin Balancing Cleanser is also a good choice.

Does Paula's Choice have a product range with benzoyl peroxide?

Benzoyl peroxide is an active ingredient that is powerful against bacteria that causes breakouts. Based on cosmetic regulations of the EU, the Paula's Choice Clear products that contain benzoyl peroxide are not available in the European Union. A good alternative is Clear Daily Skin Clearing Treatment with azelaic acid.
6001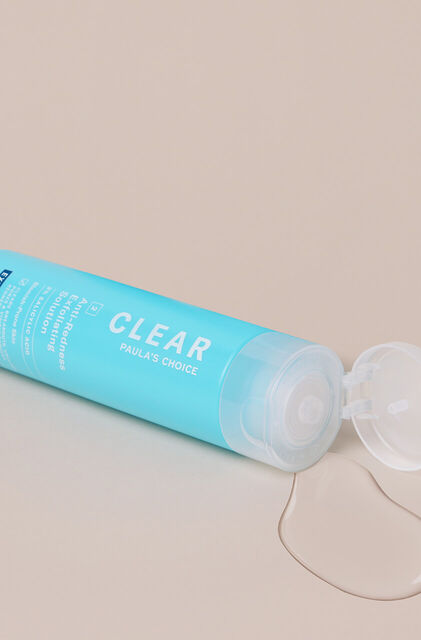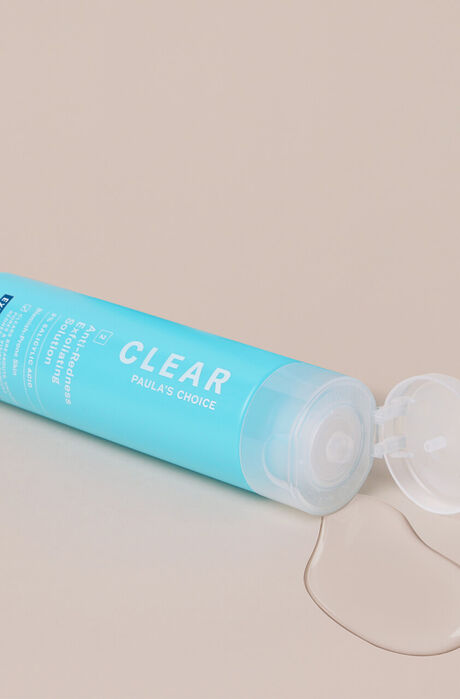 Exfoliate
Liquid exfoliant quickly penetrates deep inside pores, effectively clearing breakouts.
6211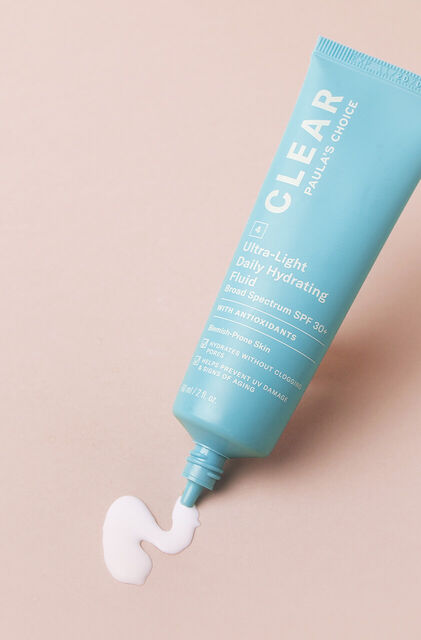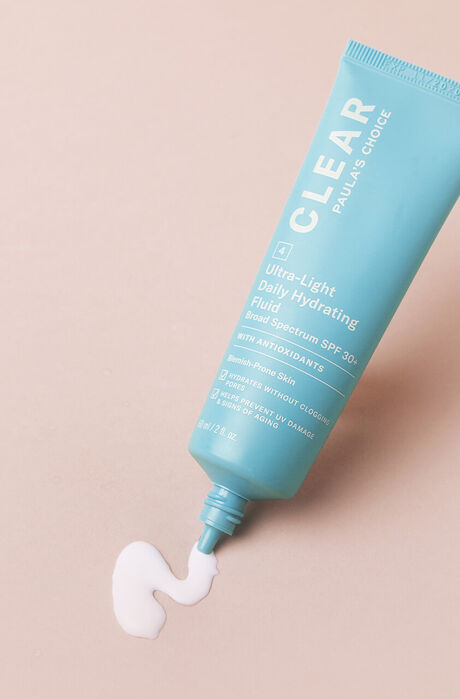 Moisturizer AM
Water-light fluid minimises the appearance of pores and protects skin from the sun.
6130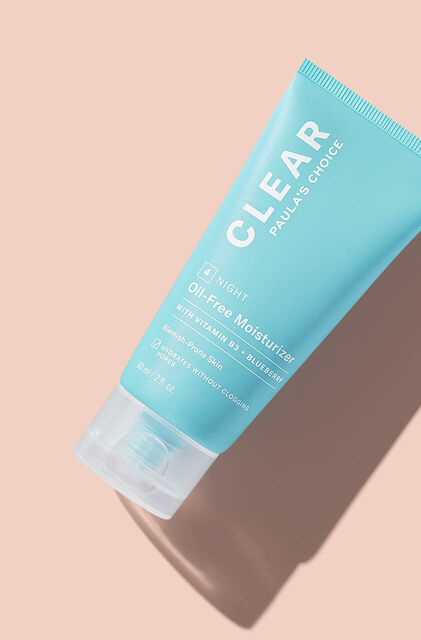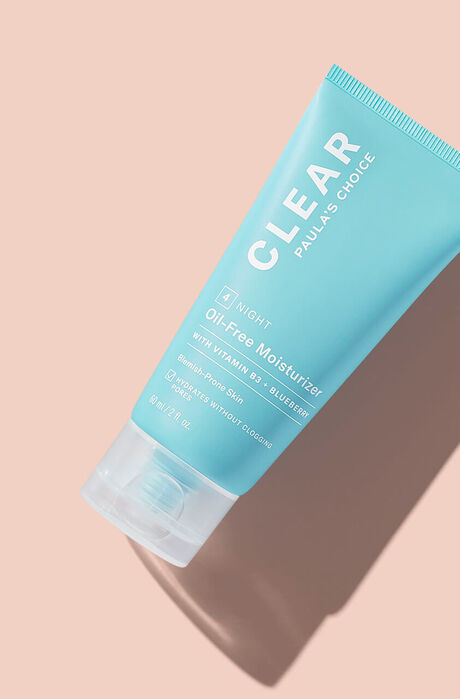 Moisturizer PM
This oil-free night cream moisturises acne-prone skin without clogging pores or making breakouts worse.
Research
International Journal of Cosmetic Science, 2000 Feb, issue 1, pages 21-52 Journal of Cosmetic Science, July-August 2011, issue 4, pages 361-70 Indian Journal of Dermatology, May-June 2015, issue 3, pages 248–254 Skin Research and Technology, February 2001, issue 1, pages 49–55