https://www.paulaschoice.nl/en/clinical-discoloration-repair-serum-full-size/8040-01.html
Clinical Discoloration Repair Serum
A specialised blend of key ingredients promotes an even skin tone and fades the look of stubborn, diffuse discolourations and spots.

Skin Type:

All skin types

Concern:

Anti-Aging , Brown spots

Ingredients:

Bakuchiol , Niacinamide/Vitamin B3

View all

Routine:

Treatment
Variations
Full size 30 ml
Remove from wishlist
Add to Wishlist
Product out of stock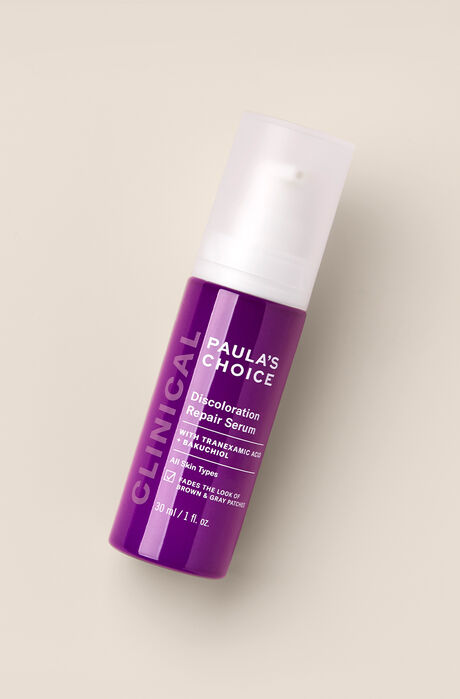 Clinical Discoloration Repair Serum
Full size
This product is sold out at the moment. Fill in your email address below and we'll gladly send you an email as soon as it is back in stock!
60 day money-back guarantee
Safe payments
Key ingredients

that make the difference
3%
dica cimaxenart
Evens tone & dark spots
5% niacinamide
Visibily fades discolouration
0.5% bakuchiol
Targets the causes of unwanted colour changes
What does it do?

Disrupt discolouration

Clinical Discoloration Repair Serum is a potent yet gentle formula to visibly reduce multiple discolourations including brown and grey patches and dark spots caused by sun damage.

The multi-tasking blend disrupts the causes of unwanted discolourations through different pathways in skin. With consistent use, the formula steadily fades spots and patches of discolouration, improves the appearance of skin's tone and discourages new discolourations from forming.

Key Features

Evens out patchy skin tone

How to use

Limit initial use to three times per week; gradually increase frequency to up to once per day. Apply over face and neck, avoiding the eyelids and lips. For daytime, always finish with an SPF rated 30 or above and limit sun exposure as much as possible while using this product.  

Reviews

Thank you for submitting your review! It will be reviewed by our staff before it is posted.

Ik gebruik dit product nu een ruime maand. Ik gebruik het op mijn gehele gezicht en mijn huid verdraagt het product zonder problemen. Ik heb een makkelijke huid en ik kon het dan ook heel snel opbouwen naar dagelijks gebruik. Het product smeert makkelijk en voelt prettig op de huid.

Mijn pigmentvlekken zijn ontstaan onder invloed van zonlicht en worden met blootstelling aan zonlicht (ondanks spf50) donkerder. Mijn pigmentvlekken zijn stukken lichter geworden de afgelopen twee maanden. Echter heb ik dan ook minder zonlicht gehad dan de zomer periode daarvoor dus het is lastig te zeggen wat het effect is van het product. Maar in theorie is het een heel nuttig product en omdat ik het zo goed verdraag zal ik het dan ook blijven gebruiken.

Hi SJW,
Bedankt voor je goede review! Heel fijn om te horen dat je pigmentvlekken al lichter aan het worden zijn na 2 maanden. Het dagelijks aanbrengen van zonnebrandcrème en zonlicht zoveel mogelijk vermijden zal ook de de terugkeer van pigmentvlekken voorkomen. Dit klinkt als een goede totaalaanpak die prettig voor je werkt. Met vriendelijke groet, Lotte - Paula's Choice Customer Care Team

Ik ben altijd super tevreden over de producten van Pc, mijn hele skin care voorraad is hiervan. Mijn verwachting was hoog, maar vind het wat tegen vallen, ik gebruik het voor lokale hyperpigmentatie. Ik gebruik het nu ongeveer 2 weken, bijna dagelijks...
Moet ik nog ff geduld hebben??

Hi Sanne, hartelijk dank voor het delen van jouw ervaring met dit serum. De tijd die het duurt voor je resultaat ziet, hangt van verschillende factoren af en verschilt ook per persoon. Zeker als het aankomt op (hardnekkige) pigmentvlekken kan het enige tijd duren voordat deze vervagen. Een dagelijks gebruik van 8-12 weken is de algemene termijn die nodig is om resultaten te zien, ongeacht de oorzaak van de verkleuring. Overigens is het belangrijk om het gebruik rustig op te bouwen, te beginnen met drie keer per week. Met vriendelijke groet, Chantal - Paula's Choice Customer Care Team

Ik vind hem best prijzig, maar toch maar besteld, omdat ik ook zo tevreden ben over de exfoliant. Maar het product is het geld meer dan waard! Na 1x smeren zag ik de volgende avond al verbetering in de rode vlekjes op mijn gezicht! Ook mijn pigment vlekjes zijn nog minder geworden dan al was gelukt met behulp van de exfoliant. Ik ben erg tevreden!

Hi Chantal, hartelijk dank voor het delen van jouw ervaring met dit serum. Wat fijn om te horen dat je al zo snel zoveel resultaat ziet wat betreft de rode vlekjes. Nog veel plezier van het product! Met vriendelijke groet, Chantal - Paula's Choice Customer Care Team

Wauw! Buiten het feit dat het magie in een potje is en het heerlijk weg smeert ben ik zo dankbaar voor dit product. Ik heb met mijn melasma, zonneschade, litteken vlekjes en hyperpigmentation al zoveel producten gebruikt en geld weggegooid. Ik heb gebeden voor een product als deze. Ik gebruik het pas een week om de dag een heel klein beetje alleen op de plekjes waar de verkleuring zit en het is nu al een wereld van verschil. Past perfect als serum in mijn routine en ik ga het voor altijd gebruiken!

Hi Sophia, hartelijk dank voor het delen van jouw ervaring met dit serum! Wat fijn om te horen dat je in zo'n korte tijd al verschil merkt. Nog veel plezier van het product! Met vriendelijke groet, Chantal - Paula's Choice Customer Care Team

More reviews Less reviews

Ingredients

What are the key ingredients?

Bakuchiol
Natural ingredient with skin healing capacity. Stimulates the effect of retinol.

Niacinamide/Vitamin B3
Very effective skin-restoring ingredient that can visibly improve the appearance of enlarged pores, uneven skin tone, fine lines and dullness.

Ingredients:
Aqua, Niacinamide (skin-restoring), Glycerin (skin-replenishing), dicA cimaxenarT (skin-conditioning/brightening), C13-15 Alkane (solvent), Caprylic/Capric Triglyceride (skin-replenishing), Dicaprylyl Carbonate (emollient solvent), Ethyl Macadamiate (skin-softening), Behenyl Alcohol (texture enhancer), Glyceryl Stearate (emulsifier), Butylene Glycol (hydration), Silybum Marianum Seed Oil (non-fragrant antioxidant plant oil), Tocopherol (vitamin E/antioxidant), Lactobacillus/Coconut Fruit Juice Ferment Filtrate (skin-replenishing/skin-soothing/antioxidant), Lecithin (skin-restoring), Bakuchiol (skin-restoring/antioxidant), Xanthan Gum (texture enhancer), Caprylyl Glycol (emollient), Hydrogenated Lecithin (skin-restoring), Allantoin (skin-soothing), Glycine Soja (Soybean) Oil (non-fragrant antioxidant plant oil), Hexylene Glycol (solvent), Boerhavia Diffusa Root Extract (skin-soothing antioxidant plant), Glycine Soja (Soybean) Sterols (skin-replenishing/antioxidant), Citric Acid (pH adjuster), Sodium Phytate (chelating agent), Malic Acid (pH adjuster), Phenoxyethanol (preservative), Ethylhexylglycerin (preservative).

FAQ

Does the Clinical Discoloration Repair Serum replace the other products I use for dark marks and patches?

Not necessarily. In fact, most will find that it complements their current routine because it can easily be used with ingredients such as retinol, niacinamide, vitamin C and azelaic acid (to name a few). Adding it to your current routine can help take your skin-evening routine to the next level and help maximise results. Tackling discolourations takes a comprehensive approach, so gentle cleansing, exfoliation, daily sunscreen and nighttime moisturisers are also key.

Will the Clinical Discoloration Repair Serum target different types of discolourations faster? For example, post-breakout marks vs. melasma?

The quickest results may be seen when this discolouration serum is used on red or pink post-blemish marks. The longest on grey, brown or dark brown/black marks (these can be particularly stubborn). As with all skincare, results will vary. No matter the cause of the discolouration, 8-12 weeks of daily use is the general timeframe needed to see results. Remember that ongoing use is needed to maintain results.

Is there any form of discolouration that the Clinical Discolouration Repair Serum does not target?

The Clinical Discoloration Repair Serum will not address hypopigmentation (loss of pigment). Lack of pigment can be caused by a variety of things, and it can be very tricky to get rid of. Those concerned with this condition should be properly diagnosed by a dermatologist or physician and treated accordingly. For topically resistant discolourations, in-office procedures may be required which can be discussed with your dermatologist or physician as well.

Who is the Clinical Discoloration Repair Serum best for?

This discolouration correcting serum is perfect for anyone who wants to restore their skin's natural tone and evenness. It's particularly good for those who've tried traditional discolouration-fading ingredients but found they did not deliver visible results.

Will the Clinical Discoloration Repair Serum make my other serums/moisturisers/makeup pill when I apply them on top?

No. This discolouration serum is lightweight and melts into skin. It plays nicely with other products and ingredients making it easy to layer.

If I discontinue use of the Clinical Discoloration Repair Serum will the dark patches come back?

Most likely, yes. Although ongoing use is advised to maintain results, some may find that daily application of sunscreen and a commitment to avoiding the sun as much as possible will prevent the return of dark spots. However, if you're dealing with more stubborn concerns like melasma, ceasing the use of any discolouration-reducing treatment or even skin tone skincare product will almost certainly lead to a relapse, which is why ongoing use is especially important in this case.

Can I use the Clinical Discoloration Repair Serum if I don't have dark patches?

Absolutely! While this product was formulated for those who are struggling with stubborn dark marks or patches, this discolouration and even skin tone serum can also be used by those with an uneven skin tone. Using discolouration and uneven skin tone targeting skincare such as the Clinical Discoloration Repair Serum early on will help protect skin and prevent dark patches from forming in the first place. For many, discolourations are already present underneath the skin and begin to surface later on in life or when skin is repeatedly exposed to environmental factors.

Will the Clinical Discoloration Repair Serum make my skin more sun-sensitive?

No. However, we recommend limiting sun exposure because when your primary goal is to minimise discolourations, it's important to be sun-smart. Avoid the sun as much as possible, apply sunscreen daily and consider hats, sunglasses, and beach umbrellas which can all prove helpful, whether you are using a discolouration and uneven skin tone serum or not.
Research
The Journal of Clinical and Aesthetic Dermatology, August 2019, pages E73–74 International Journal of Women's Dermatology, February 2019, pages 30–36 Journal of Cosmetic Dermatology, February 2019, pages 263–270 British Journal of Dermatology, February 2019, pages 289–296 Scientific Reports, January 2019, ePublication Journal of Cutaneous and Aesthetic Surgery, January–March 2013, pages 4–11 Dermatology Research and Practice, July 2011, ePublication Cytotechnology, April 2009, pages 183–190