https://www.paulaschoice.nl/en/earth-sourced-antioxidant-enriched-natural-moisturizer-full-size/8520.html
Earth Sourced Moisturiser
Made with natural ingredients, this lightweight cream replenishes and hydrates skin.

Skin Type:

All skin types

Concern:

Rosacea-prone skin, Sensitive skin

Ingredients:

Aloe Vera, Shea Butter, Evening primrose oil

View all

Routine:

Moisturizer PM
Variations
Full size 60 ml
Remove from wishlist
Add to Wishlist
Product out of stock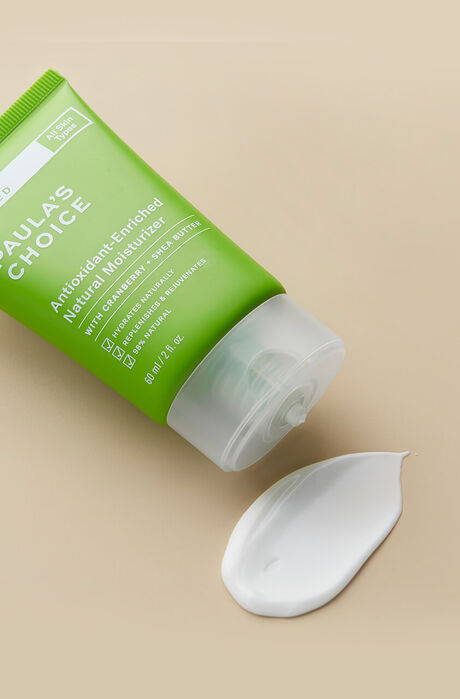 Earth Sourced Moisturiser
Full size
This product is sold out at the moment. Fill in your email address below and we'll gladly send you an email as soon as it is back in stock!
60 day money-back guarantee
Safe payments
What does it do?

The best of nature for night time.

This gentle moisturiser is formulated with gentle natural ingredients that hydrate skin for soft, healthy and radiant skin. The enriched, yet light formula treats skin to a combination of antioxidants and skin replenishing ingredients to protect skin from environmental stressors and help it to look younger.

Is this suitable for my skin?

What skin concern would you like to address?

(Please select one option).

Key Features

Suitable for rosacea-prone skin

How to use

A night moisturiser is the last step in your evening routine.
Apply the moisturiser liberally to your face after cleansing, toning, exfoliating and applying an antioxidant serum or targeted treatment .

Reviews

Thank you for submitting your review! It will be reviewed by our staff before it is posted.

Bij het opsmeren begon het enorm te branden mijn gezicht zat vol met rode vlekken. Helaas de crème moeten weggooien.. nu inmiddels een andere crème gekocht van PC die wel fijn is maar wel mijn geld kwijt..

Customer care: dankjewel voor het delen van je ervaring. Wat jammer dat deze Nachtcrème niet goed bij je huid blijkt te passen. Het blijft vooraf moeilijk te voorspellen hoe je huid gaat reageren op een bepaald product of een combinatie van producten. Om die reden hebben we een 60-dagen-niet-goed-geld-terug regeling, zowel op geopende als ongeopende producten. Ik raad je graag aan om contact op te nemen met de Customer Care hiervoor. Vriendelijke groet, Manon - Paula's Choice Customer Care Team

Ik probeer graag producten van Paula's Choice uit. De Earth sourced nachtcreme valt tegen. De textuur lijkt op het eerste oog fijn (creme), maar zodra het op mijn huid is ingetrokken trekt het onaangenaam veel. Erg jammer!

Customer Care: Wat jammer om te horen dat het product niet bevallen is! Als je contact opneemt met onze klantenservice, kunnen we je verder adviseren.

Ik heb een proefje gebruikt, maar kreeg hier een heel raar gevoel van op mijn huid. Licht trekkerig en tegelijkertijd nog vettig. Matteert dus niet genoeg en tegelijkertijd wellicht niet voedend genoeg. Gelukkig zijn er genoeg alternatieven.

Ik gebruik dit product als nachtcrème voor mijn vette en gevoelige huid. Hij trekt snel in en voedt mijn huid goed. Ik zou de crème echter niet overdag gebruiken omdat mijn gezicht er toch een beetje van gaat glimmen. Ook denk ik dat dit product niet voedend genoeg is voor iemand met een droge huid. Voor mij werkt het echter prima.

Dit is mijn nachtcrème en ik ben erg blij dat ik dit product heb aangeschaft, erg fijne en zachte crème. Ik zou de hem graag ook als dagcrème gebruiken, maar er zit geen SPF in. Als je de crème niet goed insmeert, kan hij inderdaad wat trekkerig/strak aanvoelen (maar dus niet droog). Maar na goed insmeren hydrateert hij bij mij erg goed. In heb begin had ik overigens wel wat last van geïrriteerde/opgezwollen oogleden in de ochtend, maar dit is snel weggetrokken. Misschien dus niet geschikt voor dames met gevoelige huid rondom de ogen? Ik ga ook snel de andere producten van Earth Sourced proberen.

Deze creme is echt mijn favoriet in de zomer als het warm is, en het is ook een hele fijne creme als je opvliegers hebt haha.
Het is wel belangrijk om de creme helemaal goed in te smeren tot het ingetrokken is anders geeft het een trekkerig gevoel op de huid.
In de winter gebruik ik het voor mijn t-zone (de rest smeer ik met resist intensive repair creme)

Ik heb een hele gevoelige gecombineerde huid die snel neigt naar onzuiverheden. Voor mijn gezicht werkt het prima, het voelt zacht en luchtig aan. Helaas moet ik echt uit de buurt van mijn ogen blijven, want anders krijg ik ontzettend prikkende ogen die zelfs gaan tranen. Dus niet geschikt als oogcreme voor mij. Jammer, want dit heb ik niet bij de andere cremes van Paula's choice.

Zeer lichte crème en daardoor en goede basis voor onder mijn make up.

Ligt het aan mij of is de verpakking veranderd? Er komt steeds heel veel uit de tube waardoor er al veel crème in de wasbak verdwenen is.

Ik heb een gevoelig en vettig huid. In het begin voelde mijn huid trekkerig aan maar een paar dagen ging het prima. Deze crème is heel licht en prettig, verstopt de poriën niet aan en veroorzaakt geen irritatie,

Ik heb dit product enkele maanden gebruikt, in combinatie met een andere crème. Telkens als ik deze crème gebruikte, begon de huid rondom mijn ogen te prikken. Uiteindelijk was mijn ooglid droog, rood en schilferig. Er zal dus toch iets in zitten wat irriterend werkt. Customer Care : Het spijt ons te horen over jouw ervaringen. Hoewel Paula's Choice producten ingrediënten bevatten waarbij de kans op irritatie zo klein mogelijk is, is overgevoeligheid voor een bepaald ingrediënt, en daarmee irritatie bij gebruik van een bepaald product, helaas nooit uit te sluiten.Wanneer je contact op wilt nemen met onze Customer Care afdeling, info@paulaschoice-eu.com Zij zullen je graag verder helpen met het vinden van een alternatieve moisturizer.

Ik gebruik de Earth Sourced lijn nu ongeveer 2 maanden, de produkten zijn voor mijn huid helemaal super,
Heb van nature een rosaceahuid, maar met deze produkten is mijn huid rustig geworden, en zonder ontstekingen,
Bedankt voor deze fijne produkten.

Ik gebruik de Earth Sourced Moisturizer nu al meer dan een half jaar en het bevalt prima.Ik gebruik het wel altijd in combinatie met de Resist moisturizer met spf 25. Voor de nacht gebruik ik het in combinatie met de Resist antioxidant serum.Dit werkt echt voor mij en heb sindsdien een heerlijk zachte huid.

Ik heb een vochtarme gevoelige droge huid en heb dit product gelukkig via proefmonster kunnen uitproberen, het droogt mijn huid juist uit. Ben wel erg tevreden over de rode producten van Paula's choice, deze passen beter bij mijn huidtype.
Customer Care: Het spijt ons te horen dat dit product niet geschikt is voor jouw huidtype. Voor de droge, gevoelige huid raden we graag de producten uit de Skin Recovery lijn aan.

Heb spijt dat ik niet eerst een proefmonster heb gevraagd. Heel erg trekkerig gevoel. Gebruik het nu maar voor hals en decolleté en ga weer verder met de moisture boost hydrating treatment cream, deze vind ik heerlijk.

Helaas werkt deze lijn niet voor mij. Bij de cleanser begon mijn huid al enorm te trekken en de crème verergerde dit nog. Desondanks voelde ik toch nog een laagje op mijn huid. De crème smeerde wel fijn en rook prettig. Na een dag had ik last van geïrriteerde wangen en brandende ogen. Ik denk dat er toch iets in moet zitten waar ik op reageer, naast het feit dat ik blijkbaar een rijkere crème nodig heb. Voor een wat vettere huid kan hij misschien goed werken. Daarna de Moisture Boost crème (met SPF) geprobeerd, die een stuk beter voelde op mijn huid, maar waarvan mijn ogen bleven branden. Ik zou misschien nog de crème zonder SPF kunnen proberen, maar ik durf het niet meer zo goed aan omdat mijn huid nu beschadigd en rood aanvoelt. Erg jammer, want ik had hoge verwachtingen van dit merk, aangezien ik veel crèmes niet kan verdragen! Customer Care : Dank u voor uw review en het spijt ons te horen over uw ervaringen met de Earth Sourced producten. Onze Customer Care afdeling zal graag contact met u opnemen om een alternatief product te vinden wat past bij uw huidtype.

Deze creme bevalt mij niet. Mijn huid blijft "strak" aanvoelen. Smeert wel goed uit. Voor hals en decolleté goed. Ik zal deze creme niet meer kopen.Mary Customer Care: Dank u voor uw review. Het spijt ons te horen over uw ervaringen. Het kan zo zijn dat dit product niet geschikt is voor uw huidtype. Het is altijd moeilijk te bepalen welke producten het meest geschikt zijn voor iemand omdat iedereen weer anders kan reageren op bepaalde ingredienten en/of producten. Wanneer u een gecombineerde huid of een normaal tot droge huid heeft willen wij u graag een van onze andere moisturizers aanbevelen. Voor de gecombineerde huid is onze RESIST Anti-Aging Clear Skin Hydrator een aanrader, voor de normaal tot droge huid kunnen wij u onze Moisture Boost Hydrating Treatment Cream van harte aanbevelen.

Erg fijn product bij rosacea en een overgevoelige huid. Super dat Paula een natuurlijke lijn heeft ontwikkeld.

Ik ben heel erg blij met deze earth sourced lijn. Na een gesprek met Fleur van de klantenservice kwam ik erachter dat ik een vorm van rosacea en een zeer gevoelige huid heb. Ik kon werkelijks niets verdragen op mijn gezicht. Ik heb een iets vette t zone en erg droge wangen met op de kaaklijn allemaal kleine rode bultjes wat steeds erger werd. Na een behandeling op Glamgarden door Fleur ben onderstaand stappenplan gaan volgen:

In de avond reinigen met de earth sourced gel en bronwater in plaats van kraanwater. Hierna de BHA lotion 1% aanbrengen en daarna de Earth sourced moisturizer.

In de ochtend reinigen met de earth sourced toner, daarna de earth sourced moisturizer en dan vervolgen met de resist handcreme voor de spf. Ik kon namelijk niet tegen de andere spf's maar deze handcreme gaat super op aanraden van de klantenservice.

Dagelijks slik ik voedingssupplementen L-Lysine 1000 mg om het afweersysteem van de huid weer op te bouwen in combinatie met vitamine B en visolie. Ik reinig niet meer met kraanwater maar gewoon met goedkope flesjes bronwater en wat een verbetering!!! Ook laat ik koemelk achterwege om te kijken of dat resultaat heeft. 1 keer in de week neem ik een masker, skin balancing carbon mask en ik ben van plan om het resist serum met antioxidanten te gaan toevoegen voor de vitamines (de blauwe, zonder retinol want ik verdraag aha en retinol niet). Ook lees ik positieve berichten over vitamine c en e in creme's (jetske ultee) en las dat deze ook in de resist clear skin hydrator voorkomen. Is misschien ook een idee om in de toekomst te gebruiken. Ik gebruik dit systeem nu 3 weken en zie echt resultaat. 1000 maal dank aan Fleur van de klantenservice...

Heerlijk zachte creme maar zeker in het begin even wennen. Als hij na gebruik van de reinigingsgel en toner is ingetrokken, voelt het in het begin wat oncomfortabel en trekkerig. Ik merk wel dat het na een aantal dagen beter werd. Ik heb echt een zeer gevoelige huid maar mijn huid is na gebruik heel kalm en zeker niet rood of vlekkerig. Ik gebruik de producten uit de Earth Sourced lijn nu bijna anderhalve week en de ervaringen zijn tot nu toe positief. Bij een hele droge huid vind ik de producten niet voedend genoeg. Zo heb ik een gecombineerde huid en de moisturizer is op mijn wangen niet voldoende. Dit los ik nu op door een beetje pure amandelolie (Weleda) erover heen aan te brengen. Dan is het trekkerige gevoel weg. Verder trekt de moisturizer goed in en laat geen vettig laagje achter. Geen uitslag of allergische reacties tot nu toe, maar mijn huid kan heel vreemd reageren dus pas over een maand durf ik pas te juichen als het zo goed blijft gaan! Maar dat mijn huid niet rood wordt en er rustig uitziet, is zeker een goed begin! De meeste producten gaan op mijn huid branden of maken mijn huid rood en mijn ogen branderig. Met deze producten heb ik er geen last van.

More reviews Less reviews

Ingredients

What are the key ingredients?

Aloe vera
Plant extract that has soothing properties, antioxidant qualities, and serves as a hydrating agent.

Shea Butter
This plant lipid, extracted from the karite tree, is used as an emollient and has smoothing properties for dry skin. it's also a rich source of antioxidants.

Evening Primrose Oil
Non-fragrant plant oil that can have significant skin-soothing and emollient benefits for skin.

Ingredients:
Aqua, Theobroma Cacao (Cocoa) Seed Butter (antioxidant/emollient), Glycerin (hydration/skin replenishing), Vitis Vinifera (Grape) Seed Oil (non-fragrant oil/emollient/antioxidant), Olea Europaea (Olive) Fruit Oil (non-fragrant oil/emollient/antioxidant), Canola Oil (non-fragrant oil/emollient/antioxidant), Butyrospermum Parkii (Shea) Butter (antioxidant/emollient), Propanediol (hydration), Borago Officinalis (Borage) Seed Oil (non-fragrant oil/emollient/antioxidant), Oenothera Biennis (Evening Primrose) Seed Oil (non-fragrant oil/emollient/antioxidant), etanorulayH muidoS (hydration/skin replenishing), Rubus Idaeus (Raspberry) Seed Extract (antioxidant), Vaccinium Macrocarpon (Cranberry) Fruit Extract (antioxidant), Vaccinium Myrtillus (Bilberry) Leaf Extract (antioxidant), Malpighia Punicifolia (Acerola) Fruit Extract (antioxidant), Lycium Barbarum (Goij) Fruit Extract (antioxidant), Aloe Barbadensis Leaf Extract (hydration/skin-soothing), Tocopherol (Vitamin E/antioxidant0, Hydrogenated Lecithin (skin renewing), Thermus Thermophillus Ferment (hydration/skin replenishing), Rosa Canina (Rose Hip) Seed Oil (non-fragrant oil/emollient/antioxidant), Vaccinium Macrocarpon (Cranberry) Seed Oil (non-fragrant oil/emollient/antioxidant), Linum Usitatissimum (Linseed) Oil (non-fragrant oil/emollient/antioxidant), Caprylic/Capric Triglyceride (emollient), Arginine (amino acid/hydration/skin replenishing), Glycine (amino acid/hydration/skin replenishing), Alanine (amino acid/hydration/skin replenishing), Serine (amino acid/hydration/skin replenishing), Valine (amino acid/hydration/skin replenishing), Proline (amino acid/hydration/skin replenishing), Threonine (amino acid/hydration/skin replenishing), Isoleucine (amino acid/hydration/skin replenishing), Histidine (amino acid/hydration/skin replenishing), Phenylalanine (amino acid/hydration/skin replenishing), Aspartic Acid (amino acid/hydration/skin replenishing), Helianthus Annuus (Sunflower) Seed Cera (Wax) (texture-enhancing), Hydrolyzed Caesalpinia Spinosa Gum (texture-enhancing), Caesalpinia Spinosa Gum (texture-enhancing), Carrageenan (texture-enhancing), Sodium Lactate (hydration), Potassium Stearate (texture-enhancing), Sodium PCA (hydration/skin replenishing), Glyceryl Stearate (texture-enhancing), PCA (hydration/skin replenishing), Silica (texture-enhancing), Xanthan Gum (texture-enhancing), Leuconostoc/Radish Root Ferment Filtrate (preservative), Potassium Sorbate (preservative), Sodium Benzoate (preservative), Benzyl Alcohol (preservative), Phenoxyethanol (preservative).

FAQ

What is the Earth Sourced Collection?

Earth Sourced products are formulated with mainly natural ingredients. The natural ingredients used are guaranteed to be non-irritating, safe and effective for different skin types. Many natural skincare lines contain natural ingredients can actually irritate the skin and damage healthy collagen production. Paula's Choice uses a specialised, proprietary technology to ensure these natural products function as intended and without using ingredients known to cause irritation.

Does Earth Sourced Antioxidant-Enriched Natural Moisturizer provide anti-ageing benefits?

Yes! The formula is loaded with antioxidants and repairing ingredients that help skin strengthen itself and begin to recover from past damage. When used as part of a skin-care routine that includes daily sun protection, this moisturiser will leave your skin looking younger and healthier than almost any other natural moisturiser you may have tried! It's important to point out that all Paula's Choice moisturizers provide anti-ageing benefits. That's because each is formulated with a range of ingredients research has proven skin needs to look and act younger, longer.

Can I recycle this product?

This packaging is made of two components. The tube is made from EVOH plastic and the cap is made from PP plastic. Please check with your local council before recycling this product.
Research
British Journal of Dermatology, February 1996, issue 2, pages 215-220 The Journal of Clinical and Aesthetic Dermatology, June 2011, issue 6, pages 45-55 Phytomedicine, January 2005, issue 1-2, pages 131-137 International Journal of Cosmetic Science, August 2005, issue 4, pages 243-249 Clinical Dermatology, March-April 2009, issue 2, pages 159-165 Dermato-Endocrinology, July 2012, issue 3, pages 253-258 Nutrients, August 2014, issue 8, pages 3202-3213 International Journal of Molecular Science, October 2015, issue 10, pages 24673-24706 Cosmetics, 2015, volume 2, issue 3, pages 259-276