https://www.paulaschoice.nl/en/shine-stopper-instant-matte-finish-with-microsponge-technology-full-size/3600.html
Shine Stopper
Keeps oily skin shine-free for up to 6 hours, while minimising the appearance of pores.

Skin Type:

Oily skin

Concern:

Blackheads , Enlarged pores

Ingredients:

Silicone , Glycerin

View all
Remove from wishlist
Add to Wishlist
Variations
Full size 30 ml
Product out of stock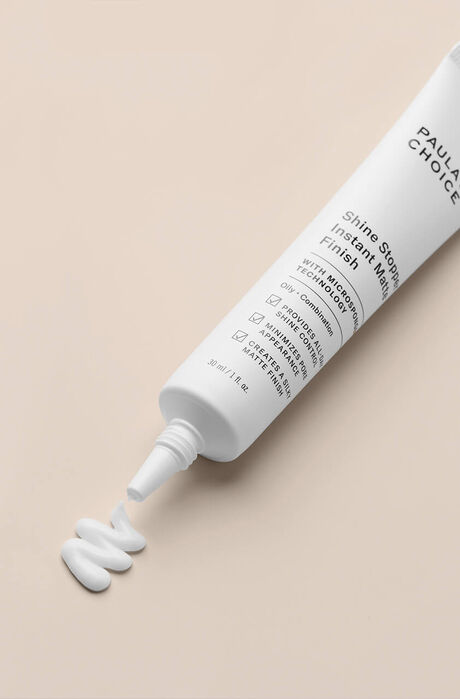 This product is sold out at the moment. Fill in your email address below and we'll gladly send you an email as soon as it is back in stock!
60 day money-back guarantee
Safe payments
What does it do?

A soft, shine-free finish that lasts all day long.

This oil-absorbing primer gives a soft, powder-like finish. The unique Microsponge® technology keeps oily skin shine-free for up to 6 hours, while minimising the appearance of pores. Use it as the perfect base for flawless, long-lasting make-up or wear it alone.

Key Features

Great addition to your skincare regime

Visibly reduces enlarged pores

How to use

Use as the final step of your skincare routine. Apply a small amount by tapping your fingers on the oily parts of your face (do not rub). If you are using foundation, let this dry first before applying the Shine Stopper and possibly a face powder. You can reapply Shine Stopper during the day.

Reviews

Thank you for submitting your review! It will be reviewed by our staff before it is posted.

Ik heb normaal na 2 uur make up dragen een flinke glimmende huid , na heel veel te hebben geprobeerd heb ik nu eindelijk een product wat echt werkt ! Mijn make up blijft uren lang zitten zonder glans ! Super blij mee

Hi Sharella, bedankt voor je positieve review op de Shine Stopper. Fijn om te horen dat je toch een product hebt gevonden waarmee je make-up goed blijft zitten en je huid niet meer glimt. Mocht je nog aanvullend advies wensen, neem dan gerust eens contact met ons op. Met vriendelijke groet, Alex - Paula's Choice Customer Care Team.

Al jaren last van een vette huid. Ik heb alles geprobeerd van depdoekjes tot aan poeders.. deze shinestopper is de enige die zijn werk doet! In de winter blijft mijn huid de hele dag mat, in de zomer max6/8 uur. Ik heb zowel onder als bovenop de foundation geprobeerd, het beste werkt (voor mij) als finish. Neem er wel de tijd voor, rustig deppen. Ik heb de tube nu een half jaar en gebruik het dagelijks(hoeveelheid ter grootte van een erwt), dus gaat lang mee!

Hi Anouk, bedankt voor je positieve review. Fijn om te horen dat de Shine Stopper zo goed helpt je huid mat te houden. Met vriendelijke groet, Alex - Paula's Choice Customer Care Team

Top product! Werkt erg goed voor mijn glimmende t-zone.

Hi Busra, hartelijk dank voor je review. Wat fijn om te horen dat je zo'n fan bent van onze Shine Stopper, nog veel plezier van het product! Met vriendelijke groet, Chantal - Paula's Choice Customer Care Team

Ik merkte de laatste tijd dat mijn t-zone wat vettiger was dan normaal. Na dat ik deze primer gebruik is deze glans meteen voor de rest van de dag verdwenen. Ik dep het over mijn gehele gezicht met extra aandacht in de t-zone en het is echt een life saver! Echt heel erg blij hiermee!

Vandaag heb ik de primer geprobeerd voor het eerst ( met beauty blender DEPPEN, NIET SMEREN) en dit is echt een top product! Heb al langer dan 12 uur mijn make-up op en er is geen glans of vet te zien! Zooooooo blij hier mee!

Ik worstel letterlijk al jaren met een te vette huid die er overdag enorm glimmend gaat uitzien. Het lijkt net alsof ik altijd net uit de sportzaal kom en mijn gezicht nat is van het zweet. Niet dus... Ik heb al tal van producten uitgeprobeerd die allen beweren je huid matter te maken. Ik breng dit aan onder een laagje mineraal poeder en na een uurtje of twee leek het iedere keer alsof de make up gewoon van mijn gezicht af begon te glijden.. horror!

Maar... sinds ik de Shine Stopper van Paula's Choice gebruik, met of zonder make up, heb ik echt nooit nog last van een glimmende huid. Mijn huid voelt de hele dag zacht aan en mijn make up blijft mooi zitten. Dit is het eerste product dat ik telkens opnieuw blijf kopen en het eerste en enige dat voor mij echt werkt! Je hebt ook helemaal niet zoveel product nodig. Wel deppen, niet wrijven.

Ik heb een gevoelige combinatiehuid met doorgaans lichte acné. Dagelijks zonnebrandcrème opsmeren is voor mij een must maar helaas krijg ik er wel een extra vettige huid van. Dit product brengt dat terug van een 11 naar een gezonde 3. Bij veel andere anti-shine producten krijg ik een trekkerig gevoel of droogt het mijn huid heel erg uit en ben ik weer helemaal vettig binnen een uur.

Dit product is effectief en heeft verder geen enkele negatieve impact op mijn huid. Dit betekent dat het mijn huid niet uitdroogt, en dat het mijn acné niet verergert. Mijn huid blijft de hele dag mat, ook als ik het over zonnebrandcrème aanbreng.

Ik heb het nog niet uitgeprobeerd bij heel warm weer maar wel tijdens het sporten. Als je erg zweet op een dag zal het minder effectief worden, maar dat is niet zo vreemd. Voor de gewone activiteiten blijft het goed zitten, maar als je veel zweet zal je het misschien een keer moeten bijwerken. Dit is voor mij geen probleem.

Dit is echt het beste product ooit voor de vette huid. Ik had nooit durven hopen dat dit zo goed zou werken! Mijn huid is zo vet dat ik na 10 minuten make up dragen al totaal glim, hoeveel poeder, settingspray of primer ik ook gebruik. Ik breng hem over mijn make up aan, aangezien hij onder mijn make-up niet goed combineert met de tarte shape tape, het haalt elkaar een soort van weg. Maar over m'n make up na poeder breng ik hem aan op de punten waar ik niet wil glimmen. Ik dep het zachtjes met m'n vingers en het haalt m'n make up niet weg! En ik ben echt waar de hele dag mat. Nog niet geprobeerd op een festival in de zon of binnen feest natuurlijk, maar wel hele dag werken en feestjes thuis. Ik ben zo fan!

Een heel fijn product tegen een glimmend voorhoofd! Kan niet meer zonder!

Dit product werkt! Ik heb normaal gesproken een gecombineerde huid, maar sinds de hittegolf is mijn huid extreem vettig geworden! Ik kan normaal mijn vettige huid redelijk accepteren maar de laatste tijd was het écht too much. Dit product dep je zachtjes over glanzende huid om 16.00 smiddags en het voelt daarna gewoon mat aan! Heel bijzonder. Normaal gesproken gebruik ik blotting paper en daar overheen blotting powder. Maar dit werkt én beter en het ziet er natuurlijker uit want je huid voelt mat maar het ziet er niet mat als zoals met een poeder. Je behoud een natuurlijke glow.
Als je een echt vette huid hebt kan ik je dit product echt aanbevelen.

ik was erg sceptisch in eerste instantie want ik heb echt al veel geprobeerd om bij het dragen van makeup geen super vette t-zone te krijgen, allerlei primers, verschillende foundation's. Soms durfde ik dan ook niet te veel moisturiser op te doen omdat het dan nog sneller vet word maar ik heb de shine stopper vandaag gebruikt en ik ben er ZO blij mee! Heb m op de t-zone gebruikt en hij is na uren dragen niet vet en shiny geworden. Normaal moest ik elke 2 uur poederen. Echt geweldig. Je gebruikt ook super weinig en als het nodig is kan je opnieuw aanbrengen. Is nu een must-have voor mijn makeup routine!

Dit product werkt super. Ik geloofde nooit in dit soort producten, maar na lang twijfelen (prijzig) heb ik het toch maar besteld en ik ben verkocht. Na dagelijks een glimmend voorhoofd die ik bijna moest droogdeppen naar een voorhoofd die zacht en droog aanvoelt en niet meer er uitziet alsof ik zweet...GEWELDIG!

Dit product werkt super. Dep het op en je hebt de hele dag geen vette/glimmende huid meer. Vooral mijn oog make-up ging snel uitlopen doordat ik zo'n vette huid heb, dit gebeurd nu niet meer.

Heel snel weer een vette huid, helaas werkt dit product niet bij mij!

Superfijn product dat mijn (vette/gecombineerde) huid heerlijk mat houdt. Absolute aanrader voor mensen die snel last hebben van een glimmende huid.

Geen enkel product krijgt mijn huid mat, ik heb altijd een glimmende t-zone. Alles geprobeerd, maar dit product werkt ECHT. Super blij mee dat ik eindelijk mijn huid mat krijg. Je doet erg lang met een tube, ook al gebruik ik deze dagelijks. Tweede tube is aangeschaft!

Eerste product dat écht werkt tegen glimmen!!! Mijn huid blijft de hele dag matte! Je hebt er maar heel weinig van nodig, dus deze tube gaat lang mee. Absoluut het geld waard!

Topproduct!!! Moet mijn gezicht meerdere keren per dag met tissue deppen om minder te laten glimmen. Nog nooit iets kunnen vinden wat hier tegen helpt. Dit werkt! Wel even oefenen met aanbrengen. Niet wrijven! Ben heel tevreden.

Helaas doet dit product helemaal niets voor mij. Merk echt geen enkel verschil, jammer!

More reviews Less reviews

Ingredients

What are the key ingredients?

Silicone
In its various forms it can feel like silk on skin. It's a great water-binding agent that holds up well and offers protection against moisture loss.

Glycerin
Skin-replenishing and restoring ingredient, found naturally in skin. It helps skin to maintain a healthy look and feel, defending against dryness.

Ingredients:
Aqua, Methyl Methacrylate/Glycol Dimethacrylate Crosspolymer (texture-enhancing/absorbent), Caprylic/Capric Triglyceride (emollient/texture-enhancing), Dimethicone (hydration), Cetearyl Alcohol (emollient/texture-enhancing), Glycerin (hydration/skin replenishing), PEG-100 Stearate (emollient/texture-enhancing), Magnesium Aluminum Silicate (absorbent), Glyceryl Stearate (texture-enhancing), Myristyl Myristate (texture-enhancing), Ceteareth-20 (texture-enhancing), Xanthan Gum (texture-enhancing), Disodium EDTA (stabilizer), Benzyl Alcohol (preservative), Phenoxyethanol (preservative).

FAQ

Is Shine Stopper Instant Matte Finish a primer?

Yes, Shine Stopper Instant Matte Finish is a primer in the sense that it helps those with oily skin maintain control over excess surface oil while smoothing the skin's texture. These features help enhance makeup application and wear, so you'll see longer-lasting results and won't have to touch up frequently. For best results, make sure your foundation has a matte finish.

What exactly is Microsponge® Technology?

Microsponge is a proprietary technology that works instantly and over time to help absorb and trap excess oil as it reaches your skin's surface. Much like a sponge absorbs moisture, Microsponge uses special porous polymers that not only absorb excess oil but also leave your skin feeling powdery smooth and fresh. Think of this technology as millions of spherical sponges working to keep your oily skin looking beautifully refined and perfectly matte without dryness or dullness.

Where does all of the excess oil go?

Once absorbed via the Microsponge® Technology, the excess oil remains trapped inside the unique polymers until they've reached their capacity to trap oil. Once this happens, you'll begin seeing excess shine on your skin; however, most will find that the technology built into Shine Stopper Instant Matte Finish keeps excess oil (shine) in check for several hours. When you cleanse your face, the polymers holding the excess oil are simply washed away!
Research
International Journal of Cosmetic Science, Epublication, July 2010 Molecular Pharmaceutics, September–October 2009, pages 1,441–1,448 British Journal of Dermatology, November 2006, pages 890–894; and www.microsponge.com.