https://www.paulaschoice.nl/en/skin-balancing-oil-reducing-cleanser-full-size/1150.html
Skin Balancing Cleanser
This foaming cleanser removes dirt, excess oil and makeup without stripping skin.

Skin Type:

Combination skin, Oily skin

Concern:

Breakouts , Blackheads , Enlarged pores

Ingredients:

Aloe Vera , Glycerin , Sunflower Oil

View all

Routine:

Cleanser
Remove from wishlist
Add to Wishlist
Product out of stock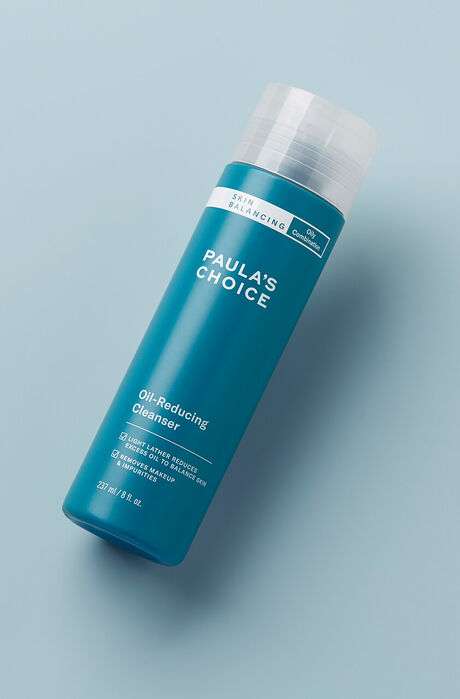 Skin Balancing Cleanser
Full size
This product is sold out at the moment. Fill in your email address below and we'll gladly send you an email as soon as it is back in stock!
60 day money-back guarantee
Safe payments
What does it do?

Balanced cleansing for oily skin.

A cleanser for combination to oily skin should keep the skin balanced, removing excess oil while keeping the skin's natural protective layer intact. This gentle yet effective cleanser cleanses skin without stripping it and is ideal if you suffer from blackheads or enlarged pores.

Key Features

Fights breakouts and blackheads

How to use

Use morning and evening. Splash the face and eyes generously with water. Apply a small amount of cleanser to your face using vigorous yet gentle circular motions. Rinse well. Repeat or use with a clean washcloth to remove heavy makeup.

Reviews

Thank you for submitting your review! It will be reviewed by our staff before it is posted.

Deze gezichtsreiniger is echt voor de vette huid. Voor mijn gecombineerde huid blijkt hij niet geschikt. Als je een vette huid hebt is dit absoluut een aanrader.

Ik gebruik dit product nu enkele maanden en ben er tevreden over, makkelijke flacon, laat mijn huid minder glimmen, en voelt niet trekkerig aan. Doet wat het moet doen.

Zo dat is nog eens een cleanser. Ik gebruik deze cleanser nu ruim een jaar en deze cleanser doet echt wat hij moet doen. Door dit middel in combinatie met de Skin Balancing invisible Finish Moisture gel ben ik van de glim op mijn voorhoofd af.
Echter snap ik wel wat maddy zegt in haar review. Het kan wel uitdrogen dus goede producten na de cleanser gebruiken. Of inderdaad de Clear Gezichtsreiniger nemen die doet net zo goed zijn werk maar geeft door de gelstructuur een zachtere niet uitgedroogde huid.

Toch wel fijn als er iemand in je omgeving is die deze reiniger ook gebruikt. Voor een aantal dagen wat meegekregen. Wauw ! Dit product haalt mijn foundation en oog-make-up er perfect af. Oké, ik reinig mijn huid altijd dubbel. Dit is nu eenmaal mijn routine. Geen allergische reactie. Geen prikkend gevoel bij het afdrogen, geen rauwige droge structuur van mijn huid als ik met mijn handen over mijn gezicht ga. Schoon, fris en absoluut ontvankelijker voor de producten die ik hierna gebruik. Past helemaal bij mijn huidtype! Direct heb ik dit product besteld en beoordeel dit STER-product met 5 stralende sterren!

Ik heb deze cleanser besteld omdat ik het fijn vond dat deze een inhoud van 473ml heeft. En de omschrijving wel bij mijn huid leek te passen.
Helaas doet deze cleanser helemaal niks voor mij. :(
Ik heb snel weer Gezichtsreiniger - Clear Pore Normalizing Cleanser besteld.
Deze werkt wel goed ! Jammer dat deze niet in een grote flacon te verkrijgen is..

Deze gezichtsreiniger gebruik ik alleen voor in de ochtend omdat ie s'avonds mijn make-up er bijna niet af haalt. Voor in de ochtend doet ie prima zijn werk.

Ik voldoe volledig aan het profiel: puistjes en rimpels maar toch lijkt het product niet aan te sluiten bij mijn huid. Ik heb er veel verstoppingen bij gekregen. Ik had helaas een voordeel-verpakking besteld maar kan het eigenlijk niet verder gebruiken. Zou de Clear Pore Normalizer een beter product zijn voor mijn huid?

Customer Care: Hartelijk dank voor je review. Het spijt ons te horen van jouw ervaring. Hoewel Paula's Choice producten ingrediënten bevatten waarbij de kans op irritatie zo klein mogelijk is, is overgevoeligheid voor bepaalde ingrediënten, en daarmee irritatie bij gebruik van bepaalde producten, helaas nooit helemaal uit te sluiten. We raden je aan contact op te nemen met ons Customer Care Team voor advies en een passende oplossing.

Ik heb deze grote fles overgenomen van iemand die een andere cleanser gekocht heeft van PC.
De fles was nog helemaal onaangebroken!
Had hiervoor de Resist foaming perfectly balanced cleanser gekocht die iets voller is en hydraterender maar die is ook super, zeker voor de winter.
Ik heb een vochtarme gecombineerde huid en deze cleanser is heerlijk, reinigt goed en heb geen trekkende huid..heb snel last van verstopte poriën en meeëters..
Maakt mijn huid gewoon goed schoon...Heerlijk dus zal deze zeker nog vaker kopen!

Iedere keer als ik deze milde reiniger gebruik is mijn huid veel schoner en voelt het zacht aan. Ook oogmake-up, foundation, concealer en poeder reinigt dit product heel goed. Het watje met toner blijft schoon. Je hebt er maar weinig van nodig (zie bijbehorende video) en doe ik ruim een jaar met deze grote verpakking. Ideaal. Bij gebruik van waterproof mascara is het handig om het laatste restje mascara te verwijderen met (parfumvrije) olie op een vochtig watje.

Goede reiniging , mijn huid voelt zacht en comfortabel aan.

Na een fles te hebben opgemaakt van de skin balancing oil reducing cleanser was ik helemaal enthousiast en geb. ik dus de grotere voordeel fles van deze gekocht. Ik gebruik het. iedere ochtend en avond in combinatie met toner, crème en BHA. Ik was heel enthousiast maar zoals eerdere reviews valt het nu erg tegen sinds ik begonnen ben met de grote fles heb ik weer net zo'n devotie huid als voordat ik met PC's producten begon. Ik heb nu dus een hele dure bestelling, nog veel aan hoeveelheid van het product maar veel puisten en weet niet zo goed wat nu te doen. Voor dat geld verwacht ik meer of beter gezegd hoopte ik meer. Customer Care : Dank je voor jouw review en het spijt ons te horen dat je niet tevreden bent met de Skin Balancing Oil Reducing Cleanser. Neeem gerust contact op met onze customer care afdeling info@paulaschoice.nl en zij zullen je graag helpen met een passende oplossing.

prima gezichtsreiniger. ik ben heel blij mee, niet zo dun zo als kleiner verpaking, gaat lekker lang mee. Dat is een aanraader.

Je hebt er weinig van nodig, doet er lang mee. Ondanks dat vele producten van PC best aan prijs zijn, is dit weer een mooie acceptabele prijs. Gebruik het nu langer als een jaar. Verwijderd ook je make-up, zelfs je mascara erg goed.
Blijf het zeker gebruiken.

Ik gebruik deze cleanser nu meer dan een half jaar en ben nog steeds heel erg tevreden. De cleanser maakt mijn huid goed schoon. Mijn huid voelt na gebruik zacht, glad en soepel aan. Hij verwijderd ook prima mijn oogmake-up zonder dat het irriteert of rood wordt. Ik gebruik de cleanser 's ochtends en 's avonds. Ik heb een gecombineerde huid en had altijd snel last van verstopte porien (meeeters).
Het is jammer dat vaak een product maar een paar dagen gebruikt wordt en dan al wordt afgeschreven omdat er wat onzuiverheden naar boven komen. Je huid bestaat uit lagen en je kunt pas echt iets zeggen over de werking van een product na ongeveer een maand gebruik. Soms krijg je bij gebruik van een nieuw GOED product last van onzuiverheden omdat alle troep naar bovenkomt. Geef de huid de tijd om zich te hernieuwen!

Een fijne milde reiniger die niet prikt of irriteert. Haalt alle make-up er goed af. Zelfs mijn oogmake-up is helemaal eraf zonder hard te moeten boenen.

Zo hier kan je lekker lang mee vooruit! De cleanser is heerlijk zacht en inderdaad heb je er echt weinig van nodig. Ik gebruik foundation en die is naderhand ook echt helemaal van mijn gezicht af. Mijn watje met toner blijft schoon.
Dus een topper!

Een prima gezichtsreiniger! Ik heb zelf een gevoelige gecombineerde huid en veel reinigers waren te agressief voor mij. Maar deze is heel erg mild en reinigt heel goed en grondig. Balansing Cleanser is een van de weinige cleansers waarop ik geen allergische reactie krijg.

More reviews Less reviews

Ingredients

What are the key ingredients?

Aloe vera
Plant extract that has soothing properties, antioxidant qualities, and serves as a hydrating agent.

Glycerin
Skin-replenishing and restoring ingredient, found naturally in skin. It helps skin to maintain a healthy look and feel, defending against dryness.

Sunflower Oil
Non-fragrant plant oil used as an emollient and has the ability to help replenish and soothe skin.

Ingredients:
Aqua, Sodium Cocoyl Isethionate (cleansing), Sodium Lauroamphoacetate (cleansing), Stearic Acid (texture-enhancing), Glycerin (hydration/skin-replenishing), Glycol Distearate (texture-enhancing), Helianthus Annuus (Sunflower) Seed Oil (non-fragrant oil/antioxidant), Acrylates Copolymer (texture-enhancing), Cetearyl Alcohol (texture-enhancing), Aloe Barbadensis Leaf Juice (hydration/skin-soothing), Sodium Chloride (stabilizer), Sodium Hydroxide (pH balancing), Xanthan Gum (texture-enhancing), Caprylyl Glycol (preservative), Hexylene Glycol (preservative), Disodium EDTA (stabilizer), Phenoxyethanol (preservative).

FAQ

Which cleanser is best for my oily skin?

It all depends on personal preference. If you prefer a creamier cleanser that foams and rinses easily with no residue, the Skin Balancing Cleanser is ideal. If you prefer a super-light, clean-rinsing gel cleanser the Clear Pore Normalizing Cleanser is perfect. If you suffer from breakouts, the Pore Normalizing Cleanser is a good option.

Will my skin be dry and tight if I use Skin Balancing Cleanser?

No. Skin Balancing Cleanser is carefully formulated with gentle ingredients to cleanse the skin thoroughly and remove makeup without stripping or drying the skin.
Research
Indian Journal of Dermatology, 2008, issue 4, pages 163-166 International Journal of Cosmetic Science, February 2000, issue 1, pages 21-52 Skin Pharmacology and Physiology, 2011, issue 6, pages 289-93 Journal of Cosmetic Science, May-June 2007, issue 3, pages 229-44 Skin Research and Technology, February 2001, issue 1, pages 49–55