https://www.paulaschoice.nl/en/25perc-aha-and-2perc-bha-exfoliant-peel/9565-01.html
Skin Perfecting 25% AHA + 2% BHA Exfoliant Peel
A gentle rinse-off exfoliant peel that dramatically resurfaces skin. The multi-acid blend is suitable for weekly use and visibly smooths wrinkles, refines rough, bumpy texture, brightens tone & unclogs pores.

Skin Type:

All skin types

Concern:

Anti-Aging, Enlarged pores, Dull skin

Ingredients:

AHA Blend, Salicylic Acid/BHA, Butterfly Pea Flower Extract

View all

Routine:

Exfoliate
Variations
Full size 30 ml
Remove from wishlist
Add to Wishlist
Product out of stock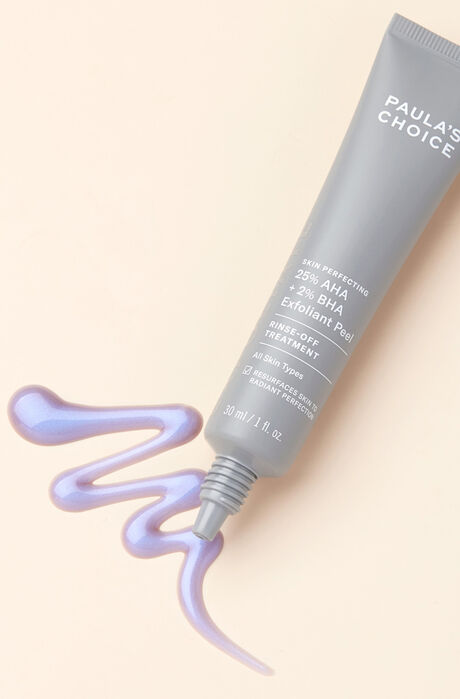 Skin Perfecting 25% AHA + 2% BHA Exfoliant Peel
Full size
This product is sold out at the moment. Fill in your email address below and we'll gladly send you an email as soon as it is back in stock!
60 day money-back guarantee
Safe payments
What does it do?

10 minutes to glow

A concentrated, rinse-off exfoliant peel that goes to work in just 10 minutes to improve multiple signs of ageing, sun damage and congested pores. Water-soluble AHAs address fine lines, wrinkles and rough, crepey texture, while oil-soluble BHA unclogs and refines. The result after rinsing? Hydrated, supple, ultra-glowy skin.

This liquid-gel formula includes powerhouse ingredients like 2% salicylic acid and a potent AHA blend of 8.4% glycolic acid, 7.1% lactic acid, 5% mandelic acid, 2.5% tartaric acid and 2% malic acid to deliver multi-level resurfacing. At the same time, research-backed, calming plant extracts allantoin, bisabolol, glycyrrhetinic acid soothe skin. Plant-derived butterfly pea flower extract calms and gives the formula its natural lilac colour.

Is this suitable for my skin?

What skin concern would you like to address?

(Please select one option).

Key Features

For a radiant, healthy glow

Fights breakouts and blackheads

How to use

Once per week, use on clean skin. Apply a generous layer all over the face and neck. Leave on for 10 minutes. Rinse thoroughly. Do not use other exfoliants on the same day as this product.

Please note: Slight tingling may occur; if this happens, it should subside within a moment or two. If it does not subside or intensifies, immediately rinse peel with warm water. Do not use on compromised, sensitised skin.

Sun protection advice when using any AHA exfoliant: This product contains alpha hydroxy acids, ingredients that may increase your skin's sensitivity to the sun and the possibility of sunburn. Always apply a broad-spectrum sunscreen rated SPF 30 or greater every day. When outdoors, wear protective clothing whenever possible, seek shade, and avoid prolonged sun exposure.

Reviews

Thank you for submitting your review! It will be reviewed by our staff before it is posted.

Tot nu toe gebruik ik 1 x per week de peeling (en de andere dagen de 1% BHA exfoliant van de Calm lijn omdat mijn huid snel geirriteerd wordt. Bij de peeling GEEN irritatie en de huid is mooi stralend na een peeling & masker. Super blij mee. Ben zelf ook schoonheidsspecialiste en ik zocht een product dat ook thuis gebruikt kan worden

This product is my first experience with at-home exfoliating & AHA/BHA and I couldn't be happier.

It tingled going on, but didn't irritate my sensitive skin.

The result is extremely smooth, dewy skin, that I've never had outside a professional treatment.

Absolutely recommend, hope you all have the same great experience I have! ✨

De peeling is een gemakkelijk product. Je brengt de peeling royaal aan na het reinigen van je huid. Je wacht 10 minuten en direct is de eerste glow al zichtbaar. Voor dieper resultaten moet je het wel vaker gebruiken en duurt het wat langer, maar dat is logisch want gemiddeld duurt het resultaat van AHA & BHA 12 weken.

Al jaren gebruik ik Paula's Choice producten. De laatste weken een erg onrustige huid. Ik was op de site aan het zoeken en kwam dit product tegen. Ik ben 2 weken geleden gestart met het gebruik van deze peeling en wat een verschil!!! Mijn huid is mega zacht. Mee eters en onzuiverheden sterk verminderd. Ik durf weer zonder foundation de deur uit. Mijn huid voelt niet droog aan na het gebruik. Ik ben erg tevreden.

Customer care: Hi Linda, dankjewel voor het delen van deze fantastische ervaring. Wat fijn om te horen dat deze peeling zowel je huid als je zelfvertrouwen een boost heeft gegeven! Ik wil je nog heel lang plezier wensen met deze peeling. Vriendelijke groet, Manon - Paula's Choice Customer Care Team

De peeling heeft een gelachtige textuur met een prachtige shimmery lilakleur. Je brengt een ruime laag aan op een gereinigde huid. Tien minuten laten zitten en vervolgens goed afspoelen. Deze peeling gebruik je maar 1 keer per week en niet op dezelfde dag met andere exfolianten. Het advies is ook om deze peeling in de avond te gebruiken. Je krijgt trouwens bij je bestelling van Paula's Choice advies over hoe je de peeling moet gebruiken en ik heb dat ook strikt opgevolgd.

De lilakleur zorgt voor unicorn vibes🦄. Tijdens de peeling voel je al dat het werkt, ik merk een lichte tinteling bij mijn neus en wangen. Dat trekt ook wel weer weg, maar voor mij is het echt een teken van de krachtige werking. Na gebruik voelt mijn huid superzacht en glad aan. Mijn huid is egaal en oogt heel rustig. Er zijn geen irritaties, geen roodheid of gevoeligheden. Na de peeling heb ik mijn huid direct verzorgd met mijn vaste toner en een voedende crème want ik merk dat mijn huid daar wel om vraagt door de krachtige werking van de peeling. Ook Paula's Choice adviseert om na gebruik van de peeling verder te gaan met jouw huidverzorging zoals toners, treatments en crèmes. Ik ben wakker geworden met een super stralende huid! Dit effect heeft echt nog dagen aangehouden. En ik ben benieuwd wat het doet op de langere termijn.

Ik ben echt onder de indruk van deze thuispeeling! Wat een prachtig effect op mijn huid, I love it💜.

Customer care: Hi Tamara! Wauw, ik heb hier echt helemaal niks meer aan toe te voegen! Wat superleuk om te lezen hoe jou ervaring is geweest met onze nieuwe peeling. Ik hoop dat vele klanten je tips ten harte mogen nemen om zo ook hun eigen ervaring tot een succes te maken. Ik wil je nog heel veel plezier wensen met je peeling. Vriendelijke groet, Manon - Paula's Choice Customer Care Team

Product 3 x gebruikt maar bevalt niet. Mijn huid wordt na gebruik heel droog en ipv glanzend juist heel dof. Na gebruik haast ik me om een serum aan te brengen omdat mijn huid zo vervelend aanvoelt, dus dit gebruik ik niet meer. Ik heb overigens normaliter geen droge huid.

Customer care: Hi Marie-Lize, dankjewel voor het delen van je ervaring, Wat jammer dat het gevoel van je huid na de peeling niet helemaal is wat je had verwacht. Wanneer je toch niet helemaal tevreden bent over een product mag je deze volgens onze 60-dagen-garantie aan ons retourneren. Ik raad je aan om hiervoor contact op te nemen met de Customer Care. Vriendelijke groet, Manon - Paula's Choice Customer Care Team

Superfijne peeling - hij is sterk maar ik kreeg geen irritatie, alleen een zacht huidje met een glow. De shimmery lila kleur is de kers op de taart. Deze peeling is inmiddels onmisbaar in mijn langere zondagavond skincare routine!

iK HEB HEM NOG MAAR 1 KEER GEBRUIKT MAAR HIJ voelt goed aan en de parelmoeren kleur is fijn.

Na heel lang wachten, en hopen dat er eindelijk een peeling product zou komen die je er af kan spoelen… kreeg ik eindelijk het mailtje! Een nieuw product! Ik was zo blij!! En nog blijer toen het binnen kwam. Ik ben zelf schoonheidsspecialiste en heb altijd het positief effect van een peeling goed gezien van een ander merk. Maar ik wilde het graag van PC. Het is een prachtige kleur en fijn textuur, smeert goed uit. In het begin inderdaad een lichte tinteling/prikken maar na een aantal seconden is dat al gauw voorbij. Een timer aan en na 10 min goed afspoelen met een goede washand. Want je moet dit wel goed afspoelen anders blijven er restjes zitten en dat is niet goed voor de huid. :) daarna is mijn huid heeeeeerlijk zacht. Ongelofelijk! Zelfs me vriend zag het en zei het! Nu is het mijn verwen momente elk weekend :) ben er enorm tevreden mee

Ik was vol ongeduld aan het wachten, heb hem onmiddellijk bij release besteld en de dag erna was hij er al. Dadelijk getest op een schone huid en heel tevreden van. Hiervoor gebruikte ik voor de diepere peelings kant en klare doekjes van een ander welbekend merk maar de doekjes waren te ruw voor mijn huid. Deze bracht ik aan met een siliconen spatel, tien minuten erop laten, afspoelen ging gemakkelijk. Daarna enkel nog een neutrale toner, mijn moisturizer en een heel zachte huid. Benieuwd wat deze met mijn huidkorrel zal doen.

Ik heb deze peeling nu 2 keer in de avond geprobeerd en ben erg tevreden! Mijn gezicht voelt daarna heel zacht aan met een glow die de volgende ochtend nog steeds zichtbaar is. Ook op mijn wangen is al resultaat te zien. De roodheid na ontstekingen (a.k.a. de maandelijkse hormonen) is weggetrokken en ook de witte mee-eters zijn overduidelijk minder zichtbaar.

De nieuwe peeling van Paula's Choice sprak mij enorm aan! Een soepelere en instant glanzende huid? Doe mij die maar! In mijn routine gebruik ik al de exfoliant op basis van BHA (2 keer per week) dus ik ben wel benieuwd wat deze peeling voor mijn huid doet!

Wanneer je het masker aanbrengt voel ik mijn huid licht tintelen, maar prikken doet het niet. Ik vind het wel grappig om te zien hoe de peeling op mijn huid eruit ziet, alsof ik over mijn hele gezicht een paarse highlighter heb gesmeerd! Omdat ik niet eerder een dergelijke peeling heb gebruikt, heb ik voor de zekerheid wel een timer gezet zodat de peeling niet te lang op mijn gezicht zit. Het tintelen blijft bij mij overigens de gehele 10 minuten lichtelijk aan maar is niet storend of pijnlijk.

De glow die belooft wordt zie je echt wel! Ik heb het gevoel alsof ik met mijn gezicht door de wasstraat ben gegaan voor een intensieve reinigingsbeurt! Mijn poriën zijn minder zichtbaar, mijn huid voelt ook enorm zacht en glanst dus, op een mooie manier en niet op de reguliere 'ik-produceer-te-veel-olie' manier. Ik merk na deze eerste keer wel dat mijn gezicht nog wat natintelt en een klein beetje trekt, maar ik denk dat dat erbij hoort.

Mijn eerste indruk is zeer positief! Ik heb nog nooit eerder een peeling gehad, zeker niet thuis, dus ik moet je bekennen dat ik het wel een beetje spannend vond om dit product te gebruiken. Gelukkig is het helemaal goed gegaan en leeft mijn huid er echt van op! Ik ga deze peeling zeker vaker gebruiken, ik denk dat hij heel goed is als een soort instant booster voor je huid.


Hi Jolanda, dankjewel voor je positieve review over ons allernieuwste Skin Perfecting 25% AHA + 2% BHA Exfoliant Peeling. Wat ontzettend fijn om te horen dat dit product zo goed voor je werkt en je een mooie stralende huid heeft gegeven na één behandeling! We wensen je nog heel veel plezier met dit product!

Met vriendelijke groet,
Yennah - Paula's Choice Customer Care

Niet alleen de kleur is mooi, maar ook smeert het product echt heel fijn. Wel mag de verpakking best wel iets groter zijn. Gezicht en nek 1 keer per week is echt heel erg fijn.. het tintelende gevoel is binnen no time weg en voelt eigenlijk best wel fijn als ik eerlijk ben. Ik was al dol op de BHA exfoliant en nu ook op dit nieuwe product. Ik heb er een favoriete wekelijkse stap bij.

More reviews Less reviews

Ingredients

What are the key ingredients?

AHA Blend
Can help shed dead skin cells to renew skin's surface, visibly softening signs of ageing, particularly from sun damage. Can act as a water-binding agent.

Salicylic Acid/BHA
Primarily an exfoliant, helps to shed dead skin on the surface and inside the pore, therefore effective for reducing breakouts and blackheads. It also has soothing properties.

Butterfly Pea Flower Extract
Has calming properties which reduce signs of redness and soothe irritation. The flower's natural colour can impart a lavender to deep blue hue.

Ingredients:
Aqua, Aminomethyl Propanol (pH adjuster), Glycolic Acid (alpha hydroxy acid/exfoliant), Lactic Acid (alpha hydroxy acid/exfoliant), Mandelic Acid (alpha hydroxy acid/exfoliant), Isoamyl Laurate (emollient), Tartaric Acid (alpha hydroxy acid/exfoliant), Butylene Glycol (texture enhancer), Propanediol (hydration), Salicylic Acid (beta hydroxy acid/exfoliant) , Malic Acid (alpha hydroxy acid/exfoliant), Clitoria Ternatea (Butterfly Pea) Flower Extract (antoxidant/ skin soothing), etanorulayH muidoS (skin replenishing), Glycyrrhetinic Acid (licorice-derived skin soothing), Glycerin (skin replenishing), Tocopherol (vitamin E/ antioxidant), Bisabolol (skin soothing), Allantoin (skin soothing), Hydroxyethylcellulose (thickener), Hydrogenated Lecithin (skin-restoring), Xanthan Gum (thickener), Polyglyceryl-4 Laurate (emulsifier), Polyacrylate Crosspolymer-6 (stabilizer/ thickener), Titanium Dioxide (CI 77891) (mineral derived pigment), Mica (CI 77019) (mineral derived pigment), Tin Oxide (mineral derived pigment), Phenoxyethanol (preservative). [il242v1]

FAQ

Who is the 25% AHA + 2% BHA Exfoliant Peel for?

This product us ideal for anyone with advanced signs of ageing and sun damage or severely clogged pores and congested skin who are seeking an effective, peel-type product for at-home use. This advanced, rinse-off exfoliant can be an ideal complement to your daily leave-on exfoliants.

Does the 25% AHA + 2% BHA Exfoliant Peel replace my current leave-on exfoliant?

The 25% AHA + 2% BHA Exfoliant Peel is a weekly treatment designed to complement your current exfoliation routine although you would not use on the same day as your other leave-on exfoliants. This weekly peel can dramatically enhance the results you're already getting from your Paula's Choice exfoliants.

How do I add the 25% AHA + 2% BHA Exfoliant Peel into my routine?

Because this is a rinse-off exfoliant, you would apply after cleansing. Leave on for 10 minutes and then rinse. You can then follow with the rest of your routine, minus the exfoliant step.

Are "peels" safe for at-home use?

The term "peel" describes a wide range of different types and strengths of exfoliation. The 25% AHA + 2% BHA Exfoliant Peel was formulated for home use. It's a superficial peel that targets the uppermost layers of skin. Medium or deep peels work differently by affecting lower layers of skin and are designed for in-office application, monitoring, and removal by a skincare professional.

Why does the 25% AHA + 2% BHA Exfoliant Peel have a lavender hue?

This colour is from the ingredient clitoria ternatea (butterfly pea flower) which is also known as blue matcha. It has been shown to have a calming and soothing effect on skin. Its lavender tint joins with shimmer mineral pigment mica so you can see where the rinse-off exfoliant has been applied. Note: The colour on skin will vary based on skin tone.

When should I use the 25% AHA + 2% BHA Exfoliant Peel – morning or night?

You can use this peel morning or night although we find that most prefer evening use. Apply a generous amount to clean, dry skin, avoiding the immediate eye area and lips. Leave on for ten minutes then rinse using warm water. Pat dry. Do not use other exfoliants at the same time as this product. Do not use more than once per week.
For day, always apply a broad-spectrum sunscreen rated SPF 30 or greater every day. When outdoors, wear protective clothing whenever possible, seek shade, and avoid prolonged sun exposure.