https://www.paulaschoice.nl/en/skin-revealing-body-lotion-aha/5900.html
Skin Revealing Body Lotion 10% AHA
Gently but effectively sheds built-up dead skin cells to reveal smoother, radiant skin.

Skin Type:

All skin types

Concern:

Anti-Aging, Keratosis Pilaris, Brown spots, Very dry skin

Ingredients:

Shea Butter, Green Tea Extract, Glycolic acid/AHA

View all
Variations
Full size 210 ml
Remove from wishlist
Add to Wishlist
Product out of stock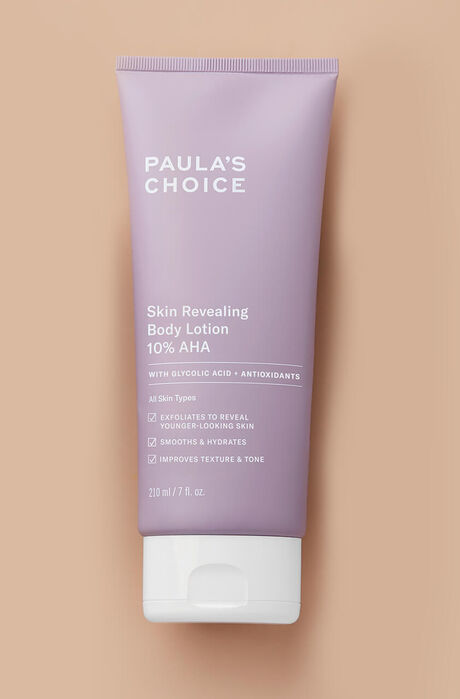 Skin Revealing Body Lotion 10% AHA
Full size
This product is sold out at the moment. Fill in your email address below and we'll gladly send you an email as soon as it is back in stock!
60 day money-back guarantee
Safe payments
What does it do?

Get soft, smooth and even-toned skin all over.

This creamy, lightweight leave-on exfoliant contains 10% AHA which gently but effectively sheds built-up dead skin cells to reveal smoother, more radiant skin. The gentle lotion also helps to improve the appearance of rough, bumpy skin on the arms and legs leaving skin soft and moisturised.

Is this suitable for my skin?

What skin concern would you like to address?

(Please select one option).

Key Features

Leaves skin softer and smoother

For a natural looking result

How to use

When using an AHA exfoliant for the first time, introduce it into your routine slowly. Start by using your exfoliant once every other day, and then increase usage to once or twice daily based on your skin's response.

Massage onto clean skin in gentle circular motions. May be used daily or applied only to dry areas as often as needed. If using with an additional moisturiser, apply this treatment first and adjust amount used based on personal preference. For daytime use, wear under a Paula's Choice sunscreen.

Reviews

Thank you for submitting your review! It will be reviewed by our staff before it is posted.

Al 7 jaar heb ik pukkels op armen, billen en benen.
Ik gebruik dit twee weken en het is niet te geloven bijna weg, zelfs de verkleuringen zijn stukken minder, nog even en ik durf weer naar het zwembad als het weer kan.
Mijn zoon heeft acne gehad en hij gebruikt dit voor zijn gezicht, rode restplekken zijn bijna weg.

Customer care: Hi, dankjewel voor het delen van je ervaring met onze 10% AHA Body Spot Exfoliant. Wat fijn om te lezen dat je na al die jaren eindelijk iets hebt gevonden wat goed voor je werkt en waardoor je zelfvertrouwen een boost heeft gekregen! Ik wens je nog heel lang plezier van deze fantastische resultaten. Vriendelijke groet, Manon - Paula's Choice Customer Care Team

Ik had deze samen met de BHA mini besteld welke ik als eerste heb gebruikt en razend enthousiast over ben. Nu aan het smeren met deze. Veel last van irritatie en prikt heel erg wat over gaat naar jeuk. De AHA voor mijn gezicht prikte ook meer dan de BHA maar niet zo erg als dit product voor mijn lichaam. De geur daarnaast is niet fijn, een beetje chemisch, de geur blijft ook erg hangen.
Ik lees veel positieve reviews dus het zal zeker iets goed doen, wellicht is mijn huid hier dan toch net te gevoelig voor.

Hi Niekske. hartelijk dank voor je review. Het spijt me om te horen dat dit product niet helemaal geschikt is voor jouw huid, waardoor je irritatie hebt ervaren, dat is natuurlijk jammer. Je zou eventueel kunnen proberen om de AHA Body Exfoliant te mengen met een vochtinbrengende body lotion zodat de formule dan net iets milder is. Zorg ook dat je dit product niet net na het scheren aanbrengt, ook dat kan in sommige gevallen irritatie veroorzaken. Mocht je hier nog vragen over hebben, neem dan gerust contact met ons op!

Met vriendelijke groet,
Yennah - Paula's Choice Customer Care

Ik heb dit product gekocht en gebruikt voor puistjes op mijn rug. Deze waren hardnekkig en doordat de huid op de rug dik is wist ik niet zo goed welk middel sterk genoeg was om dit te bestrijden. Tot ik langs deze bodylotion kwam! Echt super middel. Ik begon met dit om de dag (s'avonds voor het slapen) te gebruiken maar deed dit uiteindelijk elke dag. Aan het begin zag ik nog geen resultaat maar na een tijdje begon mn rug rustiger te worden. En een paar maanden later was mn gehele rug glad, acnevrij en er waren alleen nog wat ''litteken'' plekjes over. Om deze weg te werken heb ik nog een hele tijd retinol gebruikt en nu is er niks meer van de acne, die er ooit was, te zien! De bodylotion zelf smeert heel fijn uit, het is best dun dus blijft niet plakken of iets.
Ik had nog wat over en nu gebruikt m'n zusje het voor wat plekjes op d'r bovenarmen, werkt super! Echt een aanrader dus :)

Customer care: Hi, dankjewel voor het delen van deze leuke ervaring! Zo te lezen heb je het gebruik mooi rustig opgebouwd om je huid rustig te laten wennen aan deze exfoliant. Puistjes kunnen vrij hardnekkig zijn en soms duurt het even voor de eerste resultaten zichtbaar worden. Gelukkig heb je niet meteen opgegeven waardoor je nu kan genieten van een egale huid zonder puistjes. Probeer dit product regelmatig te blijven gebruiken om het resultaat te behouden. Ik wens jou en je zusje nog heel veel plezier van dit product. Vriendelijke groet, Manon - Paula's Choice Customer Care Team

Ik gebruik deze bodylotion nu een aantal weken en ik ben nog niet helemaal overtuigd. Ik gebruik het ongeveer 2x in de week. De lotion maakt mijn huid lekker zacht. Tube is erg handig. Vind met je vingers in een pot altijd wat onhygiënisch en onhandig. Daarom is deze tube perfect. De lotion is niet te dik en niet te waterig. Smeert makkelijk uit en je hebt er niet veel van nodig. Het nadeel vind ik dat het mijn huid doet jeuken. Sinds het gebruik heb ik vaak op m'n hele lichaam jeuk. Ik vraag me af of dat normaal is en of anderen daar ook last van hebben. Ik denk dat het door de exfoliërende werking komt. Daarnaast geeft het een prikkelend gevoel nadat ik mn benen heb geschoren. Ik kan dus nog niet zeggen dat ik dit product aanraad.

Hi Marjan, hartelijk dank voor je review. Wat jammer om te horen dat je na gebruik van deze lotion jeuk ervaart. Ik raad je aan om over te stappen op de 2% BHA Body Spot Exfoliant, omdat BHA (salicylzuur) een kalmerende werking heeft en milder is voor een gevoelige huid. Het prikkende gevoel na het scheren kan komen door irritatie van het scheren. Breng na het scheren bij voorkeur een bodylotion zonder exfoliërende werking aan. Met vriendelijke groet, Chantal - Paula's Choice Customer Care Team

Wauw! Wat is dit een fantastische body lotion. Het smeert goed uit en trekt snel in. Bij de eerste keer gebruik prikte het een klein beetje maar bij de tweede keer al niet meer. Baby zacht huidje!!! Ook goed tegen eelt en rimpels in je hals/borst. Nooit meer anders :)

Beste Lot, hartelijk dank voor het delen van je ervaring. Fijn dat de Skin Revealing Body Lotion 10% AHA zo goed bevalt! Als je net begint met het product kan het inderdaad zijn dat je huid even moet wennen, vandaar het licht prikkende gevoel. Je kunt het gebruik dan ook het beste rustig opbouwen, om zo eventuele irritatie te voorkomen.

Met vriendelijke groet, Sytze - Paula's Choice Customer Care Team

Gebruik het inmiddels een jaar en me huid voelt heel zacht. Had altijd last van droge benen en die zijn nu egaal en zacht. Ik ga nooit meer terug naar andere merken. Echt een aanrader.

Hi Nina, hartelijk dank voor je review. Wat fijn om te horen dat je zo'n fan ben van deze Body Spot Exfoliant! Nog veel plezier van het product. Met vriendelijke groet, Chantal - Paula's Choice Customer Care Team

Werkt fantastisch. Mijn huid moest eerst even wennen. Op m'n armen was het geen succes, het was te heftig, ik kreeg jeuk en rode plekken. Maar ik heb (of had!) rode pukkeltjes op m'n billen en die zijn nu weg! Eerst twee keer per dag gebruikt, daarna 1 keer per dag en nu houd ik het bij met 1 x in de 2 á 3 dagen. Baby zachte huid nu! Dure lotion maar elke cent waard!

Hi Leonie, bedankt voor het delen van jouw ervaring met de Body Spot Exfoliant. Wat goed om te horen dat je nu geen last meer hebt van puistjes en je huid heel zacht aanvoelt. Als deze voor de huid op de armen te sterk is, zou je hiervoor eens de Calm 1% BHA Exfoliant kunnen proberen. Deze is iets milder, maar heeft een vergelijkbare textuur. Met vriendelijke groet, Chantal - Paula's Choice Customer Care Team

Magisch produkt is.
Mijn benen zijn nog nooit zo egaal geweest en Zacht.
Had ook droge voeten met eelt. Na een paar keren gebruikt, heel zachte voeten.
Het is al een tijdje niet voorradig. Hoop echt dat het binnenkort terug voorradig is, want mijn tube is bijna op
Ik raad dit produkt echt aan.

Hi Sophie, hartelijk dank voor je positieve review! Wat fijn om te horen dat je zo'n fan bent van de Body Spot Exfoliant. Hij werkt inderdaad ook hartstikke fijn bij eelt. De full size is momenteel weer leverbaar, dus je kunt gelijk een voorraadje inslaan! Met vriendelijke groet, Chantal - Paula's Choice Customer Care Team

Wat is dit voor magisch product?
Mijn huid is nog nooit zo glad en zacht geweest. Na 3/4 keer proberen!!!! Als dit zo blijft, hou ik dit product a lifetime.

Al jaren opzoek naar een product voor puistjes op de rug. Met dit product is mijn huid terug egaal zonder puistjes! Het werkt echt!

Ik vind het echt een super product! Ik heb altijd last gehad van bultjes op mijn bovenarm (Keratosis Pilaris) en dat werd in de winter erger. Ik heb nu de afgelopen twee weken denk ik zo'n 5 keer mijn armen ingesmeerd met deze lotion en ze zijn bijna niet meer zichtbaar. De huid voelt glad en dat heeft hij nooit gedaan! Ik heb het nog niet op andere delen van mijn lichaam gebruikt omdat ik het speciaal voor de KP klachten gekocht heb. Het is licht spul, smeert makkelijk in en plakt niet. Ben heel erg tevreden!!

Erg fijn product, voor het effect van een verfijnde huid. Plekjes, littekentjes, oneffenheden verdwijnen na een aantal weken. Ik gebruik het voor keratosis pilaris op mijn armen, en een scrub effect op mijn gezicht.

More reviews Less reviews

Ingredients

What are the key ingredients?

Shea Butter
This plant lipid, extracted from the karite tree, is used as an emollient and has smoothing properties for dry skin. it's also a rich source of antioxidants.

Green Tea Extract
Possesses potent antioxidant and skin-soothing properties and has impressive research in terms of its many benefits for skin, including anti-ageing properties.

Glycolic acid/AHA
Can help shed dead skin cells to renew skin's surface, visibly softening signs of ageing, particularly from sun damage. Can act as a water-binding agent.

Sunburn Alert: This product contains an Alpha Hydroxy Acid (AHA) that may increase your skin's sensitivity to the sun and particularly the possibility of sunburn. Use a sunscreen, wear protective clothing, and limit sun exposure while using this product and for a week afterwards. As with all cosmetics, avoid direct contact with the eyes.

Ingredients:
Aqua, Glycolic Acid (Alpha Hydroxy Acid, exfoliant), Cyclopentasiloxane (hydration), Dimethicone (hydration), Glycerin (hydration/skin replenishing), Glyceryl Stearate (texture-enhancing), Cetyl Alcohol (texture-enhancing), Butyrospermum Parkii (Shea) Butter (emollient/antioxidant), Stearic Acid (texture-enhancing), Sodium Hydroxide (pH adjuster), PEG-100 Stearate (texture-enhancing), Xanthan Gum (texture-enhancing), Tetrahexyldecyl Ascorbate (vitamin C/antioxidant), Tocopheryl Acetate (vitamin E/antioxidant), Disodium EDTA (stabilizer), Butylene Glycol (hydration), Allantoin (skin-soothing), Chamomilla Recutita (Matricaria) Flower Extract (skin-soothing), Vitis Vinifera (Grape) Seed Oil (non-fragrant oil/emollient/antioxidant), Camellia Oleifera (Green Tea) Leaf Extract (antioxidant), Epilobium Angustifolium (Willow Herb) Flower/Leaf/Stem Extract (skin-soothing), Phenoxyethanol (preservative), Sodium Benzoate (preservative).

FAQ

Good to know before you start using your exfoliant.

It is best to gradually build up use of an AHA product. Start by using your exfoliant once every other day and then increase usage to once or twice daily based on your skin's response. You need to experiment a bit to see what suits your skin best. During the day, always use a moisturiser with a broad-spectrum sunscreen rated SPF 30 or greater. Your skin will in fact be slightly more sensitive to sunlight when using an exfoliant, so the chance of sunburn and sun damage is slightly higher.

How is Paula's Choice Skin Revealing Body Lotion with 10% AHA different from the 8% Alpha Hydroxy Acid Gel? Do I need both?

The two major differences between these exfoliants are that the Skin Revealing Body Lotion is in a creamy moisturising base while the 8% AHA Gel has a fluid, gel base. The concentration of glycolic acid is the other main difference, with the Skin Revealing Body Lotion containing 10% AHA and being designed for use from the neck down. Both AHA products are formulated within the pH range needed to exfoliate dry, sun-damaged skin.

Can I use Skin Revealing Body Lotion with 10% AHA on my face?

Although the formula has been developed for the body, it is also possible to use it on your face. If you have used AHA products (formulated in an acidic pH range to allow for exfoliation) on your face without irritation, you should be able to use Skin Revealing Body Lotion too.

Can I recycle this product?

This packaging is made of two components. The tube is made from EVOH plastic and the cap is made from PP plastic. Please check with your local council before recycling this product.
Research
Archives of Dermatology , August 2000, volume 136, issue 8, pages 989-94 Molecular Medicine Reports, November 2010, volume 3, issue 6, pages 895–901 International Journal of Cosmetic Science, February 2000, volume 22, issue 1, pages 21-52 Clinical Dermatology, September-October 2009, volume 27, issue 5, pages 495-501 Journal of Clinical, Cosmetic and Investigational Dermatology, 2010, volume 3, pages 135-142 Cosmetics, 2015, volume 2, issue 3, pages 259-276