https://www.paulaschoice.nl/en/skin-perfecting-bha-liquid-exfoliant-full-size-2010.html
Skin Perfecting 2% BHA Liquid Exfoliant
Fast absorbing liquid removes built-up dead skin cells and fights blackheads.

Skin Type:

Combination skin, Oily skin

Concern:

Breakouts , Blackheads , Enlarged pores , Redness

Ingredients:

Salicylic Acid/BHA , Green Tea Extract , Methylpropanediol

View all

Routine:

Exfoliate
Remove from wishlist
Add to Wishlist
Product out of stock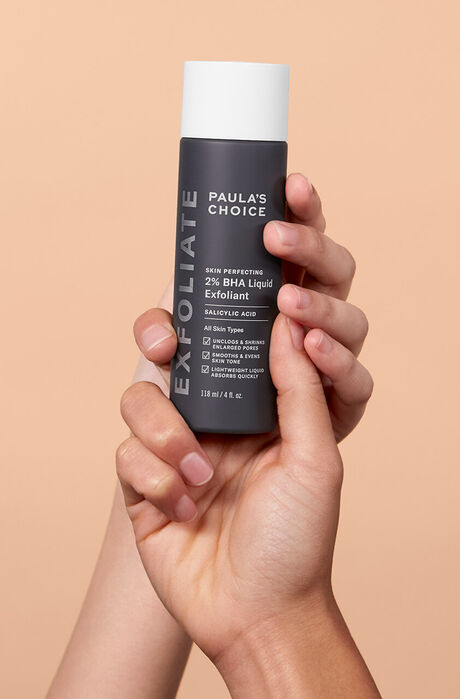 Skin Perfecting 2% BHA Liquid Exfoliant
Full size
This product is sold out at the moment. Fill in your email address below and we'll gladly send you an email as soon as it is back in stock!
60 day money-back guarantee
Safe payments
What does it do?

Our No.1 bestselling exfoliant around the world.

Reveal flawless skin with our bestselling leave-on exfoliant. This gentle, lightweight fluid quickly exfoliates dead skin cells both on the surface and deep inside pores to reveal smoother, clearer, more radiant-looking skin. BHA (salicylic acid) has anti-inflammatory properties and helps to reduce blackheads, blemishes and redness.

Key Features

Fights breakouts and blackheads

Fast-absorbing liquid formula

Removes built-up dead skin cells

How to use

Lightly soak a cotton pad and gently apply over the entire face and neck, including the eye area (avoid lash line and eyelids). Do not rinse. At first, apply every other day and note skin's response. Then use up to twice daily. For daytime, follow with a broad-spectrum sunscreen rated SPF 30 or greater.

Reviews

Thank you for submitting your review! It will be reviewed by our staff before it is posted.

Mijn gevoelige huid met rosacea is hier enorm van opgeknapt. Geen ontstekingen en bultjes meer en mijn huidstructuur lijkt fijner. Het is mijn belangrijkste en beste huidverzorgingsproduct!

Ik hoorde van veel mensen dat deze BHA exfoliant echt een wondermiddel is. Ik heb een erg gevoelige, droge en acne-prone huid. Een super combinatie, zoals je ziet. Dus ik vroeg me af of deze exfoliant misschien iets was voor mij. En ja, zeker! Het zorgt ervoor dat mijn poriën kleiner ogen. Bovendien heb ik veel minder last van puistjes. Ook bij onderhuidse puistjes smeer ik dit middel erop. Het zorgt ervoor dat de onderhuidse puist binnen 2-3 dagen van zelf weggaat. En dat zonder pigmentvlekken achter te laten! Echt super. Bovendien gebruik ik het middel zonder wattenschijfje, maar gewoon 3-4 druppeltjes op mn palm laten vallen, palmen wrijven, en dan deppen op mijn hele gezicht. Zo gaat het product veel langer mee!

Super spul dat mijn huid rustig houdt. Mijn huid voelt na het gebruik van dit product, zacht en fijn aan en laat een goed gevoel achter!

Ik heb 2 weken geleden de travel size van 30ml gekocht, maar wat een verschil! Altijd last van (cystic) acne op mijn kin en grote poriën op mijn neus maar deze zijn zo hard verminderd! Mijn huid voelt zo zacht en kalm, echt een aanrader!

Echt een aanwinst voor mijn huid. Van nature ben ik gezegend met een goede gladde elastische huid. Maar dit product laat mijn huid echt stralen. Via een vriendin kreeg ik de tip en werkelijk TOP! Bedank Paula's Choice, ga zo door.

Ik gebruik sinds kort de producten van PC. Buiten dat m'n huid wat rustiger is, word ik sinds het gebruik van deze producten ook veel sneller heel bruin! Natuurlijk een pluspunt maar ik vraag me af of het komt door de exfoliant?? Ik gebruik de toner, exfoliant en hydraterende nachtcrème

Ik zie weinig tot geen verschil na 2 maanden elke dag gebruikt te hebben.

Customer Care: Hallo, hartelijk dank dat je jouw ervaringen met ons hebt gedeeld. Wat jammer dat het product niet bevallen is, we raden je aan contact op te nemen met onze klantenservice voor verder advies.

Een tijdje geleden dit product gekocht en ondanks dat het de eerste weken wel wat voor mijn huid deed werd het later alleen maar erger. Ik heb nu ongeveer een halfjaar lang van een hele onrustige huid en ben begonnen met dit product op aanraden van een vriendin. Na uitzoeken hoevaak ik dit product moest gebruiken ben ik gaan kijken wat het voor mijn huid doet. Ik heb het idee dat het de huid heel droog maakt waardoor alles gaan schilferen, wanneer dit ervoor zorgt dat de puistjes verdwijnen had ik dat ervoor over gehad maar dit maakt het alleen maar erger. Dus naast de puistjes die ik bleef houden werd mijn huid vuurrood en schilferig. Ik gebruik dit product nu niet meer en mijn huid is gelukkig niet meer zo rood en droog, van de onzuiverheden ben ik helaas nog niet af.

Customer Care: Het spijt ons te horen van je ervaring en ongemak. Hoewel Paula's Choice producten ingrediënten bevatten waarbij de kans op irritatie zo klein mogelijk is, is overgevoeligheid voor bepaalde ingrediënten helaas nooit helemaal uit te sluiten. We raden je aan contact op te nemen met de klantenservice voor verder advies.

Echt top. Mijn huid was helemaal uitgebroken door hormonen, toen ik dit product ging gebruiken is de huid super snel geheeld en de roodheid verdween veel sneller dan normaal

Dit product doet helaas niks voor mij. Gebruik het al twee maanden twee keer per dag op mijn gezicht en zie geen verschil met hoe het ervoor uitzag.

Customer Care: Hartelijk dank voor het delen van jouw ervaring, en het spijt ons te horen dat dit product niet voldeed aan je verwachtingen. We raden je aan contact op te nemen met de klantenservice voor verder advies.

Ben eerst begonnen met 1-2 x per week. Nu gebruik ik het om de dag. Letterlijk nooit meer een puistje. Als ik het een tijdje niet goed smeer merk ik gelijk dat ik weer onzuiverheden krijg. Het geeft je huid echt een mooie glans en gladde look. Heb hier ook complimenten over gehad. Zelf doe ik het op een watje, het gaat ook mega lang mee heb m nu ong 10 maanden! Perfect voor mijn gecombineerde huid!

Hallo, ik gebruik dit voor mn puistjes en om mijn huid een even kleur te laten krijgen. In het begin kreeg ik in de t-zone meer puistjes maar daar krijg ik altijd puistjes, dat is nu genezen. Alleen op mijn wangen waar het altijd rood is, kreeg ik ineens heel veel kleine bultjes.. hier krijg ik normaal zelden een puistje. Het zijn ook niet echt pukkels maar bultjes zonder wit puntje. Ze jeuken soms ook, dus ik heb gestopt met het gebruiken op mijn wangen. Kun je ook deels allergisch zijn voor dit product, dus op de t-zone niet maar wel op je wangen?

Customer Care: Bedankt voor het delen van jouw ervaring met dit product! Het spijt ons te horen dat je op je wangen last hebt van jeukende bultjes. We raden je aan contact op te nemen met onze klantenservice zodat zij je van advies kunnen voorzien.

Mijn huid werd rood en ik kreeg veel bultjes en puisten door deze exfoliant .Ik gebruikte het voor mijn mee-eters en ik zie geen verschil en ik had geen puisten en mijn gezicht staat nu vol.

Customer Care: Het spijt ons te horen van je ervaring met de exfoliant. We raden je aan contact op te nemen met de klantenservice voor verder advies.

Ik heb dit product nu ongeveer 2 weken in gebruik, en ben het meteen 1 keer per dag ('s avonds) gaan gebruiken. Ik vind het een ontzettend fijn product, het maakt mijn huid gladder en irriteert niet. Een aanrader!

I bought the sample size of this product and I've used this for 2 weeks (use every 3 days) now and I've got a couple pimple after 2 weeks. The last time I got pimple was years ago when I was still pregnant, I don't know if this is suppose to happen, just not very pleased with the result.

Customer Care: Thank you for your review, I'm sorry to hear of your discomfort and experience. Because BHA is oil-soluble, it exfoliates not only on the surface of skin, but also inside the pore lining. That kind of exfoliation can trigger a mass exodus of inflammatory substances and oil that, under certain conditions, can create more breakouts. I will contact you personally about this.

Ik hoorde vaak dat dit product werd aanbevolen en ik had er ook echt vertrouwen in, maar mijn huid zonder dagcreme of olie is door dit product erg droog en schilferig geworden. Mijn poriën zijn er een beetje kleiner van geworden, maar ik heb nog steeds oneffenheden op mijn gezicht. Ik gebruik dit product nu ongeveer 2 weken en hoort dit bij het proces of is het slecht en wat kan ik er tegen gebruiken?

Customer Care: Hartelijk dank voor je feedback over het gebruik van de Skin Perfecting 2%BHA liquid exfoliant. We adviseren om een BHA exfoliant minimaal een maand regelmatig te blijven gebruiken om goed het resultaat te kunnen beoordelen. Mocht het zo zijn dat de conditie van je huid niet verbetert, dan kan het zijn dat dit product niet geschikt is voor jouw huid en helpen we je graag bij het vinden van een alternatief.

Het product gekocht in test formaat met veel goede moed. Na 1 keer te gebruiken zag heel mijn gezicht zeer rood en geïrriteerd. Het product is geen aanrader indien je een gevoelige huid hebt.

Customer Care: Hartelijk dank voor je review. Het spijt ons te horen dat dit product niet geschikt is voor jouw huid. We raden om even contact op te nemen met onze klantenservice.

It burns my skin and makes it really red. I dont think i can use it because its irritating reaction. I hooped zo badly that this product would help to solve my problem with periorialis dermatitis.

Customer Care: Hi, and thanks for letting us know of your experience - we're sorry to hear this didn't work for you! We encourage you to contact our customer service department about your reaction.

Ik weet niet of ik het me inbeeld maar wat een product!
Ik had em eindelijk aangekregen na lang wachten en toen ik em avonds gebruikte en de volgende ochtend wakker werd leek het wel alsof mijn huid al een stuk beter werd !
Ik heb namelijk last van puistjes en rode vlekken
En die zijn op mijn voorhoofd al gewoon weg!

Na een dag al resultaat. Ik heb een hele onrustige huid; acne prone . Er is geen dag dat ik niet minstens een pijnlijke puist krijg, na de eerste dag van gebruik geen nieuwe puist bij. 5 dagen verder geen pijnlijke puisten meer en textuur verbeterd.

Ik heb last van rosacea type 2, dus rode bultjes en vlekjes op vooral mijn wangen. Ik gebruikte eerst de exfoliant van de Calm-serie. Dat werkte al wel goed maar merkte dat de bultjes nog niet helemaal weg waren. Ik gebruik deze exfoliant nu twee weken en merk al zo'n groot verschil! Bultjes heb ik helemaal niet meer, alleen nog wat rode vlekjes. Mijn huid is wat gevoelig maar zelfs daar reageert deze exfoliant dus goed op (alleen wat schilfertjes aan het begin)! Ben heel dankbaar dat ik dit product heb gevonden.

Ik heb het product nu ongeveer 1,5 week gebruikt en ik heb geen enkel verschil gemerkt met voorheen. Om deze reden probeerde ik het op te bouwen door het 's morgens en 's avonds te gebruiken, echter had dit ook geen effect op mijn huid. Het product zou ik hierom niet aanraden, gezien de prijs en het resultaat.

Customer Care: Het spijt ons te horen dat je niet het gewenste resultaat ziet. De tijd die het duurt voordat je verbetering ziet kan per persoon variëren. Het hangt mede af van de huidconditie en (de mate van) het huidprobleem dat je wilt verbeteren. We raden aan een exfoliant 3-4 weken regelmatig te gebruiken om het resultaat goed te kunnen beoordelen.

De eerste dag toen ik het opbracht voelde mijn huid gelijk al beter, maar na een tijdje kreeg ik steeds meer last van bultjes oa op mijn wangen, kin en voorhoofd. (Waar ik al last van had maar met mindere mate.) omdat ik al ongelofelijk veel middeltjes heb gebruikt en niets goed werkte, bleef ik doorgaan met deze exfoliant. En nu na 3 weken ongeveer is mijn huid echt verbeterd, het straalt en bijna al mijn puistjes zijn verdwenen. Op mijn voorhoud heb ik echt nog het minimale en verder nergens last van! Echt Geweldig.

Sinds 1,5 jaar loop ik met acne en het werd met de dag erger. Vele afspraakjes verder bij de huidtherapeut, zag ik niet het resultaat wat ik had gehoopt. Ik had al eerder gebruik gemaakt van een exfoliant van PC, maar mijn huid reageerde daar niet goed op. Ik bestelde deze exfoliant in de mini variant. Aan het begin werd mijn huid een stuk onrustiger, maar nu na ongeveer 2 weken is mijn roodheid helemaal verdwenen. De littekens én acne zijn minder geworden. Ik voel mij een stuk zelfverzekerder en ik ga dit product zeker in full size bestellen!! Aanrader voor iedereen.

More reviews Less reviews

Ingredients

What are the key ingredients?

Salicylic Acid/BHA
Primarily an exfoliant, helps to shed dead skin on the surface and inside the pore, therefore effective for reducing breakouts and blackheads. It also has soothing properties.

Green Tea Extract
Possesses potent antioxidant and skin-soothing properties and has impressive research in terms of its many benefits for skin, including anti-ageing properties.

Methylpropanediol
Can enhance the absorption of ingredients such as salicylic acid. It also has hydrating properties that can leave a smooth, dewy finish on skin.

Ingredients:
Aqua, Methylpropanediol (hydration), Butylene Glycol (hydration), Salicylic Acid (Beta Hydroxy Acid, exfoliant), Polysorbate 20 (stabilizer), Camellia Oleifera (Green Tea) Leaf Extract (skin calming/antioxidant), Sodium Hydroxide (pH balancer), Tetrasodium EDTA (stabilizer), Phenoxyethanol (preservative).

Faq

Good to know before you start using your exfoliant.

It is best to gradually build up use of a BHA product. Start by using your exfoliant once every other day and then increase usage to once or twice daily based on your skin's response. You need to experiment a bit to see what suits your skin best. During the day, always use a moisturiser with a broad-spectrum sunscreen rated SPF 30 or greater. Your skin will in fact be slightly more sensitive to sunlight when using an exfoliant, so the chance of sunburn and sun damage is slightly higher.

What's the difference between the 2% BHA Liquid and the 2% BHA Gel?

First, texture: One is a fluid with a toner-like consistency, the other is a thicker, clear gel. Both contain the same amount of salicylic acid, though the 2% BHA Liquid contains an ingredient that allows the salicylic acid to penetrate faster and further. With the 2% BHA Gel formula, you're getting a slower release of salicylic acid. Both are great options for treating acne, blackheads, and signs of ageing. Both are suitable for all skin types but best for normal to oily or combination skin.

The Skin Perfecting 2% BHA Liquid Exfoliant feels a bit sticky/greasy on my face. Why is that?

If the BHA is feeling sticky, you are probably using too much product. The average amount needed is the size of a small coin, and it's best to apply it in a thin layer. The 'greasy' feel can be attributed to the high levels of glycol in this product (glycol helps the BHA penetrate the surface layers of skin and also works as a water-binding agent). If you live in a humid, moist climate, this effect will be more pronounced and, if too much product is used, can create a 'greasy' feel on the skin.

At what point after my laser and/or peel procedure can I begin using my BHA exfoliant again?

First, we urge you to follow the post-procedure instructions your doctor or nurse provided. Otherwise, our general advice is to begin using your BHA again as soon as possible. Or, if your skin seems extra-sensitive, you may want to wait and apply the BHA exfoliant a few days post-procedure. Salicylic acid is an excellent anti-inflammatory ingredient that can enhance the skin's natural healing process as it works to reduce post-procedure redness.

Is there another Paula's Choice product which is similar to the Skin Perfecting 2% BHA Liquid Exfoliant?

Our Skin Perfecting 2% BHA Liquid Exfoliant has the same formula to our Clear Extra Strength Anti-Redness Solution Exfoliating 2% BHA.
Research
Journal of European Academy of Dermatology and Venerology, September 2016, issue 9, pages 1480-1490 General Physiology and Biophysics, September 2013, issue 3, pages 347-59 Archives of Dermatology, August 2000, issue 8, pages 989-994 Journal of Clinical, Cosmetic and Investigational Dermatology, 2015, volume 8, pages 455-461