https://www.paulaschoice.nl/en/skin-perfecting-bha-gel-exfoliant-full-size-2040.html
Skin Perfecting 2% BHA Gel Exfoliant
Leave-on gel exfoliant gently targets blackheads and enlarged pores.

Skin Type:

Combination skin

Concern:

Breakouts , Blackheads , Enlarged pores

Ingredients:

Bisabolol , Green Tea Extract , Salicylic Acid/BHA

View all

Routine:

Exfoliate
Variations
Full size 100 ml
Product out of stock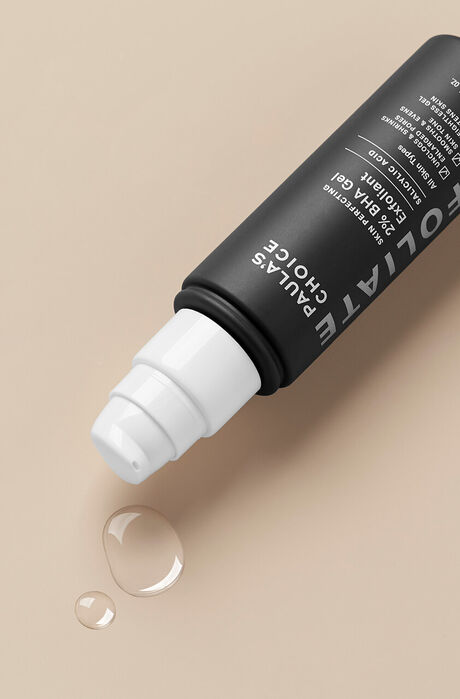 Skin Perfecting 2% BHA Gel Exfoliant
Full size
This product is sold out at the moment. Fill in your email address below and we'll gladly send you an email as soon as it is back in stock!
60 day money-back guarantee
Safe payments
What does it do?

Put a stop to blocked pores and blackheads.

This leave-on gel exfoliant is a gentle, non-abrasive way to target blackheads and enlarged pores on the face or T-zone. Formulated with 2% BHA (salicylic acid) it removes dead skin cells both on the skin's surface and inside the pores, helping to reduce breakouts and redness.

Key Features

Fights breakouts and blackheads

Light gel, does not feel sticky

Removes built-up dead skin cells

How to use

Apply once or twice daily after cleansing and toning. Apply a coin-sized amount over the entire face, including the eyes (avoid the lower lash line and eyelids). Do not rinse. For daytime, always use a moisturiser containing a broad-spectrum sunscreen rated SPF 30 or greater.

Reviews

Thank you for submitting your review! It will be reviewed by our staff before it is posted.

Heel erg blij met dit product. Ik heb veel last van hormonale (cyste) acne rond mijn kin en in mn hals. Niks hielp eigenlijk tot ik dit probeerde. Eerst de liquid versie gebruikt en nadat ik daarmee stopte kwam alles terug dus opnieuw de gel variant gekocht. Ik vind de gel variant fijner in gebruik! Ik heb nog steeds wel een paar oneffenheden maar het is nog nooit zo rustig geweest als nu.

I have been using this product daily for two and a half months and I did see some improvements on the appearance of the blackheads on my nose (I'd say about 20-30%), but I was expecting that the product would be more effective.

Customer Care: Thank you for sharing your experience. Blackheads can be very stubborn, the Skin Perfecting 2%BHA Liquid would be an option to try!

ik vind het een erg fijn product. Heeft bij mij meegeholpen aan minder grove poriën en puistjes gaan veel sneller weg.

Ik heb een huid met een vette t-zone en (erg) droge wangen. Ik durfde daarom niet voor de vloeibare variant te kiezen omdat ik bang was dat deze mijn wangen uit zou drogen. Mijn huid moest even wennen aan de exfoliant (beetje rode vlekken, droog en trekkerig na gebruik) maar nu gaat het prima. Het duurt even voordat het is ingetrokken, dus ik wacht even tot ik mijn serum en nachtcrème aanbreng. Ik gebruik het nu iedere ochtend en mijn huid voelt gladder en daardoor zachter. Ik heb veel minder puistjes en daardoor ziet mijn huid er veel beter uit.
Ik heb wel een relatief voedende crème nodig erna omdat anders mijn huid wat droog voelt. Ik ben dus erg blij dat ik ondanks mijn gecombineerde huid naast deze exfoliant de defense lijn dagcrème gebruik (deze voelt aardig voedend voor mij).

More reviews Less reviews

Ingredients

What are the key ingredients?

Bisabolol
Soothing ingrediënt typically extracted from chamomile.

Green Tea Extract
Possess potent antioxidant and skin-soothing properties and has impressive research in terms of its many benefits for skin, including anti-ageing properties.

Salicylic Acid/BHA
Primarily an exfoliant, helps to shed dead skin on the surface and inside the pore, therefore effective for reducing breakouts and blackheads. It also has soothing properties.

Ingredients:
Aqua, Methylpropanediol (hydration), Butylene Glycol (hydration), Polysorbate 20 (texture-enhancing), Salicylic Acid (Beta Hydroxy Acid, exfoliant), Phytosphingosine (skin-renewing), Hydroxyethylcellulose (texture-enhancing), Vitis Vinifera (Grape) Fruit Extract (antioxidant), Camellia Oleifera (Green Tea) Leaf Extract (antioxidant), Epilobium Angustifolium (Willow Herb) Flower/Leaf/Stem Extract (skin-soothing), Bisabolol (skin-soothing), Tetrasodium EDTA (stabilizer), Sodium Hydroxide (pH adjuster).

Faq

Good to know before you start:

It is best to gradually build up use of a BHA product, starting to use it a couple of times a week only. If there is no adverse reaction, this may be increased to every other day at night and then, if you wish, every night. Some people increase use to twice daily (morning and night), but it really all depends on the condition of your skin. You need to experiment a bit to see what suits you best. During the day, always use a moisturiser with a broad-spectrum sunscreen rated SPF 30 or greater. Your skin will in fact be slightly more sensitive to sunlight when using an exfoliant, so the chance of sunburn and sun damage is slightly higher.

What is the difference between Skin Perfecting 2% BHA Gel and Skin Perfecting 2% BHA Liquid?

The biggest difference is the texture. 2% BHA Liquid is quickly absorbed into the pores and therefore works fast. 2% BHA Gel is a slightly thicker consistency but does not feel heavy or sticky. Both products contain 2% salicylic acid (BHA), they lightly hydrate skin and have a pH-value which is low enough for effective cleaning deep inside the pores. These BHA exfoliants are suitable for all skin types, but if you have oily skin you may prefer the 2% BHA Liquid.

At what point after my laser and/or peel procedure can I begin using my BHA exfoliant again?

First, we urge you to follow the post-procedure instructions your doctor or nurse provided. Otherwise, our general advice is to begin using your BHA again as soon as possible. Or, if your skin seems extra-sensitive, you may want to wait and apply the BHA exfoliant a few days post-procedure. Salicylic acid is an excellent anti-inflammatory ingredient that can enhance the skin's natural healing process as it works to reduce post-procedure redness.
Research
Journal of European Academy of Dermatology and Venerology, September 2016, issue 9, pages 1480-1490 Archives of Dermatology, August 2000, issue 8, pages 989-94 General Physiology and Biophysics, September 2013, issue 3, pages 347-59 Journal of Clinical, Cosmetic and Investigational Dermatology, 2015, volume 8, pages 455-461 Cosmetics, 2015, issue 3, pages 259-276