https://www.paulaschoice.nl/en/skin-balancing-oil-absorbing-mask-full-size/2750.html
Skin Balancing Mask
Absorbs oil, reduces blackheads and enlarged pores, and balances oily skin.

Skin Type:

Combination skin, Oily skin

Concern:

Breakouts, Blackheads, Enlarged pores

Ingredients:

Glycerin, Kaolin, Willow Bark Extract

View all
Variations
Full size 118 ml
Remove from wishlist
Add to Wishlist
Product out of stock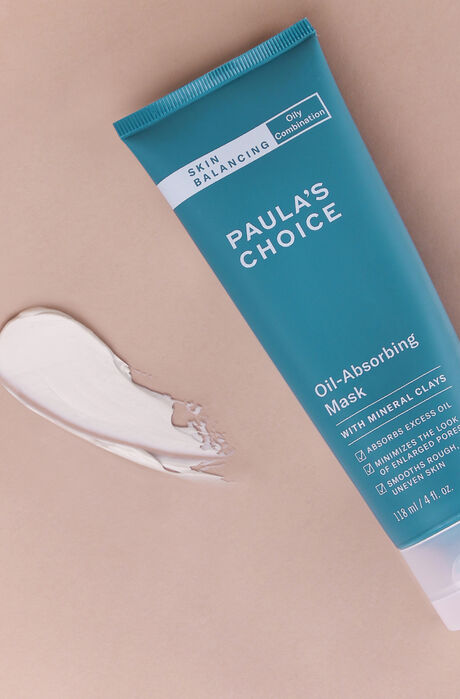 Skin Balancing Mask
Full size
This product is sold out at the moment. Fill in your email address below and we'll gladly send you an email as soon as it is back in stock!
60 day money-back guarantee
Safe payments
What does it do?

A mask to gently balance oily skin.

This mask contains a blend of natural mineral clays to balance skin by absorbing excess oil and dislodge debris from pores for a clearer complexion. The formulas also contains skin soothing and skin repairing ingredients to calm and soothe skin. The mask rinses easily leaving skin soft, matte and smooth.

Is this suitable for my skin?

What skin concern would you like to address?

(Please select one option).

Key Features

Visibly reduces enlarged pores

How to use

Gently cleanse skin and apply a thin layer all over the face and (if needed) neck and let dry for 10–15 minutes. Rinse thoroughly with tepid to warm water. Follow with a BHA exfoliant, serum and then your day or night moisturiser. Those with oily to very oily skin can use this mask several times per week, while those with normal to slightly oily skin can use it less frequently (once or twice per week, for example).

Reviews

Thank you for submitting your review! It will be reviewed by our staff before it is posted.

Eén keer gebruikt en prikt en brandt heel erg. Helaas is dit masker niet geschikt voor mijn huid.

Hi Bente, Hartelijk dank dat je jouw ervaring met ons hebt gedeeld. Het kan zijn dat dit masker niet bij je huidtype past. Ik raad je aan om contact op te nemen met onze klantenservice. Vriendelijke groetjes, Christina - Paula's Choice Customer Care Team

Bij mij werkte het product nogal tegenovergesteld. Ik kreeg er juist meer puistjes, rode huid & grotere poriën van helaas. Verder is het wel een heel fijn dun masker & voelt het heel natuurlijk. Alleen werkte het bij mij helaas niet. Ik heb een gemengde huid die acne gevoelig is.

Customer care: Hi Jolieke, dankjewel dat je deze ervaring wilt delen. Wat vervelend dat dit product helaas niet goed werkt voor jou huid. Ik zal contact met je opnemen om met je mee te kijken naar een passende oplossing. Vriendelijke groet, Manon - Paula's Choice Customer Care Team

Als je last hebt van een glimmende huid met onzuiverheden is dit echt een fijn product. Prikt niet, en lijkt echt de talg uit je poriën te halen. Meteen na gebruik zie ik al verschil. Ik heb een gecombineerde huid en gebruik zelf het masker niet dagelijks, maar af en toe.

Hi Anne, hartelijk dank voor je positieve review! Wat fijn om te horen dat dit masker zoveel verschil voor je maakt. Nog veel plezier ervan! Met vriendelijke groet, Chantal - Paula's Choice Customer Care Team

Wauw, wat is dit een topmasker! Ik heb al jaaaaren een hele slechte huid (als in: altijd veel puistjes in mijn gezicht en nek). Ik gebruik al een tijdje de cleanser, dag- en nachtcrème van deze lijn en de exfoliant 2% BHA. Mijn huid voelde daardoor al veel gezonder en zag er mooier uit, maar nog steeds niet écht geweldig. Ik merk nu dat mijn opeens héél veel beter is, en het enige wat ik heb veranderd is dat ik dit masker een week gelede één keer heb gebruikt!! Ik krijg er verder ook totaal geen irritaties van, ik ga deze zeker vaker gebruiken want het moet bijna wel hier aan liggen!!♡

Na gebruik van deze masker heb ik ook van deze masker ernstige uitslag. Dit is de 2de masker waar ik heel erg uitslag puistjes van heb gekregen en nu maar zien hoe ik er van af kom want is echt heel erg en bij deze masker prikt het heel erg maar na een minuut is de prikkerige gevoel wel weg.

Customer Care: Hartelijk dank dat je jouw ervaring met ons hebt gedeeld. Wat jammer dat het product niet bevallen is. Ik zie dat je hierover al contact hebt opgenomen met onze klantenservice.

The mask is totally worth it every cent! I have cystic acne and quite oily skin with enlarged pores, so this mask is the first one that I could see results after using it frequently. I have been struggling with the acne for years and have spent tons of money on diverse brands, but from the moment I have tried Paula's Choice products I never want to switch anymore!

Ik gebruik dit masker als ik m'n huid er minder aan toe is. Vaak nadat ik zonder m'n skincare naar bed ben gegaan, of als ik de vorige avond heb gedronken.. M'n huid komt weer in balans en herstelt zich sneller. Erg fijn.

Ontzettend fijn product. Afhankelijk van mijn maandelijkse periode kan ik een vette en onrustige huid hebben. Als ik dit maak gebruikt merk ik meteen dan mij huid minder vet is en de dagen erna rustiger wordt. Erg blij met dit product en gebruik het regelmatig bij een vette en onrustige huid.

Doet precies wat ik ervan verwacht, ik had hiervan een proefje gehad en was helemaal tevreden, gemiddeld 1x per week gebruik ik het masker en mijn huid is daarna zacht en mat, het glimmen is helemaal weg
Het aanbrengen is ook makkelijk omdat het in een tube zit en lekker vloeibaar.

vond hem onwijs tegen vallen me huid prikt er enorm van en na gebruik krijg ik gelijk puisten ik hou een week lang puisten uitbraken … helaas kan ik deze dus niet meer gebruiken ik heb hem 2x gebruikt maar beide keren ging het mis ..

Customer Care: Het spijt ons te horen van jouw ervaring met het Skin Balancing Masker. Het zou kunnen dat je overgevoelig bent voor één van de ingrediënten in dit product. Neem gerust contact op met onze klantenservice voor een persoonlijk advies.

Ik gebruik deze meerdere keren in 7 dagen alleen voor m'n neus invb mee-eters onder controle te houden en natuurlijk met combinatie andere pc producten lukt dat goed!

ik heb een gecombineerde huid met soms wat puistjes in de T-zone. Ik kocht hier dit masker voor. Helaas iets te droog voor mijn huid waardoor mijn huid erg trekkerig aanvoelt na gebruik.

Ik heb dit masker meerdere malen gebruikt. Ik heb een normale/ vochtarme huid met wat mee-eters op mijn t-zone. Het masker droogt mijn wangen uit. Heb een paar keer alleen het masker op de t-zone gebruikt maar merkte geen verschil in vermindering van de mee-eters (ik gebruik veel producten van PC) Ik vind het ook niet prettig dat ik de tube heel lang moet schudden voordat ik deze open. Als ik dat niet doe, drupt de olie eruit.

5 testers gekocht bij mijn bestelling afgelopen week en een halfuur geleden gebruikt. Wat heerlijk! De roodheid van mijn acne lijkt minder en mijn huid voelt superzacht! (kan er niet van afblijven). De full size verpakking ga ik zeker aanschaffen bij mijn volgende bestelling!

Nadat ik een sample had gekregen heb ik gelijk deze grote variant besteld, want ik vind het heerlijk! Ik laat het zo lang mogelijk intrekken en was het er dan af. Mijn huid is heerlijk zacht en schoon. Zeker in combinatie met mn cleanser en exfoliant doet het wonderen voor mn huid. Vroeger had ik een onrustige huid met puistjes, maar sindsdien ik deze producten gebruik een stuk minder of bijna niet meer!

Ik heb hier enkele samples van besteld voor mijn gecombineerde huid die ook zeer gevoelig is, de meeste maskers drogen mijn huid alleen maar uit en ik ben net een tomaatje, dat is bij dit masker totaal niet het geval! Mijn huid is zo zacht, mooie gloed en verzorgd en ondertussen worden ook nog eens de onzuiverheden aangepakt, top product van Paula.

Ik heb heel vaak meerdere samples hiervan besteld. Voor mijn vette huid is het ideaal en na afspoelen is mijn huid zacht en minder rood. Ik zit er dus over na te denken hier maar gewoon een hele tube van te bestellen.

Ik heb een gecombineerde huid en dit masker en mijn wangen zijn het eh niet helemaal eens.
Het droogde ze ontzettend uit.
Mijn t-zone daarentegen, yup het trekt de mee-eters uit je neus en het matteert uitstekend.
Wat ik wel opmerkte is dat misschien iets te sterk voor mijn huid is aangezien mijn huid opeens droog en trekkerig werd in de t-zone, iets dat ik niet vaak meemaak.
Maar heb een vette huid en mee-eters, prima masker, het brengt makkelijk op, droogt goed op en is makkelijk te verwijderen.

Ik ben zeer tevreden over dit masker. Ik gebruik het als ik veel onzuiverheden heb in mijn huid. Het helpt zeer goed bij zwarte puntjes. Ik gebruik het ongeveer om de 14 dagen. Ik ben zeer blij dat PC een klei-masker zonder parfum in haar assortiment heeft. Vroeger had ik een kleimasker zonder parfum van een ander merk, en dat masker is uit de handel genomen, omdat het te weinig verkocht werd. Dit vond ik zeer spijtig, dit masker van PC is een waardige vervanger!

ik heb een paar proefverpakkingen besteld om uit te proberen. Fijn dat dat kon want ik heb een super moeilijke huid.
Mijn huid heeft veel talg/vet grove poriën maar ook vocht arm, ben 50 dus ik moet oppassen welk product ik gebruik want mijn huid is niet zo flexibel meer. Dit masker bevalt me zeer, na een aantal keren gebruikt te hebben zijn mijn poriën echt een stuk fijner. Het masker doet me denken aan een ei-wit masker, het wordt hard/droog en heeft een facelift effect. Ik gebruik ook een exfoliant met salicylzuur van paula's choice wat ook denk ik meehelpt om de poriën te verfijnen. Mocht je een proefverpakking willen uit proberen bestel er dan 2 want met 1 kun je net aan de T-zone doen en met 2 het hele gezicht. Misschien een aandachtspunt om de hoeveelheid iets aan te passen.

Had meer van dit masker verwacht, mijn huid word er vet van en dat is nu net wat ik niet wil omdat ik een vette huid heb. Jammer aangezien ik met de de shine stopper en dagcreme wel tevreden ben.

Op dagen dat mijn huid hopeloos is, gebruik ik graag dit masker. Het pikt wel onzettend de eerste paar minuten, maar mijn huid knapt er goed van op. Ondanks het pikken ook geen vlekken of iets, maar een mooie zachte huid.

More reviews Less reviews

Ingredients

What are the key ingredients?

Glycerin
Skin-replenishing and restoring ingredient, found naturally in skin. It helps skin to maintain a healthy look and feel, defending against dryness.

Kaolin
Naturally occurring clay mineral. Its absorbent properties make it a popular ingredient in clay masks for oily skin.

Willow Bark Extract
Plant extract that has skin-soothing benefits for skin.

Ingredients:
Aqua, Kaolin (clay/absorbent), Bentonite (white clay/absorbent), Glycerin (hydration/skin replenishing), xilaS Alba (Willow) Bark Extract (skin-soothing), Steareth-2 (texture-enhancing), Stearic Acid (texture-enhancing), Aloe Barbadensis Leaf Juice Powder (hydration/skin-soothing), Sea Whip Extract (skin-soothing), Colloidal Oatmeal (skin-soothing), Bisabolol (skin-soothing), Ascorbyl Palmitate (vitamin C/antioxidant), Tocopheryl Acetate (vitamin E/antioxidant), Phospholipids (hydration/skin replenishing), Panthenol (skin replenishing), Retinyl Palmitate (vitamin A/antioxidant), Butylene Glycol (preservative), Disodium EDTA (stabilizer), Phenoxyethanol (preservative), Caprylyl Glycol (preservative), Ethylhexylglycerin (preservative), Hexylene Glycol (preservative).

FAQ

Can I use the Skin Balancing Oil Absorbing Mask for my dry skin?

The Skin Balancing Oil Absorbing Mask is especially developed for oily skin. If you have combination skin, you can use the mask on the oily areas. For dry skin, try the Skin Recovery Hydrating Treatment Mask.

Can I recycle this product?

This packaging is made of two components. The tube is made from EVOH plastic and the cap is made from PP plastic. Please check with your local council before recycling this product.
Research
Skin Pharmacology and Physiology, August 2012, issue 5, pages 227-235 Journal of the American Academy of Dermatology, November 2015, issue 5, pages 856-863 Indian Journal of Dermatology, 2008, issue 4, pages 163-166 Indian Dermatology Online Journal, April-June 2013, issue 2, pages 143-146 Indian Journal of Dermatology and Venereology, March-April 2012, issue 2, pages 142-145 International Journal of Cosmetic Science, February 2000, issue 1, pages 21-52 Journal of Cosmetic Science, July-August 2011, volume 62, issue 4, pages 361-370 Journal of Clinical Interventions in Aging, December 2006, issue 4, pages 327-348 Marine Drugs, 2004, volume 2, issue 2, pages 73-82