https://www.paulaschoice.nl/en/resist-anti-aging-intensive-repair-cream-full-size/7810.html
Resist Anti-Aging Intensive Repair Moisturiser
Ultra-rich hydrating cream with 0.2% retinol that reinforces the skin's barrier and smooths fine lines.

Skin Type:

Dry skin

Concern:

Anti-Aging, Brown spots, Very dry skin

Ingredients:

Niacinamide/Vitamin B3, Retinol (Vitamin A), Jojoba Oil

View all

Routine:

Moisturizer PM
Variations
Full size 50 ml
Remove from wishlist
Add to Wishlist
Product out of stock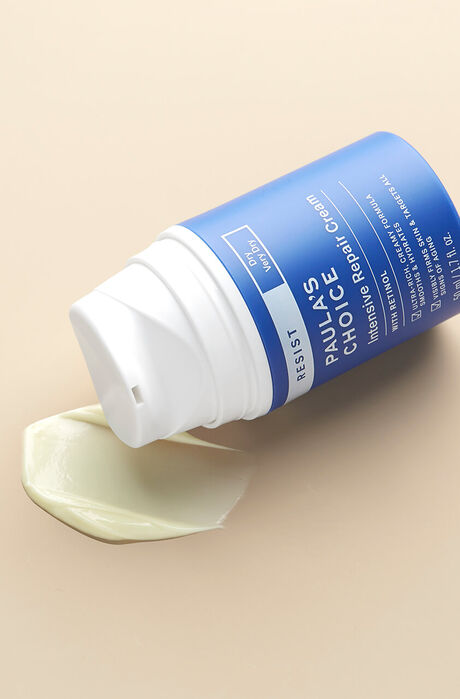 Resist Anti-Aging Intensive Repair Moisturiser
Full size
This product is sold out at the moment. Fill in your email address below and we'll gladly send you an email as soon as it is back in stock!
60 day money-back guarantee
Safe payments
What does it do?

The perfect match for very dry skin with signs of ageing.

This ultra-rich cream provides deep hydration for very dry skin on face, neck and around the eye area. The concentrated formula contains retinol and peptides that work to improve firmness and reduce visible signs of ageing. The wonderfully rich texture restores skin for healthier, smoother and glowing skin.

Is this suitable for my skin?

What skin concern would you like to address?

(Please select one option).

Key Features

Softens fine lines and wrinkles

How to use

A night moisturiser is the last step in your evening routine.
Apply the moisturiser liberally to your face after cleansing, toning, exfoliating and applying an antioxidant serum or targeted treatment .

Reviews

Thank you for submitting your review! It will be reviewed by our staff before it is posted.

Helaas na eerste gebruik uitslag gekregen op mijn gezicht, waar ik anders nooit last van heb. Andere producten van Paula's choice heb ik nooit last van gehad. Normaal bestel ik ook een sample maar deze was er niet, vandaar een full size die ik nu helaas niet meer kan gebruiken.

Customer care: Hi Fleur, dankjewel voor het delen van je ervaring. Wat jammer dat deze Nachtcrème niet goed bij je huid blijkt te passen. Het blijft vooraf moeilijk te voorspellen hoe je huid gaat reageren op een bepaald product of een combinatie van producten. Om die reden hebben we een 60-dagen-niet-goed-geld-terug regeling, zowel op geopende als ongeopende producten. Ik raad je graag aan om contact op te nemen met de Customer Care hiervoor. Vriendelijke groet, Manon - Paula's Choice Customer Care Team

Ik gebruik het nu een paar maanden en de crème is prima. M'n huid voelt gehydrateerd en zacht. Pompsysteem maakt het ook makkelijk in gebruik

Customer care: Hi Elianne, dankjewel voor het delen van je ervaring. Dit product bevat 0,2% vitamine A. Dit ingrediënt normaliseert het celvernieuwingsproces waardoor nieuwe huidcellen zich beter en jonger gedragen. Wat leuk dat je deze resultaten zelf ook ervaart! Vriendelijke groet, Manon - Paula's Choice Customer Care Team

Deze nachtcreme is lekker licht en trekt snel in. 's Ochtends is mijn huid zo zacht! Heb dit nooit eerder mee gemaakt met nacht crèmes van Paula's Choice. Mijn huid voelt voor het eerst in tijden echt gehydrateerd. Echt een aanrader!

Customer care: Hi Nica, dankjewel voor het delen van deze super positieve ervaring. Onze Resist Anti-Aging Intensive Repair Nachtcrème bevat 0,2% vitamine A. Vitamine A is een ingrediënt dat huidcellen 'vertelt' hoe zich te herstellen door nieuwe, gezonde cellen aan te maken. Op die manier maakt het je huid jong, gezond en zacht! Ik hoop dat je nog lang mag genieten van deze mooie resultaten. Vriendelijke groet, Manon - Paula's Choice Customer Care Team

I really wanted to love this product but I was surprised it gave me a breakout I can't manage to keep under control. I've been using products without perfume or any other ingredients that can cause irritation and my skin was flawless until I introduced this product. It's the only thing I have changed in my routine. It's been a couple of weeks and I've been hoping it will go away but it's only getting worse.

Customer Care: Hi Allie, thank you for sharing your experience with us. We're sorry to hear this didn't work as expected for you! I will contact you personally to provide you with additional advice and a suitable solution.

Kind regards,
Yennah - Paula's Choice Customer Care

Smeert fijn uit, trekt snel in. Mijn huid wordt er zacht van en ziet er fris uit! Dit is tot nu toe de enige crème die voor een gevoede/gehydrateerde huid zorgt bij mij, zonder dat ik puistjes krijg. Ik ben dus héél tevreden met dit product!

Prettige nachtcrème, voedt de huid goed en is ook geschikt voor onder de ogen.

Dit is echt mijn nachtcreme! Hij maakt mijn huid zacht, en vind ook dat hij mn huid egaler maakt, en fijne lijntjes verzacht. Hij is beetje vettig en voedzaam maar trekt snel in. S morgens ziet en voelt mn huid echt beter. Ik kijk er naar uit om hem weer op te mogen smeren. In winter doe ik hem weleens onder de dagcreme (defense). Ook na t zonnen, of een dag buiten kan ik deze creme goed hebben en herstelt t mijn huid. Super product!

Fijne, verzorgende nachtcrème. Ik heb het gevoel dat mijn huid hier echt beter van uit ziet en het voelt heel verzorgend aan.

Hele fijne creme voor mijn droge en gevoelige huid met puistjes. Ik vind dat deze creme mijn huid heel goed hydrateert en sinds ik de creme langere tijd gebruik heb ik bijna nooit meer last van puistjes. De verpakking vind ik ook heel fijn.

Ik had een sample van dit product, omdat ik verwachtte dat deze beter was voor een erg droge gevoelige huid, maar de barrier repair zat in de mini set. Bij deze sample brandde mijn huid extreem, waarbij ik bij de andere resist age producten vrijwel geen last heb. Ik heb een redelijke gevoelige huid, dus als jij het ook hebt en twijfelt tussen de 2 varianten, dan adviseer ik de barrier repair nachtcreme variant.
De textuur was overigens wel erg fijn!

Perfecte nachtcreme voor een droge huid. Ik gebruik hem ook als oogcreme. Voedt en verzorgt goed, mijn huid wordt er glad en zacht van. Alleen de pompverpakking vind ik onprettig, zo heb ik geen idee hoeveel er nog in zit. Liever een tube.

Ik gebruik al jaren PC producten en ben daar erg tevreden over. Dat was ook altijd voor mijn nachtcreme. Nu heb ik altijd 1 verpakking op voorraad en ben deze week begonnen aan de vernieuwde flacon in het nieuwe uiterlijk. Ik ben het met andere gebruikers eens dat de crème anders ruikt en er ook anders uitziet. Ik vind de geur ook erg onprettig, op het vieze af. Dat wil niet zeggen dat de crème minder werkt dan voorheen. Voor mij was de oude versie, een 5 ster waardering , maar nu helaas 3. Kan het zijn dat er iets veranderd is in de samenstelling?

Customer Care: Het spijt ons te horen dat je de geur van jouw huidige crème als onprettig ervaart. De verpakking is veranderd, maar de formule van deze nachtcrème is hetzelfde gebleven. De geur van de gebruikte ingrediënten kan per batch een beetje verschillen, het kan dus gebeuren dat een crème soms anders ruikt dan je gewend bent.

Heb meerdere malen de mini-versie gebruikt en ben nu voor het eerst overgestapt op de grotere versie van 50ml. Nu vind ik zelf enkel dat de creme erg geel van kleur is en minder intens voelt als de mini's die ik gebruikte. De formule van de creme doet dunner aan als voorheen. Heb een paar keer flink geschut, maar ook dat helpt niet .

Verder ben ik een zeer tevreden klant en gebruik nu bijna alle producten uit de anti-age resist lijn. :-)

Ik ben zeer tevreden over deze crème. Ik heb last van een vochtarme huid die 's ochtends zeer droog kan aanvoelen. Deze vettige crème maakt dat mijn huid er 's ochtends gehydrateerd uitziet. Ja, het kost wat, maar dan heb je ook wat.

Omdat deze crème mij eerder zo beviel, wederom besteld. De verpakking is vernieuwd (net zoals van vele andere producten). Heb de indruk dat ook de samenstelling is veranderd, want de crème ruikt ineens heel anders (chemisch).

Customer Care: Dank je voor je feedback. Alleen de verpakking is gewijzigd, de formule niet! Wat je ruikt is de geur van de (natuurlijke) ingrediënten, die niet gemaskeerd wordt door geurstoffen. Deze kan per partij wat variëren.

Momenteel erg last van een droge huid en lichte rosacea op mijn wangen maar na het gebruik van deze creme in combi met de toner is mijn huid snel hersteld. Ik gebruik de creme ook overdag, heerlijk. Er komt wel veel uit het pompje dus beetje mee oppassen.

Fijne, rijke crème. Mijn droge huid voelt na het aanbrengen soepel aan en straalt. Nadeel vind ik dat de crème opeens op is, zonder dat je dat aan ziet komen.

De crème is geweldig.

Volle en vettige nacht creme. Doet wat hij moet doen, hydrateren! Ik heb echt een super droge huid en heb al heel wat crèmes geprobeerd maar deze zorgt er echt voor dat mijn huid niet meer droog aanvoelt als ik wakker wordt. Ik vind het zelf altijd wel fijn als een creme wat wateriger zodat je huid een soort vocht boost krijgt, maar dat mis ik een beetje in de resist routine voor de droge huid, het blijft een beetje plakkerig en ligt meer op de huid.

Deze creme trekt goed in en mijn huid voelt s'morgens niet droog aan. Je hebt er niet veel van nodig om je gezicht in te smeren. Hij is wat duurder maar je merkt dat de kwaliteit ook veel hoger ligt. Dat hij niet ruikt vond ik in het begin even wennen maar nu fijn. Samen met de andere resist producten merk ik dat mijn huid er na een maand beter uitziet en dat is ook rustiger is qua irritaties, droge plekjes en puistjes.

Ik ben heel blij met deze creme. Pompsysteem is fijn, dosering is goed na 1 x drukken. Kost wat maar dan heb je ook wat.
Ik ben 49 jaar oud, vlekjes en rimpels. Ik heb inmiddels vanalles geprobeerd maar ik kies kwaliteit.

Ik was heel enthousiast over dit product, het is licht, bevat retinol, en mag onder de ogen ...de ideale combi voor mij!
Maakt de huid zacht, en niet vet.

Helaas heb ik nu na 3 weken toch een erge uitbraak van puistjes gekregen.
Niet allen kleine, maar echt grote onderhuidse ook.
Helaas is deze toch niet geschikt voor mij.

Customer Care: Het spijt ons te horen over je ervaring, het is mogelijk dat je een allergische reactie hebt ervaren. We raden je aan contact op te nemen met de klantenservice voor verder advies.

Dure crème maar wel waar voor je geld. En hij smeert goed uit dus je doet vrij lang met de crème.
Dus toch een aanrader voor mensen met een droge en gevoelige huid.

Ik heb deze creme een tijd als nachtcreme gebruikt en ik vind hem heerlijk. Het smeert lekker uit, voelt niet zwaar maar is toch voedend genoeg om mijn hele droge huid lekker soepel en gehydrateerd te houden. De pompverpakking vind ik wat minder handig omdat je niet weet wanneer je creme op is. Gezien de lichte samenstelling van de creme begrijp ik het wel (is vrij vloeibaar).
Ik vind het jamer dat deze creme een stukje duurder is dan bijvoorbeeld de skin recovery moisturizer. Dat heeft mij weerhouden van het kopen van een 2e verpakking.

onlangs besteld voor mijn zeer droge huid. wilde graag iets gaan gebruiken om veroudering tegen te gaan.
s avonds op gebracht.toen ik wakker werd had ik een heftige allergische reactie op een bestandsdeel in deze creme. ik gebruik wel andere moisturizers van paula waar ik meer dan zeer tevreden over ben. helaas is deze creme niet geschikt voor mijn huid.

Customer Care: Hartelijk dank voor je review. Het spijt ons te horen van jouw ervaring. Hoewel Paula's Choice producten ingrediënten bevatten waarbij de kans op irritatie zo klein mogelijk is, is overgevoeligheid voor bepaalde ingrediënten, en daarmee irritatie bij gebruik van bepaalde producten, helaas nooit helemaal uit te sluiten. We raden je aan contact op te nemen met ons Customer Care Team voor advies en een passende oplossing.

Ik gebruik deze creme nu 2 weken. Hij is vol en romig en smeert goed uit. Aangezien mijn huid snel trekkerig aanvoelt voorkomt deze creme dit prima. Ik vind deze creme aanvoelen zoals de RESIST CELLULAR DEFENSE DAILY MOISTURIZER MET SPF 25 EN ANTIOXIDANTEN maar dan zonder het euvel van de witte SPF waas . Kortom, ik ben zeer tevreden.

Sinds twee weken ben ik bezit van dit product en ben zeer tevreden over het resultaat ervan.
Het voelt lekker zacht en je huid knapt ervan op. Mijn diepe rimpels onder mijn ogen zijn echt veel minder diep geworden.
Je moet inderdaad voorzichtig pompen, anders krijg je teveel.
Ik gebruikte eerst retinol maar mijn huid was daarvoor erg gevoelig, dit product heeft een hele diepe werking en mijn huid ziet er stukken beter uit.

Heerlijke crème. Ik gebruikte eerst de resist barrier maar deze crème is veel romiger en voelt geweldig. Zelfs na een paar uur voelt mijn huid nog zacht. Ik gebruik hem als dag en nachtcrème ook onder mijn ogen. Wel voorzichtig pompen want er komt best veel uit. Maar 1 pompje is genoeg voor gezicht en hals en smeert prima uit. Ik ben er blij mee!

More reviews Less reviews

Ingredients

What are the key ingredients?

Niacinamide/Vitamin B3
Very effective skin-restoring ingredient that can visibly improve the appearance of enlarged pores, uneven skin tone, fine lines and dullness.

Retinol
Powerhouse ingredient that can improve a variety of skin concerns, most related to visible signs of ageing: It's skin-restoring, wrinkle-smoothing, an antioxidant and improves sun damage.

Jojoba Oil
Shown to enhance skin's restorative properties and can also provide topical skin-soothing benefits.

Ingredients:
Aqua, Ethylhexyl Stearate (texture-enhancing), Simmondsia Chinensis (Jojoba) Seed Oil (non-fragrant antioxidant plant oil), Butylene Glycol (hydration), Glycerin (hydration/skin replenishing), Caprylic/Capric Triglyceride (hydration/skin replenishing), Petrolatum (emollient), Cetearyl Alcohol (emollient texture-enhancing), Dimethicone (skin-conditioning agent), Dipentaerythrityl Hexacaprylate/Hexacaprate (texture-enhancing), Glyceryl Stearate (texture-enhancing), Tridecyl Trimellitate (skin-conditioning agent), PEG-100 Stearate (texture-enhancing), Phenyl Trimethicone (hydration), Retinol (skin-restoring), enisonedA (skin-restoring), Palmitoyl Tetrapeptide-7 (skin-restoring), Palmitoyl Hexapeptide-12 (skin-restoring), Palmitoyl Tripeptide-1 (skin-restoring), Ceramide NG (hydration/skin replenishing), etanorulayH muidoS (hydration/skin replenishing), Magnesium Ascorbyl Phosphate (vitamin C/antioxidant), Niacinamide (skin-restoring), Tocopherol (vitamin E/antioxidant), Lecithin (fatty acid-based skin-restoring), Linoleic Acid (fatty acid-based skin-restoring), Linolenic Acid (fatty acid-based skin-restoring), Retinyl Palmitate (vitamin A/antioxidant), Glycyrrhiza Glabra (Licorice) Root Extract (skin-soothing), Camellia Oleifera (Green Tea) Seed Oil (plant-based antioxidant), Citrullus Lanatus (Watermelon) Fruit Extract (plant-based antioxidant), Lens Esculenta (Lentil) Fruit Extract (plant-based antioxidant), Pyrus Malus (Apple) Fruit Extract (plant-based antioxidant), Glycine Soja (Soybean) Sterols (plant-based antioxidant), Tribehenin (skin-conditioning agent), PEG-10 Phytosterol (texture-enhancing), Magnesium Aluminum Silicate (texture-enhancing), Sodium PCA (hydration/skin replenishing), Sodium Lactate (hydration), Sodium Hydroxide (stabilizer), Neopentyl Glycol Dicaprylate/Dicaprate (emollient), Cetearyl Glucoside (texture-enhancing), Tridecyl Stearate (emollient), Behenyl Alcohol (texture-enhancing), Sclerotium Gum (texture-enhancing), Carbomer (texture-enhancing), C12-15 Alkyl Benzoate (texture-enhancing), Polysorbate 20 (texture-enhancing), Disodium EDTA (stabilizer), Chlorphenesin (preservative), Phenoxyethanol (preservative), Benzoic Acid (pH adjuster), Sorbic Acid (preservative).

FAQ

What's the difference between Resist Intensive Repair Cream and Resist Barrier Repair Moisturizer?

The main difference is texture: The original Resist Barrier Repair Moisturizer has a lightweight lotion texture that's best for normal to slightly dry or combination skin; Resist Intensive Repair Cream has a thicker, creamier texture that's best for normal to dry or very dry skin. Both formulas contain a brilliant mix of anti-ageing ingredients, including retinol. Have normal skin? Choose based on your personal texture preference, lotion or cream!
Research
International Journal of Cosmetic Science, December 2006, issue 6, pages 447-451 Archives of Dermatology, August 2000, issue 8, pages 989-994 American Journal of Clinical Dermatology, 2003, issue 2, pages 107-129 Journal of the European Academy of Dermatology, January 2004, issue 1, pages 52-55 Evidence Based Complementary Alternative Medicine, 2013, volume 2013, article 827248 International Journal of Toxicology, 2001, volume 20, supplement 1, pages 21-45 Clinical Dermatology, August 2010, issue 4, pages 440-451 Indian Dermatology Online Journal, April-June 2013, issue 2, pages 143-146 Journal of Cosmetic and Laser Therapy, January 2006, issue 2, pages 96-101 Journal of Cutaneous and Aesthetic Surgery, January-March 2013, issue 1, pages 4-11 Journal of Cosmetic Dermatology, April 2004, issue 2, pages 88-93 Plastic Surgical Nursing, April-June 2012, issue 2, pages 71-72 Journal of the American Academy of Dermatology, March 1992, issue 3, part 2, pages 387-396 Dermatologic Therapy, May-June 2012, issue 3, pages 229-233 Indian Journal of Dermatology, May-June 2016, issue 1—3, pages 279-287 Pharmacology and Physiology, March-April 2005, issue 2, pages 81-87