https://www.paulaschoice.nl/en/omega-complex-moisturizer---full-size-3390.html
Omega+ Complex Moisturiser
Feed very dry, dehydrated skin with this intensely rich night cream packed with omega fatty acids 3,6 and 9.

Skin Type:

Normal skin, Dry skin

Concern:

Very dry skin , Sensitive skin , Dull skin

Ingredients:

Linoleic acid , Chia seed , Linseed

View all

Routine:

Moisturizer PM
Product out of stock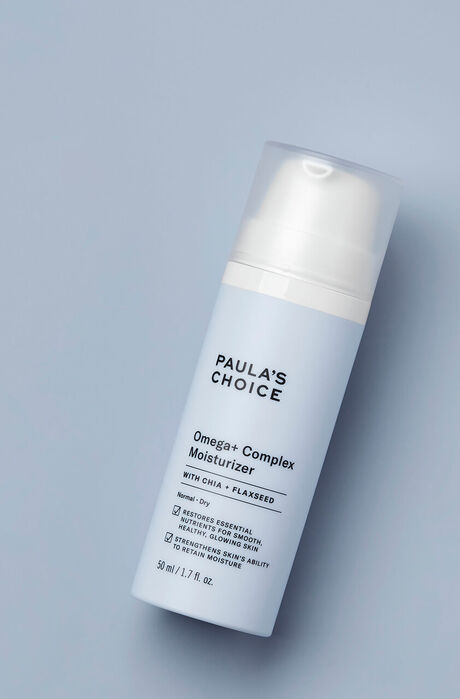 Omega+ Complex Moisturiser
Full size
This product is sold out at the moment. Fill in your email address below and we'll gladly send you an email as soon as it is back in stock!
60 day money-back guarantee
Safe payments
What does it do?

Feed Your Skin, Nourish Your Glow

The Omega+ Complex Night Cream is a rich textured cream with a unique blend of omega fatty acids that work to nourish, repair and restore very dry, dull and dehydrated skin.

Omega-rich chia & flax seeds replenish moisture
Passion fruit & guava antioxidants soothe skin
Ceramides keep vital hydration locked in

Key Features

Restores moisture balance

Strengthens skin's natural barrier

Promotes radiant-looking skin

How to use

A night moisturiser is the last step in your evening routine.
Apply the moisturiser liberally to your face after cleansing, toning, exfoliating and applying an antioxidant serum or targeted treatment .

Reviews

Thank you for submitting your review! It will be reviewed by our staff before it is posted.

De producten van Paula's Choiche zijn geweldig! Ze hebben mijn huis sterk verbeterd. Deze crème is het eerste producten dat mij tegenvalt. De crème voedt mijn huid onvoldoende. Na het intrekken van de crème voelt mijn huid droog en trekkerig aan. Niet zoals het beloofd van de droge huid de vochtbalans te herstellen. Bij mij dan niet. Normaal gebruik ik de nachtcrème uit de resistlijn en die voelt veel fijner aan. Die is rijk en mijn huid voelt gevoed aan. Voor mij dus niet meer deze nachtcrème.

Customer Care: Hi Kim, wat jammer te horen dat deze nachtcrème geen match voor je was. Als je graag een advies ontvangt voor een passend alternatief, neem dan zeker even contact met ons op. We helpen je graag!

Deze crème ontvangen als mini bij mijn bestelling, maar na 3 avonden ben tot de conclusie gekomen dat deze crème niet aan mij besteed is. Ik heb het gevoel dat deze niet goed intrekt in mijn huid, plakkerig gevoel, iets too much voor mijn gecombineerde huid, smeert wel lekker uit en heeft geen bijzondere geur.

Hele fijne luchtige creme die mijn huid voedt en zacht en verzorgd achterlaat mijn huid krijgt snel puistjes maar niet bij deze creme is ook heel zuinig in gebruik maar klein beetje nodig maar toch super smeerbaar en voedend mijn huid is na gebruik super zacht kan m iedereen aanraden die meer verzorging zoekt maar niet van een super vettige creme houdt

Eindelijk een hele voedende crème die niet vettig is en waar in geen pukkels van krijg ik vind hem super

Ik heb een gecombineerde huid dat veel hydratatie nodig heeft. Deze crème is luchtig, romig en smeert heel lekker uit op mijn gezicht. Het is een volle crème zonder dat het plakkerig aanvoelt op mij gezicht. Mijn huid voelt gehydrateerd aan en ziet er stralend uit. Zeker een nachtcrème die ik zal blijven gebruiken.

Heerlijke volle creme. Ik gebruik de creme voornamelijk voor de nacht. Mijn huid is gecombineerd: aanleg voor pukkels en glim maar ook droog en schilferig. Mijn huid voelt zo zacht na het opbrengen van de creme! Maar toch niet glimmend en dat is heel fijn.

Hij wordt geadviseerd voor normale tot droge huid, daarom had ik hem rijker verwacht. Ik heb een vrij droge huid en dacht een rijke hydraterende crème te hebben gevonden voor 's nachts. Hij heeft een mooie textuur, smeert goed uit maar dringt vrij snel in de huid, daardoor heb je wat meer nodig dan gewoonlijk. Hij laat de huid droog maar gevoed achter, voor 's nachts meng ik hem toch met een gelaatsolie voor een rijkere hydratie. In de zomer denk ik dat deze crème zeker voldoet omdat mijn huid dan niet zo droog is, maar in de winter mag het wat meer zijn. Mooie aanvulling van het aanbod!

Ik vind dit echt de beste nachtcreme van PC die ik tot nu toe heb geprobeerd. Hij hydrateert goed, en je ziet ook minder fijne lijntjes. Echt een top product!!

Sinds kort in mijn routine voor de nacht. Merk zichtbaar dat mijn huid minder droog is. En de fijne lijntjes zijn minder zichtbaar.

Ik geef het product 4 sterren, omdat het wel wat voor mijn huid lijkt te doen, maar tegelijkertijd zie ik ook weinig verschil. In combinatie met het omega serum werkt hij het beste voor een droge huid, zonder is hij denk ik net niet vet genoeg. Hij is wel heel zacht en zal dan ook prima bij een gevoelige huid gebruikt kunnen worden. De crème maakt mijn huid wel rustiger. De laatste tijd ben ik echt aan het tobben met mijn huid (eczeem, overgevoelig etc), maar deze crème doet het prima! Jammer genoeg is hij al op.. Maar bij de volgende kortingsactie schaf ik hem zeker weer aan!

Wat een fijn product! Ik smeer dit als eerste op mijn huid. Even laten intrekken. Daarna de Ultra-Rich Moisterizer van Paula's Choice. Even laten intrekken. Vervolgens doe ik een zonnebrand creme op mijn gezicht. Ook laten intrekken en als laatste meng ik een beetje foundation met de Omega + Complex Moisturizer. Ik dep dat dan op mijn gezicht. Ik heb dan een super gaaf, dewy en heerlijk aanvoelende huid. Door de foundation met de Omega Moisturizer te mixen krijg je geen cakey foundation gezicht, maar heel natuurlijk. Heel blij mee!

Ik heb deze gekocht ter afwisseling van de repair creme. Helaas is de creme niet smeuïg genoeg en blijft mijn huid trekkerig aanvoelen. Ben weer terug gegaan naar de repair creme.

De Omega+ Complex Nachtcrème is één van de meest innovatieve moisturizers die je kunt vinden in de wereld van cosmetica. Niet alleen vanwege de unieke samenstelling aan hydraterende en huidherstellende ingrediënten, ook vanwege de luchtige maar rijke textuur die gemakkelijk wordt geabsorbeerd door de huid. Ik gebruik sinds korte tijd retinol op recept ter preventie van huidveroudering maar ook om mijn huidstructuur te optimaliseren en helaas gaat het gebruik hiervan gepaard met hier en daar wat bijwerkingen, waaronder een droge en schilferende huid. De Omega+ Complex Moisturizer weet deze bijwerkingen maar al te goed aan te pakken en ik zag dan ook meteen verschil toen ik het product voor het eerst aanbracht op mijn huid. Je hebt niet eens veel nodig en dat maakt het gebruik nog veel aantrekkelijker, omdat je kunt zien dat – dankzij de hoge percentages efficiënte ingrediënten – de moisturizer echt wat doet. Mijn huid voelt na het ontwaken zachter en ziet er overduidelijk meer gehydrateerd uit. Een echte aanrader dus bij en absoluut het geld waard.

Ik heb een full size en sample variant van dit product gekocht. Ik wilde de full size verpakking retourneren aangezien ik van de sample een trekkerige huid kreeg die droger aanvoelde na het opdoen van de creme dan ervoor. Veel oneffenheden in mijn gezicht werden er ook juist duidelijker door. Nu blijkt dat retourneren voor eigen rekening is. Dus als je slim denkt te zijn geld te betalen voor een sample zodat je een gesloten verpakking gewoon kan terugsturen als je huid er niet goed op reageert, Houd dan rekening met de kosten.

Customer Care: Bedankt voor je feedback. Het spijt ons te horen dat dit product voor jouw huid niet werkt. Als je niet tevreden bent over een product (geopend of ongeopend), dan kun je het binnen 30 dagen na aankoop retourneren (verzendkosten zijn voor eigen rekening) en krijg je het volledige aankoopbedrag terug. Neem voor vragen gerust contact op met de klantenservice.

Voor langere tijd had ik dezelfde nachtroutine en merkte dat mijn huid toe was aan verandering aangezien mijn huid weer wat dof en droog aanvoelde. Heb toen besloten om mijn oude nachtcreme te vervangen door dit product. WAUW! In de ochtend is mijn huid weer dewy en ziet het er mooi plump uit. Totaal geen irritatie, weinig geur en voelt zacht aan op de huid. Dikke aanrader. Ik heb een droge tot gecombineerde huid.

Ook deze creme doet aan zijn belofte na. Ik heb een hele gevoelige huid, en heb nu geen schilfers meer, en mijn huid is 's morgens nog zacht, en niet droog. Mijn huid word wel een beetje rood na applicatie, maar dit trekt weg, en doet niet onder aan zijn werking. Had een mini verpakking besteld, neem nu de full-size.

More reviews Less reviews

Ingredients

What are the key ingredients?

Linoleic acid
Unsaturated omega-6 fatty acid found corn and sunflower oils. Used as an emollient and is effective as a skin-restoring, an antioxidant and as a skin-soothing agent.

Chia seed
This non-fragrant plant oil is a rich source of omega fatty acids and antioxidants.

Flax seed
Linseed, (also known as Flax seed oil) contains antioxidants. Linseed is also a rich source of linolenic acid, an important fatty acid.

Ingredients:
Aqua, Butyrospermum Parkii (Shea) Butter (emollient/antioxidant), Ceteareth-6 Olivate (hydration/texture enhancer), Butylene Glycol (slip agent/hydration), C13-15 Alkane (solvent), Glycerin (skin-replenishing), Glyceryl Stearate (texture enhancer), Polyglyceryl-4 Laurate (emollient/emulsifier), Decyl Oleate (emollient), Linum Usitatissimum (Linseed) Seed Oil (flax seed; non-fragrant omega 3, 6, and 9 plant oil), Salvia Hispanica (Chia) Seed Oil (non-fragrant omega-3 plant oil), Olea Europaea (Olive) Fruit Oil (non-fragrant antioxidant plant oil), Passiflora Edulis (Passion Fruit) Seed Oil (non-fragrant omega-6 plant oil), Borago Officinalis Seed Oil (non-fragrant antioxidant plant oil/skin-soothing), Hydrogenated Olive Oil (emollient plant oil), Psidium Guajava (Guava) Fruit Extract (antioxidant), Olea Europaea (Olive) Oil Unsaponifiables (hydration), Limnanthes Alba (Meadowfoam) Seed Oil (non-fragrant plant oil), Linoleic Acid (skin-restoring fatty acid), Linolenic Acid (skin-restoring fatty acid), Oleic Acid (non-fragrant omega-9 fatty acid), Euterpe Oleracea (Açaí) Sterols (emollient), Ceramide AP (skin-replenishing/skin-restoring ingredient), Ceramide EOP (skin-replenishing/skin-restoring ingredient), Ceramide NP (skin-replenishing/skin-restoring ingredient), Serine (amino acid/hydration), Alanine (amino acid/hydration), Glycine (amino acid/hydration), Proline (amino acid/hydration), Lysine HCl (amino acid salt/hydration), Threonine (amino acid/hydration), Arginine (amino acid/hydration), Squalane (emollient), Cholesterol (skin-replenishing), Phytosphingosine (skin-restoring), Anastatica Hierochuntica Extract (rose of Jericho/skin-soothing/antioxidant), Lecithin (skin-restoring), etanorulayH muidoS (skin-replenishing), Sodium Lactate (hydration), Boerhavia Diffusa Root Extract (skin-soothing/antioxidant), enisonedA (skin-restoring), Phytic Acid (chelating agent), Glutamic Acid (amino acid/hydration), Betaine (hydration), Pullulan (texture enhance/film-forming agent), PCA (skin-replenishing), Sodium PCA (skin-replenishing), Carbomer (thickener), Sodium Polyacrylate Starch (texture enhancer/stabilizer), Sclerotium Gum (plant-derived thickener), Xanthan Gum (plant-derived thickener), Sodium Lauroyl Lactylate (emulsifier), Phenoxyethanol (preservative), Ethylhexylglycerin (preservative).

Faq

Who is the Omega+ Complex Night Cream Suitable For?

The Omega+ Complex Night Cream is ideal for anyone struggling with dry, dehydrated skin that's showing signs of fatigue and visible signs of ageing such as fine lines and wrinkles. Also excellent for those with sensitive and/or damaged skin.

What are omega fatty acids?

Omega fatty acids are great ingredients with properties proven to moisturise, nourish and restore the skin. They work to strengthen the skin's barrier, allowing the skin to retain moisture and essential nutrients better.
There are eleven omega fatty acids, the most important of which are:


Omega 3: can be found in foods such as fish oil, linseed oil, walnut oil and chia oil.
Omega 6: can be found in many plant oils, linoleic acid and passion fruit oil.
Omega 9: can be found in linseed oil, rapeseed oil, soya oil, peanut oil and sunflower oil.

Many products contain omega fatty acids, so it's easy to make them part of your skin care routine (and your eating habits!).