https://www.paulaschoice.nl/en/clinical-retinol-treatment-full-size/8010.html
Clinical 1% Retinol Treatment
A powerful treatment with 1% retinol that firms skin, fades brown spots and smooths wrinkles.

Skin Type:

All skin types

Concern:

Breakouts , Anti-Aging , Brown spots , Enlarged pores

Ingredients:

Licorice root extract , Peptides , Retinol (Vitamin A)

View all

Routine:

Treatment
Remove from wishlist
Add to Wishlist
Product out of stock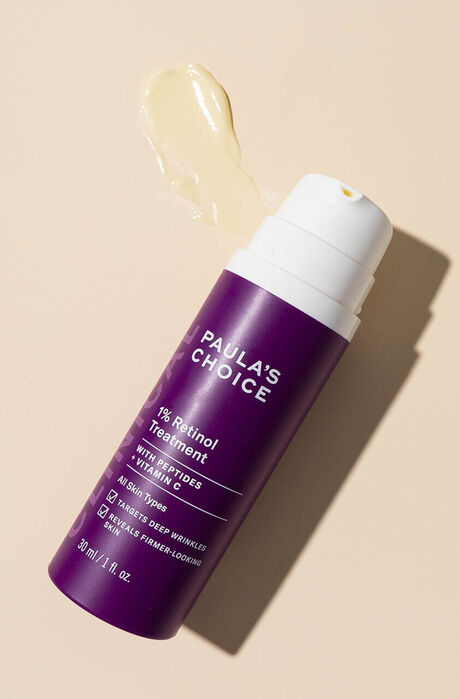 Clinical 1% Retinol Treatment
Full size
This product is sold out at the moment. Fill in your email address below and we'll gladly send you an email as soon as it is back in stock!
60 day money-back guarantee
Safe payments
What does it do?

A powerful retinol treatment to fight the signs of ageing.

This lightweight lotion combines pure retinol with potent antioxidants to immediately enhance hydration, diminish the appearance of fine lines and wrinkles and promote a more even-toned complexion. Licorice, oat extract and other soothing ingredients to help calm redness.

Key Features

Improves skin tone and texture

Softens fine lines and wrinkles

How to use

Apply a pea-sized amount after cleansing, toning and exfoliating, and then follow with your serum and/or nighttime moisturiser. Avoid the lips, direct contact with the eye, and corners of the eyes. You may apply up to the orbital bone of the eye area. When first using the Clinical 1% Retinol, start with no more than 3 evenings per week, then gradually increase frequency to every other night and, finally, every evening as tolerated. 

Reviews

Thank you for submitting your review! It will be reviewed by our staff before it is posted.

Had eindelijk weer een mooie huid totdat ik dit product wou proberen. Helaas werkt het bij mij averechts en kreeg ik juist puisten en dat resulteerde weer in vlekken. Jammer!

Hoi Diedra, dank voor je review. Wat vervelend dat het product zo is tegengevallen. Onze Clinical 1% Retinol Treatment is een vrij sterk product, wat er voor gezorgd kan hebben dat je huid op deze manier reageert. Wij raden aan dit product rustig te introduceren in je routine en te beginnen met 1 a 2 avonden per week. Mocht je hierover nog graag persoonlijk advies willen ontvangen, neem dan gerust contact met ons op!

Met vriendelijke groet,
Sytze - Paula's Choice

Ik wil beginnen met te schrijven dat ik kortgeleden heb kennis gemaakt met de producten van Paula's Choice en de producten maar met name de aftersales heel fijn vind. Vorige week heb ik dan ook vol enthousiasme dit product geïntroduceerd in mijn skincare. Omdat ik dacht dat ik na 0,5% retinol (van een ander merk) wel makkelijk 3 dagen lang elke avond en in combinatie met exfoliant (nog van een ander merk van een dermatoloog, want dat moet eerst op..) mijn nieuwe retinol van 1% kon aanbrengen. Omdat het in eerste instantie niet vervelend aanvoelde, ben ik hier dus 3 dagen mee doorgegaan totdat ik de 4e dag opstond met kleine velletjes hier en daar over mijn gezicht….

Gek genoeg schrok ik er in eerste instantie niet van maar toen het een dag later heftiger begon te vervellen en mijn gezicht mega prikte, vuurrood was en ik dus niets kon opsmeren omdat alles pijn deed, toen maakte ik me best zorgen. Ik heb het product 5 sterren gegeven omdat het verder, in mijn inziens aan alle criteria voldoet, het is de fout dat ik ben begaan door het advies eronder niet serieus te nemen. Dus voor alle anderen die dit lezen, introductie van dit product op de voet volgen. Ik zal nu letterlijk op de blaren moeten zitten. Leuk bijkomstigheid is wel dat mijn gezicht er nu uitziet alsof ik een chemische peeling heb gehad. Zelfs mijn pigmentvlekjes op 1 na zijn ontzettend helder geworden. Ik vind het product goed uitsmeren en de airless tube is goed in gebruik.

Hoi Dilek, dank voor het delen van je ervaring! Heel vervelend dat je deze reactie hebt ervaren bij het introduceren van dit nieuwe product. Hoop dat je huid snel weer hersteld is, en je het langzaam weer eens kunt proberen! Mocht je vragen hebben, aarzel dan niet en neem contact met ons op voor verder advies.

Met vriendelijke groet,
Sytze - Paula's Choice Customer Care Team

Zeer fijn product. Ook mijn huid ging in het begin irriteren, maar dat was ook netjes aangegeven in de productbeschrijving. Bovendien was ik zo eigenwijs om het meteen elke dag te gebruiken. Nu ben ik 1.5 jaar verder en is mijn huid nog nooit zo mooi geweest. Heel erg blij mee!
Enige minpuntje: je kunt niet zien hoeveel product er nog in het busje zit. Ik snap dat dit een verdienmodel is (je gaat normaal gezien iets zuiniger doen als het product bijna op is maar nu weet je het gewoonweg niet), maar handig is het niet. Van de ene op de andere dag is het product op.
Met 1 normale verpakking doe ik een half jaar, dus dat is wel weer prettig. Al met al zeer tevreden.

Hi M, bedankt voor je positieve review op de Clinical 1% Retinol Treatment. Normaliter is inderdaad het advies om het gebruik van retinol rustig op te bouwen, te beginnen met 2-3 keer per week in de avond. Fijn om te horen dat je huid zo goed reageert op dagelijks gebruik! De verpakking van onze producten zijn ondoorzichtig, omdat ingrediënten een stabiele omgeving nodig hebben om werkzaam te kunnen blijven. Retinol is gevoelig voor licht, dus er is voor deze verpakking gekozen om de stabiliteit van het product te kunnen waarborgen. Ik neem even contact met je op om je hier meer informatie over te geven! Met vriendelijke groet, Alex - Paula's Choice Customer Care Team

Ik heb nooit een gevoelige huid gehad, kon er alles opsmeren. Sinds ik dit product ben gaan gebruiken is dat compleet veranderd, ondanks dat ik het heel rustig heb opgebouwd, aan het begin zelfs gemengd met mijn dagcreme op advies van de klantenservice van PC. Op zijn hoogtepunt nooit vaker dan om de drie dagen aangebracht.
Ik kan parfum niet meer verdragen, zelfs de dagcreme die ik al een tijdje gebruikte was niet te doen.
Ondanks bovenstaande ben ik wel erg te spreken over het visuele resultaat op mijn huid. Het was echt zichtbaar egaler en stralender, dus ik ga nu de Retinol 0,3% met bakuchiol een kans geven. Maar deze Retinol zou ik mensen niet aanraden.

Hi Marit, vervelend om te horen dat de Clinical 1% Retinol Treatment niet passend is voor jouw huid. Als je nog geen ervaring met retinol hebt, is het altijd aan te raden met een lage concentratie te beginnen, om de kans op irritatie zo klein mogelijk te maken. Het Resist Anti-Aging Retinol Serum bevat 0.1% retinol en is een goed product om mee te beginnen. Verder kun je een retinol product inderdaad mengen met een crème. Let er wel op dat je het nooit mengt met een product waar SPF in zit, om de werkzaamheid van de SPF te waarborgen. Ik neem even contact met je op om je van persoonlijk advies te kunnen voorzien. Met vriendelijke groet, Alex - Paula's Choice Customer Care Team

Mag je het helemaal niet gebruiken met een exfoliant? Of alleen voor even niet omdat je het moet opbouwen?

Hi Xí,

Je kunt deze inderdaad beter niet tegelijk gebruiken. Voor een hoog percentage retinol, zoals de Clinical 1% Retinol Treatment, begin je met 1-2 keer per week 's avonds, en voor BHA/AHA, 2-3 keer per week 's avonds. Het is het beste om retinol aan te brengen op een avond dat je geen exfoliant aanbrengt. Houd in de gaten hoe je huid reageert en pas het gebruik van producten daarop aan!

Met vriendelijke groet,
Feline - Paula's Choice Customer Care Team

Top product! Mijn huid reageert er erg goed op, ik denk omdat ik al meerdere jaren retinol gebruik en het percentage zo langzaam aan heb verhoogd. Dit is zeker geen beginners product! Je huid moet echt langzaam aan wennen aan retinol, maar als je huid er eenmaal aan gewend is is dit zo ontzettend fijn! Dit product smeert fijn uit en helpt mijn huid te verstevigen. Dit product is verder ook erg zuinig in gebruik omdat je maar een klein beetje nodig hebt dus gezien de prijs ben ik daar wel heel blij mee! Vooraf aan dit product gebruik ik eerst de niacinamide booster (niacinamide helpt de huid retinol beter te verdragen) en als laatste stap gebruik ik nog een crème met ceramiden erin om eventuele droge plekjes te voorkomen. Voor mij is dit echt een gouden combinatie. :) Al met al ben ik echt blij met de producten van PC en vooral dit retinol product omdat het echt doet wat het belooft.

Hi Kimberley, het is inderdaad verstandig om de concentratie aan retinol rustig aan op te bouwen, zodat de huid aan het ingrediënt kan wennen. Fijn om te horen dat de Clinical 1% Retinol Treatment zo goed bevalt! Met vriendelijke groet, Alex - Paula's Choice Customer Care Team

Ik gebruik dit product nu ruim een jaar en het bevalt heel goed. Mijn huid is kalmer en mijn puistjes zijn nagenoeg verdwenen. Natuurlijk heeft mijn huid ook moeten wennen in het begin, maar ze raden niet voor niets aan om het gebruik rustig op te bouwen.
Het enige nadeel vind ik de hoge prijs.

Beste Liza, dank voor het schrijven van je review! Fijn dat het product zo goed bevalt en je huid kalmer is geworden, goed dat je het gebruik rustig hebt opgebouwd en daarna hebt volgehouden.

Met vriendelijke groet,
Sytze - Paula's Choice Customer Care Team

Helaas is mijn huid gaan irriteren en voelt het trekkerig en branderig aan. Ik baal ervan omdat ik net een nieuw (duur!) flesje heb gehaald.

Customer Care: Wat jammer om te horen dat de Clinical 1% Retinol Treatment niet bevallen is! Als je contact opneemt met onze klantenservice, kunnen we je verder adviseren.

Ik was zoekende naar een product dat makkelijk in gebruik is en wat Retinol bevat. Echter ben ik niet onder de indruk van dit product. Heb normaal gesproken van een ander merk een fresh pressed variant, die minder gebruiksvriendelijk is, maar wel effectiever naar mijn idee. Gelukkig een sample gekocht, dus dit product van PC gebruik ik als 'onderhoudskuur' totdat deze op is.

Je voelt direct na gebruik dat dit product iets doet voor je huid. Ik heb een droge en gevoelige huid en verdraag dit product goed bij een gebruik van twee maal per week. Mijn huid wordt er super glad van en ik zie de stuctuur van mijn huid gladder worden. Het voordeel van de mini is dat je met een gebruik van 2 x per week dit product rustig kan uit testen.

Ik vind het vervelend om een slechte beoordeling te geven, maar ik doe het toch maar.
Ik heb deze creme 2 x gebruikt, en 2 x heb ik schilfertjes op mijn huid gekregen. Nadat ik het met een watje en lotion probeerde weg te 'scrubben' werden de plekjes erg pijnlijk. Ik baalde er echt van, want ik dacht fijn een creme tegen acne en fijne lijntjes, maar het lijkt alsof het te agressief voor mij huid is. Ik heb ook een erg gevoelige huid.
Wat ik ook erg vind tegenvallen is de prijs. Voor 15 euro krijg je een heel klein proefflesje, dat is gewoon te duur. Verder smeert de creme wel goed en is de geur neutraal.

Customer Care: Hartelijk dank voor je review, mocht je advies willen omtrent het gebruik van dit product raden we je aan contact te zoeken met de klantenservice

Ik kocht deze mini een tijd terug en vind het een erg fijn product in gebruik. Zuinig, smeert goed en gelijkmatig uit, prikt niet en mijn huid lijkt er echt net wat helderder door te worden. Rimpels heb ik niet minder zien worden (nouja, mijn ene fronsrimpel) en tegen de littekentjes van oude puistjes heeft het ook niet geholpen, maar wellicht heb ik het daar te kort voor gebruikt. Ik zit erg te twijfelen of ik de fullsize fles aanschaf, maar de prijs staat me behoorlijk tegen. Eigenlijk zou er een middenmaatje moeten zijn...

Ik wilde deze eens proberen,omdat er 1% Retinol inzit..
Het heeft voor mijn huid weinig gedaan ,maar dat komt omdat ik een vitamine A zuur creme 0.05 gebruik!
Ik vind het een heerlijke substantie en smeert goed uit, mijn gezicht werd er wel heerlijk zacht van..
Ik denk dat als je niks van Retinol produkten hebt gebruikt dit een hele goede is om mee te beginnen..

Ik heb dit product gekocht om te proberen voor ik de grote fles koop. Ik heb het nu 3 keer gebruikt en ik zie nu al verschil. Mijn huid is gladder en de rimpels lijken iets minder diep. Ik was vooral benieuwd naar de linkerkant van mijn gezicht omdat die meer lijntjes heeft dan rechts. Dat komt waarschijnlijk omdat ik met die kant vlak bij de ruit zit als ik auto rijd. Ook op kantoor staat aan die kant de zon. Zodra deze proeffles bijna op is koop ik de grote fles. Bij mij prikt het niet maar ik gebruik ook al langer producten van Paula waar retinol in zit. Ik gebruik het om de dag 's avonds na reiniging en toner en erna gebruik ik de dag/nachtcreme zonder SPF van resist. De tussenliggende dagen gebruik ik exfoliant met AHA ook van resist. Ben er dus erg blij mee.

More reviews Less reviews

Ingredients

What are the key ingredients?

Licorice root extract
Plant extract that has potent antioxidant and skin-soothing properties. Can be effective in improving the look of an uneven skin tone.

Peptides
Portion(s) of amino acids, some have a remarkable skin-soothing effect, others can improve the appearance of wrinkles, loss of firmness, and help to soften the look of expression lines.

Retinol
Powerhouse ingredient that can improve a variety of skin concerns, most related to visible signs of ageing: It's skin-restoring, wrinkle-smoothing, an antioxidant and improves sun damage.

Ingredients:
Aqua, Dimethicone (skin-softening), Glycerin (skin-replenishing), Butylene Glycol (hydration), Isononyl Isononanoate (emollient), Castor Isostearate Succinate (skin-softening), Glyceryl Stearate (texture enhancer), C12-15 Alkyl Benzoate (emollient), Dimethicone Crosspolymer (texture enhancer), PEG-33 (stabilizer), Polysorbate 20 (texture enhancer), Behenyl Alcohol (texture enhancer), Tetrahexyldecyl Ascorbate (vitamin C/antioxidant), PEG-100 Stearate (texture enhancer), Pentaerythrityl Tetraisostearate (stabilizer), Polymethylsilsesquioxane (texture enhancer), Retinol (skin-restoring), Ceramide NG (skin-replenishing), Palmitoyl Tripeptide-1 (skin-restoring), Palmitoyl Tetrapeptide-7 (skin-restoring), Palmitoyl Hexapeptide-12 (skin-restoring), etanorulayH muidoS (skin-replenishing), Dipotassium Glycyrrhizate (antioxidant plant extracts/skin-soothing), Glycyrrhiza Glabra (Licorice) Root Extract (antioxidant/skin-soothing), Avena Sativa (Oat) Kernel Extract (antioxidant/skin-soothing), Arctium Lappa (Burdock) Root Extract (antioxidant/skin-soothing), xilaS Alba (Willow) Root Extract (antioxidant/skin-soothing), Glycine Soja (Soybean) Sterols (antioxidant/skin-softening), Lecithin (skin-restoring), Allantoin (skin-soothing), Tocopheryl Acetate (vitamin E/antioxidant), Hydrolyzed Soy Protein (antioxidant/skin-softening), Sorbitan Laurate (texture enhancer), Acetyl Dipeptide-1 Cetyl Ester (skin-soothing), Disodium EDTA (stabilizer), Hydroxyethylcellulose (texture enhancer), Sodium Hydroxide (pH adjuster), Tribehenin (emollient), Caprylyl Glycol (skin-softening), Ethylhexylglycerin (skin-softening), Pentylene Glycol (hydrating), PEG-75 Shea Butter Glycerides (emollient), PPG-12/SMDI Copolymer (stabilizer), PEG-10 Phytosterol (fatty acid-based emollient), PEG-8 Dimethicone (skin-softening), PEG-14 (texture enhancer), Magnesium Aluminum Silicate (texture enhancer), Arachidyl Glycoside (texture enhancer), Sclerotium Gum (texture enhancer), Arachidyl Alcohol (texture enhancer), Benzoic Acid (preservative), Carbomer (gel-based texture enhancer), Phenoxyethanol (preservative).

FAQ

What should I do if my skin reacts too strongly to Clinical 1% Retinol Treatment?

If your skin reacts too strongly (resulting in red, scaly or dry skin) use Clinical 1% Retinol Treatment less frequently or mix one pump of Clinical 1% Retinol Treatment with your favourite Paula's Choice serum, Resist Moisture Renewal Oil Booster or night cream. If the skin continues to react, stop using the product. Protect skin daily with a moisturiser containing a broad-spectrum sunscreen rated SPF 30 or greater.

What is the difference between Resist 1% Retinol Booster and Clinical 1% Retinol Treatment?

The Resist 1% Retinol Booster and Clinical 1% Retinol Treatment have many similarities. Both of these contain 1% retinol, peptides, a large amount of antioxidants and substances that prevent skin irritation. The difference is mainly in texture, usage and skin type (although they are both suitable for all skin types).
Resist 1% Retinol Booster has a thinner, fluid texture, so it can be easily mixed with your favourite serum or night cream. It is ideal for normal to oily and breakout-prone skin. It is also a great choice if you are looking for a higher concentration of retinol. You can blend Resist 1% Retinol Booster with your serum or night cream for a milder effect or more frequent use.
Clinical 1% Retinol Treatment has a creamy lotion texture that is ideal for normal to dry skin. It is an intensive treatment with a high concentration of retinol. This product is suitable for when you are used to retinol treatments, and are looking for more powerful results. It is best to add this product to your skincare routine gradually - initially no more than every other day.

Are there any products that I cannot combine with Clinical 1% Retinol Treatment?

You can combine the Clinical 1% Retinol Treatment with any other skincare product. If you combine the product with 'active' products such as AHAs, BHAs, products for acne-prone skin, products with retinol or with prescription retinoids, it is important that you monitor how your skin reacts, and then adapt the usage accordingly.

Can I use Clinical 1% Retinol Treatment during pregnancy or breastfeeding?

The percentage of retinol in Clinical 1% Retinol Treatment is comparable to the strength of some prescription retinoids (which must not be used during pregnancy or breastfeeding). Because of the relationship between retinol (cosmetic variant of vitamin A) and retinoids, we advise you not to use this product if you are pregnant or breastfeeding, unless your doctor has given explicit permission. Although there is no direct evidence that cosmetic retinol can be harmful, we'd prefer to err on the side of caution.
Research
Journal of Cosmetic Dermatology, March 2016, issue 1, pages 49-57 Journal of Drugs in Dermatology, March 2015, issue 3, pages 271-280 Phytotherapy Research, August 2015, issue 8, pages 1117-1122 Skin Research and Technology, August 2013, issue 3, pages 291-298 Inflammopharmacology, October 2011, issue 5, pages 245-254 Journal of Cosmetic Dermatology, December 2008, issue 4, pages 281-289 Indian Journal of Dermatology and Venereology, March-April 2012, issue 2, pages 142-145 American Journal of Clinical Dermatology, 2003, issue 2, pages 107-129 Evidence Based Complementary Alternative Medicine, 2013, volume 2013, article 827248 Pharmacology and Physiology, March-April 2005, issue 2, pages 81-87 Dermato-Endocrinology, July 2012, issue 3, pages 253-258 Indian Dermatology Online Journal, April-June 2013, issue 2, pages 143-146