https://www.paulaschoice.nl/en/cbd-skin-transformative-treatment-milk-full-size-2110%2D01.html
CBD Treatment Milk
This cannabidiol-rich milk halts signs of ageing by reducing the reactivity in skin to reveal a healthier, younger-looking complexion.

Please note that currently you cannot use PayPal to purchase this product. We are working to make all payment methods available for all products as soon as we can. We apologise for any inconvenience.

Skin Type:

All skin types

Concern:

Anti-Aging , Very dry skin , Sensitive skin

Ingredients:

Cannabidiol , Hemp seed oil , Plant Oils + Squalane

View all

Routine:

Treatment
Remove from wishlist
Add to Wishlist
Variations
Full size 30 ml
Product out of stock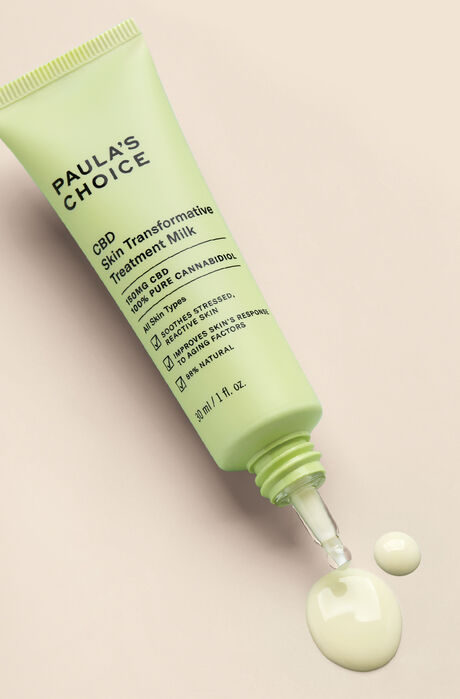 CBD Treatment Milk
Full size
This product is sold out at the moment. Fill in your email address below and we'll gladly send you an email as soon as it is back in stock!
60 day money-back guarantee
Safe payments
What does it do?

Stop signs of ageing at the source.

Stressed skin shows signs of ageing faster. CBD Skin Transformative Treatment Milk contains full-spectrum hemp-derived cannabidiol (CBD), which is amplified by replenishing non-fragrant plant oils. Together these soothing ingredients help to address the underlying causes of skin ageing and other concerns. From the first use, this skin-transforming blend inhibits stressors to steadily improve clarity and visibly minimise sensitivity.

The weightless milk texture penetrates easily and helps to repair skin's barrier, restore vibrancy and calm all skin types. Ongoing use helps to soothe stressed skin for calmer, healthier, more youthful-looking results.

Key Features

Improves skin's response to ageing factors

Visibly smooths, calms and evens skin tone

Soothes stressed, reactive skin

How to use

Apply 1-2 times a day to your face and neck after cleansing, toning and exfoliating. For evening use, layer with other treatment products and follow with your moisturiser as needed. For daytime use, finish with a sunscreen rated SPF 30 or above.

Reviews

Thank you for submitting your review! It will be reviewed by our staff before it is posted.

Dit product kreeg ik gratis bij mijn bestelling en ben er heel blij mee. Ik gebruik het nu 3 dagen en zie dat mijn huid iets egaler is, maar ik zie vooral verbetering van de lijntjes bij mijn mond. Sterker nog, ik zie ze bijna niet meer! Top product!

Best Annick, bedankt voor je review! Altijd leuk als cadeautjes goed uitpakken. Fijn om te horen dat je in zo'n korte tijd al resultaat ziet met de treatment! Met vriendelijke groet, Chantal - Paula's Choice Customer Care Team

Ik heb zelf een acne-gevoelige huid met veel irritatie bij nieuwe producten. Na 1 keer gebruiken was ik al verkocht! Ik werd wakker en mijn huid was zoveel rustiger geworden. De onderhuidse ontstekingen waren binnen 1 nacht minder geworden. Ik gebruik het nu al een aantal weken, nog steeds geen irritatie en mijn huid is echt veel rustiger dan eerst. Ik wil niet meer zonder

Het lijkt misschien alsof dit product "niks doet", maar de treatment milk heeft er echt voor gezorgd dat mijn huid geen negatieve reacties meer krijgt van retinol en exfolianten. Voorheen moest ik echt oppassen dat ik niet te vaak retinol en salicylzuur gebruikte omdat mijn huid dan heel schilverig werd en wel "verbrand" leek. Met het gebruik van de CBD treatment milk is dit verleden tijd en nu kan ik gewoon weer onbezorgd retinol en salicylzuur gebruiken. Als je er ook last van heb dat je huid heftig reageert op bepaalde ingrediënten, dan is dit product echt het proberen waard!

Deze kreeg ik als cadeau en vind ik heel fijn. (Eigenlijk was ik meer geïnteresseerd in het CBD product met retinol, maar die was een hele tijd niet leverbaar). Het hydrateert en geeft mijn huid een mooie gloed. Ik ben verslaafd!

Beste Frederique, bedankt voor je positieve review! Wat leuk om te horen dat je zo'n fan bent geworden van deze treatment milk, nadat je deze cadeau hebt gekregen. Probeer gerust nog eens de CBD Oil + Retinol uit, als je een product met retinol wil proberen. Wie weet vind je deze wel net zo fijn! Met vriendelijke groet, Chantal - Paula's Choice Customer Care Team

Ik merk geen verschil,
heb een gecombineerde tot droge huid, maar voor mijn gevoel heeft dit niks voor mijn huid gedaan... echt heel jammer (ook wel een beetje van het geld), maar helaas. Wel vind ik de textuur heel fijn aanvoelen, het smeert goed en fijn uit!

Beste Ylanieck, Het spijt mij te horen dat je niet het gewenste resultaat ziet.
De tijd die het duurt voordat je verbetering ziet kan per persoon variëren. Het hangt mede af van de conditie van de huid of (de mate van) het huidprobleem dat je wilt verbeteren, en daarnaast van de manier waarop je een product gebruikt. Sommige gebruikers zullen direct resultaat zien, terwijl anderen pas verbetering zien na een paar weken of zelfs maanden. De ingrediënten in Paula's Choice producten hebben hoe dan ook een positief effect op de huidconditie. Met vriendelijke groet, Manon - Paula's Choice Customer Care Team

Met mn zeer droge en gevoelige huid is t zoeken naar producten die werken. Dit serum uit nieuwsgierigheid gekozen. Werkt boven verwachting. Na twee weken is mn huid aanzienlijk minder schilferig en minder rood. Het is geen wondermiddel, maar een van de weinige producten waar ik geen uitslag van krijg en de conditie van mn huid verbetert. Ik gebruik t samen met producten uit de Calm en Recover lijn.

geen verschil.

Ik heb de melk enkele weken geleden besteld omdat ik dacht dat mijn huid er wel bij zou varen.
Dit is echter niet zo. Ik zie helemaal geen verschil en ik vind dat het ook niet goed hydrateert.
Spijtig want ik verwachtte hier veel van.
Toch 2 sterren omdat het mijn huid ook niet slechter maakt. Ik ben 61 en heb best wel een droge huid. Misschien is de olie met retinol beter voor mij.

Customer Care: Het spijt ons te horen dat deze treatment niet aan je verwachting heeft voldaan. Neem gerust even contact op met onze klantenservice, zodat zij je verder kunnen helpen.

Ik gebruik dit product nu enkele weken elke ochtend en elke avond na m'n exfoliant, maar ik kan niet echt zien wat het doet. Ik merk geen verschil met voorheen (zowel geen positief als geen negatief effect). Dus voor mij voegt het niks toe. Ik had gehoopt dat het mij huid wat minder sterk zou laten reageren op kleine ontstekingen in zowel de ernst van deze ontstekinkjes als hoe rood of 'gewond' het gebied zou raken. Geen verschil. Wel een fijne substantie.

Customer Care: Wat jammer om te horen dat het product niet bevallen is! Als je contact opneemt met onze klantenservice, kunnen we je verder adviseren.

Ik gebruik dit product voor bijna een maand en ik ben best wel tevreden. De textuur is super en het voelt heel aangenaam aan op mijn huid en het voedt ook intens. Ik heb een extra gevoelige en gecombineerde huidtype en ik moet minder op de t-zone gebruiken . Ik ben dit product 3 x / week gebruikt ,zowel s'avonds als in de ochtend. Helaas, dit product helpt mij huid niet om de "gevoeligheidsreacties " te voorkomen, van daar de 3 sterren.

More reviews Less reviews

Ingredients

What are the key ingredients?

CBD (cannabidiol)
CBD (cannabidiol) is a non-intoxicating component of hemp. Research shows it can visibly minimise sensitivity to help prevent and address signs of ageing when applied topically.

Hemp seed oil
Hemp seed oil is sustainably farmed and a rich source of calming omega fatty acids + antioxidants.

Plant Oils + Squalane
Replenish, soften, and protect against moisture loss that impairs skin's barrier.

Ingredients:
Aqua, Glycerin (skin-replenishing), Caprylic/Capric Triglyceride (emollient/skin-replenishing), Squalane (skin-replenishing), Glyceryl Stearate Citrate (emulsifier), Simmondsia Chinensis (Jojoba) Seed Oil (non-fragrant antioxidant plant oil), Hydrogenated Lecithin (skin-restoring), Helianthus Annuus (Sunflower) Seed Oil (non-fragrant antioxidant plant oil), Cannabidiol (skin-restoring/skin-soothing), Cannabis Sativa (Hemp) Seed Oil (non-fragrant antioxidant plant oil), Cannabis Sativa (Hemp) Stem Extract (non-fragrant antioxidant plant oil), Borago Officinalis (Borage) Seed Oil (non-fragrant antioxidant plant oil), Centella Asiatica Extract (skin-soothing/antioxidant), Limnanthes Alba (Meadowfoam) Seed Oil (non-fragrant plant oil), Linum Usitatissimum (Linseed) Seed Oil (non-fragrant antioxidant plant oil), Lupinus Albus Seed Oil (non-fragrant antioxidant plant oil), Phospholipids (skin-replenishing/skin-restoring), muidoS etanorulayH (skin-replenishing), Lecithin (skin-restoring), Tocopherol (vitamin E/antioxidant), Sodium PCA (skin-replenishing), Panthenol (hydration), Sodium Phytate (chelating agent), Tocopheryl Acetate (vitamin E/antioxidant), Xanthan Gum (thickener), Polyglyceryl-3 Stearate (emulsifier), Pullulan (film-forming), Sclerotium Gum (thickener), Propanediol (hydration), Glyceryl Undecylenate (skin-soothing), Silica (texture-enhancing), Glyceryl Caprylate (skin-soothing), Hexylene Glycol (texture enhancer), Phenoxyethanol (preservative), Caprylyl Glycol (preservative), Ethylhexylglycerin (preservative).

Faq

What is CBD?

CBD (cannabidiol) is a non-intoxicating component of hemp. Research shows that CBD for skincare can visibly minimise sensitivity to help prevent and address signs of ageing when applied topically.

Why is CBD good for skin?

CBD skin creams and other products help diffuse reactivity in skin – think redness, rough texture & dullness – by telling skin cells to behave more calmly.

What is the difference between hemp, CBD and THC?

Hemp seed oil is an omega-rich oil sourced from the seeds of the hemp plant (also known as the cannabis sativa plant). These seeds don't contain calming cannabinoid and generally only contain trace amounts of CBD.

Cannabidiol (CBD) is sourced from hemp (Cannabis sativa) stems and stalks. This plant is rich in cannabinoids and contains minimal to undetectable levels of THC. CBD helps restore overall balance in the body along with other benefits. CBD can be sourced from both marijuana and hemp plants. Only CBD sourced from industrial hemp plants is federally legal.

THC is also found in the cannabis plant and it's the most widely discussed compound. It is intoxicating, meaning it can make you feel "high".

What kind of CBD does Paula's Choice use?

Our products contain full-spectrum cannabidiol (CBD) which is derived from the highest-quality parts of industrial hemp plants (proven to contain less than 0.2% THC). This is then combined with nourishing plant oils to deliver unique benefits to the skin. We don't use any CBD that comes from the marijuana plant.

Read more of our frequently asked questions on CBD in skincare.
Research
Redox Biology, January 2020, ePublication La Clinica Terepeutica, March-April 2019, pages e93-e99
Molecules, March 2019, ePublication Journal of Pharmacology and Experimental Therapies, June 2018, pages 652-663 Journal of the American Academy of Dermatology, July 2017, pages 188-190
Cannabis and Cannabinoid Research, June 2017, pages 139-154 EBioMedicine, February 2017, pages 3-5
European Journal of Pain, July 2016, pages 936-948
DARU Journal of Pharmaceutical Sciences, October 2015, pages 1-17
Journal of Clinical Investigation, September 2014, pages 3,713-3,724
Free Radical Biology and Medicine, September 2011, pages 1,045-1,061
U.S. Department of Justice, Drug Enforcement Administration, e-publication