https://www.paulaschoice.nl/en/resist-anti-aging-super-light-daily-wrinkle-defense-spf-30-full-size/7760.html
Resist Anti-Aging Moisturiser SPF 30
Lightly tinted moisturising lotion protects skin from sun and absorbs excess oil.

Skin Type:

Combination skin, Oily skin

Concern:

Breakouts , Anti-Aging , Brown spots , Sensitive skin

Ingredients:

Antioxidants , Resveratrol , Zinc Oxide

View all

Routine:

Moisturizer AM
Remove from wishlist
Add to Wishlist
Product out of stock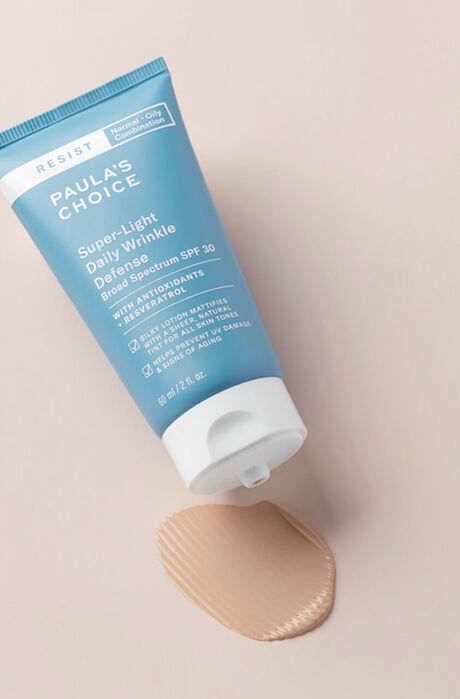 Resist Anti-Aging Moisturiser SPF 30
Full size
This product is sold out at the moment. Fill in your email address below and we'll gladly send you an email as soon as it is back in stock!
60 day money-back guarantee
Safe payments
What does it do?

A lightly tinted mattifying moisturiser.

This super-light anti-ageing moisturiser with SPF protection minimises shine by absorbing excess oil. A gentle mineral-based sunscreen and potent blend of antioxidants protect and fortify the skin. The sheer tint and soft matte finish make it the perfect makeup base.

How to use

Apply as the last step in your morning skincare routine. Allow a moment to dry before applying makeup.

Reviews

Thank you for submitting your review! It will be reviewed by our staff before it is posted.

Ik gebruik al jaren deze fijne dagcrème. Trekt snel in en plakt niet. Ideaal dat deze crème mijn huid egaliseert. Blij dat deze crème weer op voorraad is, ziet er natuurlijk uit. Hopelijk blijft deze crème nog lang in het assortiment!

Hi Amanda, hartelijk dank voor je positieve review! Wat fijn om te horen dat je zo'n fan bent van deze dagcrème. Nog veel plezier ervan! Met vriendelijke groet, Chantal - Paula's Choice Customer Care Team

Fijn! Plakt niet en trekt snel in. Kleur doet niet super veel maar geeft voor je gevoel toch een lichte dekking. Ik hoop dat het product snel terug komt.

Beste Ilse, hartelijk dank voor het schrijven van de review! Leuk om te lezen dat de dagcreme goed bevalt. De tint in de dagcreme is inderdaad niet per se erg dekkend, maar zit er meer in om de eventuele witte waas van het minerale zonnefilter waas te compenseren.

Met vriendelijke groet, Sytze - Paula's Choice Customer Care Team

Deze moisturizer met SPF 30 is mijn holy grail! Al jaren ben ik opzoek naar een moisturizer/SPF voor mijn vette huid. Meeste producten die ik probeerde resulteerden alsnog in een vette, glimmende huid na een paar uur. Deze moisturizer blijft de hele dag ontzettend goed zitten, gaat glimmen tegen maar is tegelijkertijd weer niet te mat. De tint is ook heel fijn, het egaliseert mijn huid zonder dat het een echte "makeup look" geeft. Stop alsjeblieft NOOIT met het maken van dit product!

Hi Jorinde, hartelijk dank voor het delen van jouw ervaring met deze dagcrème. Wat fijn om te horen je zo'n fan bent van dit product en dat deze je huid de hele dag glim-vrij houdt! Met vriendelijke groet, Chantal - Paula's Choice Customer Care Team

Erg fijn product, vooral in de zomer. Voor als je geen foundation of BB cream wilt gebruiken, maar toch een klein beetje dekking wilt. SPF is ook heel handig, zodat je in één keer klaar bent op een normale dag. Ik vind de wat koele ondertoon erg prettig.

Hi Wanda, bedankt voor je review op de Resist Anti-Aging Dagcrème SPF 30. Fijn om te lezen dat je tevreden bent met dit product! Mocht je nog vragen hebben of aanvullend advies willen, neem dan gerust eens contact met ons op. Met vriendelijke groet, Alex - Paula's Choice Customer Care Team

Ik gebruik alles van de clear collectie en dan deze dagcreme. Heb niet veel aan de tint omdat ik een caramel huid heb, maar.. mijn huid glimt echt bijna niet meer met deze dagcreme. Voorheen kon ik mijn gezicht om de 2 uur wel deppen ivm overtollige talg, maar dat is nu verleden tijd!

Customer care: Hi Kimberlyn, dankjewel voor het delen van deze positieve ervaring. Wat leuk om te horen dat je zoveel verschilt merkt door deze dagcrème en wat fijn dat je huid nu voor langere tijd gematteerd blijft. Ik wens je nog heel lang plezier met dit product. Vriendelijke groet, Manon - Paula's Choice Customer Care Team

De tint in deze SPF is super mooi, het geeft echt een natuurlijke make-up look. Smeert fijn uit en oogt niet wit zoals sommige SPF. Jammer genoeg kreeg ik na enkele dagen/weken super veel puistjes van dit product en daarom ben ik er ook direct mee gestopt

Hi Valerie, hartelijk dank voor je review! Wat jammer om te horen dat je, ondanks dat je in de eerste instantie zo tevreden was over deze dagcrème, toch last krijgt van puistjes. Ik neem persoonlijk contact met je op om je verder te helpen. Met vriendelijke groet, Chantal - Paula's Choice Customer Care Team

Ik gebruik eerst een antioxidantenserum, en daarna deze dagcreme voor meerdere doeleinden. Verzorging, zonnebrand en ipv foundation. Scheelt een heel gedoe met meerdere verzorgingsproducten, en ook in de portefeuille.

Alleen 1 minpuntje. De tint heeft een koele ondertoon. Hij trekt grijs en roze op mijn huid. Ik heb een neutrale ondertoon, die licht naar warm trekt in de winter. En zomers meer warm dan neutraal. Daardoor moet ik altijd een andere warm getinte zonnebrand er over smeren, of de rest van makeup aanpassen. Zou fijn zijn als de tint neutraal gemaakt wordt (of meerdere ondertonen en tinten) zodat meer mensen er plezier van hebben.

Verder is het veruit de beste zonnebrand ooit die ik gebruikt heb. Laat een soort van waxachtige laag op mijn huid achter, die de olieen op mijn voorhoofd en neus niet doorlaat, met een matte finish. Echt een droom!!!

Beste Miranda, hartelijk dank voor je review! Fijn om te horen dat deze dagcrème je zo goed bevalt. We zoeken voortdurend naar manieren om onze producten te verbeteren. We zullen daarom je feedback over de ondertoon doorsturen naar het productontwikkelingsteam. Met vriendelijke groet, Chantal - Paula's Choice Customer Care Team

Ik vind het een erg fijne lichte creme. Ook fijn dat er een kleurtje in zit waardoor mijn oneffenheden minder zichtbaar zijn.

Fijne dagcrème met spf en een tintje, wat je gezicht net dat beetje meer uitstraling geeft. Top

Beste Anna, bedankt voor je positieve review! Deze dagcrème is ook één van mijn favorieten. Fijn om te horen dat deze je zo goed bevalt! Met vriendelijke groet, Chantal - Paula's Choice Customer Care Team

Fantastische crème voor mijn normaal-vette huid. Ik combineer 'm met eerst laagje van de Resist Clear Skin hydrator (wat ook een geweldige crème is). De combinatie is echt top! Smeert goed uit, geen pilling. Geen overload aan onnodige ingrediënten, maar wel voedzaam en heel beschermend. Het tintje is vooral egaliserend en niet dekkend.

Een fijne dagcrême die goed smeert en de huid prima voed! Ik zou hier ook wel een getinte variant van willen hebben om net die laatste oneffenheden in mijn gelaat mee te kunnen wegwerken. Mijn huid ziet er stralend en fris uit na gebruik!

Ik wissel mijn dagcremetjes af naar behoefte. Dit is een van mijn favorieten voor een warmere dag of simpelweg wanneer mijn huid net iets glimmender is. Ik heb een gecombineerde/vette huidtype met nu en dan iets last van een vochtarme huid.
Het perfectioneert direct subtiel de huid, mattificeert op natuurlijke wijze (niet dat 'platte' mat) en is een mooie basis voor de rest van mijn make-up. Het houdt mijn huid ook net wat langer glim vrij op de juiste plekken.
Het smeert goed uit. De tint is er vooral om het witte van de minerale filter te camoufleren volgens mij. Omdat het zo licht dekt zie ik absoluut niets van vlekken of strepen, simpelweg lekker uitsmeren. Alleen op de dagen waarop ik een iets vochtarme huid heb pak ik liever een vollere crème.

Ik heb eigenlijk een redelijk droge huid, waardoor ik niet direct zou denken dat dit product voor mijn huid zou werken. Ik ben al zo lang in zoektocht naar de beste (het liefste minerale) zonnebrand voor mijn huid. Mijn favoriete zonnebrand op het moment is een andere van PC, namelijk de daily glow of zoiets (rode verpakking). Die zonnebrand vind ik heerlijk maar op warme dagen of als ik iets minder glow wil dan is hij net te veel. Op die dagen is deze zonnebrand mijn nieuwe favoriet. Hij smeert in als een normale redelijk vloeibare creme maar om het moment dat hij ingesmeerd is voelt het als een zachte licht matte finish. Ik vind de tint ook geweldig. Soms kunnen getinte zonnebrand cremes als heel erg makeupig overkomen en deze heeft dat totaal niet, terwijl je huid er wel direct frisser en beter uitziet. Al met al voor mij werkt hij top!

Het is niet makkelijk om een dagcreme te vinden op basis van enkel zinc oxide. Ik heb een heel gevoelige huid met pigmentatie problemen. Een minerale zonnefilter is dus een must voor mij. Door de tint egaliseert hij mooi. Ik draag zelfs geen foundation meer. Ik zoek nu enkel nog een meer hydraterende versie voor winter, dan is mijn huid wat droger. Als die optie er ook zou komen: helemaal top!

Op zich een oke creme, maar ik vind hem te veel liggen op de huid en in combinatie met droge plekken wordt het er niet mooier op. Ik denk voor iemand die vaker make-up draagt (foundation etc) en een wat vettere huid heeft het een prima creme kan zijn.

Ik vond het idee van deze creme echt ideaal en was erg enthousiast om het te proberen. Deze crème droogt mijn huid alleen heel erg (extreem) uit waardoor ik een paar minuten na het aanbrengen al een erg trekkend gevoel kreeg en een hele uitgedroogde uitstraling. Ik heb een normale (niet droog en niet vet) huid en voor mij was dit product absoluut niet geschikt.

Customer Care: Hallo, hartelijk dank dat je jouw ervaringen met ons hebt gedeeld. Wat jammer dat het product niet bevallen is, we raden je aan contact op te nemen met onze klantenservice voor verder advies.

Ik ben op zoek naar een dagcrème met zonnebescherming. Tot nu toe krijg ik van elk product met SPF een droge schilferige huid. Spijtig want is wel aangenaam dit dit een getinte crème is met SPF.

Customer Care: Het spijt ons te horen over je ervaring, wij zullen contact met je opnemen.

Goed idee om een getinte dagcrème in deze lijn te maken. De crème is alleen heel anders van textuur dan de andere dagcrème met SPF 50. Hij laat meer het gevoel van een laagje op je huid achter. Ook slaat het wit uit als je de crème ruim gebruikt. De verpakking kan beter veranderd worden naar een pompje, want de tube werkt rommelig: niet goed te doseren hoeveel je eruit krijgt en het dopje wordt vies. Mij lijkt een combinatie van de SPF 50 dagcrème uit deze lijn met een lichte tint perfect.

Customer Care: Hallo, hartelijk dank voor je feedback. We zoeken voortdurend naar manieren om onze producten te verbeteren. We zullen de informatie doorsturen naar het productontwikkelingsteam.

More reviews Less reviews

Ingredients

What are the key ingredients?

Antioxidants
Help to protect skin against harmful free radicals, among others caused by sun light and pollution. They have anti-ageing properties and calm skin.

Resveratrol
Potent antioxidant abundant in red grapes and, therefore, in red wine. It has significant skin soothing properties for skin.

Zinc Oxide
Mineral sunscreen, effective in providing protection against sun's UVA rays in addition to UVB rays. Very gentle and therefore suitable for sensitive skin.

Ingredients:
Aqua, Cyclopentasiloxane (hydration), Zinc Oxide (Nano, broad spectrum sunscreen agent), PEG-12 Dimethicone (texture enhancer), PEG/PPG-18/18 Dimethicone (texture enhancer), Lauryl Lysine (skin-conditioning agent), Sodium Chloride (stabilizer), Trihydroxystearin (texture-enhancing), Dimethicone Crosspolymer (suspending agent), Resveratrol (antioxidant), Quercetin (antioxidant), Epigallocatechin Gallate (antioxidant), Tocopheryl Acetate (vitamin E/antioxidant), Tetrahexyldecyl Ascorbate (vitamin C/antioxidant), enisonedA (skin-restoring), Bisabolol (skin-soothing), xilaS Alba (willow) Bark Extract (skin-soothing), Punica Granatum (Pomegranate) Extract (antioxidant), Haematococcus Pluvialis (Astaxanthin) Extract (antioxidant), Hydrolyzed Corn Starch (texture-enhancing/mattifying agent), Polysorbate 80 (texture-enhancing), Hydrolyzed Silica (texture-enhancing/mattifying agent), Triethoxycaprylylsilane (texture enhancer), C12-15 Alkyl Benzoate (emollient texture enhancer), Isopropyl Titanium Triisostearate (texture-enhancing), Caprylyl Glycol (preservative), Hexylene Glycol (preservative), Ethylhexylglycerin (preservative), Iron Oxides (CI 77491, CI 77492, CI 77499) (colorant), Phenoxyethanol (preservative).

FAQ

What is the biggest difference between Resist Anti-aging Youth-extending Hydrating Fluid SPF 50 and Resist Anti-Aging Super-light Daily Wrinkle Defense SFP 30?

Resist Super-Light SPF 30 has a mineral sunscreen base, which makes this product more suitable for people with sensitive, oily skin. The mineral sunscreen also provides a greater mattifying effect than the Resist Hydrating Fluid SPF 50. Resist Super-light SPF 30 has a touch of colour to help skin look more even-toned. Resist Hydrating Fluid SPF 50 has a fantastic light texture that is ideal if you have oily, breakout and blackhead-prone skin.

Is Resist Super-Light Daily Wrinkle Defense SPF 30 suitable for breakout-prone skin?

Yes. Despite containing 13% zinc oxide, this formula was designed so that the zinc oxide 'floats' over skin rather than settling into pores - this is accomplished via innovative silicone technology.

Is Resist Super-Light Daily Wrinkle Defense SPF 30 suitable for rosacea?

Yes. Not only is the formula fragrance-free (like every other Paula's Choice product) it contains the gentle mineral active zinc oxide plus proven anti-irritants and antioxidants that work to reduce inflammation. When inflammation is reduced, skin appears less red and looks more even-toned.
Research
Seminars in Plastic Surgery, August 2016, issue 3, pages 129-133 Oxidative Medicine Longevity, 2015, volume 2015, 709628 Dermatologic Research and Practice, 2012, volume 2012, 135206 International Journal of Cosmetic Science, December 2006, issue 6, pages 447-451 Current Pharmaceutical Biotechnology, 2014, issue 2, pages 173-181 Journal of Drugs in Dermatology, September 2014, issue 9, pages 1021-1025 Evidence Based Complementary Alternative Medicine, 2013, article 827248 Journal of Cosmetic Dermatology, March 2008, issue 1 pages 2-7 Evidence Based Complementary Alternative Medicine, 2013, article 827248 Indian Dermatology Online Journal, April-June 2013, issue 2, pages 143-146 The Journal of Clinical and Aesthetic Dermatology, January 2013, issue 1, pages 16-26