https://www.paulaschoice.nl/en/resist-anti-aging-advanced-smoothing-treatment-aha-full-size/7651.html
Resist Anti-Aging 10% AHA Exfoliant
This powerful exfoliant reveals more radiant, younger-looking skin after one use.

Skin Type:

Normal skin, Dry skin

Concern:

Anti-Aging, Brown spots, Dull skin

Ingredients:

Glycolic acid/AHA, Peptides, Allantoin

View all

Routine:

Exfoliate
Variations
Full size 30 ml
Remove from wishlist
Add to Wishlist
Product out of stock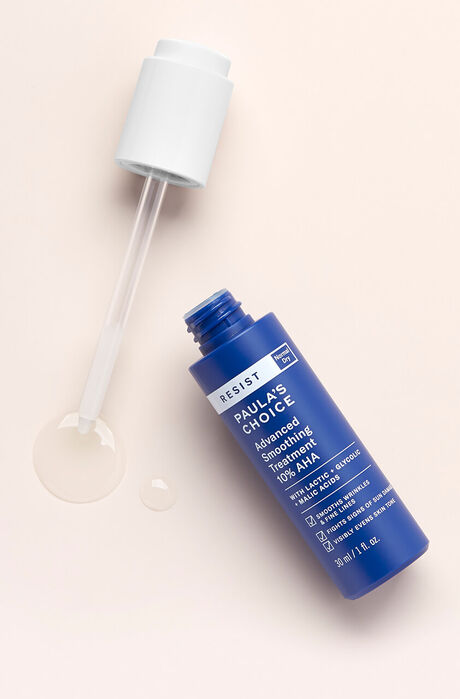 Resist Anti-Aging 10% AHA Exfoliant
Full size
This product is sold out at the moment. Fill in your email address below and we'll gladly send you an email as soon as it is back in stock!
60 day money-back guarantee
Safe payments
What does it do?

A unique blend of four Alpha-Hydroxy Acids and 0.5% Beta-Hydroxy Acid

This exclusive formula contains a unique blend of four AHA's (glycolic, lactic, malic, and tartaric acid) and 0.5% BHA (salicylic acid) to powerfully, yet gently remove dead skin cells to dramatically improve the signs of dry, dull skin and uneven skin tone. The silky-light lotion provides immediate as well as long-lasting hydration, leaving skin feel soft and smooth. The pH-balanced formula also fortifies with skin-restoring peptides to target visible signs of ageing and includes powerful antioxidants to protect skin from environmental stress.

Is this suitable for my skin?

What skin concern would you like to address?

(Please select one option).

Key Features

Improves skin tone and texture

How to use

Dispense a few drops and smooth over face and neck after cleansing and toning. Do not rinse.

Start slowly: Apply every other day and note skin's response. Then use up to twice daily. For daytime, always finish with a sunscreen rated SPF 30 or above. For nighttime, follow with the rest of your routine.

Sun protection advice when using any AHA exfoliant: This product contains alpha hydroxy acids, ingredients that may increase your skin's sensitivity to the sun and the possibility of sunburn. Always apply a broad-spectrum sunscreen rated SPF 30 or greater every day. When outdoors, wear protective clothing whenever possible, seek shade, and avoid prolonged sun exposure.

Reviews

Thank you for submitting your review! It will be reviewed by our staff before it is posted.

Ik heb een test gedaan en daar kwamen producten uit. Ik heb alles besteld en eigenlijk vind ik alles prettig, behalve deze exfoliant. Mijn huid gaat erg prikken rondom neus en mond. Terwijl ik wel een droge huid heb.

Customer care: Hi Danique, dankjewel voor het delen van je ervaring. Allereerst; wat fijn dat de meeste producten je zo goed bevallen! Een prikkend gevoel bij het gebruik van een AHA komt regelmatig voor en hoeft niet per definitie te betekenen dat het product niet geschikt is. Wanneer het tintelende gevoel na een paar minuten weer afneemt, hoef je je hier verder geen zorgen over te maken. Let er daarnaast wel op dat je het gebruik van een exfoliant heel rustig opbouwt. Begin met twee keer per week. Wanneer je een exfoliant te snel opbouwt dan kan je huid namelijk wat droger worden. Dit kan ook een oorzaak zijn van een prikkelend gevoel. Als dit gebeurt kan je het gebruik het beste weer iets reduceren. Zoals je leest kan het soms even experimenteren zijn om te ontdekken wat het beste bij je past. Je mag ons natuurlijk altijd een berichtje sturen via de chat op de website, zodat we je verder kunnen helpen met informatie en een persoonlijk advies. Vriendelijke groet, Manon - Paula's Choice Customer Care Team

Mild product, vind hem fijn maar ik vraag me af mag hij ook onder de oogverzorging? Voor fijne lijntjes?

Deze exfoliant werkt goed, maar wat me wel op valt is dat je veel meer betaalt, voor veel minder product als je het vergelijkt met de 8% aha. Ik merk geen verschil met de Skin Perfecting 8% AHA Gel Exfoliant. Naar mijn mening is de werking hetzelfde, alleen is de Resist Anti-Aging 10% AHA Exfoliant een stuk duurder dan de Skin Perfecting 8% AHA Gel Exfoliant.

Customer Care: Bedankt voor je feedback. Deze 10%AHA exfoliant is veel complexer samengesteld dan de 8%AHA Gel, met o.a. meer kalmerende ingrediënten plus ceramiden en peptiden tegen huidveroudering. Wellicht is het resultaat niet direct zichtbaar, maar deze exfoliant kan nog meer doen voor je huid!

Even wennen als je een scrub gewoon bent maar dit is veel zachter voor de huid

Om te combineren met andere resist producten.. heel fijn

Ik had nooit eerder ervaring met een exfoliant... (alleen met een gezichtsscrub) dus kan dit product niet vergelijken met andere exfolianten. Wat mij betreft ook niet nodig om te vergelijken. Ik vind het een fijn product wat mijn gezicht egaler maakt en minder rood. Ik gebruik het 2 a 3 keer per week en ondervind er verder geen nadelige effecten van. Smeert prima uit en daarna de dagcrème uit dezelfde lijn erop is een prima combi voor een stralende huid. 4 sterren omdat ik het niet kan vergelijken met eerdere ervaringen daar ik die niet heb. Wel ontzettend tevreden over de producten van Paula's Choice.. Voor mij geen dure crème meer uit de Etos van de diverse merken. Die doen niets... Met Paula's Choice merk ik echt verschil. Heel fijn.

Prima peeling maar merk niet zo veel verschil met de reguliere exfoliant voor de droge huid. Pipet vind ik zelf niet zo handig. Neiging om veel meer te gebruiken.

Mijn huid glowt door dit product. Ik ben het wel eens met anderen dat ik liever een pompje verkies dan een pipet

Sinds een half jaar gebruik ik de resist exfoliant elke avond en af en toe ook 's morgens. Ik zie nog steeds verbetering; mijn huid is mooi egaal zonder onzuiverheden of rode vlekken ongeacht kou en/of regen buiten. Het product smeert goed uit en de pipet is handig in gebruik. Kortom een aanrader!

Fijne exfoliant, gebruik het 's avonds in combinatie met serum en nachtcrème. Vlekjes van zon of na pukkeltjes zijn vervaagd maar gaan niet helemaal weg. 1 vervelend plekje is echt goed vervaagd én ik gebruik geen foundation meer! Ik heb sinds een paar weken de weekly variant, kijken of dat nog iets extra's doet om de plekjes nog meer te vervagen. Kortom; prima!

Perfect product, werkt goed. Toch kies ik voor een exfoliant met pompje. Werkt prettiger en hygiënisch. Idee?

Fijne gel lotion. Voelt prettig aan en irriteert niet. Ik gebruik het product al langere tijd en mijn teint is duidelijk geëgaliseerd.

Nadat ik mijn huid al enige tijd en met grote tevredenheid had laten wennen aan de lichtere exfoliant van PC wilde ik dolgraag deze zwaardere exfoliant proberen. Mijn verwachtingen bleken echter veel te hoog aangezien ik geen enkel verschil bemerk met de lichtere en goedkopere exfoliant van PC. Het flesje is nu op en schakel dan ook gelijk weer over op mijn oude vertrouwde 8% aha.

Ik gebruik dit product nu twee weken, 6 dagen per week en heb een gemengde huid (vet/droog). In het begin tintelde het een beetje, maar na een aantal dagen was dit al weg. Mijn huid werd er direct na het eerste gebruik erg glad van en ziet er nu egaler en gezonder uit. Er zit nog een droog plekje op de huid op mijn wang, maar ik heb het idee dat dit langzaam aan het verbeteren is. Er staken na een week gebruik wel wat bultjes de kop op (kan ook hormoon gerelateerd zijn), maar dit is nu allemaal weg. Ik heb veel minder bultjes aan mijn periode over gehouden dan normaal. Ook de verpakking met pipet vind ik wel handig, zo kan ik het product direct op mijn gezicht druppelen ipv het eerst op mijn hand te moeten doen. De consistentie vind ik niet echt melk achtig, meer tussen melkachtig en een gel in. Het uitsmeren gaat prima als je genoeg gebruikt. Een druppel of 3 is genoeg voor mijn hele gezicht. Het product ruikt niet speciaal lekker, maar ook zeker niet vies. Ik wil niet meer zonder!

Ik gebruik dit product sinds september. Ik zie weinig verandering aan mijn huid. Geen allergische reactie of puistjes gekregen

Prettig product, prikt een beetje bij het aanbrengen, maar dat trekt snel weg. Ik heb door de producten van Paula inmiddels een mooie, stralende egale huid

Hydraterende exfoliant waar je huid een boost van krijgt. Trekt snel in en doet 's nachts goed werk. Dat merk je de volgende ochtend. Een zachtere huid en meer egalere tint. Ik gebruik 'm 2x per week.

Mijn huid ziet er glad en stralend uit! Ik zie echt verbetering en ik zou dit product zeker aanraden. In combinatie met een serum of een moisturizer werkt het t beste.

Mijn huid wordt mooi zacht en egaal van dit product. Fijne lijntjes en pigmentplekjes worden duidelijk minder!
Het pipetje zorgt ervoor dat je dit product zuinig en makkelijk doseert.

normaal heb ik de Resist met 5 % aha exfoliant, maar omdat mijn make-up gaat rullen na gebruik, wilde ik eens een vloeibaarder proberen (helaas is dat 10 %). Ik gebruik het maar 2 x per week en dan s'avonds , omdat mijn kin en boven mijn lippen de huid gaat vervellen (droogte velletjes) en ik geen risico wil lopen dat het hele gezicht gaat vervellen. En een ander exfoliant durf ik niet ook te gebruiken. dus de stap 3 sla ik nu dus vaak over

Fantastisch. Krijg er een mooie gladde huid van. Voelt lekker aan. Alleen die pipet vind ik niet zo handig.

Prima AHA. Hydrateert en voelt zacht aan. Doet wat het moet doen. Lijkt mij een goede keuze als je een gevoeligere drogere huid hebt. De pipet met pompje werkt niet heel super maar dat is tegen het einde als het product bijna op is. Echter.... Voor mij liever de weekly treatment met daarna de 1% retinol gemixt in de resist serum. Mijn huid dan de volgende dag helemaal strak en glad en voelt fantastisch.

Fijne, melkachtige, luchtige exfoliant die ik gebruik voordat ik ga slapen. Je huid wordt er heerlijk glad van maar het doseren is ietwat onhandig. Een pompje, zoals bij de 5% AHA, zou fijner zijn.

Ja! Mooi product in een handige verpakking.

Ik vind het een okay exfoliant. Ik heb een oudere huid en heb wat rimpels en pigmentvlekken. Daar doet het echt niet veel voor (ik zie geen verschil), maar ik denk wel dat het goed is om te gebruiken. Ik vind de producten van Paula`s C. over het algemeen goed, betrouwbaar en waar voor hun geld, hoewel ik wel het idee heb dat na jaren dit merk gebruikt te hebben mijn huid er niet meer op lijkt te reageren.

Ik vind de klantenservice echt geweldig! Kunnen veel merken een voorbeeld aan nemen en ook de verzending is perfect

Als ik deze verpakking op heb gemaakt, ga ik toch terug naar mijn daily en weekly exfoliant van de Resist lijn. Ik vind deze exfoliant prima en heb er niks tegen, maar voor mij voelt de textuur minder goed dan de aha daily exfoliant. Ook heb ik niet echt het idee dat het wat voor mijn huid doet. Jammer, had er wel wat van verwacht! Maar helaas, niet voor mij.

Mijn huid reageert prima op dit product. Mooi egaliserend. Alleen zou ik het liever in een pompje hebben dan de omslachtige pipet. Toch 5 sterren

This product did not suit me at all. The first few days it smoothed out my skin quite a bit and then my skin started breaking out heavily with a mixture of tiny bumps as well as deep acne. This product works for most people but for me it was a HUGE let down. :( It has taken me over a month now to finally stabilize my skin.

Ben heel erg blij met deze exfoliant, hij maakt mijn huid heel mooi glad en hydrateert ook heel fijn. Sinds ik dit product gebruik nooit meer last van een droge huid, zelfs 's winters niet. En bij mij geen enkel spoor van irritatie, gebruik hem iedere dag 's ochtends. Topproduct, voor mij geen andere meer!

Heerlijke peeling. Mijn huid voelt gelijk super zacht en gehydrateerd. Heb een gevoelige huid maar kan deze peeling goed verdragen. Volgende dag ziet mijn huid er gehydrateerd en verzorgd uit. Heelijk zacht gevoel. Peeling irriteert niet.

De ingrediënten en de textuur van het product zijn prima. Het is dun en voelt goed aan mijn huid. Maar ik kreeg rode puistjes op mijn voorhoofd en neus na het gebruiken van dit exfoliant. Ik ben wel blij dat ik staaltjes besteld heb in plaats van 30 ml. Niet geschikt voor me...

Als ik deze verpakking op heb gemaakt, ga ik toch terug naar mijn daily en weekly exfoliant van de Resist lijn. Ik vind deze exfoliant prima en heb er niks tegen, maar voor mij voelt de textuur minder goed dan de aha daily exfoliant. Ook heb ik niet echt het idee dat het wat voor mijn huid doet. Jammer, had er wel wat van verwacht! Maar helaas, niet voor mij.

Ik gebruikte tot nog toe altijd de BHA exfoliant van PC maar wilde graag deze nieuwe AHA/BHA combi uitproberen. Aangezien de BHA exfoliant en de AHA weekly treatment geen problemen gaven, had ik niet verwacht dat ik bij deze versie wel problemen zou hebben maar helaas heb ik telkens na gebruik last van rode vlekjes in mijn gezicht die maar langzaam weggaan. Jammer want ik zit nu met een hele verpakking die ik niet meer durf te gebruiken.
Customer Care: Dank voor je review. Wat spijtig dat dit product niet geschikt voor je is. We zullen contact met je opnemen voor een passende oplossing.

More reviews Less reviews

Ingredients

What are the key ingredients?

Glycolic acid/AHA
Can help shed dead skin cells to renew skin's surface, visibly softening signs of ageing, particularly from sun damage. Can act as a water-binding agent.

Peptides
Portion(s) of amino acids, some have a remarkable skin-soothing effect, others can improve the appearance of wrinkles, loss of firmness, and help to soften the look of expression lines.

Allantoin
Occurs naturally in the body. It's a by-product of uric acid and considered an effective skin-soothing and skin-conditioning agent.

Sunburn Alert: This product contains an Alpha Hydroxy Acid (AHA) that may increase your skin's sensitivity to the sun and particularly the possibility of sunburn. Use a sunscreen, wear protective clothing, and limit sun exposure while using this product and for a week afterwards. As with all cosmetics, avoid direct contact with the eyes.

Ingredients:
Aqua, Butylene Glycol (hydration), Glycolic Acid (exfoliant), Glycerin (skin-replenishing), Lactic Acid (exfoliant), Caprylic/Capric Triglyceride (skin-replenishing), Malic Acid (exfoliant), Tartaric Acid (exfoliant), Palmitoyl Tripeptide-1 (skin-restoring), Palmitoyl Tetrapeptide-7 (skin-restoring), Ceramide NG (skin-replenishing), Salicylic Acid (exfoliant), Glycyrrhiza Glabra (Licorice) Root Extract (soothing plant extract), Camellia Sinensis Leaf Extract (soothing antioxidant plant extract), Avena Sativa (Oat) Bran Extract (soothing plant extract), Punica Granatum Fruit Extract (antioxidant), Lycium Barbarum Fruit Extract (antioxidant), Vitis Vinifera (Grape) Seed Extract (antioxidant), Sambucus Nigra Fruit Extract (antioxidant), Camellia Oleifera Leaf Extract (soothing antioxidant plant extract), Chamomilla Recutita (Matricaria) Flower Extract (soothing plant extract), Peucedanum Graveolens (Dill) Extract (antioxidant), Allantoin (skin-soothing), enisonedA (skin-restoring), Hydrogenated Lecithin (skin-restoring), Bisabolol (skin-soothing), Polyquaternium-10 (film-forming agent), Xanthan Gum (texture enhancer), Carbomer (thickener), Polysorbate 20 (emulsifier), Sodium Bicarbonate (pH adjuster), Sodium Hydroxide (pH adjuster), Aminomethyl Propanol (pH adjuster), Phenoxyethanol (preservative), Benzyl Alcohol (Preservative).

FAQ

Why did we choose to use a blend of AHAs?

We wanted to create a product that harnessed the integrated power of multiple acids. The idea was to formulate a product with acids that have different molecular sizes and that each work a little differently on skin. Here's a breakdown:

Glycolic Acid – penetrates skin rapidly and stimulates collagen production.
Lactic Acid – an exfoliant that also enhances skin hydration.
Malic Acid – promotes surface exfoliation and has some antioxidant properties.
Tartaric Acid – assists the exfoliation process. Also contributes to buffer the system to help maintain the pH

Can it be mixed with other products for application?

We recommend using this product alone after your toner.

Is it suitable for those with rosacea-prone skin?

In general, a BHA exfoliant is more suitable for rosacea-prone skin types than an AHA exfoliant because of its anti-inflammatory properties. However, this Resist Anti-Aging 10% AHA Exfoliant also contains 0.5% BHA (salicylic acid) and other beneficial anti-irritants to help soothe skin. So, if you have rosacea-prone skin and you want to boost your exfoliation this is a great option.

This product contains lactic acid, can people with lactose intolerance use this product?

It is safe to use this product if you are lactose intolerant because intolerance occurs within the digestive system (small intestine). Lactic acid absorbed by the skin should not affect the digestive system in anyway.
Research
PRS Global Open, December 2016, page e1152 International Journal of Cosmetic Science, August 2016, ePublication; February 2015, pages 455-464; and October 2009, pages 327-345 Journal of Clinical and Aesthetic Dermatology, October 2015, issue 8, pages 21-26 Clinical, Cosmetic, and Investigational Dermatology, December 2014, pages 9-17; November 2013, pages 281-288; and November 2010, pages 135-142 Dermatology Research and Practice, May 2012, ePublication Journal of the American Academy of Dermatology, April 2007, pages 651-663