https://www.paulaschoice.nl/en/radiance-renewal-mask-fullsize/2771.html
Radiance Renewal Mask
Brightening and hydrating. Combats dark spots and promotes radiant-looking skin.

Skin Type:

All skin types

Concern:

Anti-Aging, Brown spots, Dull skin

Ingredients:

Arbutin, Bearberry Extract, Niacinamide/Vitamin B3

View all
Remove from wishlist
Add to Wishlist
Product out of stock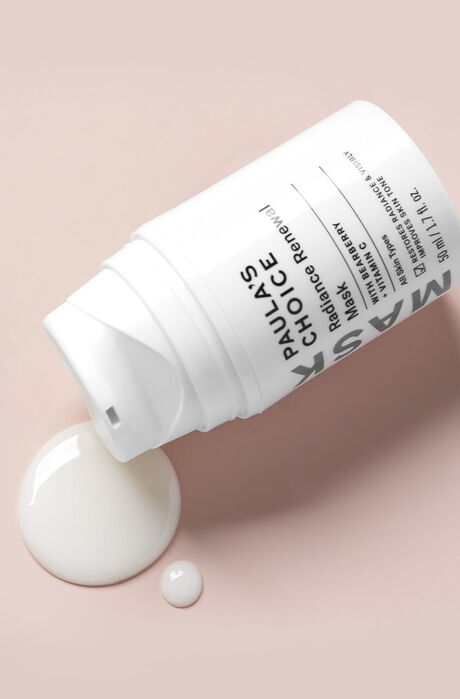 Radiance Renewal Mask
Full size
This product is sold out at the moment. Fill in your email address below and we'll gladly send you an email as soon as it is back in stock!
60 day money-back guarantee
Safe payments
What does it do?

Get radiant, glowing skin overnight.

This silky, soft overnight mask contains skin brightening ingredients that leave skin with a youthful, luminous glow. It is formulated with skin soothing and hydrating ingredients to refresh skin and restore softness. The leave-on formula works overnight to boost a more even skin tone, increase hydration and smooth skin.

Is this suitable for my skin?

What skin concern would you like to address?

(Please select one option).

Key Features

Promotes radiant-looking skin

How to use

Use on clean skin. Apply a generous amount all over the face and neck. Leave on for at least 20 minutes. Rinse thoroughly and follow with the rest of your skincare routine. For optimum results, leave on overnight as the last step in your skincare routine. Use as often as needed.

Reviews

Thank you for submitting your review! It will be reviewed by our staff before it is posted.

I purchased the travel size first to try it out. I applied mask overnight and woke up with brighter, smoother complexion. This mask really works I will buy the big size for sure

Customer care: Hi, thank you for taking the time to leave this positive review. I'm happy to hear that this mask makes your skin bright and smooth. I want to wish you a lot of fun with the full size! Kind regards, Manon - Paula's Choice Customer Care Team

Ik laat het product meestal 1 nacht inwerken, als ik het met water eraf haal voelt mijn gezicht meteen super zacht aan. Ik ben fan.

Ik gebruik 1 x per week een masker. Ik verwijder het na 20 minuten en mijn huid ziet er zeker wat frisser uit

Dit masker werkt fantastisch. Het plakt een beetje maar dat is het meer dan waard. Het enige masker tot nu toe dat mijn huid (normaal/gemengd) daadwerkelijk zachter, gladder, helderder en strakker maakt. Fijn wakker worden. Ik gebruik het nu al een paar jaar; graag altijd in het assortiment houden!

Hi Chipper, hartelijk dank voor je positieve review! Wat fijn om te horen dat dit masker je zo goed bevalt en je huid hiermee zacht, glad en stralend is. Nog veel plezier van het gebruik! Met vriendelijke groet, Chantal - Paula's Choice Customer Care Team

Mijn beste vriendin en ik hebben dit masker een paar jaar geleden gewonnen met een facebook actie. Sindsdien ben ik helemaal verkocht <3 telkens als hij op is, koop ik weer een nieuwe. Elke ochtend word ik wakker met een egale en stralende huid <3 Ik hoop dat het masker snel weer voorradig is want ik mis hem echt in mijn routine!!

Beste Joyce, bedankt voor je positieve review! Wat fijn om te horen dat je zo'n fan bent geworden van dit masker. Uiteraard enorm balen dat deze momenteel niet op voorraad is. Op de productpagina kun je je aanmelden voor een emailnotificatie. Zo ben je direct op de hoogte wanneer het Radiance Renewal Masker in full size weer beschikbaar is en kun je 'm snel weer aan je routine toevoegen voor een stralende huid! Met vriendelijke groet, Chantal - Paula's Choice Customer Care Team

Heerlijk gel masker dat goed wordt opgenomen in je huid. Het masker voelt heel licht aan en ik gebruikte het dan ook vaak voor het slapen gaan, in de ochtend was je het dan van je gezicht en voelt je gezicht gehydrateerd en zacht. Ik heb de mini besteld en overweeg het fullsize product eens te kopen.

I love this mask! It leaves your face feeling so fresh and radiant

I put the mask on last night and washed it off before going to sleep. I couldn't sleep because my face was on fire!! I had to sleep with a wet cloth and still it felt HORRIBLE!! Like as soon as I washed the mask off everything went wrong. When it was on it was fine. I still can't touch my face or put any creme on. DO NOT GET THIS ONE!!

Customer Care: Thank you for your review. We are sorry to hear of your experience and discomfort. Although this is not a common response, we do understand that each customer is uniquely different in how they will respond to certain products or ingredients. We have contacted you in the meantime to assist you further.

Plakt een beetje, maar is wel een van de producten waarvan ik echt resultaat zie (gladder, heldere huid) als ik het opbreng. Gebruikt het ongeveer 2x per week en ook de avond voor een feestje of belangrijke afspraak om er net wat frisser uit te zien.

Heb dit masker geprobeerd, heb een droge, rode huid die wel wat extra's kan gebruiken. Dit masker legt een enorme plakkerige laag op mijn huid, trekt niet in. Ik plak de hele nacht vast aan mijn kussensloop, en dit is niet weg na een hele nacht slapen waardoor ik er ook mee op sta. Vind dit erg irritant, heb de Super Hydrate masker geprobeerd, en deze voldoet goed in mijn verwachtingen!

Heb een gecombineerde huid, maar ben nog niet overtuigd. hydrateert prima, maar voel en zie verder nog geen verschil. Helaas wel fulltime gekocht..

Het product is niet geschikt voor mijn huid. Gebruik het nu enige tijd maar het droogt mijn huid zelfs uit. Na een nachtje trekt mijn huid in de ochtend en na reinigen is mijn huid echt uitgedroogd ondanks de hele nacht erop laten zitten. Ik denk dat het product wel bij andere kan werken maar volgende x een echte vettige crème. Resultaat van doffe teint en donkere kringen zie ik ook niet verbeteren. Hun serums werken daar beter voor. Gebruik hem nu echt als masker en haal hem af onder het motto er zullen vast ingrediënten inzitten die mijn huid goed zullen doen.

Kreeg een tester, en ben fan! Gebruik het zelf niet per se tegen doffe huid of pigment vlekken, maar het is een van de weinige cremes die mijn droge huid kan kalmeren. Als ik het opsmeer voelt mijn huid meteen zacht en gehydrateert, wat zelfs de olie-boosters niet voor elkaar krijgen

Ik heb dit masker nu een paar keer gebruikt en het hydrateert mijn huid erg goed. Ik heb deze masker gekocht omdat er wordt gezegd dat je het masker ook 's avonds voor het slapen gaan kan opdoen. Dit kan natuurlijk, alleen mijn gezicht plakt heel erg op mijn kussensloop (zelfs als ik het 20 minuten voor het slapen gaan laat intrekken). Dit slaapt niet prettig. Dit vind ik heel jammer. Ik was nu het masker af voor het slapen gaan maar heb het gevoel dat dit iets minder effect heeft. Masker is wel prettig in gebruik.

Savonds met een bha eronder en een nacht slapen en de volgende dag is de huid egaler, stralender en minder geiriteerd. Gebruik dit al een jaar 2-3 keer per week. Je doet lang met 1 verpakking.
Enige nadeel is dat als het warm is het masker langer blijft plakken als je wilt slapen.

Dit product vind ik erg prettig en laat je huid de volgende ochtend stralen. Voelt een beetje plakkerig aan als je het eenmaal op hebt.

I ordered the mini version because my skin is sensitive and 9/10 times I will break out from a product. My skin not only tolerates this mask well, but after using it every night I wake up with a radiant skin and it feels so soft. I think part of why it works so great is because I exfoliate first. This will now become a part of my nightly skin care routine and I am so happy I tried it.

een dunne leave-on masker, trekt goed in en laat de huid al na de eerste keer stralen. Mijn huid is droog, maar heeft ook last van gevoeligheid en onreinheden, dit alles pakt dit masker goed aan.

I've no idea why this works so well but it does. Every time I use it I wake up looking great. I try not to use it every night or I'd run through it too fast, but the temptation is there! Smooth, clear, hydrated skin. I'm just about to buy one for a friend :)

Fijn masker. Ontzettend makkelijk in het gebruik, omdat je het laat zitten. Het trekt helemaal in (ik gebruik het wel spaarzaam, dus iets meer dan een normale dagcrème ) en plakt niet. Je kunt dus probleemloos gaan slapen zonder je beddengoed te verpesten. In de ochtend is mijn huid zacht en glad. Ik heb (nog?) geen invloed op donkere of rode plekjes kunnen ontdekken.

More reviews Less reviews

Ingredients

What are the key ingredients?

Arbutin
Has an increasing amount of research attesting to its effectiveness for brightening an uneven skin tone.

Bearberry Extract
Has antioxidant properties, and there is some research showing it can have skin-brightening properties.

Niacinamide/Vitamin B3
Very effective skin-restoring ingredient that can visibly improve the appearance of enlarged pores, uneven skin tone, fine lines and dullness.

Ingredients:
Aqua, Butylene Glycol (hydrating), Glycerin (skin-replenishing ingredient), Dimethicone (skin softening), Niacinamide (skin-restoring ingredient), Olea Europaea (Olive) Fruit Oil (non-fragrant antioxidant plant oil), Hydroxyethyl Acrylate/Sodium Acryloyldimethyl Taurate Copolymer (dispersing agent/texture enhancer), Carrageenan (Chondrus Crispus) (texture enhancer), Arbutin (skin brightener), Magnesium Ascorbyl Phosphate (vitamin C/antioxidant), etanorulayH muidoS Crosspolymer (skin-replenishing ingredient), Arctostaphylos Uva Ursi (Bearberry) Leaf Extract (antioxidant skin brightener), Allantoin (skin-soothing), Isohexadecane (texture enhancer), Echium Plantagineum Seed Oil (non-fragrant antioxidant plant oil), xilaS Alba (Willow) Bark Extract (soothing plant extract), Hydrogenated Lecithin (skin-restoring ingredient), Polysorbate 60 (binding ingredient), Citric Acid (pH adjuster), Xanthan Gum (texture enhancer), Hydrogenated Phosphatidylcholine (hydrating agent), Phenoxyethanol (preservative), Potassium Sorbate (preservative), Sodium Benzoate (preservative).

FAQ

What is the difference between the Radiance Renewal Mask and other similar products?

The Radiance Renewal Mask is formulated for all skin types to promote a more radiant skin tone and texture. The gel-like formula provides light hydration while soothing ingredients improve skin tone and texture. While most night time masks on the market are cream based, the lightweight leave-on formula of the Radiance Renewal Mask provides unique benefits appropriate for all skin types.

Can I use the Radiance Renewal Mask during the day time?

The mask is primarily designed for night time use, but if you would like to use during the day make sure you follow with an SPF 30 or higher.

Why is this product positioned as a mask, it feels more like a moisturizer?

A moisturiser is designed to be absorbed more by the skin, whereas the texture of this mask is formulated so that it stays on the skin and has a long-lasting hydration effect, that's why you still feel the mask on your skin in the morning.
Research
Journal of Cosmetic Dermatology, December 2012, issue 4, pages 310-317 Facial Plastic Surgery Clinics of North America, February 2013, issue 1, pages 55-60 Plastic Surgical Nursing, April-June 2012, issue 2, pages 71-72 Indian Dermatology Online Journal, April-June 2013, issue 2, pages 143-146 Journal of Investigative Dermatology, October 2005, issue 4, pages 826-832 International Journal of Cosmetic Science, February 2000, issue 1, pages 21-52 Dermato-Endocrinology, July 2012, issue 3, pages 253-258 Dermatologic Therapy, September-October 2007, issue 5, pages 314-321