https://www.paulaschoice.nl/en/power-duo-unclog-refine-pores/powerduo10.html
Unclog + Refine Pores
This powerful duo unclogs pores and reduces blackheads and breakouts, for smoother, clearer-looking skin.

Skin Type:

Combination skin, Oily skin

Concern:

Breakouts , Blackheads , Enlarged pores

Ingredients:

Niacinamide/Vitamin B3 , Salicylic Acid/BHA , Licorice root extract

View all
Remove from wishlist
Add to Wishlist
Product out of stock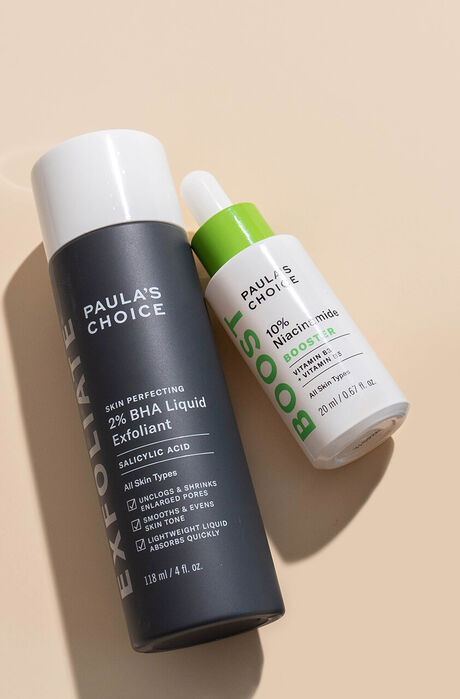 This product is sold out at the moment. Fill in your email address below and we'll gladly send you an email as soon as it is back in stock!
60 day money-back guarantee
Safe payments
What does it do?

Tackle blackheads, breakouts and enlarged pores with this multi-tasking duo. Quickly absorbed, the Skin Perfecting 2% BHA Liquid Exfoliant quickly removes dead skin cells both on the skin's surface and inside the pores, reducing blackheads and blemishes. The 10% Niacinamide Booster visibly refines pores, returning them to their natural shape, and helps to fade redness from blemishes.

Key Features

Removes built-up dead skin cells

Unclogs and visibly refines pores

Fights breakouts and blackheads

How to use

Lightly soak a cotton pad with Skin Perfecting 2% BHA Liquid Exfoliant and apply over the entire face, including the eye area (avoid the lower lash line and eyelids). Do not rinse. Dispense 2-3 drops of 10% Niacinamide Booster and add to your favourite serum or night moisturiser or use alone. For daytime, follow with a moisturiser that contains a broad-spectrum sunscreen rated SPF 30 or greater. If you're new to exfoliants, we recommend you gradually build up usage from once a fortnight to once or twice a day. It may take some trial and error to find the best frequency for your skin.

Reviews

Thank you for submitting your review! It will be reviewed by our staff before it is posted.

Ik ben zo dankbaar deze set ontdekt te hebben. De bha is mild genoeg om dagelijks te gebruiken, zelfs wanneer m'n huid geïrriteerd is door retinolgebruik, kan ik 'm alsnog gebruiken! De niacinamide kalmeert mijn huid bij irritatie en qua pigment is er een groot verschil waarneembaar. Mijn huidkleur is veel egaler en rustiger. De niacinamide is superfijn om te gebruiken met retinol, ik merk dat retinol minder irriteert wanneer ik eerst niacinamide booster gebruik. Toptoptop!

Ik had onlangs een review gelezen over Exfoliant van Paula's Choice en was benieuwd om het product uit te proberen. Ik heb voornamelijk last van mee-eters in de T-zone.
Ik ben het product nu 3 dagen aan het gebruiken en ik merk nu al resultaat: mijn poriën zijn inderdaad minder zichtbaar + mijn huid voelt zijdezacht aan.
Zeker een aanrader!

Al sinds mijn tienerjaren heb ik last van een onrustige huid. Schoonheidsspecialiste en dure producten hielpen mij hier deels mee maar ik was nog altijd erg onzeker over mijn huid.. Wat mij stoorde aan mijn huid was vooral mijn grove poriën die echt heel goed zichtbaar waren. Daarnaast had ik vaak van de een op de andere dag vervelende onderhuidse bulten.. pijnlijk maar vooral lelijk.. Ik heb mij altijd onzeker gevoeld over mijn huid en dacht eigenlijk dat dit ook altijd zo zou blijven. Toch ben ik deze powercombi gaan gebruiken en kan niet anders zeggen dat het echt een POWERcombi is. Na een week was mijn huid al rustiger en nóg fijner.. MIJN PORIËN WAREN ZEKER GEHALVEERD. Van vrienden kreeg ik ineens complimenten over hoe mooi mijn huid eruit zag.. Normaal gesproken ben ik niet van de reviews schrijven, maar deze producten raad ik toch wel iedereen aan die met huidproblemen zit!! Wat een redder is dit!!

Nog niet eerder zo,n rustige huid ervaren . Kreeg zelfs reactie om mij heen dat mijn gezicht zo mooi glad is .

Deze combinatie in producten heeft er bij mij voor gezorgd dat ik ein-de-lijk een rustigere en egale huid heb.

Twee maanden geleden begonnen met het gebruik van de combinatie van beide producten. Mijn huid voelt dagelijks heel fris en schoon en heb bijna geen puistjes en onzuiverheden meer! Overal dus erg tevreden met de producten!!

Mijn puberzoon heeft echte acné ontwikkeld de laatste paar maanden en ik deed al best veel om het te behandelen. De volgende stap was naar de huisarts of dermatoloog, totdat ik bedacht dat de producten die ik bij Paula's Choice bestel voor mijn eigen huid, misschien ook wel geschikt voor hem waren. Uiteindelijk heb ik wel een sterkere exfoliant gekocht en dit begint nu, na 3 weken intensief ermee bezig te zijn, zijn vruchten af te werpen. Ik ben voorzichtig optimistisch dat dit echt gaat werken op zijn huid!

More reviews Less reviews

Ingredients

What are the key ingredients?

Niacinamide/Vitamin B3
Very effective skin-restoring ingredient that can visibly improve the appearance of enlarged pores, uneven skin tone, fine lines and dullness.

Salicylic Acid/BHA
Primarily an exfoliant, helps to shed dead skin on the surface and inside the pore, therefore effective for reducing breakouts and blackheads. It also has soothing properties.

Licorice root extract
Plant extract that has potent antioxidant and skin-soothing properties. Can be effective in improving the look of an uneven skin tone.

Please check the individual products for ingredient listings.

FAQ

Good to know before you start:
If you're new to exfoliants, it's best to build up usage to avoid skin irritation. We recommend starting once a fortnight, building up to 1 to 2 times per day. It may take some trial and error to find the best frequency for your skin. During the day, always use a moisturiser with a broad-spectrum sunscreen rated SPF 30 or greater, as your skin is slightly more sensitive to sunlight when using an exfoliant, so the chance of sunburn and sun damage is slightly higher.

Skin Perfecting 2% BHA Liquid Exfoliant feels a bit sticky/greasy on my face. Why is that?
If the BHA is feeling sticky, you are probably using too much product. The average amount needed is the size of a small coin, and it's best to apply it in a thin layer. The 'greasy' feel can be attributed to the high levels of glycol in this product (glycol helps the BHA penetrate the surface layers of skin and also works as a water-binding agent). If you use too much product or live in a humid, moist climate, this effect will be more pronounced.

Can I use 10% Niacinamide Booster around my eyes?
You can use 10% Niacinamide Booster around the eyes, either on its own or mixed in with 2 or 3 drops of your favourite eye cream, serum or night cream.