https://www.paulaschoice.nl/en/resist-anti-aging-clear-skin-hydrator-trial-size-7697.html
Resist Anti-Aging Clear Skin Moisturiser - Travel size
Advanced anti-ageing moisturiser for oily skin smooths fine lines and reduces blackheads.

Skin Type:

Combination skin, Oily skin

Concern:

Breakouts , Anti-Aging , Brown spots

Ingredients:

Niacinamide/Vitamin B3 , Vitamin C , Green Tea Extract

View all

Routine:

Moisturizer PM
Product out of stock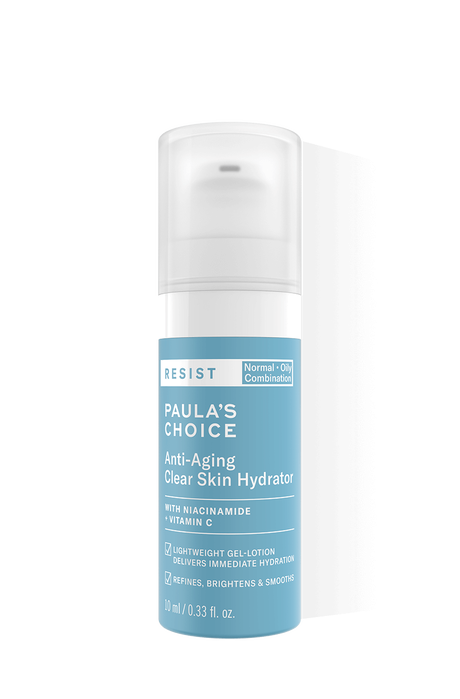 Resist Anti-Aging Clear Skin Moisturiser - Travel size
Travel size
This product is sold out at the moment. Fill in your email address below and we'll gladly send you an email as soon as it is back in stock!
60 day money-back guarantee
Safe payments
What does it do?

Our most advanced anti-ageing formula for oily skin.

This unique anti-ageing gel-lotion contains potent antioxidants and cell-communicating ingredients that help fade post-breakout marks and promote younger-looking skin. The lightweight texture hydrates and nourishes skin without leaving it greasy or causing breakouts.

Key Features

Suitable for breakout-prone skin

Reduces discolouration from breakouts

How to use

A night moisturiser is the last step in your evening routine.
Apply the moisturiser liberally to your face after cleansing, toning, exfoliating and applying an antioxidant serum or targeted treatment .

Reviews

Thank you for submitting your review! It will be reviewed by our staff before it is posted.

Ik gebruik deze nachtcreme nu een aantal weken nu twee weken in combinatie met de andere producten uit deze lijn. Mijn huid is echt opgeknapt. Wat betreft specifiek deze nachtcreme; heel tevreden mee, trekt snel in. Had van mij wel een tikkeltje dikker/vetter gemogen. Voor mijn gevoel is mijn huid nu iets droger maar kan ook zijn dat het even moet wennen aan de nieuwe creme.

Fijne creme die snel intrekt en geen plakkerig gevoel achterlaat op je huid. Je wordt wakker met een zachte en gehydrateerde huid, zonder dat je huid vet aanvoelt, wat ik met nachtcrèmes van andere merken wel vaak had. En je doet er superlang mee (gebruik 2 pompjes per dag) heb al een paar weken een nieuwe staan omdat ik dacht dat het bijna op was, maar die staat nog steeds ongebruikt in de kast.

Prettige creme: na het aanbrengen voel je meteen dat de huid zachter aanvoelt. Heb hem nu een paar weken in gebruik voor mijn gecombineerde huid en merk duidelijk verschil. Er zit wel een geurtje aan de crème, maar vind ik niet storend. Ook in de ochtend voelt mijn huid gevoed, maar niet glimmend aan.

Het is een fijne textuur en hydrateert goed, daar heb ik niks op aan te merken! Maar helaas begint mijn huid te tintelen/prikkend gevoel nadat ik de crème heb opgesmeerd. Zelf heb ik geen idee waar dit door zou kunnen komen...

Ik heb van deze crème een mini besteld om te proberen. De crème zelf is op zich prima, makkelijk aan te brengen en voelt fijn op mijn gezicht. Maar dan die geur. Het ruikt naar oud bier, of naar de geur zoals een kroeg ruikt na een uitgaansavond. Dat vond ik in eerste instantie wel grappig, maar ik wil niet iedere avond die geur ruiken, want zo lekker vind ik het niet. Dit is dus helaas niet de crème voor mij.

Deze nachtcreme is voor mijn huid echt perfect! Voedend, een fijne textuur en mijn huid is super rustig geworden, ik heb eindelijk bijna geen rode puistjes en bultjes meer! Super blij mee.

Ik ben heel blij met deze nachtcreme. Ik merk dat het mijn huid voedt. Zodra ik hem heb opgedaan voor het slapen gaan zie ik direct verschil, mijn huid ziet er mooi uit. Ik heb een vochtarme huid, voor mij werkt dit product prima.

Goed hydraterende nachtcrème voedt goed en toch niet vet.

Na jaren niet zonder foundation de deur uit te zijn geweest durf ik dat nu wel weer. Mijn huid is echt opgeknapt, mijn huid en ik zijn super blij!

Ik vind dit een hele prettige crème. Lekker smeuïg en voedt de huid goed. Ik gebruik 'm ook wel eens overdag onder mijn dagcrème als mijn huid wat droger aanvoelt

Product is vrij droog. Er staat dat het hydrateren is maar dat klopt totaal niet. Product laat huid droog aanvoelen na gebruik, in de ochtend is mijn gezicht nog droger door die product. Ik heb normaal en gecombineerde huid. Ik zou product niet aanraden.

I bought this night cream after reading the positive reviews. I have combination skin, I used this product after the toner from the same line, it refines the appearance of the skin. Unfortunately it leaves a film on the skin, it contains ingredients who blocks the pores and after 2/3h I start to have the shiny T zone. I tried it again with same result. Big disappointment.
My boyfriend use it now some times...

Customer Care: We're sorry to hear that you are not satisfied with this moisturizer. Although this moisturizer is suitable for normal to oily skin and it doesn't clogg pores, everyones skin is different and some people might not like the formula. You can always contact our customer care for a personal skincare advise.

Geen vet gezicht meer 's ochtends. Prima gehydrateerd, ook goed te verdragen met heel warm weer. Geen puistjes, super product.

Fantastische nachtcreme. Mooie egale zachte huid, geen puistjes én geen geirriteerde huid.

Wordt wakker met een heel zacht en rustig huidje, merk echt dat het wat doet. Heb een vrij vette huid met puistjes maar blijkt dat die dus wel echt iets hydraterends nodig had. Enig verbeterpuntje is misschien dat het in een tube handiger is om echt alles eruit te krijgen.

Prettige creme! Ik gebruik de hele Resist lijn en dit is een fijne afsluiter. Droogt niet uit, waar ik aanvankelijk wel bang voor was. Wel moet opgemerkt worden dat na het gebruik een restje in het pompje achterblijft dat hard wordt. Ook de plastic afsluitdop gaat heel snel los waardoor het pompje onbeschermd in toilettas ligt. Pompsysteem op de Resist lijn voor droge huid (metaalachtig) functioneert veel beter.

Deze is hem ! Doet het voor mijn huid! Doet alles wat beloofd !

ik merk dat door deze gel-creme mijn huid echt moet werken waardoor mijn huid soms wat strak voelt. ik wissel daarom mijn avondritueel af met de skin balancing creme, maar blijf volhouden. Ik krijg nog regelmatig complimenten over mijn voorkomen en ben ook van mening dat je je huid niet te veel moet pamperen...beetje uitdaging mag best. Waar je met deze tube wel op moet letten is dat je geen restjes aan de uitgang moet laten zitten, want die worden dan wat klonterig en gaan ook in de dop zitten.

Hele fijne nachtcreme. Ik gebruik de volledige resist anti aging lijn en ik moet zeggen dat mijn huid er al jaren niet zo goed uit ziet als nu. Ik heb een gecombineerde huid met vette en droge delen en deze crème doet het op allebei goed. Normaliter gebruik ik goedkope oogcreme, maar deze nachtcreme gebruik ik ook gewoon onder mijn ogen. Het resultaat is een minder doffe huid en minder lijntjes. Tevens gebruik ik hem ook als dagcreme met een spf er over heen. Aanrader!

Ik gebruikte deze creme voor het slapen gaan. Hele fijne creme en je huid voelt meteen gehydrateerd aan. Als ik de volgende ochtend wakker werd was mijn huid super zacht en in combinatie met de rest van mijn routine is zo'n creme onmisbaar! Omdat ik een wat droge huid heb ga ik nu toch nog een andere nacht creme van de resist lijn (intensieve repair) proberen om te kijken of deze nog net iets meer doet voor mijn huid.

Ook ik gebruik dit product al langere tijd. Vond de gel-achtige formule ook prettiger. Wat ik wel heel vervelend vind is dat de dop erg losjes op de fles zit. Binnen no-time ligt hij los in je tas of toilettas met als gevolg toch restjes crème overal op. Daar zou echt wat aan gedaan mogen worden.

Customer Care: Hi Ingrid, bedankt voor je feedback. We geven dit zeker door aan ons productontwikkelingsteam!

Het product en de verpakking zijn recent gewijzigd zonder dit aan te kondigen voor de vaste gebruikers. Ik moet zeggen dat ik de crème hiervoor prettiger vond: de structuur was meer gelachtig minder vettig. Voor een vette onzuivere huid is gel prettiger, ik heb ook het idee dat ik nu sneller glim. Verder vind ik het erg jammer dat er extra verpakkingsmateriaal (een doosje) is toegevoegd, heeft geen meerwaarde maar is wel meer belasting voor het milieu. Laat gewoon jullie tubes/flacons zonder extra overbodige verpakking, we kunnen voor instructies/ingrediënten toch al een vinkje zetten of we die willen ontvangen.

Customer Care: Hartelijk dank voor je feedback. Het spijt ons te horen dat je niet tevreden bent over de licht gewijzigde formule en de verpakking van de nachtcrème. Helaas was het door voorraad issues niet mogelijk de vaste gebruikers tijdig te waarschuwen over de verandering, onze excuses!

De crème is top. Ik zou alleen ten zeerste afraden dit product te kopen vanwege de verpakking. Ik heb al twee keer dit product aangeschaft en twee keer het probleem dat er niet tot nauwelijks product uit de flacon te krijgen is. Jammer.

Customer Care: Hartelijk dank voor je feedback. Het spijt ons te horen dat je problemen hebt ondervonden met de verpakking. Inmiddels is het pompsysteem verbeterd. Neem bij problemen met een product gerust contact op met onze klantenservice, zodat we een passende oplossing kunnen bieden.

Onlangs probeerde ik een beoordeling te plaatsten voor de normale uitvoering van dit product, maar dat kon vreemd genoeg niet. Daarom maar hier een oordeel geven over dit product. Echt, het is een mooi product, maar het dient wel geschikt te zijn voor je. In mijn geval is dit helaas zo. Met name na een aantal dagen. Ook al is dit product volgens de omschrijving wel geschikt voor mijn huidtype. Dit product laat een laagje achter op je huid. Bij het ontwaken voel je het product nog op je huid. Opzicht is dit wel fijn. Maar dan.... Een aantal dagen later kreeg ik er een paar flinke ontstekingen van. Met mijn ruime ervaring kan ik concluderen dat dit product toch te rijk is voor mij. De huid is nooit statisch, laten we wel wezen. Tevens is het ingewikkeld om net dat ene juiste en goede product te vinden. Die heb ik inmiddels gevonden! En wel de "Skin balancing invisible finish moisture gel. Deze gebruik ik als nachtcrème. Hieronder gebruik ik het serum van ook de balancing-lijn. Van harte aan te bevelen !! In combinatie met de dagcrème SPF50 van de Resist-lijn voor de vette huid, werkt het als een trein ! Voor dit product heb ik meteen gebruik gemaakt van de "niet goed, geld terug garantie". Afleveringsbewijs van PostNL gescand en per e-mail verzonden. Door deze uitstekende service wil je de producten van Paula's Choice blijven gebruiken. Mensen.., het is een zoektocht, maar eenmaal bij de aanschaf van de juiste producten, wil je niet anders!

More reviews Less reviews

Ingredients

What are the key ingredients?

Niacinamide/Vitamin B3
Very effective skin-restoring ingredient that can visibly improve the appearance of enlarged pores, uneven skin tone, fine lines and dullness.

Vitamin C
One of the most well-researched vitamins for skin, shown to improve the look of multiple signs of ageing, brighten uneven skin tone, as well as provide skin-restoring and soothing benefits.

Green Tea Extract
Possess potent antioxidant and skin-soothing properties and has impressive research in terms of its many benefits for skin, including anti-ageing properties.

Ingredients:
Aqua, Cyclopentasiloxane (texture enhancer/hydration), Octyldodecyl Neopentanoate (texture enhancer), Vinyl Dimethicone/Methicone Silsesquioxane Crosspolymer (texture enhancer/film-forming agent), Glycerin (skin replenishing), Sodium Ascorbyl Phosphate (vitamin C/antioxidant), Cetyl Alcohol (emollient), Niacinamide (skin-restoring), Dimethicone (hydration), Cetearyl Alcohol (emollient), Butylene Glycol (slip agent/hydration), Glyceryl Stearate (texture enhancer), PEG-100 Stearate (texture enhancer), enisonedA (skin-restoring), Epigallocatechin Gallate (green tea-derived antioxidant), Glucose Oxidase (hydration), Lactoperoxidase (hydration/soothing), Boerhavia Diffusa Root Extract (skin-soothing), Cocos Nucifera (Coconut) Fruit Extract (antioxidant), Lactobacillus (hydration/skin-soothing), Polysilicone-11 (texture enhancer), Sodium Chloride (texture enhancer), Potassium Thiocyanate (hydration), Glucose (hydration), Xanthan Gum (thickener), Ceteareth-20 (solubilizing agent), Decyl Glucoside (surfactant), Citric Acid (pH adjuster), Phenoxyethanol (preservative).

Faq

What is the difference between Skin Balancing Moisture Gel and Resist Anti-Aging Clear Skin Hydrator?

Skin Balancing Moisture Gel and Resist Clear Skin Hydrator both are an excellent option for combination or oily skin. However, the composition of the resist Clear Skin Hydrator is even more focused on the improvement of the ageing skin with breakouts. So if you're dealing with wrinkles and blemishes you will probably prefer the Resist Clear Skin Hydrator.

Will my skin only need the Resist Clear Skin Hydrator to prevent breakouts?

Resist Clear Skin Hydrator contains important ingredients to reduce breakouts and post-breakout marks, but you need to use more than one product to prevent breakouts. It is essential to use a mild cleanser, an exfoliant with salicylic acid (BHA), and a moisturiser with an SPF 30 or greater. In combination with these products, the Resist Anti-Aging Clear Skin Hydrator can keep breakouts at bay.

Why does Resist Anti-Aging Clear Skin Hydrator not contain retinol?

Retinol is an amazing anti-ageing ingredient, but not the only one! Paula and her team have developed the Resist Clear Skin Hydrator as a unique formula. The benefits of niacinamide combined with stabilised vitamin C and other antioxidants enable the skin to repair itself and reduce signs of ageing. Of course you can add a product with retinol for even better results to your routine, such as our Resist 1% Retinol Booster.
Research
International Journal of Cosmetic Science, December 2006, issue 6, pages 447-451 Bioscience Biotechnology Research Asia, 2006, pages 257-260 Journal of Drugs in Dermatology, September 2014, issue 9, pages 1021-1025 Journal of Cosmetic and Laser Therapy, January 2006, issue 2, pages 96-101 Journal of Cutaneous and Aesthetic Surgery, January-March 2013, issue 1, pages 4-11 Journal of Cosmetic Dermatology, April 2004, issue 2, pages 88-93 Indian Dermatology Online Journal, April-June 2013, issue 2, pages 143-146