https://www.paulaschoice.nl/en/earth-sourced-perfectly-natural-cleansing-gel-full-size/8500.html
Earth Sourced Cleanser
Gentle gel cleanser made with natural ingredients effectively removes debris and make-up.

Skin Type:

All skin types

Concern:

Sensitive skin

Ingredients:

Aloe Vera, Decyl Glucoside, Glycerin

View all

Routine:

Cleanser
Variations
Full size 200 ml
Remove from wishlist
Add to Wishlist
Product out of stock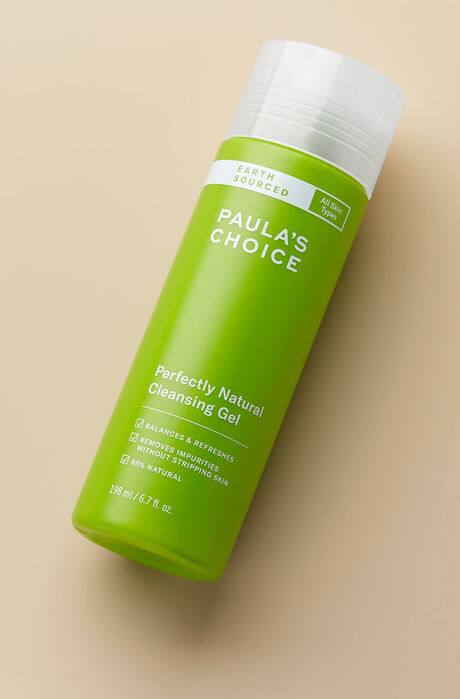 Earth Sourced Cleanser
Full size
This product is sold out at the moment. Fill in your email address below and we'll gladly send you an email as soon as it is back in stock!
60 day money-back guarantee
Safe payments
What does it do?

Natural yet effective cleansing.

This exceptionally gentle gel cleanser with mainly natural ingredients effectively removes impurities and make-up leaving skin refreshed, soft and radiant. It is suitable for all skin types, even sensitive or irritated skin, and is gentle enough for use on babies or children.

Is this suitable for my skin?

Key Features

Leaves skin feeling clean and refreshed

Suitable for sensitive skin

How to use

Use morning and evening. Splash the face and eyes generously with water. Apply a small amount of cleanser to your face using vigorous yet gentle circular motions. Rinse well. Repeat or use with a clean washcloth to remove heavy makeup.

Reviews

Thank you for submitting your review! It will be reviewed by our staff before it is posted.

Erg fijn spul, helaas al tijdje niet op voorraad 😰

✨This is a great cleanser! Love it! It doesn't dry out my skin, irritate or sting, just cleanse beautifully. It even removes makeup.
✨The ingredients list is short, with mainly natural ingredients and contains 6 gentle cleansing agents.

Hi Louise, thank you for your positive review. It's nice to hear that you enjoy using this cleanser so much! Best wishes, Chantal - Paula's Choice Customer Care Team

Deze reiniger droogt mijn huid sterk uit, terwijl ik eigenlijk helemaal geen droge huid heb. Spijt van deze aankoop, want het past niet bij mijn huid.

Customer Care: Hallo, hartelijk dank dat je jouw ervaring met ons hebt gedeeld. Wat jammer dat het product niet bevallen is, we raden je aan contact op te nemen met onze klantenservice voor verder advies.

Superfijne zachte reiniger. Hij schuimt goed maar droogt niet uit. Voelt heerlijk fris. Je hebt maar een druppeltje nodig per keer. Werkt supergoed op mijn gecombineerde en gevoelige huid. Beste reiniger die ik ooit heb gekocht.

Fijne ingredienten en niet uitdrogend. Hele fijne en milde basis-cleanser zonder allerlei poespas.

Geen fijn product, mijn huid werd erg droog en trekkerig. Voor mij niet meer.

De textuur is prettig in gebruik en schuimt lekker maar mijn huid voelt ontzettend droog daarna. Ik heb een normale huid maar voor mij is dit product niet de juiste.

Customer Care: Hartelijk dank voor het delen van jouw ervaring, en het spijt ons te horen dat dit product niet voldeed aan je verwachtingen. We raden je aan contact op te nemen met de klantenservice voor verder advies.

I found this cleanser very soft and calming on my skin. I have a blemish-prone oily skin and it worked well on my face. I had no problems like blemishes increasing or my face getting dry or oily or any irritation. Great product!

Customer care:
Hartelijk dank voor je feedback. Wij zijn blij te horen dat de Earth Sourced Gezichtsreiniger zo goed bevalt!

Deze cleanser is buitengewoon goed: mijn huid voelt babyzacht na gebruik en blijft ook zo voelen gedurende de rest van de dag. Verder verwijdert ie make-up goed, zonder de huid te irriteren.

Ik gebruik 'm in combinatie met de earth sourced toner, de calm exfoliant, het resist retinol serum en de calm dagcreme of earth sourced nachtcreme, en sindsdien heb ik nooit meer last gehad van een glimmende t-zone & droge wangen.

Je hebt ook maar een hele kleine hoeveelheid nodig, dus denk niet dat deze cleanser prijzig is!

Wat een fijne cleanser! Ik heb een vette, maar wel heel gevoelige huid. Bij veel cleansers is mijn huid na gebruik rood en trekkerig, maar niet bij deze! Je hebt ook maar heel weinig nodig: ik gebruik 's ochtends 1 druppel ter grootte van een stuiver (met mijn handen) en 's avonds 2 druppels op een nat washandje om mijn make-up te verwijderen. Het product gaat dus lang mee.

Heb nare rosacea en veel geprobeerd om het onder controle te krijgen. De Earth Source lijn is de enige die écht werkt voor mij. Gebruik 't nu een maand of drie, met 1 keer per week de exfoliant van PB (10%) en mijn huid ziet er echt heel goed uit nu. Heel blij mee.

Hele fijne cleanser! Zacht voor de huid maar effectief in het verwijderen van make-up of om je huid lekker fris te laten voelen zonder dat het de huid droog laat voelen. Misschien niet de beste optie voor mensen met een super droge huid maar wel voor mensen met een gecombineerd droge of gecombineerd vette tot vette huid.
Laat deze vooral in de collectie blijven!

Biedt een zachte reiniging van de huid maar verwijdert geen hardnekkige make-up zoals vloeibare foundation of mascara. Voor een goed resultaat moet ik het product twee keer gebruiken en daarom was de flacon al snel op. Deze cleanser is geschikt voor mensen met een gevoelige huid die weinig of geen make-up dragen.

Ik gebruik deze reiniger nu 2 weken. Het is een hele milde reiniging die je huid kalmeert en verlost van de roodheid. De geur is prettig en fris en de gel schuimt lekker maar niet al te. Helaas vind ik hem qua reinigen niet goed genoeg, ik was mijn gezicht hiermee 2 keer achter elkaar maar als ik er met een toner overheen ga dan zie ik alsnog vuil en make up op mijn wattenschijfje. De reiniger van de Resist lijn vind ik in vergelijking met deze vele malen beter.

Ik gebruik deze reiniger nu een half jaar en het bevalt heel goed. Schuimt goed en de huid voelt zacht en fris aan.

Wat een heerlijke reiniger is dit. Ik heb al 2 andere reinigers van PC geprobeerd, die waren prima, maar deze wordt mijn vaste reiniger. Het is een zachte gel die de huid niet uitdroogt, maar wel fijn verfrist. Hij reinigt make-up erg goed en neemt ook het grootste gedeelte van mijn waterproof mascara mee.
Ik heb in de winter een drogere huid, maar na het reinigen trekt hij niet. Aanrader!

Ik ben heel erg blij met de earth sourced lijn van Paula. Na een gesprek met Fleur van de klantenservice kwam ik erachter dat ik een vorm van rosacea en een zeer gevoelige huid heb. Ik kon werkelijks niets verdragen op mijn gezicht. Ik heb een iets vette t zone en erg droge wangen met op de kaaklijn allemaal kleine rode bultjes wat steeds erger werd. Na een behandeling op Glamgarden door Fleur ben onderstaand stappenplan gaan volgen:

In de avond reinigen met de earth sourced gel en bronwater in plaats van kraanwater. Hierna de BHA lotion 1% aanbrengen en daarna de Earth sourced moisturizer.

In de ochtend reinigen met de earth sourced toner, daarna de earth sourced moisturizer en dan vervolgen met de resist handcreme voor de spf. Ik kon namelijk niet tegen de andere spf's maar deze handcreme gaat super op aanraden van de klantenservice.

Dagelijks slik ik voedingssupplementen L-Lysine 1000 mg om het afweersysteem van de huid weer op te bouwen in combinatie met vitamine B en visolie. Ik reinig niet meer met kraanwater maar gewoon met goedkope flesjes bronwater en wat een verbetering!!! Ook laat ik koemelk achterwege om te kijken of dat resultaat heeft. 1 keer in de week neem ik een masker, skin balancing carbon mask en ik ben van plan om het resist serum met antioxidanten te gaan toevoegen voor de vitamines (de blauwe, zonder retinol want ik verdraag aha en retinol niet). Ook lees ik positieve berichten over vitamine c en e in creme's (jetske ultee) en las dat deze ook in de resist clear skin hydrator voorkomen. Is misschien ook een idee om in de toekomst te gebruiken. Ik gebruik dit systeem nu 3 weken en zie echt resultaat. 1000 maal dank aan Fleur van de klantenservice...

Heerlijk zachte gel die de huid makkelijk schoonmaakt en make-up verwijdert. Ik heb echt een zeer gevoelige huid maar mijn huid is na gebruik heel kalm en zeker niet rood of vlekkerig. Wel een beetje een trekkerig gevoel als ik de toner niet erna gebruik. Ik gebruik de producten uit de Earth Sourced lijn nu bijna anderhalve week en de ervaringen zijn tot nu toe positief. Bij een hele droge huid vind ik de producten niet voedend genoeg. Zo heb ik een gecombineerde huid en de moisturizer is op mijn wangen niet voldoende. Dit los ik nu op door een beetje pure amandelolie (Weleda) erover heen aan te brengen. Dan is het trekkerige gevoel weg. Verder trekt de moisturizer goed in en laat geen vettig laagje achter. Geen uitslag of allergische reacties tot nu toe, maar mijn huid kan heel vreemd reageren dus pas over een maand durf ik pas te juichen als het zo goed blijft gaan! Maar dat mijn huid niet rood wordt en er rustig uitziet, is zeker een goed begin! De meeste producten gaan op mijn huid branden of maken mijn huid rood en mijn ogen branderig. Met deze producten heb ik er geen last van.

More reviews Less reviews

Ingredients

What are the key ingredients?

Aloe vera
Plant extract that has soothing properties, antioxidant qualities, and serves as a hydrating agent.

Decyl Glucoside
Sugar-derived ingredient used as a gentle cleansing agent.

Glycerin
Skin-replenishing and restoring ingredient, found naturally in skin. It helps skin to maintain a healthy look and feel, defending against dryness.

Ingredients:
Aqua, Decyl Glucoside (cleansing), Glycerin (hydration/skin replenishing), Sodium Cocoamphoacetate (cleansing), Lauryl Glucoside (cleansing), Xanthan Gum (texture-enhancing), Coco-Glucoside (cleansing), Glucose (hydration), Sodium Cocoyl Glutamate (cleansing), Sodium Lauryl Glucose Carboxylate (cleansing), Glyceryl Oleate (texture-enhancing), Aloe Barbadensis Leaf Juice (hydration/skin-soothing), Carrageenan (texture-enhancing), Sodium Phytate (stabilizer), Citric Acid (pH adjuster), Ethylhexylglycerin (preservative), Phenoxyethanol (preservative), Potassium Sorbate (preservative).

FAQ

What is the Earth Sourced Collection?

Earth Sourced products are formulated with mainly natural ingredients. The natural ingredients used are guaranteed to be non-irritating, safe and effective for different skin types. Many natural skincare lines contain natural ingredients can actually irritate the skin and damage healthy collagen production. Paula's Choice uses a specialised, proprietary technology to ensure these natural products function as intended and without using ingredients known to cause irritation

Why don't all Paula's Choice products contain only natural ingredients?

For many skin problems such as breakouts or sensitive skin, putting together an effective product selection containing only natural ingredients is not possible. Paula's Choice Earth Sourced products work beautifully in combination with other Paula's Choice products that are designed for your skin type and concern.

Is there another Paula's Choice product comparable to the Earth Sourced Perfectly Natural Cleansing Gel?

Our Earth Sourced Perfectly Natural Cleansing gel is the same formulation as our PC4Men Face Wash, with the exception of the packaging and its place in the Earth Sourced Range.
Research
International Journal of Toxicology, September-October 2013, supplement 5, pages 22S-48S Skin Research and Technology, February 2001, issue 1, pages 49–55 International Journal of Cosmetic Science, February 2000, issue 1, pages 21-52