https://www.paulaschoice.nl/en/resist-anti-aging-weightless-advanced-repairing-toner-full-size-7780.html
Resist Anti-Aging Repairing Toner
Super-light, anti-ageing toner prevents signs of ageing and refines pores.

Skin Type:

Combination skin, Oily skin

Concern:

Breakouts , Anti-Aging , Blackheads , Brown spots

Ingredients:

Niacinamide/Vitamin B3 , Phospholipids , Hyaluronic Acid

View all

Routine:

Toner
Product out of stock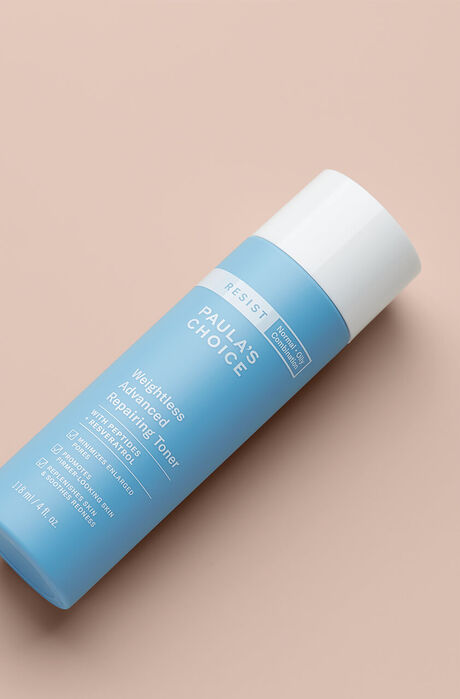 Resist Anti-Aging Repairing Toner
Full size
This product is sold out at the moment. Fill in your email address below and we'll gladly send you an email as soon as it is back in stock!
60 day money-back guarantee
Safe payments
What does it do?

An age-defying toner for oily, breakout-prone skin.

This super-light, anti-ageing toner is ideal for oily skin prone to breakouts and blackheads. Enriched with niacinamide, it goes beyond simple hydration - visibly improving the appearance of fine lines and wrinkles, enlarged pores and uneven skin tone for softer, smoother, youthful-looking skin.

Key Features

Suitable for breakout-prone skin

Leaves skin feeling clean and refreshed

How to use

After cleansing, apply a little bit of toner on a cotton pad to your face and neck. Do not rinse off.
Follow with an exfoliant, antioxidant serum and/or a day or night cream suitable for your skin type. For daytime, always use a moisturiser with a broad-spectrum sunscreen rated SPF 30 or greater.

Reviews

Thank you for submitting your review! It will be reviewed by our staff before it is posted.

Ik gebruik deze in combinatie met andere producten in de lijn en ben heel tevreden. Ruikt lekker, huid voelt goed aan.

Sinds kort van toner skin balancing naar resist gegaan op aanraden van helpdesk. Geweldig. Erg blij, heerlijk product.

Ik begreep nooit zo goed het nut van toners, maar ik vind de werking heel fijn. Het maakt mijn huid schoon als ik geen zin heb om een reiniger te gebruiken. Het is met een paar druppeltjes al heel effectief, dus zuinig in gebruik. En mijn huid voelt verzorgd en gevoed aan. Fijne fles, prettig in het gebruik.

Heerlijke zachte goed reinigende toner zonder uit te drogen. Met mijn gecombineerde huid altijd lastig om geschikte producten te vinden. Deze toner is maakt mijn glimmende t zone niet glimmend en is zacht genoeg voor mijn vochtarmere wangen. Heb het idee dat dag of nachtcrème ook makkelijker intrekt na gebruik van de toner. Heb ook de skin balancing toner gebruikt, maar die is (zeker in de winter) te schraal voor mijn drogere wangen.

Geweldige product. Maar gaat snel op voor de prijs.

Heel fijn product en onmisbaar in de dagelijkse verzorging. Ik gebruik hem zowel in de ochtend als de avond, samen met de bijbehorende exfoliant. Daarna nog een fijne crème en mijn huid kan er weer tegenaan.

Heerlijk product. Zacht, licht en zeker ook bij heel warm weer.

Grote fan van deze toner! Smelt in m'n huid. Omdat nogal een duure toner is ook invb de hoeveelheid verwissel ik die met de skin balancing toner waar ik ook tevreden over ben.

Fijne toner, zacht voor mijn huid maar wel met een goede reiniger.
Er zit dikwijls vuiligheid op het wattenschijfje waardoor ik ook zie dat het goed reinigt.

Super goed indringende toner. Ik gebruik 2 toners deze in de avond omdat die wat complexer is tegen huidveroudering (ik ben een dertiger) en s' morgens die van skin balancing. Ik gebruik geen toner op mijn neus want mee-eters komen terug maar dat is persoonlijk. Je moet zelf uitzoeken wat wel en niet. 5 sterren want je doet lang met de producten van PC. Ik ben een zeer tevreden klant. Bedankt Paula!

Fijn product die ik in de ochtend gebruik om mijn huid te reinigen. Geeft een zachte huid en het lijkt of mijn huid gedurende de dag minder snel glimt

Ik zou willen vragen...; "Hoe is het mogelijk?" Deze toner lijkt enigszins op de balancing-toner, maar heeft een nadelig effect op mijn huid. Waar zit nu eigenlijk het verschil in? Van de restist-lijn voor de normale tot vette huid zijn de moisturizer met SPF50 en de cleanser de enige producten die ik kennelijk verdraag en prettig vind. Deze toner maakt mijn huid "bot". 's-Morgens bij het scheren voelt mijn huid rauw aan en scheert het mes stroef over mijn huid. Indien ik dit product de volgende avond niet gebruik, maar dan wel de balancing-toner, dan vergaat het scheren mij in de ochtend prima af! Alle producten van PC volg ik op de voet. Voor mij gaat het erom dat ik de volgende ochtend geen last heb tijdens het scheren. Als laatste wil ik vermelden dat de huid onprettig prikt na het aanbrengen er van. Ik ga gebruik maken van de "Niet-goed-geld-terug-garantie 100%. Mensen, PC is en blijft een uitstekend merk. Dit is slechts een persoonlijke ervaring.

Bedankt Paula's choice! Na lange, lange tijd ben ik eindelijk weer tevreden!

Deze toner is erg prettig, maar ik vind hem wel duur. Ik ben overgestapt op een ander merk (9 euro per flesje) en die is net zo goed. Hierbij ook gelet op de bestanddelen.
Aanbrengen met een watje. Ik wist niet dat er na de 'cleansing' nog zoveel troep achterbleef op mijn huid! :O

Ik heb een slechte huid (acné gevoelig) vanwege PCOS. Toen ik stopte met de pil kwam het gelijk opzetten. Nu ik zwanger ben was het helemaal hopeloos. Dit was tijdens mijn vorige zwangerschap precies hetzelfde. Ik wilde niet meer terug aan de pil, maar al die andere smeerseltjes en dingetjes hielpen ook niets. Zelfs de dermatoloog kon mij met het meest heftige spul niet helpen.
Op hoop van zegen begon ik, na aanraden van anderen, met de producten van Paula's choice. Na een week voelde ik mijn huid al rustiger worden. Het duurde wel even voor de echte vlekjes weg waren, maar mijn huid had ook een lange weg gehad. Nu ben ik er ongeveer 4 maanden mee bezig. De aanschaf van een volledige huidverzorgingslijn heeft mij wel even wat gekost, maar ik raad het iedereen aan. Eindelijk ben ik weer zelfverzekerd en denk ik bij een puistje: ach.. het is zo weer over. En ja: na twee dagen is 'ie dan ook weg.

Ik gebruik de volgende producten:
1. Gezichtsreiniger - Skin Balancing Oil-Reducing Cleanser ('s morgens en 's avonds)
2. Resist Anti-Aging Weightless Advanced Repairing Toner ('s morgens en 's avonds) Fijne toner, maar het gaat hard. Voor die prijs heb ik van een ander merk een toner aangeschaft.
3. Skin Perfecting 2% BHA Gel Exfoliant ('s avonds)
4. Resist Anti-Aging Super-Light Daily Wrinkle Defense SPF30 ('s morgens) Deze vond ik overigens NIET prettig. Droogde heel erg uit. Vervangen door een dagcrème van een ander werk.

HET WERKT!!!!!

Dit is een degelijke toner, hydrateert mijn huid na het reinigen. Van de andere effecten heb ik niet veel gemerkt, maar dat had ik eigenlijk ook niet verwacht van een toner. Misschien volgende keer een iets minder dure toner van PC gebruiken om eens te vergelijken?

Ik ben zeer tevreden over deze toner! Geen glimmend hoofd meer. En nagenoeg geen puistjes.

Ik heb dit product besteld om te kijken of het wellicht een nog beter product zou zijn voor mijn oudere, gecombineerde huid dan de Skin Blanacing Toner. Ik was echter onaangenaam verrast toen bleek hoe klein dit flesje is.
Resist Ant-Aging Weightless Advanced Repairing Toner: 118 ml voor EUR 25,90 (Eur 219,50 per liter)
Skin Balancing Toner: 190 ml voor EUR 23,90 (EUR 125,80 per liter)
Dit grote verschil in prijs weegt voor mij niet op tegen het verschil in werking. In beide toners is Niacinamide goed vertegenwoordigd en dat ingrediënt werkt voor mij erg goed om puistjes te voorkomen en de huid in balans te brengen.
Ik raad daarom aan eerst de Skin Balancing Toner te proberen en voor rimpeltjes eventueel de Clinical 1% Retinol Treatment, ook een prima, effectief product. Met deze beide producten doe je lang en je merkt dat ze echt werken.

Customer Care: Hartelijk dank voor je feedback. We vinden het heel goed dat je kritisch bent over de prijsstelling en een ander product met een betere prijs de voorkeur heeft. Echter, indien je alle ingrediënten (en niet maar 1 of 2) van beide toners tot in detail zou vergelijken, zou blijken dat de Resist Weightless Toner net wat complexer is en effectiever is voor het bestrijden van puistjes én rimpels.

De toner is heerlijk zacht in gebruik en ik heb echt het gevoel dat -ie mijn huid kalmeert, maar ik merk niets van de verdere "beloftes" uit de omschrijving en ook is de toner helaas allesbehalve zuinig in gebruik. Vind de prijs echt veel te hoog voor een product waar ik nog geen maand mee kan doen.

Ik heb zelf in de winter een droge huid met een t-zone die wat vetter is en de porien zijn daar vergroot (gaat vanzelf als je ouder word, grrr.)
Deze lotion is daar perfect voor, word prachtig schoon en roodheid verdwijnt ook!

More reviews Less reviews

Ingredients

What are the key ingredients?

Niacinamide/Vitamin B3
Very effective skin-restoring ingredient that can visibly improve the appearance of enlarged pores, uneven skin tone, fine lines and dullness.

Phospholipids
Type of lipid (fat) composed of glycerol, fatty acids, and phosphate. Acts as water-binding and skin-restoring agent.

Hyaluronic Acid
Component of skin tissue. A superior skin-replenishing ingredient that can boost skin's moisture content, soothe, and defend against moisture loss.

Ingredients:
Aqua, Glycerin (hydration/skin replenishing), Ethoxydiglycol (hydration), Niacinamide (skin-restoring), Acetyl Glucosamine (hydration/skin replenishing), xilaS Nigra (Willow) Bark Extract (skin-soothing), Resveratrol (grape-derived antioxidant), etanorulayH muidoS (hydration/skin replenishing), Palmitoyl Tetrapeptide-7 (skin-restoring), Palmitoyl Tripeptide-1 (skin-restoring), Phospholipids (hydration/skin replenishing), Epigallocatechin Gallate (antioxidant), Carnosine (skin-restoring), Genistein (antioxidant), Glycyrrhiza Glabra (Licorice) Root Extract (skin-soothing), enisonedA (skin-restoring), Xanthan Gum (texture-enhancing), Citric Acid (pH adjuster), Polysorbate 20 (texture-enhancing), Butylene Glycol (hydration), Ethylhexylglycerin (preservative), Carbomer (texture-enhancing), Tetrasodium EDTA (stabilizer), Phenoxyethanol (preservative).

Faq

Why do I need a toner?

A toner is a great addition after cleansing to make sure that you've removed your makeup. A good toner contains antioxidants that soothe and protect the skin, and restorative ingredients that counteract dehydration. Your skin feels softer and functions better.
Research
Journal of Cosmetic Dermatology, June 2013, issue 2, pages 96-102 International Journal of Cosmetic Science, December 2006, issue 6, pages 447-51 Journal of Drugs in Dermatology, September 2014, issue 9, pages 1021-5 Journal of Drugs in Dermatology, September 2014, issue 9, pages 1021-5 Acta Poloniae Pharmaceutica, January-February 2015, issue 1 pages 3-11 Evidence Based Complementary Alternative Medicine, 2013, volume 2013, article 827248 International Journal of Cosmetic Science, February 2000, issue 1, pages 21-52 Journal of Cosmetic and Laser Therapy, January 2006, issue 2, pages 96-101 Journal of Cutaneous and Aesthetic Surgery, January-March 2013, volume 6, issue 1, pages 4–11 Journal of Cosmetic Dermatology, April 2004, issue 2, pages 88-93 Journal of Cosmetic Dermatology, March 2008, issue 1 pages 2-7 Evidence Based Complementary Alternative Medicine, 2013, volume 2013, article 827248 Dermato-Endocrinology, July 2012, issue 3, pages 253-8