https://www.paulaschoice.nl/en/power-duo-rejuvenate-firm-the-eye-area/powerduo25.html
Anti-Ageing + Firm the eye area
The ultimate anti-ageing duo for firmer, younger-looking skin on the face and under the eyes.

Skin Type:

Normal skin, Dry skin

Concern:

Anti-Aging, Dull skin

Ingredients:

Retinol (Vitamin A), Ceramides, Vitamin C

View all
Remove from wishlist
Add to Wishlist
Product out of stock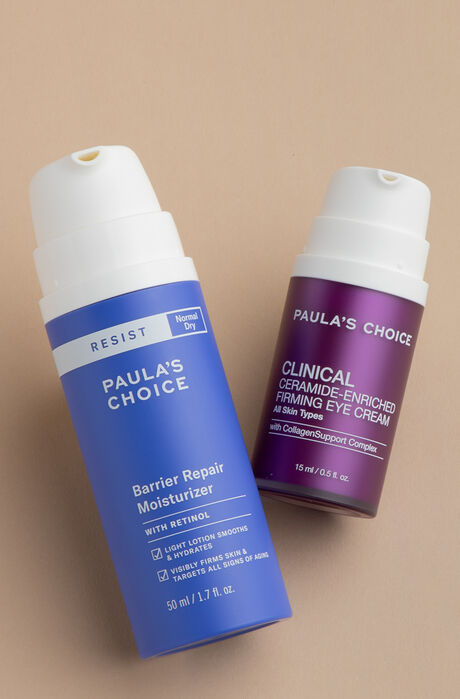 Anti-Ageing + Firm the eye area
This product is sold out at the moment. Fill in your email address below and we'll gladly send you an email as soon as it is back in stock!
60 day money-back guarantee
Safe payments
What does it do?

Discover a complete solution for the face and eyes with this anti-ageing power couple. Treat the delicate under-eye area - often the first to show signs of ageing - with Clinical Ceramide-Enriched Firming Eye Cream. The advanced formula features a powerhouse blend of Vitamin C, retinol, peptides and ceramides to visibly reduce fine lines and wrinkles, loss of firmness and dark circles. Extend your anti-ageing routine to the face with Resist Barrier Repair Moisturiser, which is infused with retinol and potent antioxidants to smooth wrinkles, strengthen skin and restore radiance. Used together, this duo will leave you with a firmer and younger-looking complexion.

Key Features

Softens fine lines and wrinkles

Improves skin tone and texture

How to use

Use Resist Barrier Repair Moisturizer as the last step in your evening routine. Apply it liberally to your face after cleansing, toning, exfoliating and applying an antioxidant serum or targeted treatment. Apply a small amount of Clinical Ceramide-Enriched Firming Eye Cream before your moisturiser, using a gentle patting motion.

Reviews

Thank you for submitting your review! It will be reviewed by our staff before it is posted.

Ingredients

What are the key ingredients?

Retinol
Powerhouse ingredient that can improve a variety of skin concerns, most related to visible signs of ageing: It's skin-restoring, wrinkle-smoothing, an antioxidant and improves sun damage.

Ceramides
Major components of skin's outer layers, necessary for their water-retention capacity and provide replenishing and restoring benefits.

Vitamin C
One of the most well-researched vitamins for skin, shown to improve the look of multiple signs of ageing, brighten uneven skin tone, as well as provide skin-restoring and soothing benefits.

Please check the individual products for ingredient listings.

FAQ

How does Clinical Ceramide-Enriched Firming Eye Cream differ from other Paula's Choice eye products?
While we have other anti-ageing eye products, Clinical Ceramide-Enriched Firming Eye Cream is unique in that it contains our Collagen Support Complex which acts as a binding agent between cells, keeping the outer layers hydrated and resilient. If you've used our Resist eye products and are still struggling with stubborn signs of ageing you should consider adding this product.

What is the CollagenSupport Complex?
The CollagenSupport Complex combines the skin-replenishing properties of ceramides with retinol for strengthening support and several forms of vitamin C to help defend against environmental stressors and promote firmer skin. Together, this complex provides the essential building blocks for skin to renew itself and restore its natural barrier.

What are ceramides?
Ceramides are a natural, fundamental part of skin that helps maintain precise levels of hydration, allowing skin to have a smooth, even surface. They're critical for holding skin together (think bricks and mortar), protecting it from dehydration, signs of sensitivity and environmental damage that chips away at skin's protective surface. Ceramides are the most abundant part of skin, making up over 50% of its composition. As we age, the level of ceramides in our skin begins to decrease. As a result, the skin barrier weakens, which can lead to symptoms such as irritation, dryness, and redness. Skincare products that contain ceramides (and other skin beneficial ingredients) can help improve these symptoms.

How much retinol and vitamin C does the Clinical Ceramide-Enriched Firming Eye Cream contain?
The total percentage of vitamin C is 5.0%, while the retinol is at 0.01%, a deliberately lower amount given the vitamin C content and this being an eye cream. Both vitamin C and retinol are present in lower amounts than the Clinical Ceramide facial moisturizer, enabling you to apply both to the eye area, if desired.

How do Clinical products differ from Resist or other Paula's Choice product categories?
Clinical products offer more enhanced, targeted formulations for specific concerns such as advanced signs of ageing, dehydration or sun damage. Ultimately, it's a matter of what will suit your needs best. It's perfectly fine to assemble an anti-ageing routine that mixes Resist, Clinical and any other Paula's Choice Skincare line that addresses your skin type and concerns.