https://www.paulaschoice.nl/en/pc4men-soothe-and-smooth-full-size/8720.html
PC4Men 2% BHA Exfoliant
Lightweight liquid quickly calms redness and reduces red bumps. Perfect post-shave.

Skin Type:

All skin types

Concern:

Anti-Aging , Blackheads , Enlarged pores , Sensitive skin

Ingredients:

Licorice root extract , Peptides , Salicylic Acid/BHA

View all

Routine:

Exfoliate
Variations
Full size 88 ml
Remove from wishlist
Add to Wishlist
Product out of stock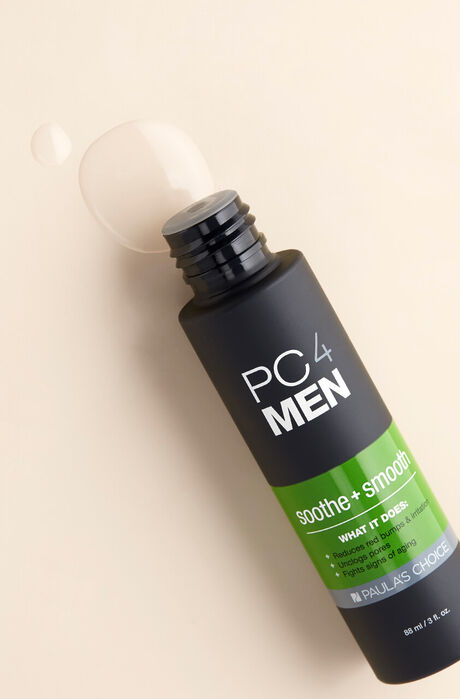 PC4Men 2% BHA Exfoliant
Full size
This product is sold out at the moment. Fill in your email address below and we'll gladly send you an email as soon as it is back in stock!
60 day money-back guarantee
Safe payments
What does it do?

Take the sting out of shaving.

This lightweight leave-on exfoliant is the perfect post-shaving product. Formulated with 2% BHA (salicylic acid), it quickly calms redness, unclogs pores and reduces red bumps and ingrown hairs. It also removes dead skin cells, helping skin feel smoother and look younger.

How to use

Gently apply using fingers or a cotton pad over entire face and neck, including the eye area (avoid lash line and eyelids) after cleansing and toning. Do not rinse.

Start slowly: Apply every other day and note skin's response. Then use up to twice daily. For daytime, always finish with a sunscreen rated SPF 30 or above. For nighttime, follow with the rest of your routine.

Reviews

Thank you for submitting your review! It will be reviewed by our staff before it is posted.

Een soort exfolierende aftershave voor het hele gezicht zonder je huid te moeten scrubben. Ik geloof wel dat dit product werkt en een goed idee is maar toch denk ik niet dat dit voor de gemiddelde man makkelijk in gebruik is. Ik zelf heb geen zin om met een wattenschijfje aan de gang te gaan en ik denk de gemiddelde man ook niet. Misschien een idee om dit in een gel vorm uit te brengen zodat het makkelijker in gebruik is. Dus als Paula dit leest: please, make sooth and smooth in a gel version so it will be easier to use for us lazy men and it will be a succes! ( and please, don't forget it was my idea..)

Heb dit product gekocht gekocht tegen mijn scheerirritatie. Had het beter niet kunnen doen want mijn nek lijkt wel een aardbei! Rood, jeukend en met pusbultjes. Dure miskoop wat kennelijk niet voor mijn huid geschikt is.

Customer Care: Het spijt ons te horen van jouw ervaring met de PC4Men Soothe + Smooth. We hebben ondertussen contact met je opgenomen voor een passende oplossing.

Fijn produkt! Gebruik het nu iets langer dan 1 maand en moet zeggen dat mijn huid er veel beter uit is gaan zien. Had regelmatig last van puistjes maar nu al heel lang niet meer. Ook mijn pigmentvlekjes op mijn voorhoofd zijn gaan vervagen. Ik gebruik dit produkt 's ochtends en 's avonds voor heel mijn gezicht en hals, het is lekker fris. Mijn huid straalt meer nu.

sinds een week of 2 gebruik ik het na elke scheerbeurt. Scheren gaat sinds de tweede dag al vlotter en gladder, het kalmeert de huid en geeft souplesse.
Ik ben het beginnen gebruiken samen met de PC4Men nighttime repair en moisturizing oil booster dus niet echt zeker of het de combinatie is of 1 van deze producten iig ik ben zeer tevreden. Roodheid verdwenen (yep een man met Rosacea sinds zijn 25 jaar, het bestaat dus...) en mooie egale teint, poriën ook wat minder opvallend.
Nog nooit zo'n goede resultaten gehad en ik heb al heel wat geprobeerd hiervoor.

Ik gebruik het dagelijks na het scheren en 's nachts de retinol treatment en geen enkele irritatie etc. Erg tevreden!!

Mijn huid heeft wel moeten wennen aan dit product, waarschijnlijk was ik iets te enthousiast in het gebruik (ik gebruikte het s'morgens en s'avonds). Na een paar dagen had ik een geïrriteerde huid met rode vlekjes en puistjes. Ik ben er tijdelijk even mee gestopt en nu gebruik ik het alleen na het scheren (3 a 4 x per week) mijn huid reageert hier nu veel beter op, ik heb zelfs minder uitslag/roodheid/irritatie na het scheren, het haalt tevens het branderige gevoel weg.

Ik gebruik dit altijd na het wassen en scheren. Het helpt echt goed tegen ingegroeide haren na het scheren. Ik ben er niet 100% van af, het is hierdoor in ieder geval stukken minder geworden! Had ik het maar eerder ontdekt... Het neemt ook een branderig gevoel en irritaties na het scheren weg.

Mijn man vindt dit het beste product van Paula's Choice, lekker fris! Hij scheert ook z'n hoofd en gebruikt dit om irritatie's te voorkomen.

Na het scheren geeft dit product een heerlijk verkoelend effect. Makkelijk aan te brengen en zuinig in gebruik

More reviews Less reviews

Ingredients

What are the key ingredients?

Licorice root extract
Plant extract that has potent antioxidant and skin-soothing properties. Can be effective in improving the look of an uneven skin tone.

Peptides
Portion(s) of amino acids, some have a remarkable skin-soothing effect, others can improve the appearance of wrinkles, loss of firmness, and help to soften the look of expression lines.

Salicylic Acid/BHA
Primarily an exfoliant, helps to shed dead skin on the surface and inside the pore, therefore effective for reducing breakouts and blackheads. It also has soothing properties.

Ingredients:
Aqua, Dipropylene Glycol (hydration), Pentylene Glycol (hydration), Salicylic Acid (Beta Hydroxy Acid, exfoliant), Butylene Glycol (hydration), Polysorbate 20 (texture-enhancing), Palmitoyl Tripeptide-1 (skin-restoring), Palmitoyl Tetrapeptide-7 (skin-restoring), Dipotassium Glycyrrhizate (skin-soothing), Nordihydroguaiaretic Acid (antioxidant), Oleanolic Acid (skin-soothing), etanorulayH muidoS (hydration/skin replenishing), Allantoin (skin-soothing), Trehalose (hydration/skin replenishing), Panthenol (skin replenishing), Glycerin (hydration/skin replenishing), PEG-60 Almond Glycerides (texture-enhancing), Caprylyl Glycol (preservative), PEG/PPG-18/4 Copolymer (texture-enhancing), Methyl Gluceth-20 (texture-enhancing), Bis-PEG-18 Methyl Ether Dimethyl Silane (texture-enhancing), Glycereth-26 (texture-enhancing), Sodium Metabisulfite (stabilizer), Sodium Hydroxide (pH adjuster), Carbomer (texture-enhancing), Disodium EDTA (stabilizer).

FAQ

Good to know before you start using your exfoliant.

It is best to gradually build up use of a BHA product. Start by using your exfoliant once every other day and then increase usage to once or twice daily based on your skin's response. You need to experiment a bit to see what suits your skin best. During the day, always use a moisturiser with a broad-spectrum sunscreen rated SPF 30 or greater. Your skin will in fact be slightly more sensitive to sunlight when using an exfoliant, so the chance of sunburn and sun damage is slightly higher.

What's different about this aftershave?

PC4Men Soothe + Smooth is so much more than aftershave. It soothes skin and reduces redness right after shaving, but it also helps fight breakouts, signs of ageing, and significantly improves skin texture. Soothe + Smooth is for any man who wants smooth, clear skin and is concerned with preventing signs of ageing and breakouts. It's ideal for all skin types, even sensitive.

Why do I need to follow with an SPF moisturiser during the day?

Because PC4Men Soothe + Smooth exfoliates skin, it's important to keep this new, healthier skin protected from UV damage. Using a daytime moisturiser with a sunscreen like PC4Men Daytime Protect SPF 30 will protect your skin from the sun's rays, which can damage skin even on cloudy days and lead to premature ageing.

How is PC4Men Soothe + Smooth different from the other Paula's Choice facial exfoliants?

Our PC4Men Soothe + Smooth is actually identical to our Resist Daily Pore-Refining Treatment 2% BHA. This formula is ideal for freshly shaved skin because of the non-irritating, skin-repairing ingredients that work together to calm redness.
Research
Phytotherapy Research, August 2015, volume 29, issue 8, pages 1117-22 Evidence Based Complementary Alternative Medicine, 2013, volume 2013, article 827248 International Journal of Cosmetic Science, February 2000, issue 1, pages 21-52 Oxidative Medicine and Cellular Longevity, 2013, volume 2013, article 375893 Plastic Surgical Nursing, April-June 2012, issue 2, pages 71-72 Journal of Clinical, Cosmetic and Investigational Dermatology, 2015, volume 8, pages 455-461 Dermato-Endocrinology, July 2012, issue 3, pages 253-258