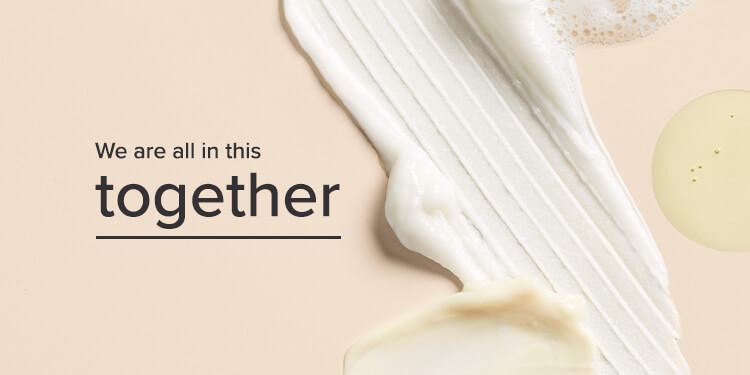 At Paula's Choice our customers and community are at the core of what we do each day. Our hearts go out to all those impacted by COVID-19. During this time, all of us are being advised to make changes in our daily lives, but one thing that won't change is our commitment to inform and serve you. The safety of our customers, employees and their loved ones remains our top priority. Find out how we are working to spread a little bit of love in these difficult times.
Our website is open
We have had to find a new way of working. Even though most of our employees are working from home, our website remains open and you can continue to order your favourite skincare through our website. We are closely monitoring conditions where our products are manufactured. Our warehouses are following local government regulations along with our normal safety protocol and working in a clean environment to ensure that our products are manufactured and shipped to you safely. We are doing our very best to avoid any disruptions. However, our demand is impacted which may lead to your favourite product being out of stock. If this is the case, know that we are working to make this product available again as soon as we can. Meanwhile we have recommended an alternative on the concerned product page and you can sign up to receive an email when it is back in stock. Also there may be times when your order takes a little longer than usual to reach you. Our delivery partners may have also changed the way they deliver our parcels. You may be asked to nominate a designated delivery spot or a signature may no longer be required.
Skincare is self-care
During these times we hear again and again the importance of routines and self-care. This includes sleeping well, regular exercise and a healthy diet, but also cleansing, exfoliating and moisturising. We believe that by caring for your skin, you're also caring for yourself.
Our skincare experts are on hand throughout this period to help you with your skincare questions. Get in touch via phone, Whatsapp, email or chat for personal skincare advice.
We would also like to help you by doing what we do best, sharing skincare knowledge. From our home offices we are bringing you more online content than ever before. You can find this special online content on our Instagram channel @paulaschoiceeu.
Research is close to our hearts
We are all affected by the growing COVID-19 pandemic. It's an unprecedented health challenge and we know people and organisations everywhere want to help. The World Health Organization is leading and coordinating the global effort, supporting countries to prevent, detect, and respond to the pandemic. The greatest need right now is to help ensure all countries are prepared, especially those with the weakest health systems.  Donations support WHO's work to track and understand the spread of the virus; to ensure patients get the care they need and frontline workers get essential supplies and information; and to accelerate efforts to develop vaccines, tests, and treatments.
Globally, Paula's Choice Skincare will be donating $50,000 to the COVID-19 Solidarity Response Fund for WHO.