https://www.paulaschoice.nl/en/clinical-ceramide-enriched-firming-moisturizer-full-size/2120.html
Clinical Ceramide-Enriched Moisturiser
Our most advanced night cream with 5 ceramides, vitamin C and 0.1% retinol to tackle signs of ageing.

Skin Type:

All skin types

Concern:

Anti-Aging, Brown spots, Dull skin

Ingredients:

Ceramides, Retinol (Vitamin A), Vitamin C

View all

Routine:

Moisturizer PM
Variations
Full size 50 ml
Remove from wishlist
Add to Wishlist
Product out of stock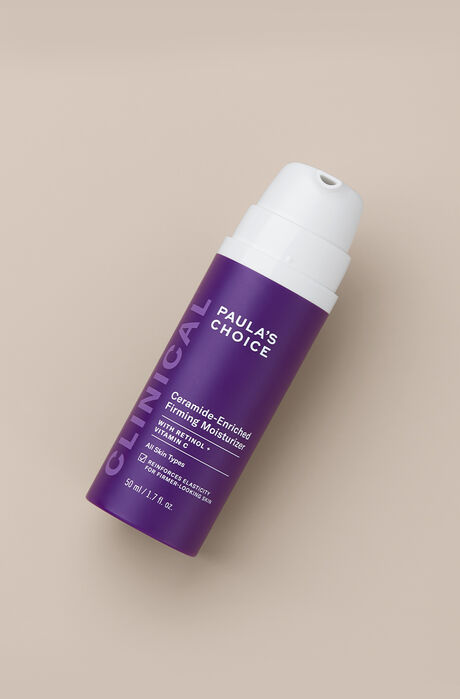 Clinical Ceramide-Enriched Moisturiser
Full size
This product is sold out at the moment. Fill in your email address below and we'll gladly send you an email as soon as it is back in stock!
60 day money-back guarantee
Safe payments
What does it do?

Harness the power of ceramides to visibly improve the signs of ageing

This advanced night cream delivers a cocktail of powerful ingredients to fight the signs of ageing. Our unique CollagenSupport Complex with hydrating ceramides reduces fine lines and wrinkles; retinol improves firmness and vitamin C restores radiance. These ingredients are vital in rebuilding skin's natural barrier, for healthier, younger-looking skin.

Is this suitable for my skin?

What skin concern would you like to address?

(Please select one option).

Key Features

Strengthens skin's natural barrier

Improves skin tone and texture

How to use

A night moisturiser is the last step in your evening routine.
Apply the moisturiser liberally to your face after cleansing, toning, exfoliating and applying an antioxidant serum or targeted treatment .

Reviews

Thank you for submitting your review! It will be reviewed by our staff before it is posted.

Het is volgens mij geen nachtcrème..bij mij word mijn huid echt heel erg droog. Hele maal niet fijn ook echt niet voedend.. erg jammer

Customer care: Hi Jessica, dankjewel voor het delen van je ervaring met de Clinical Ceramide-Enriched Nachtcrème. Deze nachtcrème bevat vijf soorten huideigen ceramiden. De ceramiden helpen bij het herstellen van de natuurlijke huidbarrière door als aanvulling te dienen voor vetstoffen die van nature tussen de huidcellen in zitten. Dit werkt op een andere manier dan vetstoffen die een beschermend laagje bovenop de huid vormen. Dit is de reden dat je huid mogelijk even moet wennen aan deze nachtcrème. We raden klanten aan om een nieuwe product een paar weken de kans te geven zodat je huid kan wennen aan de nieuwe routine. Mocht uiteindelijk toch blijken dat dit product geen match is met je huid dan mag je altijd even contact opnemen met de Customer Care om je retour aan te melden. Vriendelijke groet, Manon - Paula's Choice Customer Care Team

Ik gebruik deze crème al een tijdje. Ik heb wel de indruk dat hij werkt. Hij laat ook echt een hydraterende laag over op jouw huid. De geur is wel even wennen want hij ruikt niet fris. Helaas is hij erg prijzig en zeer snel op en ik heb ook het gevoel dat je er veel van nodig hebt.

Customer care: Hi Stefanie, wat fijn om te lezen dat deze nachtcrème zo fijn hydrateert en goed past bij jou huid. Deze nachtcreme heeft een lichte textuur en bevat vijf verschillende soorten Ceramiden en een blend van anti-oxidanten. Deze ingrediënten helpen de huidbarrière te herstellen waardoor je huid op den duur beter in staat is zelf vocht vast te houden. Wanneer je voorkeur toch uitgaat naar een volle textuur, dan kan je eventueel over een dun laagje van deze nachtcrème het Recovery masker aanbrengen. Vriendelijke groet, Manon - Paula's Choice Customer Care Team

Voor mij één van de fijnste verzorgende en voedende nachtcrème.... Super!
Alleen zo jammer dat deze crème al maandenlang niet te verkrijgen is omdat er geen voldoende voorraad is, Daarom net geen 5 sterren. Deze crème maakt de verzorging voor het eind van de dag helemaal af. Daarbij is de gehele Clinical lijn een waardering waard.

Customer care: Hi Anna, wat leuk om te horen dat deze nachtcrème behoort tot één van je favoriete verzorgingsproducten! Op deze product pagina kan je jezelf aanmelden voor een notificatie om als eerste op de hoogte te zijn wanneer dit product weer op voorraad komt! Vriendelijke groet, Manon - Paula's Choice Customer Care Team

I use it at night 2-3 times a week and I have been using it for 6 months. My dark circles as well as dark spots have lightened. I am not that fond of the smell but it dissipates almost immediately, so no complaints there. I like this cream.

Hi Manvi, thank you for your review. I'm happy to hear that this moisturiser has made such a difference for both your dark circles and dark spots! All of our products are 100% colourant and fragrance-free. What you smell is the scent of one or more of the ingredients (raw materials) used for the production of this product, which can vary from batch to batch. It indeed dissipates quickly, so luckily this doesn't keep you from using the product. Best wishes, Chantal - Paula's Choice Customer Care Team

Ik had er hoge verwachtingen van maar helaas. Ik gebruik de retinol van deze lijn dus ik dacht dat ik deze creme vast ook een winnaar zou zijn. Helaas zat ik de volgende ochtend onder de blaasjes en vlekjes. Ik heb 'm 3 dagen later nogmaals geprobeerd maar helaas dezelfde reactie. Jammer dat ik niet eerst de tester heb kunnen kopen waardoor ik niet zo'n groot bedrag hoefde uit te geven aan iets wat niet helpt.

Customer Care: Het spijt ons te horen over je ervaring, het is mogelijk dat je een allergische reactie hebt ervaren, wij zullen contact met je opnemen.

Ik ben vaste klant bij paulas choice en altijd heel erg tevreden. Wou een investering doen in een dure nacht crème ..ik gebruik hem nu een week en vind hem niet erg voedend, ik moet veel gebruiken om het gevoel te hebben dat er genoeg opzit. Merk tot nu toe ook weinig verbetering/ verschil...Voor mij blijft dit bij een eenmalige koop

Deze creme is verslavend! De geur, een beetje drop-achtig, vind ik al heerlijk, maar wat een lekker produkt! Ik merk na een aantal maanden dat het ook echt de slappere huid wat verstevigd. Ik gebruik dit ook rond de ogen. De hoeveelheid retinol kan ik daar prima verdragen en de huid knapt er van op. Ik moet altijd lachen om reviews waarin mensen na twee weken een creme afserveren omdat het niets zou toevoegen. Ik zou zeggen: mensen heb eens geduld. Je huid veranderd niet in zo'n korte tijd. Dat geldt ook voor deze nachtcreme.

Customer care:
Hartelijk dank voor je feedback. We waarderen dit zeer en zijn blij te horen dat de Clinical Ceramide-Enriched Nachtcrème je goede resultaten geeft. We hopen dat we je kunnen blijven helpen om de beste huid van je leven te krijgen en te behouden.

Tot nu toe de beste crème die ik heb gebruikt van Paula's choice. En ik heb er al best veel geprobeerd. Dit is wel een blijvertje, doet wat het beloofd. Mijn gevoelige huid reageert hier heel goed op en mijn gezicht is heerlijk glad s ochtends! Ik heb deze in combinatie met het resist retinol serum.

Together with the eye cream, they are the best products from Paula's Choice. Indeed you must combine them with a hyaluronic serum for longer hydration still I'm very happy as my combination skin looks much better. I also experienced very good result in combination with niacinamide serum or retinol. No oily appearance on my T zone, visible lifting effect and improvement of skin texture.

Ik had een probeerchachet van dit product en was aangenaam verrast. Ik heb een oudere, gemengde huid en merk dat deze creme goed voedt. De huid voelt zacht en is voelbaar gevoed. De textuur is niet zwaar en smeert goed in de huid. Fijn dat het in een luchtdichte verpakking wordt aangeboden. Wel vind ik de prijs aan de hoge kant.

In eerste instantie was ik niet zo enthousiast, omdat het minder voedend aanvoelt dan mijn gebruikelijke nachtcreme. Tijdje weggelegd en toen weer begonnen, ik moet zeggen dat mijn huid de volgende dag lekker glad aanvoelt en frisser oogt.

Ik heb het gebruik van deze creme rustig opgebouwd, omdat ik eerder heb gemerkt dat mijn huid niet zo goed reageert op retinol. Helaas kreeg ik door de retinol in deze creme ook een onrustige huid. Als er geen retinol in zou zitten, zou deze creme wel ideaal zijn geweest, omdat ik het idee had dat mijn huid goed gehydrateerd werd. Ik heb de creme uiteindelijk aan een vriendin gegeven die geen last heeft van retinol en die was heel tevreden over de creme.

Ik kreeg een staaltje bij vorige bestelling, direct uitgetest en ik zag na één keer gebruik een lichte verbetering in teint, grove poriën en fijne lijntjes. Meteen de Ceramide-enriched firming moisturizer besteld. Het resultaat is na 14 dagen gebruik is heel goed zichtbaar, een heldere teint, veel minder fijne lijntjes en veel minder grove poriën. Ik ben supertevreden over dit product! Omdat de structuur een beetje vet lijkt vreesde ik een beetje dat het te vet zou zijn voor mijn huid, maar dringt snel in de huid. Ondanks mijn intolerante huid heb ik niet het minste irritatie gehad met deze nachtcrème. Ik vind de nachtcrème ook heel handig omdat je minder stappen in je avondroutine nodig hebt. Ik ga dit product zeker blijven kopen! Heel fijn product!

Wat een goed resultaat geeft deze crème ! Huid is duidelijk strakker geworden en minder dof. Ik heb de crème 2x per dag gebruikt , in de ochtend na een hyaluronic acid en in de avond na de retinol maar het heeft ook een goed resultaat gegeven . Heel tevreden!!

Helaas valt deze crème me erg tegen, ik had hoge verwachtingen door de promotie van PC. Ik gebruik hem nu ruim twee weken en vind hem niet vol genoeg, ik moet er nog een serum overheen gebruiken om uitdroging van mijn huid te voorkomen. Een simpele crème die de hoge prijs zeker niet waard is.

Customer Care: Wat jammer dat deze crème voor jouw huid niet werkte, gelukkig heb je ook contact gehad met ons team voor advies en gebruik kunnen maken van onze retourregeling.

Zachte creme echter voor de winterperiode niet toereikend voor de nacht. Huid is 's ochtends droger dan na gebruik van bv de Skin Recovery nacht. Dit betekent tevens dat je daarnaast meer dan voldoende moet gebruiken hetgeen een prijzige aangelegenheid wordt.

Lekkere crème. Ik gebruik het na mijn serum en booster en vind het fijn dat ik dan niet het gevoel heb dat ik zoveel lagen op mijn huid heb. Trekt lekker snel in.. ik gebruik hem om de avond, de andere avonden een rijkere nachtcrème. (Ik heb een gecombineerde huid)

Ik ben helemaal weg van deze nachtcrème! De luchtige lotion is heel fijn voor een gecombineerde huid; het is voedend genoeg voor mijn droge wangen zonder de t-zone te verstoppen. Mijn huid heeft minder last van irritatievlekjes en de beginnende lijntjes op mijn voorhoofd zie ik steeds minder. Dit wordt mijn favoriete nachtcrème!

Ik heb deze crème eerst twee weken gebruikt alvorens ik met een review kom. Mijn verwachtingen waren hoog, gezien het mooie ingrediëntenlijstje. Voor mijn huid, normaal tot gecombineerd schiet deze crème echt tekort. Te weinig vochtverzorging en comfort, je hebt er echt een serum en eventueel een booster bij nodig!
Dus zeker geen complete crème! Helaas voor mij zijn geld niet waard.

helaas niet voor mij. Na enkele weken gebruik geen verschil, sterker nog, ik kreeg er een vlekkerige huid van. Gezien het prijskaartje een miskoop geweest.

Tja, ik had hogere verwachtingen van dit product. Ondanks mijn gecombineerde huid, voelt dit product te licht aan. Alsof het net niet genoeg voeding geeft. 6 pompjes heb je echt nodig. Zuinig is het dus niet mensen! Je zult het dus moeten combineren met een serum. In dit geval een MUST dus. Er zijn betere producten in het assortiment, maar dan wel voor mijn huidtype.

Fantastische nieuwe luchtige crème die alle top ingrediënten voor een ouder wordende huid in zich heeft. Voelt heerlijk zacht aan. De dispenser is ook fijn. Hij is wel wat duurder dan ik gewend ben, maar ik vind het de prijs zeker waard!

More reviews Less reviews

Ingredients

What are the key ingredients?

Ceramides
Major components of skin's outer layers, necessary for their water-retention capacity and provide replenishing and restoring benefits.

Retinol
Powerhouse ingredient that can improve a variety of skin concerns, most related to visible signs of ageing: It's skin-restoring, wrinkle-smoothing, an antioxidant and improves sun damage.

Vitamin C
One of the most well-researched vitamins for skin, shown to improve the look of multiple signs of ageing, brighten uneven skin tone, as well as provide skin-restoring and soothing benefits.

Ingredients:
Aqua, Sodium Ascorbyl Phosphate (vitamin C/antioxidant), Cetyl Alcohol (emollient), Ascorbyl Glucoside (vitamin C/antioxidant), Neopentyl Glycol Diheptanoate (texture enhancer), Potassium Cetyl Phosphate (emulsifier), Glyceryl Stearate (texture enhancer), PEG-100 Stearate (texture enhancer), Glycerin (hydration), PEG-12 Glyceryl Dimyristate (texture enhancer), Bis-Diglyceryl Polyacyladipate-2 (emollient), Dimethicone (hydration), Glyceryl Ascorbate (vitamin C/antioxidant), Tetrahexyldecyl Ascorbate (vitamin C/antioxidant), Retinol (skin-restoring), Ceramide NP (skin-replenishing ingredient), Ceramide NS (skin-replenishing ingredient), Ceramide AP (skin-replenishing ingredient), Ceramide EOP (skin-replenishing ingredient), Ceramide EOS (skin-replenishing ingredient), Cholesterol (skin-replenishing ingredient), Caprooyl Phytosphingosine (skin-replenishing ingredient), Caprooyl Sphingosine (skin-replenishing ingredient), Squalane (emollient), Punica Granatum Fruit Extract (pomegranate antioxidant), Pongamia Glabra Seed Oil (non-fragrant plant oil), Glycyrrhiza Glabra (Licorice) Root Extract (skin-soothing), Vitis Vinifera (Grape) Seed Extract (antioxidant), Tocopheryl Acetate (vitamin E/antioxidant), Carnosine (skin-restoring), Panthenol (hydration), Sodium PCA (skin-replenishing), Butylene Glycol (texture enhancer), Sodium Citrate (pH adjuster), Ceteareth-25 (emulsifier), Polysorbate 20 (emulsifier), Ethylhexyl Stearate (texture enhancer), Sodium Hydroxide (pH adjuster), Trideceth-6 (emulsifier), Propyl Gallate (antioxidant), Ammonium Acryloyldimethyltaurate/VP Copolymer (texture enhancer), Sodium Polyacrylate (film-forming agent), Behenic Acid (texture enhancer), Disodium EDTA (chelating agent), Phenoxyethanol (preservative), Caprylyl Glycol (preservative), Chlorphenesin (preservative).

FAQ

What is the CollagenSupport Complex?

The CollagenSupport Complex combines the skin-replenishing properties of ceramides with retinol for strengthening support and several forms of vitamin C to help defend against environmental stressors and promote firmer skin. Together, this complex provides the essential building blocks for skin to renew itself and restore its natural barrier.

How do Clinical products differ from Resist or other Paula's Choice product categories?

Clinical products offer more enhanced, targeted formulations for specific concerns such as advanced signs of ageing, dehydration or sun damage. Ultimately, it's a matter of what will suit your needs best. It's perfectly fine to assemble an anti-ageing routine that mixes Resist, Clinical and any other Paula's Choice Skincare line that addresses your skin type and concerns.

What are ceramides?

Ceramides are a natural, fundamental part of skin that helps maintain precise levels of hydration, allowing skin to have a smooth, even surface. They're critical for holding skin together (think bricks and mortar), protecting it from dehydration, signs of sensitivity and environmental damage that chips away at skin's protective surface. Ceramides are the most abundant part of skin, making up over 50% of its composition.

As we age, the level of ceramides in our skin begins to decrease. As a result, the skin barrier weakens, which can lead to symptoms such as irritation, dryness, and redness. Skincare products that contain ceramides (and other skin beneficial ingredients) can help improve these symptoms.

Can it be used around the eyes?

This moisturiser can be used on the cheekbones and the under eye area. Avoid your lips, eyelids, lash lines and the corners of the eyes, as these areas are a bit more sensitive and the retinol in the product might cause irritation in these areas.

Is this product suitable for rosacea-prone or sensitive skin?

This moisturiser is suitable for rosacea-prone and sensitive skin. In fact, as we age, the level of ceramides in the skin decreases. As a result, the skin's barrier weakens which can lead to things like irritation, dryness and redness. Ceramides along with other skin replenishing/soothing ingredients can help reduce these concerns. Because this product contains retinol, people with rosacea-prone or sensitive skin should start with applying the product 2-3 times per week. Allow the skin to acclimate and then increase as needed/desired.

How does it differ from Clinical Ultra Rich Moisturizer?

Clinical Ceramide-Enriched Firming Moisturizer is an anti-ageing hero. It has our unique CollagenSupport Complex with hydrating ceramides to fight fine lines and wrinkles, skin-restoring retinol to improve firmness and antioxidant vitamin C to leave skin more radiant. A lightweight lotion to tackle advanced signs of aging.
Clinical Ultra Rich Moisturizer also contains anti-ageing ingredients but is more nourishing. It is formulated with replenishing ingredients that strengthen the skin's barrier to prevent moisture loss and help skin to repair itself. This rich cream helps very dry and eczema-prone skin feel soft and smooth again.
Research
Nutrients, August 2017, ePublication International Journal of Cosmetic Science, May 2017, pages 824-834 Journal of Cosmetic Dermatology, December 2016, pages 549-558 Skin Pharmacology and Physiology, June 2015, pages 1,501-1,509 Journal of Investigative Dermatology, May-June 2016, issue 1—3, pages 279-287 Journal of the American Academy of Dermatology, May 2014, pages AB26; and November 2012, pages 1,103–1,024 Journal of Ethnopharmacology, November 2013, pages 395-420 Indian Dermatology Online Journal, April-June 2013 pages 143-146 Dermatologic Therapy, May 2007, pages 606–612 Clinical Interventions in Aging, 2006, pages 327–348