https://www.paulaschoice.nl/en/clear-regular-strength-travel-kit-bundleclearregtrial.html
Clear Regular Strength Trial Kit
The travel kit works to unclog pores, prevent breakouts and fight blackheads and redness.

Skin Type:

Combination skin, Oily skin

Concern:

Breakouts , Blackheads , Enlarged pores

Ingredients:

Avobenzone , Panthenol (Vitamin B5) , Salicylic Acid/BHA

View all
Remove from wishlist
Add to Wishlist
Product out of stock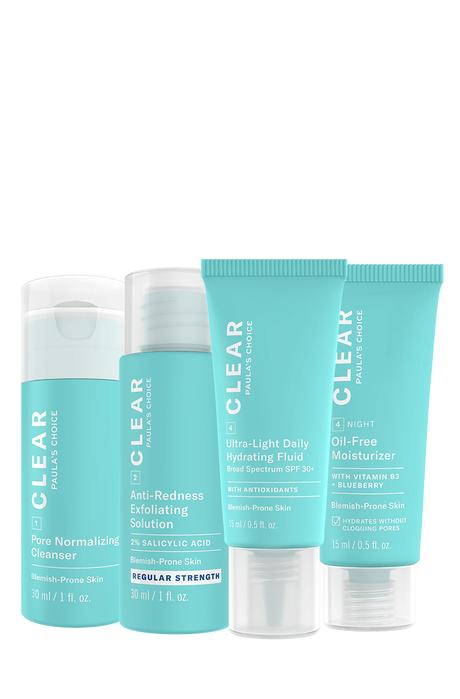 Clear Regular Strength Trial Kit
This product is sold out at the moment. Fill in your email address below and we'll gladly send you an email as soon as it is back in stock!
60 day money-back guarantee
Safe payments
What does it do?

Cleanse, exfoliate and protect: the fastest way to smooth skin

The Clear Regular Travel Set helps in the battle against breakouts, blackheads and redness. Try these mini's 2 weeks long and discover the best skin of your life. This set includes a facial cleanser, a BHA exfoliant, a day moisturiser with SPF and a nighttime moisturiser.

Key Features

Fights breakouts and blackheads

Unclogs and visibly refines pores

How to use

First use the cleanser. Then you apply the exfoliant (note: do not rinse). As last step apply the day- or nighttime moisturiser.

Reviews

Thank you for submitting your review! It will be reviewed by our staff before it is posted.

Als ik de exfoliant toevoeg aan mijn huidige routine heb ik een schonere huid.

In eerste instantie gebruikte ik de hele set als routine maar van de cleanser ging mijn huid trekken, de dag crème zorgde ervoor dat mijn huid nog erger ging trekken en de nachtcrème gaf een branderig gevoel.

Echter heb ik wel de grote verpakking besteld van de exfoliant omdat ik daar oprecht blij mee ben en alleen maar positieve dingen over heb te zeggen.

Customer Care: Hallo, hartelijk dank dat je jouw ervaringen met ons hebt gedeeld. Wat jammer dat een aantal producten niet bevallen zijn, we raden je aan contact op te nemen met onze klantenservice voor verder advies.

Mijn dochter van 11 had veel last van puistjes op haar voorhoofd dus ben op zoek gegaan naar een goed product dat helpt maar ook haar nog zo jonge huid beschermt. Clear van Paula's Choice was een goede keus want haar huid is weer gaaf en rustig!! Blijer kon ik mijn dochter niet maken!! Ze gebruikt het nu een week of 3 en gaat nog steeds goed! Dus een echte aanrader!

de producten nu 2 dagen gebruikt met als gevolg gigantische rode bulten op mijn voorhoofd en rondom mijn neus. Voor het gebruik een rustige huid en alleen een vettige t-zone. Helaas nu de omgekeerde wereld. Heb contact opgenomen met de klantenservice via de e-mail.

Customer Care: Het spijt ons te horen van je ervaring en ongemak. Ik zie dat je a contact hebt gehad met onze klanten service.

Eerste week was ik ontzettend tevreden, geen droge huid meer en mijn rode jeuk vlekken waren verdwenen. tot halverwege de tweede week, sinds toen krijg ik op mijn voorhoofd kleine rode bultjes/puistjes. Heel jammer want vond het op het begin een hele fijne set!

Customer Care: Customer Care: Wat jammer om te horen dat deze deze set niet goed bevallen is. We vragen je om even contact op te nemen met onze klantenservice!

Ik ben ontevreden met deze set omdat het helaas niet helpt. ik heb een mail gestuurd voor de 60 dagen geld terug garantie maar ik krijg geen reactie.

Customer Care: Het spijt ons te horen dat deze set niet aan je verwachtingen heeft voldaan. Goed dat je hierover contact met onze klantenservice hebt gezocht! Het is momenteel erg druk, waardoor het kan zijn dat je wat later reactie krijgt dan je gewend bent. Ons team zal je mail direct oppakken!

Ik heb de miniset aangeschaft. Al drie dagen een enorm droge huid met schilfers. Erg jammer voor dat geld.

Customer Care: Hartelijk dank voor het delen van jouw ervaring, en het spijt ons te horen dat dit product niet voldeed aan je verwachtingen. We raden je aan contact op te nemen met de klantenservice voor verder advies.

Het tweede set wat ik heb besteld bij paula's choice. Helaas werkt ook dit product niet voor mij. Mijn uitbraken worden erger en mijn huid wordt roder. Bewust een mini bestelt om te testen, maar ook deze staat nu in de kast. Zonde van het geld. Ik baal enorm.

Customer Care: Het spijt ons te horen dat de producten niet het gewenste resultaat hebben opgeleverd. We raden je aan om even contact op te nemen met onze klantenservice!

Ik gebruik deze set nu 6 dagen, normaal heb ik een vette huid maar nu is mijn huid super droog, en na het gebruik van de reiniger en exfoliant trekt mijn huid heel erg. Helaas is deze set niet goed voor mijn huid.

Customer Care: Hartelijk dank dat je jouw ervaringen met ons hebt gedeeld. Wat jammer dat het product niet bevallen is. Ik zie dat je hierover al contact hebt opgenomen met onze klantenservice.

Al heel lang aan het tobben met mijn huid en bijna alle middelen al geprobeerd (ook van paula's choice) maar ik merk dat de clear exfoliant regular strenght niets doet net als de nacht en dagcreme en ik de volgende ochtend wakker word met een een (nog meer) onzuivere huid.
Helaas dus weggegooid geld van deze set. Heb eerder de clear exfoliant extra strength gehad en deze deed zeker wel meer en pakte meer de problemen aan icm de clear treatment, wel werd mijn huid hier iets droger van maar pakte de problemen beter aan. Helaas moet ik dus weer mn portomonnee opentrekken om deze beide alsnog weer te bestellen.

Customer Care: Wat jammer om te horen dat de producten niet bevallen zijn! Als je contact opneemt met onze klantenservice, kun je gebruik maken van onze ''60-dagen-niet-goed-geld-terug'' garantie.

Vanaf de tweede dag dat ik de producten gebruik merkte ik dat mijn huid trekkerig word. Daarbij is mijn t-zone ineens gaan glimmen. Hier had ik nooit last van. Wel merk ik dat het je huid goed reinigt en schoner oogt. Ik geef het 4 sterren omdat het goed werkt alleen niet geschikt is voor mijn huid helaas..

More reviews Less reviews

Ingredients

What are the key ingredients?

Avobenzone
Synthetic sunscreen ingredient, provides broad-spectrum sun protection and is one of the most widely used UVA filters in the world.

Panthenol (Vitamin B5)
Panthenol is a humectant because of its ability to attract and hold moisture. It improves the look and feel of skin.

Salicylic Acid/BHA
Primarily an exfoliant, helps to shed dead skin on the surface and inside the pore, therefore effective for reducing breakouts and blackheads. It also has soothing properties.

Please check the individual products for ingredient listings.