https://www.paulaschoice.nl/en/clear-extra-strength-anti-redness-exfoliating-solution-salicylic-acid-full-size-6211.html
Clear Extra Strength 2% BHA Exfoliant
Liquid exfoliant quickly penetrates deep inside pores, effectively clearing breakouts.

Skin Type:

Combination skin, Oily skin

Concern:

Breakouts , Blackheads , Enlarged pores , Redness

Ingredients:

Green Tea Extract , Methylpropanediol , Salicylic Acid/BHA

View all

Routine:

Exfoliate
Product out of stock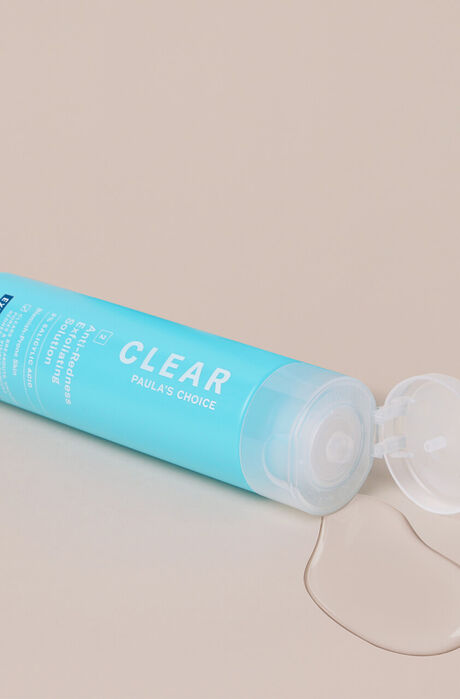 Clear Extra Strength 2% BHA Exfoliant
Full size
This product is sold out at the moment. Fill in your email address below and we'll gladly send you an email as soon as it is back in stock!
60 day money-back guarantee
Safe payments
What does it do?

The clear solution to breakouts and blackheads.

Keep stubborn breakouts and blackheads at bay with this 2% salicylic acid (BHA) exfoliant. The leave-on formula penetrates deeper inside pores, clearing breakouts and reducing inflammation without the use of irritating ingredients. Its silky fluid texture leaves skin feeling soft and hydrated.

Key Features

Soft on skin, hard on breakouts

Fast-absorbing liquid formula

How to use

Lightly soak a cotton pad and gently apply over the entire face and neck, including the eye area (avoid lash line and eyelids). Do not rinse. At first, apply every other day and note skin's response. Then use up to twice daily. For daytime, follow with a broad-spectrum sunscreen rated SPF 30 or greater.

Reviews

Thank you for submitting your review! It will be reviewed by our staff before it is posted.

Deze exfoliant gebruik ik als mijn huid erg onrustig is. Ik was mijn handen goed en verdeel het dan met mijn vingers over de plekken die onrustig zijn. Eerst gebruikte ik een watten schijfje maar ik vond dat er veel product 'verdween' en dat vind ik zonde. Soms prikt het even maar het werkt goed tegen onzuiverheden.

Ik heb de Clear Extra Strength 2% BHA Exfoliant een aantal weken 2x per dag gebruikt (omdat dit werd aangegeven op de achterkant van het product) en het heeft mijn huid veel goeds gedaan. Ik heb enorm last van hormonale acne in mijn nek en op mijn kaaklijn en dit is dankzij deze exfoliant volledig verdwenen. Echter, begin ik nu wel last te krijgen van een schilferige huid op plekken waar ik doorgaans geen acne heb. Dus dit product is zeker een aanrader, maar ik ga het alleen nog gebruiken als acnebestrijder. Helaas moet ik nu wel op zoek naar een extra moisturizer.

Customer Care: Hartelijk dank voor je review! Wanneer je huid droger wordt van de exfoliant, kun je het gebruik het beste even afbouwen naar 2-3 keer per week. Neem gerust even contact op met onze klantenservice voor verder advies.

Heeft bij mij heel goed geholpen tegen puistjes

Ik ben superblij met de exfoliant! Nu ik het een maandje gebruik ongeveer kan ik echt zien dat mijn huid er rustiger van wordt. Het voelt lekker koel aan op je huid en ik merk dat ik steeds minder last heb van een glimmend voorhoofd overdag. Het enige jammere is dat het schroefdraad van de dop van het flesje niet goed afsluit. Daardoor kan ik het flesje niet ergens mee naartoe nemen omdat het lekt, en als ik hem kantel om wat van het product op een watje te doen loopt er altijd een beetje langs. Best zonde! Als daar iets aan gedaan kan worden door Paula's choice zou dit nog een fijner product zijn!

Customer Care: Hallo, hartelijk dank voor je feedback. We zoeken voortdurend naar manieren om onze producten te verbeteren. We zullen de informatie doorsturen naar het productontwikkelingsteam. Helaas is het bij een geopend product bij sommige verpakkingen moeilijk te voorkomen dat het tijdens vervoer gaat lekken, met name wanneer de flacon niet rechtop kan blijven staan. Je kunt overwegen om voor je vakantie een reisverpakking (mini) aan te schaffen of om een deel van de inhoud van een full size product over te gieten in een speciale reisflacon.

Helaas werd ook mijn huis door dit product alleen maar slechter. De nachtcreme van deze lijn is wel fijn, alleen hij ruikt een beetje vreemd.. helaas ga ik toch op zoek naar een ander merk.

Customer Care: Hallo, hartelijk dank dat je jouw ervaringen met ons hebt gedeeld. Wat jammer dat het product niet bevallen is, we raden je aan contact op te nemen met onze klantenservice voor verder advies.

Niks veranderd roodheid werd zelfs erger :( en op sommige plekken ook meer puistjes..

Customer care:
Hi, vervelend dat je niet het gewenste resultaat ziet! We hebben je een berichtje gestuurd om je verder te helpen.

Na alwéér bij mijn huisarts te zitten met mijn huidproblemen (flinke onderhuidse ontstekingen, acne, roodheid), en zonder dat hier iets uitkwam, heb ik deze exfoliant besteld. Het hielp goed tegen de grotere ontstekingen in het begin, deze werden iets minder maar duurden wel veel langer tot zij naar boven kwamen of weg gingen. Uit eindelijk heb ik het product tot afgelopen week gebruikt, tot op het punt dat ik mij mentaal niet goed meer voelde en onzeker was over alle rode plekken en heftige acne. Ik ben er nu vier dagen mee gestopt en mijn huid is nu al zo erg opgeknapt!

Kortom: door alle goede ervaringen op het hele internet was ik ervan overtuigd dat dit ook voor mij werkte. Een maand verergering is normaal, maar daarna moet je even voor jezelf kijken of je niet overgevoelig bent. Wel zonde, gezien ik nu niet meer in de geld terug garantie val, dus een tip van mij!

Customer care:
Hallo, hartelijk dank dat je jouw ervaringen met ons hebt gedeeld. Wat jammer dat het product niet bevallen is, we hebben contact met je opgenomen om je verder te assisteren.

Nadat ik de Clear Extra Strenght lijn in mini formaat had besteld om te testen en hier erg tevreden over was, heb ik de grote set besteld. Helaas werd mijn huid na 2 maanden gebruiken steeds slechter, waarbij ik juist meer last kreeg van puistjes. Toen ik een week weg was en de exfoliant was vergeten mee te nemen, kwam ik er bij toeval achter dat de exfoliant hier helaas het probleem voor leek te zijn. Mijn huid knapte op nadat ik gestopt ben met het gebruiken van de exfoliant. Op een later moment opnieuw geprobeerd om het product te herintroduceren in mijn routine, maar helaas met hetzelfde effect. Wellicht dat een andere exfoliant een betere match gaat zijn met mijn huid. Ik ben wel super tevreden over de andere producten uit de Clear Extra Strenght lijn en jullie oogcrème.

Superfijne exfoliator. Ik gebruik dit product nu al meer dan een jaar en merk echt duidelijk verschil. Veel minder last van puistjes en rode vlekjes. Echt een aanrader!

Deze extra strenght exfoliant werd mij geadviseerd. Helaas na zorgvuldig opbouwen heb ik het idee dat het mijn huid alleen maar onrustiger maakt. Ik gebruik het nu 1x in de week. Ik denk dat ik beter voor de regualar strenght had kunnen gaan. Daarnaast kan ik de fles niet meenemen in mijn toilettas aangezien de dop erg lekt. Jammer want hoor goede verhalen over dit product!

Customer Care: Hallo, hartelijk dank dat je jouw ervaringen met ons hebt gedeeld. Wat jammer dat het product niet bevallen is, we raden je aan contact op te nemen met onze klantenservice voor verder advies.

Heel blij met dit product. Zorgt ervoor dat ontstekingen sneller rustig worden. Helaas de laatste verpakking maar half kunnen gebruiken omdat de verpakking ontzettend heeft gelekt in mn wastafellade.. Op deze manier wordt 't wel een heel duur product

Doet z'n werk goed. Heb veel minder last van grote rode ontstekingen. Wat ik wel jammer vind is dat er een vettig laagje op mijn huid achterlaat. Heb twee verschillende flesjes en heb het bij beide helaas. Ik gebruik niet teveel product. Tips zijn welkom :)

Customer Care: Fijn dat jouw huid verbeterd is! De Clear 2% BHA Regular Strength heeft een lichtere textuur, mogelijk vind je deze exfoliant prettiger aanvoelen.

Goed product! Alleen niet geschikt om mee te reizen omdat de dop helaas lekt.

Ontstekingen zijn veel minder geworden, huid is veel egaler. Heel tevreden.

Superblij met deze exfoliant! Het is onvoorstelbaar hoe mijn huid de afgelopen maanden is verbeterd. Eerder heel veel last van ontstekingen en een glimmend gezicht maar dat is stukken minder. Nooit gedacht dat het dit resultaat zou hebben. Ik kan het iedereen aanraden!

Ik gebruik sinds zes weken deze exfoilant icm de Clear Gezichtsreiniger, Resist Toner en Clear SPF 30 dagcreme. En wow, wat heeft dit mijn huid doen veranderen. Normaliter heel veel last van puistjes en grove ontstekingen vooral rond mijn kin en wangen. Mijn huid is nu zoveel rustiger geworden. Ben echt zo blij!

Ik krijg nog wel ooit eens puistjes, maar deze zijn na een dag al vrijwel meteen verdwenen na mijn routine. Dit was voorheen nooit het geval.

Ook is mijn huid minder vet, wat top is!

Heel tevreden over deze exfoliant! ( deze blijkt hetzelfde de zijn als die in het zwarte flesje, maar die specifiek heb ik nog niet gebruikt, altijd deze in het blauwe flesje ) Mijn huid voelt wel wat trekkerig, branderig en ziet er wat rood uit na het direct aanbrengen van dit met een watje, maar na een paar minuten verdwijnt dit wel. Ook levert dit gewoon echt resultaat op door mijn huid raar genoeg toch te kalmeren. Dus tevreden!

Ik gebruik deze lotion al een paar jaar en merk echt veel verbetering: gladdere huid, minder onstekingen, minder puistjes. Echt een aanrader!

Werkt goed, huid is veel egaler en rustiger geworden, pukkels, ontstekingen worden minder

Fijne lotion. Werkt goed voor mijn hormonale acne. Huid ziet er schoon en fris uit. Puistjes zijn verdwenen.

Werkt goed. Huid wordt goed schoon

I got this product in a time when my skin was suffering from a bad hormonal acne, with deep, inflamed pimples plus small white heads all over my chin and cheeks which eventually got also inflamed and painful. I started taking hormonal treatmeant and that helped a lot but this product is awesome. It exfoliates the skin and the next day my face had a nice glow plus the green tea extract calms down the irritation. Its not drying, but I do use hyaluronic acid serum before and I always follow up with a moisturiser.
Dank u wel Paula's choice :)

More reviews Less reviews

Ingredients

What are the key ingredients?

Green Tea Extract
Possesses potent antioxidant and skin-soothing properties and has impressive research in terms of its many benefits for skin, including anti-ageing properties.

Methylpropanediol
Can enhance the absorption of ingredients such as salicylic acid. It also has hydrating properties that can leave a smooth, dewy finish on skin.

Salicylic Acid/BHA
Primarily an exfoliant, helps to shed dead skin on the surface and inside the pore, therefore effective for reducing breakouts and blackheads. It also has soothing properties.

Ingredients:
Aqua, Methylpropanediol (hydration), Butylene Glycol (hydration), Salicylic Acid (exfoliant), Polysorbate 20 (texture-enhancing), Camellia Oleifera (Green Tea) Leaf Extract (skin-soothing/antioxidant), Tetrasodium EDTA (stabilizer), Sodium Hydroxide (pH balancer).

Faq

Good to know before you start using your exfoliant.

It is best to gradually build up use of a BHA product. Start by using your exfoliant once every other day and then increase usage to once or twice daily based on your skin's response. You need to experiment a bit to see what suits your skin best. During the day, always use a moisturiser with a broad-spectrum sunscreen rated SPF 30 or greater. Your skin will in fact be slightly more sensitive to sunlight when using an exfoliant, so the chance of sunburn and sun damage is slightly higher.

Is there another Paula's Choice product which is similar to the Clear Extra Strength Anti-Redness Solution Exfoliating 2% BHA?

Our Clear Extra Strength Anti-Redness Solution Exfoliating 2% BHA has the same formula to our Skin Perfecting 2% BHA Liquid Exfoliant.

What is the difference between the Clear Regular Strength and Extra Strength Anti-Redness Exfoliating Solution?

The difference between the Clear Regular Strength and Extra Strength exfoliant is mainly in the texture and the rate of absorption. While both products contain 2% salicylic acid, the Regular Strength has an lighter, water-like formula and is milder with a slightly higher pH than the Extra Strength. The Extra Strength penetrates faster into the pores and has a lower pH which effectively battles stubborn break outs.
Research
Journal of European Academy of Dermatology and Venerology, September 2016, issue 9, pages 1480-1490 Archives of Dermatology, August 2000, issue 8, pages 989-94 Journal of Clinical, Cosmetic and Investigational Dermatology, 2015, volume 8, pages 455-461 Seminars in Cutaneous Medicine and Surgery, September 2008, issue 3, pages 170-6