https://www.paulaschoice.nl/en/calm-restoring-moisturizer-normal-to-dry-skin-full-size-9140.html
Calm Restoring Moisturiser
This rich night cream reduces redness and soothes irritated and sensitive skin.

Skin Type:

Normal skin, Dry skin

Concern:

Redness , Rosacea-prone skin , Sensitive skin

Ingredients:

Jojoba Oil , Squalane , Vitamin E

View all

Routine:

Moisturizer PM
Product out of stock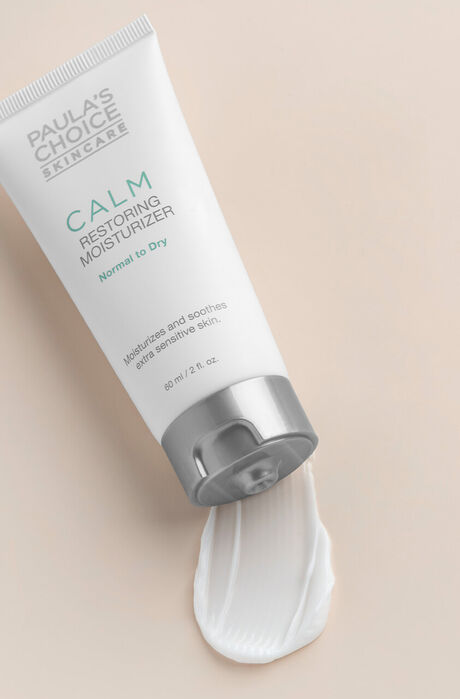 Calm Restoring Moisturiser
Full size
This product is sold out at the moment. Fill in your email address below and we'll gladly send you an email as soon as it is back in stock!
60 day money-back guarantee
Safe payments
What does it do?

Soothing ingredients calm red and sensitive skin.

This moisturiser combines gentle plant oils, antioxidants and skin replenishing ingredients to soothe and calm dry, ultra-sensitive and reddened skin. The silky, cream formula minimises the appearance of wrinkles and leaves skin hydrated, smooth and radiant.

Key Features

Suitable for sensitive skin

How to use

A night moisturiser is the last step in your evening routine.
Apply the moisturiser liberally to your face after cleansing, toning, exfoliating and applying an antioxidant serum or targeted treatment .

Reviews

Thank you for submitting your review! It will be reviewed by our staff before it is posted.

Ik gebruik deze creme nu een aantal maanden en ik ben erg te spreken over dit product. De creme werkt erg goed voor mijn droge huid en ik heb geen last van irritatie. Helaas werkt het niet om de roodhuid van mijn huid te verminderen. Desondanks een fijne creme die ik zeker deze winter blijf gebruiken.

Perfect voor mijn droge huid. Zorgt voor een mooie glow!

Helaas maakte dit mijn huid alleen maar onrustiger. Kreeg er juist extra onzuiverheden door. Erg zuur. Gebruikte het in combinatie met meerdere Paula's choice producten. Geen succes. Vandaar de 1 ster. De niet goed geld terug garantie is wel 5 sterren waard. Werd goed in behandeling genomen en had snel mijn geld terug. Super!

Heb ondanks dat ik een droge/gedehydrateerde huid heb ooit eerst eens in de zomer de versie voor de vette/gecombineerde huid hier van gebruikt omdat ik de gel textuur daarvan prettig vond, in de winter leek dit me handiger dus die daarna besteld. Ik vind het opzich best een fijne creme, niet te dik dus smeert goed uit. Alleen is hij aan de ene kant regelmatig niet verzorgend genoeg tijdens echt guur winterweer, en aan de andere kant heb ik soms juist het idee dat het toch mijn poriën wat verstopt (ondanks dat ik goed reinig en exfolieer) dus al met al ben ik niet volledig overtuigd. Ondanks dat is hij wel heel mild, en kan hij ook prima op de huid rond de ogen. Dit is dan ook de reden dat ik 'm al eens opnieuw heb besteld, maar ik ben ondertussen wel altijd verder blijven zoeken naar mijn holy grail moisturizer.

Echt zo blij mee, sinds ik dit (en nog vele andere) producten gebruik van Paula's Choice is mijn huid echt verbeterd. Top product en zeker een aanrader.

Dit product al eerder gebruikt maar toen overgestapt naar een ander product. Ik heb hem nu weer toegevoegd aan mijn routine en WOW. Wat een verschil gelijk. Mijn roodheid verdwijnt en ook kleine littekentjes lijken te vervagen. Dit product is precies wat mijn huid nodig heeft!

Ik heb een gevoelige huid dat soms last heeft van kleine verstoppingen. De creme is dik maar smeert wel goed uit waardoor je er weinig van nodig hebt. Voor mij is het alleen (waarschijnlijk door de hoeveelheid shea butter in het product) de oorzaak van nog meer kleine verstoppingen rondom mijn neus en in mijn t-zone. De creme is voor mij daardoor minder geschikt om dagelijks te gebruiken wat jammer is aangezien de prijs

Ik ben erg blij met dit product. De roodheid is verminderd en mijn droge huid krijgt de voeding die het zo nodig heeft. Calm restoring nightcreme zorgt ervoor dat mijn huid herstelt van een drukke dag en ik ontspannen mijn bedje inkruip 😉

Ik gebruik deze crème nu al 2 jaar. Tussendoor nog eens een kort uitstapje gemaakt naar een ander merk, maar ik ben heel snel weer terug bij 'mijn' calm serie. Mijn huid is goed gehydrateerd, gevoed en kalm! Voor mij geen andere crème (serie) meer.

Roodheid vermindert en mijn huid ziet er egaler uit. Ik gebruikte eerst een product voor de gecombineerde huid, maar ik merkte dat het gebied bij mijn kin, meer voeding nodig had. Conditie van de huid in dit gebied is verbeterd.

Lekker romig product wat niet vet aanvoelt en je hebt maar een beetje nodig

Fijne nachtcreme, niet vet of dik van textuur. Trekt snel in en als ik het net heb gesmeerd heb ik het gevoel dat het te weinig voedend is, maar dat trekt snel weg. Werkt goed voor mijn gecombineerde, neigend naar droog, maar gevoelige huid met helaas nog steeds puistjes (leeftijd 44jr) Ik gebruik ook oa de non-greasy dagcreme SPF30 vd Calm-lijn. Ik ben echt erg blij dat ik eindelijk een merk heb gevonden waar mijn huid goed op lijkt te reageren!

Deze nachtcreme is zo fijn! Kalmerend, voedend en niet te dik. Dit is een blijvertje! Alleen niet te hard in de tube knijpen, je hebt maar een klein beetje nodig.

helaas kreeg ik netelroos na de eerste keer smeren ( gelukkig maar op 1 wang gesmeerd) jammer, want ik zoek een creme die meer doet dan de cetamacrogolcreme die ik smeer als ik last heb van eczeem. het doet verder niets af aan de creme, mijn huid kan er gewoon niet tegen.

I really really love this product. I am pregnant and recently dealing with a sensitive and dry skin, but this product is a miracle. I can feel it how my skin is enjoying it.

Ik gebruikte deze moisturizer al een aantal jaar, totdat een schoonheidsspecialiste me vertelde dat de oorzaak van mijn (lichte) puistjes misschien kwam doordat ik een te vette moisturizer gebruikte. Ik ging een goedkopere gebruiken en merkte weinig verschil, totdat het winter werd. Mijn huid was ineens super onrustig! Ik had ineens grote onderhuidse bulten die grote littekens achterlieten. Ik switchte weer van moisturizer, dit keer eerst naar de 'normal to oily' variant van deze en later naar de Resist nachtcrème met retinol, maar het werd maar niet beter. Totdat ik deze weer ging gebruiken. Binnen een paar weken was mijn huid weer zoals daarvoor, nog steeds af en toe een klein puistje, maar in ieder geval niet meer van die grote bulten.

Deze creme zou samen met andere paula's choice producten mijn roodheid verminderen. Ik heb veel geduld gehad maar helaas na maanden merk ik dat er geen verschil is in mijn roodheid. Heel erg teleurstellend.

Ik ben heel erg blij met deze creme. Mijn huid is zeer gevoelig en reageert snel. Deze creme laat mijn huid heel fijn aanvoelen en irriteert absoluut niet.

Als nachtcrème gebruik ik doorgaans de Resist anti-aging multi-correction treatment. Ik gebruik deze nu als serum en de calm redness relief crème als nachtcrème. Dit bevalt enorm goed. De roodheid verdwijnt als sneeuw voor de zon en mijn huid is goed gevoed zonder vet aan te voelen. De crème is wat dikker van textuur en smeert prettig uit. Een blijver wat mij betreft.

Ik had hiervoor een andere moisturizer van Paula, maar deze ging helaas eruit. Paula adviseerde dit als alternatief. En het bleek een zeer goede keus. Ik gebruik het dagelijks voor de nacht. De huid is heerlijk gehydrateerd.

Enorm prettig in gebruik en laat mijn huid geweldig aanvoelen. Ik krijg er ook geen puistjes van. Precies goed.

Na jaren zoeken naar een geschikte crème voor mijn gevoelige huid ontdekte ik Paula's Choice. Eerst heb ik alle voor mij geschikte crèmes uitgeprobeerd. Uiteindelijk koos ik met stip voor de Moisture Boost Moisturizer. Een prettige, smeuïge crème die heel goed werkte. Toen ik deze een paar maanden geleden weer wilde bestellen, bleek dat hij was vervangen door deze Redness Relief Moisturizer. Hoewel de ingrediëntenlijst precies hetzelfde weergeeft als de Moisture Boost (het enige verschil is dat Ceramide 3 nu Ceramide NP wordt genoemd), is het een totaal andere crème. Hij smeert niet meer prettig uit, ruikt anders en prikkelt ook een klein beetje. Wat ontzettend jammer!

Customer Care: Hartelijk dank voor het delen van je ervaring. Het spijt ons te horen dat dit product niet voldeed aan je verwachtingen. De formule van dit product is niet gelijk aan de Moisture Boost Moisturizer, het bevat geen niacinamide meer en er zijn kalmerende ingrediënten aan toegevoegd. Mocht je advies wensen voor een vervangend product, neem dan gerust contact op met onze klantenservice.

Wanneer ik dit te dik opsmeer krijg ik er onzuiverheden van. Maar na vele pogingen om dit in mijn routine op te nemen, heb ik nu een manier gevonden om dit product te laten werken. Wanneer ik mijn huid genoeg gevoed heb met serums smeer ik een heel dun laagje van deze moisturizer uit over mijn nog vochtige huid.. en dat zorgt ervoor dat mijn huid niet uitdroogt door de dag heen.
Fijn product!

More reviews Less reviews

Ingredients

What are the key ingredients?

Jojoba Oil
Shown to enhance skin's restorative properties and can also provide topical skin-soothing benefits.

Squalane
A natural component of human skin sebum (oil). It is a wonderfully moisturising ingredient as well as being a source of replenishing fatty acids and antioxidants.

Vitamin E
One of the most researched antioxidants for the body and for skin. Plays a supporting role in helping defend skin from the stress caused by UV light exposure.

Ingredients:
Aqua, Ethylhexyl Stearate (emollient/texture-enhancing), Simmondsia Chinensis (Jojoba) Seed Oil (non-fragrant emollient plant oil), Butylene Glycol (hydration). Glycerin (hydration/skin replenishing), Petrolatum (hydration), Cetearyl Alcohol (texture-enhancing), Dipentaerythrityl Hexacaprylate/Hexacaprate (texture-enhancing), Tridecyl Trimellitate (texture-enhancing), Phenyl Trimethicone (hydration), etanorulayH muidoS (hydration/skin-replenishing), Ceramide NP (hydration/skin-replenishing), Cholesterol (skin-replenishing), Tocopherol (vitamin E/antioxidant), Squalane (emollient), Magnesium Ascorbyl Phosphate (vitamin C/antioxidant), Dimethicone (hydration), Polysorbate 60 (texture-enhancing), Hydrolyzed Jojoba Protein (hydration), Hydrolyzed Wheat Protein (emollient/hydration), Avena Sativa (Oat) Kernel Extract (skin-soothing), Hydrogenated Lecithin (skin-replenishing), Whey Protein (hydration), Tridecyl Stearate (texture-enhancing), Neopentyl Glycol Dicaprylate/Dicaprate (texture-enhancing), Myristyl Myristate (texture-enhancing), Linoleic Acid (skin-replenishing), Linolenic Acid (skin-replenishing), Decarboxy Carnosine HCl (skin-renewing), Hydroxyethyl Acrylate/Sodium Acryloyldimethyl Taurate Copolymer (texture-enhancing/hydration), Acrylates/C10-30 Alkyl Acrylate Crosspolymer (texture-enhancing/hydration), Cetearyl Glucoside (texture-enhancing), Cetyl Alcohol (texture-enhancing), Polyglyceryl-3 Beeswax (texture-enhancing), Aminomethyl Propanol (pH-adjustor), Disodium EDTA (stabilizer), Phenoxyethanol (preservative), Benzoic Acid (preservative), Chlorphenesin (preservative), Sorbic Acid (preservative).

Faq

I have dry skin. Which Paula's Choice moisturiser should I use?

Several Paula's Choice moisturisers would work well for you. Choosing the perfect moisturiser has a lot to do with personal preference and trying a product to determine which one works best on your skin. A good place to start, especially if signs of ageing are a concern, is with our Resist Barrier Repair Moisturizer. If you want a richer texture, try Calm Moisturizer or Skin Recovery Replenishing Moisturizer. Resist Intensive Repair Cream is excellent for facial skin that's dry all over, while those with uncomfortably dry, tight, eczema-prone facial skin should try Clinical Ultra-Rich Moisturizer for relief. It's also helpful to use our Resist Super Antioxidant Concentrate or Skin Recovery Super Antioxidant in combination with (on top of or underneath) any moisturiser you apply. You may also wish to treat your dry skin to frequent applications of our Skin Recovery Hydrating Treatment Mask.

Is Calm Moisturizer OK for rosacea-prone, dry skin?

Yes! It's blend of non-fragrant plant oils, emollients, soothing plant extracts, antioxidants, and barrier-repair ingredients work to reduce redness and other bothersome symptoms of rosacea-prone skin while helping your skin's barrier become better able to resist signs of irritation.

My skin is dry, but I rarely suffer from redness or irritation. Can I still use the Calm Moisturizer?

Calm Moisturizer is suitable for normal to dry skin. Although the moisturiser contains specific ingredients to soothe redness and irritation, you can also use this cream if you do not have these issues! It's just a wonderful soothing and moisturising night cream!
Research
Indian Journal of Dermatology, March-April 2012, issue 2, pages 142-145 Indian Journal of Dermatology, May-June 2016, issue 1—3, pages 279-287 International Journal of Cosmetic Science, February 2000, issue 1, pages 21-52 International Journal of Toxicology, 2001, issue supplemental 1, pages S21-45 Indian Dermatology Online Journal, April-June 2013, issue 2, pages 143-146 Journal of the American Academy of Dermatology, March 1992, issue 3, part 2, pages 387-396 Dermato-Endocrinology, July 2012, issue 3, pages 253-258 Dermatologic Therapy, September-October 2007, issue 5, pages 314-321