https://www.paulaschoice.nl/en/calm-redness-relief-toner-normal-to-oily-skin-full-size/9160.html
Calm Soothing Liquid Toner
Lightweight, ultra-gentle toner calms sensitive skin while providing non-greasy hydration.

Skin Type:

Combination skin, Oily skin

Concern:

Redness , Rosacea-prone skin , Sensitive skin

Ingredients:

Beta-glucan , Boerhavia Diffusa Root Extract , Sea Whip Extract

View all

Routine:

Toner
Variations
Full size 118 ml
Remove from wishlist
Add to Wishlist
Product out of stock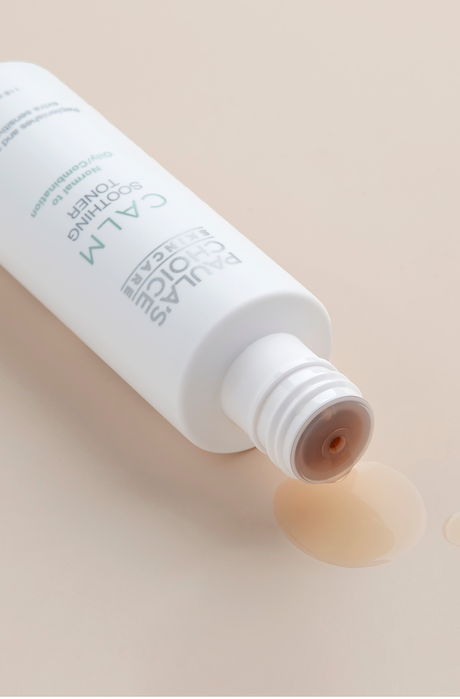 Calm Soothing Liquid Toner
Full size
This product is sold out at the moment. Fill in your email address below and we'll gladly send you an email as soon as it is back in stock!
60 day money-back guarantee
Safe payments
What does it do?

A soothing toner for sensitive skin that's also oily.

This lightweight, ultra-gentle toner has been specially formulated for sensitive, oily skin. It contains a blend of potent antioxidants and soothing, plant-based ingredients to instantly relieve redness and calm sensitive skin while providing non-greasy hydration to replenish skin after cleansing.

Key Features

Suitable for rosacea-prone skin

Strengthens skin's natural barrier

How to use

After cleansing, apply a little bit of toner on a cotton pad to your face and neck. Do not rinse off.
Follow with an exfoliant, antioxidant serum and/or a day or night cream suitable for your skin type. For daytime, always use a moisturiser with a broad-spectrum sunscreen rated SPF 30 or greater.

Reviews

Thank you for submitting your review! It will be reviewed by our staff before it is posted.

Zoals de naam zou doen vermoeden, zou het een kalmerende toner moeten zijn. Dit is echter niet zo, voor zowel mij als mijn zusje reageerde onze huid niet goed op deze toner. Bij het bekijken van de ingrediënten bleek dat het grootste bestanddeel echter helemaal niet zo zacht is.
De toner voor een droge huid was voor ons beide wel een goed product, jammer dat bij dit product de plank is mis geslagen. Zonde van het geld

Customer Care: Het spijt ons te horen van jullie ervaring en ongemak. Hoewel Paula's Choice producten ingrediënten bevatten waarbij de kans op irritatie zo klein mogelijk is, is overgevoeligheid voor bepaalde ingrediënten helaas nooit helemaal uit te sluiten. We zijn blij om te zien dat je gebruik hebt gemaakt van het retourbeleid.

Heb deze geprobeerd op advies, echter doet het niets voor mijn huid. Ik heb de full size gebruikt omdat wellicht de tijd ervoor zou zorgen dat het wat voor mijn huid zou gaan doen. Helaas is dit niet gebeurt, na een paar weken gebruik begon mijn huid zelfs te irriteren/branden na het gebruik van dit product. Ik heb door de goede service deze teruggestuurd, en ben benieuwd of de skin recovery toner wel iets voor mijn huid doet!

Zoals sommige anderen hier al schrijven, prikt/brandt deze toner op je huid als je hem aan hebt gebracht. Ook kreeg ik er rode pukkels van, wat ik normaal nooit heb. Geen idee welk ingrediënt deze reactie veroorzaakt, maar het is in ieder geval geen succes voor mijn gevoelige huid.

Deze toner is mijn safe choice. 's Ochtends gebruik ik vaak de Skin Balancing, en 's avonds deze. Als mijn huid wat gevoelig is oid kies ik zowel 's ochtends als 's avonds deze, en combineer ik hem met de Calm cleanser. Ik gebruik ook de Calm exfoliant (1% BHA). Ik vind deze hele lijn super fijn, en mijn huid reageert er goed op. Hij ruikt niet echt lekker... maar ach.

Helaas niet geschikt voor mijn huidtype. Ik kreeg er een gevoelige huid van. Bij het aanbrengen van de toner prikte deze erg. Nu overgestapt naar de variant voor de droge tot normale huid.
Toch 4 sterren voor de super goede service van paula's choice!

Ik heb niet per sé gemerkt dat mijn poriën kleiner zijn geworden, wat eigenlijk de hoofdfunctie zou moeten zijn, maar toch vind ik dit een fijn product. Ik heb een onzuivere huid die soms ineens droge plekken kan krijgen, wanneer dat gebeurd gebruik ik 's ochtends geen cleanser maar alleen deze toner om mijn huid te reinigen. En voor mijn werk heb ik vaak dikke make-up op in het theater, het meeste daarvan verwijder ik na afloop even met een watje en toner. Ik 'belast' m'n huid dus best veel, maar deze toner is heel mild en irriteert nooit.

Helaas voor mij maar één ster. Had gelijk 2 verpakkingen aangeschaft maar daar heb ik nu spijt van. In tegenstelling tot wat de toner belooft, wordt mijn huid er juist enorm rood en branderig van. Met name rond de neus/mond (clownseczeem?). Niet geschikt dus voor mijn gevoelige huid.

Ik merk dat als ik deze gebruik mijn huid minder rood is. Top dus! Alleen de geur... als hij opdroogt op je huid stinkt hij echt, maar na serum en crème erover, is het weg.

Als trouwe fan van de PC-toners besloot ik deze variant eens te proberen. Helaas voor mij geen goede keus; wat irritatie bij het aanbrengen. Het vervelendste vind ik de geur van de toner. Hydrateert wel goed.

Niet tevreden over dit product. Het zou geschikt moeten zijn voor een gevoelige huid die neigt naar vet worden, maar ik krijg er juist puistjes van en hij prikt soms bij het aanbrengen op mijn huid. Jammer, ben niet snel ontevreden maar deze past blijkbaar toch niet bij mijn huid.

Customer Care: Wat jammer om te horen dat het product niet bevallen is! Als je contact opneemt met onze klantenservice, kunnen we je verder adviseren.

Ik heb zelf een onzuivere huid met mee-eters en puistjes. Omdat de hydralight lijn er binnenkort uitgaat en dit de opvolger is, heb ik deze besteld. De werking is fijn, de Toner doet wat hij moet doen en zorgt ervoor dat er minder ontstekingen ontstaan (in tegen stelling tot de skin balancing Toner, deze werkt helaas niet goed voor mijn huid, ik kreeg er ontstekingen door). Het enige grote minpunt vind ik dat de verpakking een heel stuk kleiner is geworden, er zit nu nog maar 118 ml in de verpakking, bij de hydralight variant was dit 190 ml, maar de prijs is wel hetzelfde gebleven, heel erg jammer.

Deze toner is echt fijn! kalmeert intensief en maakt porien minder zichtbaar.
Ik heb een vochtarme huid maar deze is voor de zomer super! In de winter gebruik ik Calm toner voor normale / droge huid

More reviews Less reviews

Ingredients

What are the key ingredients?

Beta-glucan
Excellent ingredient for improving the look of redness and other signs of sensitive skin. It has some antioxidant properties and is a skin-soothing agent

Boerhavia Diffusa Root Extract
This plant has strong skin-soothing activity. Like all plant extracts, it also has antioxidant ability.

Sea Whip Extract
Extract from the sea that has skin-soothing properties, especially suitable for sensitive or redness-prone skin.

Ingredients:
Aqua, Butylene Glycol (hydration), Polysorbate 20 (texture-enhancing), Glycerin (hydration/skin replenishing), Colloidal Oatmeal (skin-soothing), Beta-Glucan (skin-soothing/antioxidant), Sea Whip Extract (skin-soothing), Boerhavia Diffusa Root Extract (skin-soothing), Panthenol (skin replenishing), Epigallocatechin Gallate (antioxidant), Gellan Gum (texture-enhancing), Phytic Acid (stabilizer), Disodium EDTA (stabilizer), Ethylhexylglycerin (preservative), Potassium Sorbate (preservative).

FAQ

Why do I need a toner?

A toner is a great addition after cleansing to make sure that you've removed your makeup. A good toner contains antioxidants that soothe and protect the skin, and restorative ingredients that counteract dehydration. Your skin feels softer and functions better.
Research
Phytotherapy Research, February 2014, volume 28, issue 2, pages 159-66 Indian Journal of Dermatology, Venereology, March-April 2012, issue 2, pages 142-5 Journal of Cosmetic Science, July-August 2011, issue 4, pages 361-70 Marine Drugs, 2004, issue 2, pages 73-82