https://www.paulaschoice.nl/en/calm-redness-relief-set-normal-to-dry-skin/bundlecalmdry.html
Calm Set - Dry skin
This Set soothes red, irritated and sensitive skin.

Skin Type:

Normal skin, Dry skin

Concern:

Redness, Rosacea-prone skin, Sensitive skin

Ingredients:

Green Tea Extract, Salicylic Acid/BHA, Squalane

View all
Remove from wishlist
Add to Wishlist
Product out of stock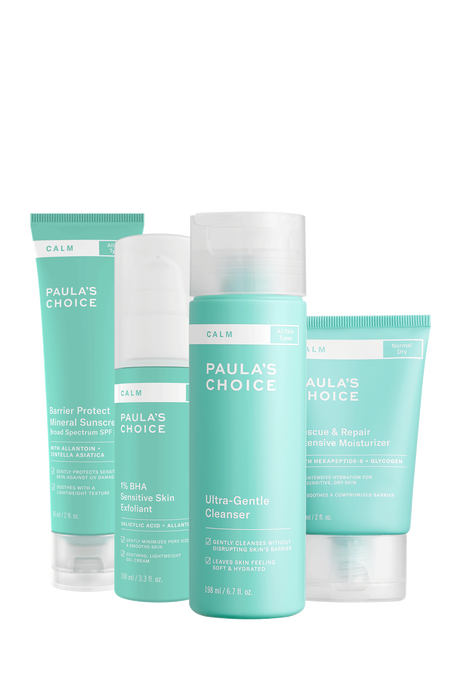 This product is sold out at the moment. Fill in your email address below and we'll gladly send you an email as soon as it is back in stock!
60 day money-back guarantee
Safe payments
What does it do?

Be extra kind to your red and sensitive skin

Do you have sensitive skin? Redness that just will not go away? Or even rosacea-like spots? Then the Calm Redness Relief collection for you. This set soothes your irritated, extra sensitive skin and reduces redness.

Key Features

Suitable for rosacea-prone skin

How to use

First use the cleanser. Then you apply the exfoliant (note: do not rinse). As last step apply the day- or nighttime moisturiser.

Reviews

Thank you for submitting your review! It will be reviewed by our staff before it is posted.

Na 2 zwangerschappen veranderde mijn egale huid in een zeer onrustige. Ook bij mij werd rosacea vastgesteld. Nooit kreeg ik nog die gezonde gloed op mijn huid. Na vele zalfjes van de huidarts en antibiotica kuur kreeg ik nog steeds geen vooruitgang. Ik gebruik nu iets langer dan een week deze producten en wauw wat een verschil. De roodheid en onzuiverheden zijn minder. En die gezonde gloed is er elke ochtend weer na gebruik van de producten. Top producten die ik ten zeerste aanraad.

Customer care: Hi Amy, ik kan niet anders zeggen dan dat ik heel erg vrolijk wordt door het lezen van deze review. Wat fijn om te horen dat je eindelijk producten hebt gevonden die je huid dusdanig kunnen kalmeren dat de roodheid en bultjes ook minder worden. Ik wil je nog heel lang plezier wensen van je glowy skin! Vriendelijke groet, Manon - Paula's Choice Customer Care Team

Heel mijn leven heb ik een gave maar gevoelige huid gehad tot twee jaar geleden. Ik kreeg rode vlekken en puistjes op mijn wangen. Na een bezoek bij de huisarts werd er rosacea geconstateerd. Bij de huiddermatoloog kreeg ik antibiotica pilletjes die ik moest slikken, dit hielp niet!! Uiteindelijk heb ik drie IPL behandelingen gedaan waardoor mijn huid minder rood werd maar alsnog geen mooi gezonde huid. Toen heb ik de mini calm set besteld van Paula's choice en dat heeft mijn huid en leven veranderd!!! Na 1 week was er positief resultaat, ik gebruik het nu één maand. Ik heb een gave en gezonde huid. Geen puistjes meer en de roodheid is met 90 procent verdwenen. Voor het eerst in mijn leven heb ik een product gevonden waar mijn huid geen branderig gevoel en roodheid van krijgt. Ik raad iedereen dit product aan. Het heeft mijn leven veranderd. Ik heb mijn zelfvertrouwen weer terug. Bedankt Paula's Choice

Hi Hanane Moudou, bedankt voor je positieve review op de Calm Set - Droge Huid. Superfijn om te horen dat de producten zo'n enorme impact hebben, en hebben bijgedragen aan het verbeteren van je huid én zelfvertrouwen. Dit zijn de resultaten waar we het allemaal voor doen! Mocht je nog vragen hebben of aanvullend advies wensen, neem dan gerust contact met ons op. Met vriendelijke groet, Alex - Paula's Choice Customer Care Team

Sinds een jaar gebruik ik deze producten. Mijn huid wordt snel droog/schilferig en ik heb altijd veel last van puistjes gehad. Nu helemaal geen last meer van! Producten zijn ook erg fijn in gebruik.

De dag- en nachtcreme gaan wel veel sneller dan de rest. Die bestel ik dan los bij. De Cleanser gebruik ik niet elke dag (als ik geen make-up heb gebruikt was ik mijn huid alleen met water) omdat mijn huid daar wat droger van werd. De Exfoliant gebruik ik twee keer per dag, maar doe je echt een eeuwigheid mee omdat je niet veel nodig hebt.

Om het uit te proberen heb ik eerst de miniset besteld. Eerst voelde het gewoon als een zachte reiniging. De exfoliant was eerst iets te agressief. Maar nadat ik ergens bij de recensies de tip had gelezen om dat aan te brengen op een vochtige watje of na de reiniging het gezicht niet volledig droog te wrijven, gaat het super. Nu mijn huid eraan gewend is kan ik nu ook wat sterkere exfolianten (skin perfecting, grijze fles) gebruiken. Waardoor m'n grove poriën eindelijk langzaam aan kleiner worden. Na een jaar vol stress en slechte voeding, ben ik eindelijk van die grauwe filter op m'n gezicht af. Wel merkte ik na 2 dagen geen gebruik meteen dat mijn huid weer pukkeltjes en roodheden ging vertonen. Dus blijf ik de lijn nu elke avond trouw gebruiken. En 3x in de week de grijze fles exfoliant. De dagen dat ik deze exfoliant niet gebruik, gebruik ik de Calm exfoliant.

Omdat er geen lotion bij de mini set zat, heb ik deze apart aangeschaft. Maar dan niet van de Calm lijn maar om m'n grove en snel gevulde poriën te bestrijden, heb ik de lotion van de lijn Resist normaal-oily combi (lichtblauwe fles) erbij genomen. De lotion gebruik ik elke avond na reinigen met de Calm reiniger. En daarna 1 van de 1 exfolianten. En dan nog 3x in de week een treatment, aubergine kleurige fles, retionol en bakuchiol.
En als nachtcrème de moisturizer van Calm droge huid.

Het is dus een combinatie van producten maar ook van huidtypes. Dit werkt voor mij maar was wel even uitproberen en het samenstellen uitvogelen..

Ik heb deze producten nu ander halve maand gebruikt om te kijken wat het resultaat zou zijn. Ik heb een droge huid en deze producten helpen niet om dit te hydrateren. Mijn poriën raakte verstopt door deze producten (deze informatie heb ik van mijn schoonheidsspecialiste). Het kan zijn dat het bij iemand anders werkt maar bij mij heeft het voor geen meter gewerkt.

Customer Care: Het spijt ons te horen dat je niet tevreden bent over deze producten! We hebben ondertussen contact met je gehad via de mail.

More reviews Less reviews

Ingredients

What are the key ingredients?

Green Tea Extract
Possesses potent antioxidant and skin-soothing properties and has impressive research in terms of its many benefits for skin, including anti-ageing properties.

Salicylic Acid/BHA
Primarily an exfoliant, helps to shed dead skin on the surface and inside the pore, therefore effective for reducing breakouts and blackheads. It also has soothing properties.

Squalane
A natural component of human skin sebum (oil). It is a wonderfully moisturising ingredient as well as being a source of replenishing fatty acids and antioxidants.

Please check the individual products for ingredient listings.