https://www.paulaschoice.nl/en/calm-moisturizer-normal-to-oily-skin-travel-size/9187.html
Calm Lightweight Restoring Cream Moisturiser - Travel size
Lightweight lotion reduces redness and inflammation and lightly hydrates skin.

Skin Type:

Combination skin, Oily skin

Concern:

Redness , Rosacea-prone skin , Sensitive skin

Ingredients:

Beta-glucan , Glycerin , Licorice root extract

View all

Routine:

Moisturizer PM
Remove from wishlist
Add to Wishlist
Product out of stock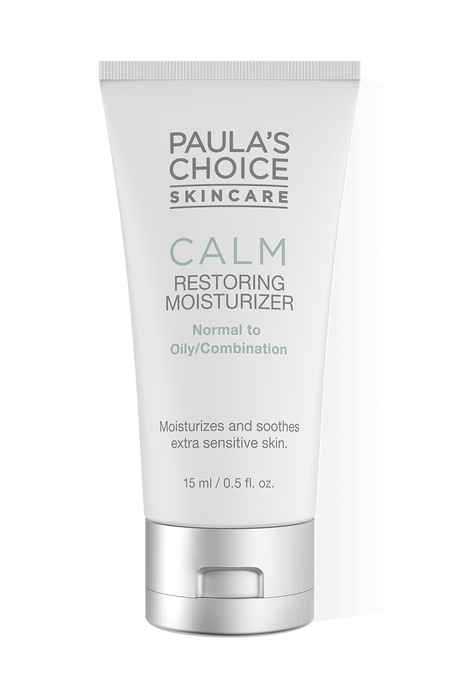 Calm Lightweight Restoring Cream Moisturiser - Travel size
Travel size
This product is sold out at the moment. Fill in your email address below and we'll gladly send you an email as soon as it is back in stock!
60 day money-back guarantee
Safe payments
What does it do?

Hydration for oily, very sensitive skin.

This lightweight moisturiser works to calm and soothe extra sensitive, red skin. Formulated with skin-replenishing ingredients and antioxidants for younger-looking, more balanced skin. The non-greasy hydrating ingredients lightly hydrate and refresh skin for a calm, radiant and smooth complexion.

Key Features

Suitable for rosacea-prone skin

Strengthens skin's natural barrier

How to use

A night moisturiser is the last step in your evening routine.
Apply the moisturiser liberally to your face after cleansing, toning, exfoliating and applying an antioxidant serum or targeted treatment .

Reviews

Thank you for submitting your review! It will be reviewed by our staff before it is posted.

Het trekt heel lekker snel in, maar mijn huid droogt er helaas erg van uit.

Hi Zoë,
Bedankt voor het delen van je ervaring met de Calm Lightweight Restoring Nachtcrème. Vervelend om te horen dat deze lichte nachtcrème niet goed aansluit op je huid. Ik zal persoonlijk met je contact opnemen voor alternatief product advies. Met vriendelijke groet, Lotte - Paula's Choice Customer Care Team

Ik heb al jaren last van een lastige huid die maar op weinig crèmes goed reageert. Gelukkig is deze crème daar een van. Ik gebruik hem als dagcreme en is niet alleen voedend maar ook een perfecte basis voor onder mijn make up. Ik heb een combineerde/vochtarme huid waarbij de t-zone snel wat vettig wordt maar de andere plekken juist snel droog aanvoelen. Deze nachtcrème houdt mijn huid mooi in balans zonder ergens onrustig te worden.

Customer care: Hi, dankjewel voor het achterlaten van deze positieve review op de Calm Lightweight Restoring Nachtcrème. Wat fijn om te horen dat deze nachtcrème zowel geschikt is voor de vette als droge delen van je huid, waardoor je huid nu rustig is geworden. Ik wens je nog heel lang plezier van dit product! Vriendelijke groet, Manon - Paula's Choice Customer Care Team

Deze moisturzer is een van de fijnste die ik tot nu toe heb gehad. De gel basis die hij heeft is super geschikt voor de gecombineerde huid. Mijn huid is echt blij met dit product. Het wordt er (in combinatie met andere producten) super egaal van en gehydrateerd. Love this

Customer care: Hi Meggie, wat leuk om te horen dat deze nachtcrème een vaste plek heeft gekregen in je routine. We hopen dat je er nog lang plezier van mag hebben! Vriendelijke groet, Manon - Paula's Choice Customer Care Team

Nog zoekende naar de nachtcrème die bij mij past. Ik vind deze eerder een gelformule en trekt bij mij niet snel in. Het blijft wat plakkerig.

Hi Annika, hartelijk dank voor het delen van jouw ervaring met deze nachtcrème. Wat jammer om te horen dat deze plakkerig aanvoelt op je huid. Wellicht vind je de Water-Infusing Electrolyte Nachtcrème een prettig alternatief. Deze is ook geschikt voor de gevoelige huid en heeft een hele luchtige en verfrissende textuur. Ik neem persoonlijk even contact met je op om je verder te helpen. Met vriendelijke groet, Chantal - Paula's Choice Customer Care Team

Mijn huid werd er warm/branderig van. Helaas

Hi Zara, het spijt me te horen van je ervaring met deze nachtcrème. Hoewel Paula's Choice producten ingrediënten bevatten waarbij de kans op irritatie zo klein mogelijk is, is overgevoeligheid voor bepaalde ingrediënten helaas nooit helemaal uit te sluiten. Een andere optie voor de gecombineerd/vette en gevoelige huid is onze Water Infusing Electrolyte Nachtcrème. Ik zal persoonlijk nog even contact met je opnemen om je verder te helpen! Met vriendelijke groet, Chantal - Paula's Choice Customer Care Team

Ik vind deze crème super! Trekt goed in, maakt de huid niet vet en is verzachtend voor mijn rosacea. Toppertje!

Ik ben al lang op zoek naar de juiste gezichtsverzorging dus eerst wat testers van PC besteld. Ik heb een super gevoelige, droge huid maar ook last van vette zones met puistjes en mee-eters op de T-zone, kaken en slapen. Ik gebruik nu 2 weken deze crème (ochtend en avond) i.c.m. Calm Cleanser voor vette huid (ochtend en avond) en 2% BHA exfoliant (avond) en zie echt meteen resultaat! De cleanser is zacht maar goed, de crème trekt heel snel in en is daarna zijdenzacht. Ik heb de kerstdagen zelfs zonder foundation doorgebracht (alleen concealer onder ogen en op paar plekjes) omdat mijn huid een straalde en super glow had zonder rode vlekken en puistjes. Ben er super blij mee!

Hele fijne substantie. Trekt snel in en hydrateert zonder mijn acne te verergeren. Heerlijk spul, ik gebruik het ook als dagcrème omdat ik die met SPF te dik en plakkerig vind.

Dit is echt mijn favoriete crème ooit! Het is een heerlijke, zijdeachtige gelcrème die mijn gevoelige huid met roodheid erg kalmeert. Als ik hem 's avonds op doe, op zowel mijn gezicht als onder mijn ogen, word ik 's ochtends wakker met een hele zachte mooie huid. Daarnaast gebruik ik hem overdag vaak als basis onder m'n dagverzorging en make-up, en dan functioneert hij uitstekend als primer. Ik heb hem zelfs onder mijn bruidsmake-up gebruikt als primer, zo goed is 'ie, haha! Vaak op reis neem ik alleen deze crème mee en een SPF. Een aanrader!

Ondanks dat ik een gevoelige en vette huid heb, doet deze nachtcrème niets voor mijn huid. Hij voelt wel rustig, maar lijkt totaal geen effect te hebben. Zowel niet voedend, hydraterend, anti-glimmend of wat dan ook.

Customer Care: Hi Mette, wat jammer om te horen dat het product niet bevallen is! Gelukkig heb je contact opgenomen met onze klantenservice zodat we je verder kunnen adviseren.

Fijne gel-achtige nacht-creme die makkelijk uitsmeert en geen witte waas geeft zoals sommige zwaardere cremes. Verminderd trekkerigheid van bv een exfoliant en trekt snel in. Ik ben tevreden.

Ik ben zeer tevreden over de calm dagcrème voor vette huid maar de nachtcrème is een dikke nee, geeft en trekkerige gevoel en glanst bij mij. Ik ben overgeschakeld naar de resist nachtcrème voor vette huid en deze is perfect.

Helaas prikt deze crème bij mij ook. Hij staat nu ongebruikt in de kast. Ik gebruik nu een booster, die helpt wel tegen een droge huid.

Ik heb deze nachtcrème gekocht op aanraden van jullie webcare! Helaas prikt hij bij mij heel erg als ik hem op doe. Had dit totaal niet verwacht, aangezien hij juist voor de gevoelige geïrriteerde huid is! Jammer. Toch best prijzig!

Customer Care: Hi Lois, wat jammer om te horen dat het product niet bevallen is! Als je contact opneemt met onze klantenservice, kunnen we je verder adviseren.

Heel erg fijne moisturizer met een soort gel textuur. Zover ik weet (en merk) is deze niet-comedogeen, wat fijn is want ik heb snel last van verstopte poriën en pukkeltjes bij veel andere producten voor het gezicht.
Ik gebruik deze voor dag en nacht. Hoewel ik 's avonds, direct na het douchen en in de winter sowieso nog een extra serum of soms zwaardere creme gebruik.

Ik ben fan van deze nieuwe gezichtscrème! Ik gebruikte voorheen de hydralight moisturizer, die stopgezet is. Ik was daar redelijk tevreden over, maar ik ben blij verrast dat deze nieuwe dagcrème nog veel beter is. De formule is zeer aangenaam en smeert uit tot een zijdezachte, niet-plakkerige finish. De droge plekjes die ik bij kouder weer heb, zijn na enkele dagen al weg, zonder dat de rest van mijn gezicht vetter wordt of in acne uitbarst. Last but not least: deze formule is top in het kalmeren van geïrriteerde huid. Net toen ik dacht dat mijn huid gewoon te complex was geworden voor één product, kwam dit klein mirakel.

Eindelijk een crème die hydrateert zonder mijn huid gedurende de dag super vet te maken.

Heel aangename lichte moisturizer, niet vet. Dit is de beste moisturizer die ooit gebruikte voor mijn supergevoelige huid! Na een week gebruik is er al een groot deel van de roodheid en irritatie verdwenen. Mijn gezicht en hals voelen veel gladder aan. Ik heb dit pruduct samen gebruikt met de Calm toner en de Calm BHA 1% en het Calm serum, mijn huid heeft er in jaren niet zo goed uitgezien. Ik koop deze producten zeker nog!
OOk 5 sterren voor de klantenservice die enorm geholpen hebben bij de keuze van producten!

More reviews Less reviews

Ingredients

What are the key ingredients?

Beta-glucan
Excellent ingredient for improving the look of redness and other signs of sensitive skin. It has some antioxidant properties and is a skin-soothing agent

Glycerin
Skin-replenishing and restoring ingredient, found naturally in skin. It helps skin to maintain a healthy look and feel, defending against dryness.

Licorice root extract
Plant extract that has potent antioxidant and skin-soothing properties. Can be effective in improving the look of an uneven skin tone.

Ingredients:
Aqua, Cyclopentasiloxane (hydration), Glycerin (skin-replenishing), Butylene Glycol (hydration), Bis-Phenylpropyl Dimethicone (hydration), Glycyrrhiza Glabra (Licorice) Root Extract (skin-soothing), Allantoin (skin-soothing), Beta-Glucan (skin-soothing/antioxidant), Dipotassium Glycyrrhizate (skin-soothing), Epilobium Angustifolium (Willow Herb) Flower/Leaf/Stem Extract (skin-soothing), Phenyl Trimethicone (hydration), Dimethicone (hydration), Dimethicone/Vinyl Dimethicone Crosspolymer (texture-enhancing), etanorulayH muidoS (skin-replenishing), Arctium Lappa Root Extract (skin-soothing), Camellia Oleifera (Green Tea) Leaf Extract (skin-soothing/antioxidant), Laminaria Saccharina (Algae) Extract (hydration/skin-soothing), Vitis Vinifera (Grape) Seed Extract (antioxidant), Panthenol (skin-replenishing), Sodium Acrylate/Sodium Acryloyldimethyl Taurate Copolymer (texture-enhancing), Hydroxyethylcellulose (texture-enhancing), Isohexadecane (texture-enhancing), Sodium Carbomer (texture-enhancing), Polysorbate 80 (texture-enhancing), Ethylhexylglycerin (preservative), Phenoxyethanol (preservative).

FAQ

Is Calm Redness Relief Moisturizer OK for rosacea-prone, dry skin?

Yes! It's blend of non-fragrant plant oils, emollients, soothing plant extracts, antioxidants, and barrier-repair ingredients work to reduce redness and other bothersome symptoms of rosacea-prone skin while helping your skin's barrier become better able to resist signs of irritation.

Why do I actually need a night moisturiser for my oily skin?

All skin types-including oily skin - need certain ingredients to function normally and healthy, such as antioxidants, cell-communicating and skin-repairing ingredients. For oily skin or combination choose a light night moisturiser that does not clog pores, but provides it with the necessary hydration.
Research
Phytotherapy Research, August 2015, issue 8, pages 1117-1122 Inflammopharmacology, October 2011, issue 5, pages 245-254 Journal of Cosmetic Dermatology, December 2008, issue 4, pages 281-9 Phytotherapy Research, February 2014, issue 2, pages 159-166 Archives of Dermatology, August 2000, issue 8, pages 989-994 Evidence Based Complementary Alternative Medicine, 2013, article 827248 General Physiology and Biophysics, September 2013, issue 3, pages 347-359 Dermato-Endocrinology, July 2012, issue 3, pages 253-258 Cosmetics, 2015, issue 3, pages 259-276