https://www.paulaschoice.nl/en/calm-cleanser-normal-to-dry-skin-travel-size-9117.html
Calm Nourishing Cream Cleanser - Travel size
Cream cleanser for red, sensitive skin that thoroughly cleanses without drying out skin.

Skin Type:

Normal skin, Dry skin

Concern:

Redness , Rosacea-prone skin , Sensitive skin

Ingredients:

Aloe Vera , Hyaluronic Acid , Sodium PCA

View all

Routine:

Cleanser
Product out of stock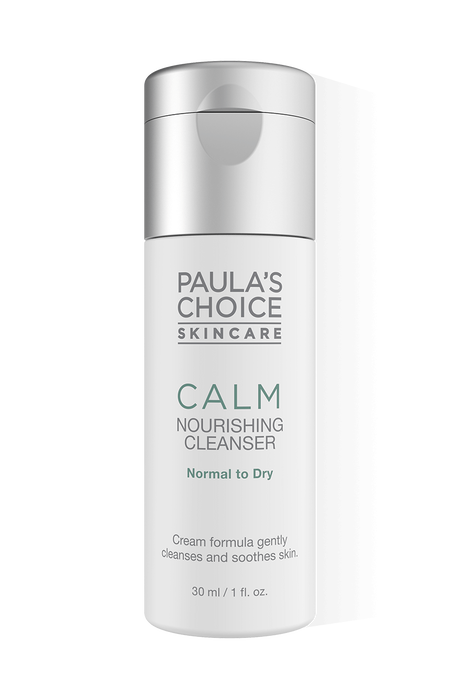 Calm Nourishing Cream Cleanser - Travel size
Travel size
This product is sold out at the moment. Fill in your email address below and we'll gladly send you an email as soon as it is back in stock!
60 day money-back guarantee
Safe payments
What does it do?

Dry, sensitive skin? Give it some TLC

With a soothing milky texture, this gentle cleanser nourishes dry, sensitive skin. Formulated with soothing plant extracts and replenishing ingredients, it effectively removes all traces of makeup. Your skin feels cleansed, soft and soothed, ready for the next step in your skincare routine.

Key Features

Cleanses skin without drying it out

Suitable for rosacea-prone skin

How to use

Use morning and evening. Splash the face and eyes generously with water. Apply a small amount of cleanser to your face using vigorous yet gentle circular motions. Rinse well. Repeat or use with a clean washcloth to remove heavy makeup.

Reviews

Thank you for submitting your review! It will be reviewed by our staff before it is posted.

Had goede verwachtingen na lezen van reviews over dit product. Helaas niet helemaal wat ik had verwacht; pas de volgende ochtend is de trekkerige huid weg en merk ik dat het hyaluronzuur zijn werk heeft gedaan. Wel een goede remover van make-up en fijn in gebruik. Mijn huid is vochtarm en gevoelig (20 jaar), dus leek het product precies goed. Ik gebruik het nu ongeveer een maand en vond het eigenlijk de prijs niet waard.

Blij met deze reinigingsgel. Zacht voor mijn huid waardoor ik geen trekkerig gevoel krijg na het reinigen.

Dit is voor mij de enige afspoelbare reiniging die geen trekkerig gevoel of een vettige film achter laat. Heb de mini eerst getest op vakantie met veel chloor in het leidingwater. Superzachte en schone huid ondanks zware spf creme die snel verwijderd was. Ga zeker de fullsize aanschaffen.

Ik heb een vette, gevoelige en vochtarme huid die snel rood wordt en snel geïrriteerd raakt. Zo ook bij gebruik van gezichtsreinigers. Maar niet bij deze! Ik gebruik deze al jaren en ik zou echt geen enkel ander product willen gebruiken om mijn gezicht schoon te maken. Hij doet wat hij belooft (maakt mijn huid goed schoon van vuil en make-up), zonder dat mijn huid trekkerig wordt (wat ik andere reinigers wel altijd had). Nooit meer zonder mijn PC 'Calm Nourishing Cream Gezichtsreiniger '!

Ik heb al lang last van een gevoelige rode huid door verkeerde producten die ik gebruikt heb. Ik heb bijna 3 weken geleden de mini-set besteld en het bevalt me erg goed. Mijn huid was al een stuk verbeterd naar 1 week gebruik, nu 3 weken later ben ik erg tevreden met mijn huid. Dit is echt een perfecte reiniger voor een gevoelige, gecombineerde/vette huid. Ik ga binnenkort de full size bestellen! Het product krijgt 4 sterren omdat ik het een beetje onhandig vind in gebruik, je moet voorzichtig zijn met het knijpen want anders kan er teveel uit komen, het zou handiger zijn als het een pompje was.

De reiniger is heerlijk! Doet goed zijn werk en is niet agressief. Na de mini geprobeerd te hebben heb ik de grote verpakking besteld. Helaas is die verpakking totaal niet geschikt voor de kleine hoeveelheid die je steeds nodig hebt en gaat er veel product verloren tussen de sluiting. Zonde!

Deze cleanser doet wat hij belooft: mild reinigen zonder mijn huid trekkerig aan te laten voelen. Mijn vrij zware make-up (foundation) gaat er makkelijk mee af en mijn huid voelt daarna heerlijk zacht. Na deze reiniger gebruik ik de Resist toner, een geslaagde combinatie voor mijn huid (gecombineerde huid). Ik gebruik hem niet voor mijn oog-makeup, ik weet niet of hij dat ook goed doet.

Ik heb de hele routine aangeschaft en zo'n twee en een halve maand geprobeerd. Mijn huid werd er alleen ontzettend onrustig van. Nu ik gestopt ben ziet mijn huid er weer veel beter uit! Erg jammer, want ik had er veel van verwacht! Zeker voor deze prijs.

Customer Care: Het spijt ons te horen dat het niet geschikt is voor jouw huid. Neem gerust contact met onze klantenservice op voor advies.

Ik gebruik de reiniger nu 2 weken in combinatie met de dagcreme. ik krijg er hele droge wangen van en sinds 3 dagen steeds meer puistjes op kin en wangen. Ik ben dus niet tevreden.

Customer Care: Dank voor je feedback, wat jammer dat het product niet geschikt voor je is. Neem gerust contact op met onze klantenservice voor advies en informatie over onze retourregeling.

super fijne cleanser! mijn puistjes zijn bijna allemaal weg, veel minder rode irritatie vlekjes in mijn gezicht en mijn gezicht voelt heerlijk zacht en een stuk egaler en niet meer trekkerig! super product. heb het wel gebruikt i.c.m de dag en nachtcreme van deze lijn en de clear regular strength exfoliant.

Deze gezichtsreiniger gebruik ik al jaren en ik zou absoluut geen andere meer willen. Ik heb een vette huid, die trekkerig en droog wordt van reinigen met een gezichtsreiniger en water. Maar niet bij deze! Hij reinigt mijn huid zeer goed zonder dat ik er een trekkerige, droge huid van krijg. Ook make-up wordt zeer goed verwijderd.

Wat ik ook zo ontzettend fijn vind (en van al alle andere PC producten), is dat er geen mierzoet fruit- of bloemengeurtje aan toegevoegd is. De geur is neutraal en dat vind ik persoonlijk erg prettig.

Wel mis ik de 473 ml fles die ik voorheen altijd kon bestellen. Echt balen dat dit formaat niet meer te krijgen is van deze reiniger. Maar grote of kleine fles, dit is een top reiniger!

Heel fijn maar ik vindt de verpakking helaas te klein. Zou graag een grotere verpakking willen zien zoals de XL size 473 ml van de andere reinigers. En ook een reis formaat van 100 ml. Trouwens een reis formaat van 100 ml van de meeste producten. Is makkelijk om mee te nemen op vakantie. Daarom 4 sterren anders 5 sterren.

Ik heb op aanraden van de klantenservice een aantal samples en mini's besteld van een aantal producten. Waaronder ook van deze cleanser. Ik heb een gecombineerde huid waarbij mn wangen soms droog aankunnen voelen. Daarnaast kan mn huid trekkerig aanvoelen nadat ik mn gezicht heb gereinigd. Deze cleanser trekt totaal niet en werkte dan ook heel kalmerend voor mijn huid. Ik wilde het ook gebruiken om de laatste resten van make up te verwijderen. Maar dat laatste deed dit niet. Bovendien werkt het niet zo goed met mijn elektronische gezichtsborstel. Daarom drie sterren, omdat het wel een fijne cleanser is.

Het is een soort melkachtig product, wat ik heel fijn vind. Make-up gaat er ontzettend makkelijk mee af, ook mascara. Het maakt mijn huid heel schoon maar laat het niet te trekkerig aanvoelen. Ik dacht dat ik het flesje niet handig zou vinden, maar je vind vanzelf de draai om niet teveel product eruit te knijpen.

Het is een soort melkachtig product, wat ik heel fijn vind. Make-up gaat er ontzettend makkelijk mee af, ook mascara. Het maakt mijn huid heel schoon maar laat het niet te trekkerig aanvoelen. Ik dacht dat ik het flesje niet handig zou vinden, maar je vind vanzelf de draai om niet teveel product eruit te knijpen.

Perfecte reiniger voor mijn gecombineerde huid met rosacea, ik gebruik ook de toner en dagcrème zonder spf van deze lijn en het werkt uitstekend!

De cleanser is prettig van structuur ,maar schuimt helaas niet. De fles is onhandig in gebruik, je moet teveel drukken voordat er iets uit komt .Voorheen gebruikte ik de resist anti aging foaming, deze schuimt heerlijk. Maar, in de wintermaanden droogt deze mijn huid teveel uit. Dus vandaar dat ik deze besteld heb. Ik staat nu weer op het punt om een cleanser te bestellen ,maar twijfel tussen deze of ,de skin recovery cleanser

More reviews Less reviews

Ingredients

What are the key ingredients?

Aloe vera
Plant extract that has soothing properties, antioxidant qualities, and serves as a hydrating agent.

Hyaluronic Acid
Component of skin tissue. A superior skin-replenishing ingredient that can boost skin's moisture content, soothe, and defend against moisture loss.

Sodium PCA
Natural component of skin and a very good hydrating agent. It also functions as a skin-replenishing ingredient.

Ingredients:
Aqua, Sodium Laureth Sulfate (cleansing), Glycol Stearate (texture-enhancing), Methyl Gluceth-20 (emollient), Glyceryl Stearate (texture-enhancing), Hydroxyethylcellulose (texture-enhancing), Chamomilla Recutita (Matricaria) Flower Extract (skin-soothing), Aloe Barbadensis Leaf Juice (hydration/skin-soothing), Cocamidopropyl Betaine (cleansing), Sodium Cocoyl Glutamate (cleansing), Disodium Cocoyl Glutamate (cleansing), etanorulayH muidoS (hydration/skin replenishing), Sodium PCA (hydration/skin replenishing), Caprylyl Glycol (preservative), Hexylene Glycol (preservative), Propylene Glycol (hydration), Citric Acid (pH balancer), Phytic Acid (stabilizer), Phenoxyethanol (preservative).

Faq

What is the difference between the Calm redness relief collection and other Paula's Choice collections?

The CALM products are designed specially for those who have extremely sensitive skin that is also prone to redness - the kind of skin that's intolerant of many skincare ingredients and even the ones we love in our other products. Another difference is that CALM collection contain a broader assortment and higher amounts of ingredients research has shown can bring about soothing relief to uncomfortable, warm-feeling skin. The most gentle and effective anti-ageing ingredients are also included so you'll see more hydrated, radiant, firmer-feeling skin with diminished appearance of lines and wrinkles, too!
Research
Molecular Medicine Reports, November 2010, issue 6, pages 895–901 Journal of Cosmetic Science, May-June 2007, issue 3, pages 229-44 Dermato-Endocrinology, July 2012, volume 4, issue 3, pages 253-8 Skin Research and Technology, February 2001, issue 1, pages 49–55