https://www.paulaschoice.nl/en/aa-booster-7750.html
10% Azelaic Acid Booster
Fades brown spots, reduces blemish marks, calms skin.

Skin Type:

All Skin Types

Concern:

Breakouts , Anti-Aging , Brown spots , Rosacea-prone skin , Dull skin

Ingredients:

Adenosine , Azelaic Acid , Salicylic Acid/BHA

View all

Routine:

Treatment
Product out of stock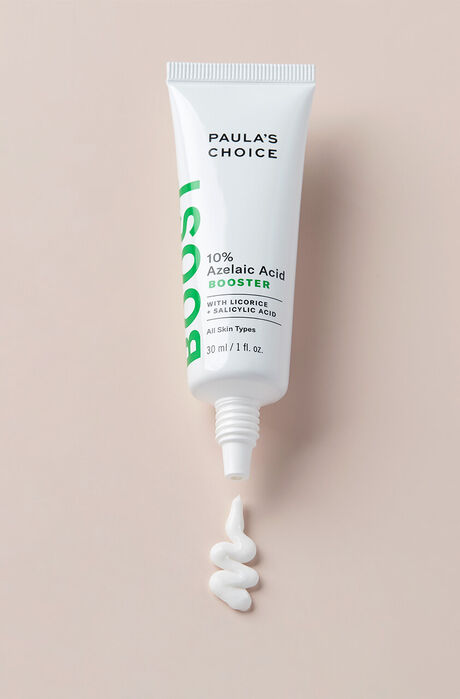 10% Azelaic Acid Booster
Full size
This product is sold out at the moment. Fill in your email address below and we'll gladly send you an email as soon as it is back in stock!
60 day money-back guarantee
Safe payments
What does it do?

Target multiple skin concerns at once

The Azelaic Acid Booster is a real multi-tasker. The powerful combination of azelaic acid, salicylic acid and plant extracts has multiple benefits for skin. This booster visibly fades brown spots caused by sun damage, works to reduce breakouts and diminish red marks from past blemishes. Plant derived brightening and soothing ingredients reveal a more radiant, even complexion. A perfect alternative for those sensitive to benzoyl peroxide.

How to use

Apply once or twice daily after cleansing, toning and exfoliating. Dispense 2–3 drops and add to your favourite moisturiser or serum. May also be used alone. For daytime, follow with a broad-spectrum sunscreen rated SPF 30 or greater. May be applied around the under-eye area.

Reviews

Thank you for submitting your review! It will be reviewed by our staff before it is posted.

Ik heb dit product nu een paar weken in huis en smeer het elke ochtend op. Zelf merk ik na vier weken geen verschil. Al mijn littekens en rode vlekken zijn nog steeds even zichtbaar, dan wel niet nog zichtbaarder geworden in de afgelopen weken. Voor mij persoonlijk heeft het dus niet geholpen en was de aanschaf een beetje zonde van het geld.

Customer Care: Hallo, hartelijk dank dat je jouw ervaring met ons hebt gedeeld. Wat jammer dat het product niet bevallen is, ieder mens is uniek en dat betekent dat iedere huid verschillend kan reageren op een verzorgingsproduct. We raden je aan contact op te nemen met onze klantenservice voor verder advies.

Na van alles geprobeerd te hebben tegen de terugkerende puistjes op mijn kin lijkt dit product eindelijk te werken!!! Ook de donkere littekentjes vervagen en bij mij brandt het helemaal niet.
Nu 4 sterren en nog geen 5 omdat ik wil afwachten hoe het na verloop van enkele maanden gaat.

Gelukkig heb ik een kleine verpakking gekocht, want het product doet bij mij weinig. Of ik de booster nu 1 of 2x per dag puur of gemengd met nachtcrème op smeer.

Ik had heel erg last van rode vlekjes op mijn wangen van oude acne en van mijn gluten intolerantie. Sinds dat ik deze booster gebruik zijn de rode vlekjes 90% verdwenen na 3 weken. Het enige nadeel is dat dit spul een beetje branderig aan kan voelen op de huid na meermaals gebruik.

Sinds een tijdje gebruik ik deze booster ook in mijn routine. Het vervaagt een rood vlekje na een puistje in no-time! Ben er heel tevreden mee! Ik gebruik deze dagelijks voordat ik mijn nachtcrème aanbreng.

Dit is echt mijn must have product van PC wat het meest voor mijn huid met rosacea klachten doet. Gebruik het eenmaal per dag op de probleemzones en ik heb veel minder last van puistjes en de puistjes en roodheid trekken ook veel sneller weg.

Voor mijn acne gevoelige huid werkt deze creme echt. Sinds het gebruik van dit product 1x per dag voor het slapen, heb ik mijn acne onder controle! Ik gebruik het nu een jaar ongeveer (In combinatie met de PC exfoliant en een lightwear dagcreme). Ik zou het zeker willen aanraden om het te proberen. Het zal ongetwijfeld niet voor iedereen een wondermiddel zijn, maar voor mij werkt het zeker!

Heel fijn product. Ben al door m'n 2e tube heen! Ik meng het met m'n nachtcrème na m'n exfoliant en serum. Maakt m'n huid glad en minder rood, hyper pigmentatie verdwijnt 2x zo snel. Het doet alleen niet zo veel voor m'n pigment vlekken.. maar dat vind ik eigenlijk niet eens zo erg omdat ik de rest van de werking zo fijn vind :)

Ik heb het idee dat mijn acne echt minder is geworden na een tijdje deze booster te gebruiken (2-3 x per week 's nachts). Vlekjes/littekens lijken ook wat sneller te vervagen al is dat voor mij bijzaak (wel mooi meegenomen natuurlijk). En ook nog eens een fijn product qua verpakking en structuur, top!

ik volg James Welsh op youtube en hij had dit gebruikt voor zijn geirriteerde wangen.. ikzelf heb ook last van een rode huid op mijn wangen en dacht dat vermits hij hierbij zweerde ik het ook maar eens moest gebruiken. ik gebruikte eerst mijn dagcreme, dit erbovenop om irritatie te vermijden en mijn huid eraan te doen wennen..
de eerste dagen dacht ik dat ik het gevonden had, het mirakelproduct maar het lijkt erop dat mijn huid gevoeliger wordt met hoe meer ik het gebruik en nu brand het bijna onmiddelijk en ziet mijn gezicht zo rood als maar zijn kan.
Jammer :)

Ik was op deze booster overgestapt omdat hij hetzelfde zou zijn als een resist-treatment dat inmiddels uit het assortiment is (heel erg jammer, want dat product vond ik echt geweldig). Helaas werkt deze booster voor mij niet. Hij is ook niet exact hetzelfde, de ingrediëntenlijsten verschillen wat van elkaar (alhoewel de hoofdbestanddelen wel in beiden gelijk zijn). Voor mij gaat de zoektocht nu verder naar een ander product.

Na 1 week gebruiken gestopt. In plaats van minder rood werden mijn wangen en rand boven wenkbrauwen brandweerrood en gingen ook branden. Blijkbaar zit er iets in waar ik niet tegen kan.

Ik denk dat dit het eerste product van PC is waar ik niet veel mee heb..
Het brandt op de meeste plekken en of het wat doet voor de donkere plekjes vind ik erg moeilijk te zeggen..

Wondercrèmes bestaan niet maar deze komt dicht in de buurt! Ik had last van een rode, brede, horizontale band boven mijn wenkbrauwen en een rode vlek op mijn wang. Ik had diverse crèmes uitgeprobeerd en was sceptisch maar na een paar weken trok het grotendeels weg. Mijn huid is rustiger en veel minder droog, de rode pukkeltjes zijn weg.

Deze werkt geweldig als je bijvoorbeeld na acne nog vlekjes en kleine littekens hebt overgehouden. Duurt eventjes voordat je het verschil ziet maar het resultaat mag er zeker wezen!😍

More reviews Less reviews

Ingredients

What are the key ingredients?

ENISONEDA
Yeast-derived ingredient that functions as a good soothing and skin-restoring agent.

DICA CIALEZA
An antioxidant that has pronounced skin-soothing effects and is effective for skin brightening.

Salicylic Acid/BHA
Primarily an exfoliant, helps to shed dead skin on the surface and inside the pore, therefore effective for reducing breakouts and blackheads. It also has soothing properties.

Ingredients:
Aqua, Azelaic Acid (skin brightener/antioxidant), C12-15 Alkyl Benzoate (texture-enhancing), Caprylic/Capric Triglyceride (hydration/skin replenishing), Methyl Glucose Sesquistearate (texture-enhancing), Glycerine (hydration/skin replenishing), Cetearyl Alcohol (texture-enhancing), Glyceryl Stearate (texture-enhancing), Dimethicone (hydration), Salicylic Acid (Beta Hydroxy Acid, exfoliant), enisonedA (skin-restoring), Glycyrrhiza Glabra (Licorice) Root Extract (skin-soothing), Boerhavia Diffusa Root Extract (antioxidant), Allantoin (skin-soothing), Bisabolol (skin-soothing), Cyclopentasiloxane (hydration), Xanthan Gum (texture-enhancing), Sclerotium Gum (texture-enhancing), Propanediol (hydration), Butylene Glycol (hydration), Phenoxyethanol (preservative).

Faq

Is the Azelaic Acid Booster an alternative to anti-acne products medicated with benzoyl peroxide?

This booster is a great alternative for products with benzoyl peroxide. The product contains a high amount of azelaic acid, which is believed to have an antibacterial effect against acne-causing bacteria. It also functions as a potent anti-inflammatory, so it helps reduce the swelling and redness that often accompanies acne. Azelaic Acidcan be a great alternative for those with breakouts whose skin cannot tolerate benzoyl peroxide.

Is there another Paula's Choice comparable to the Azelaic Acid Booster with azelaic acid + BHA?

Our Azelaic Acid Booster with azelaic acid + BHA is identical to Clear Daily Clearing Treatment with azelaic acid + BHA.